The ACLU Claims That Workers Picked Up In ICE Raids In Nebraska Were Mistreated
When detained workers, including two pregnant women, asked for air conditioning in the bus they were riding in, government agents turned on the heater, the ACLU said.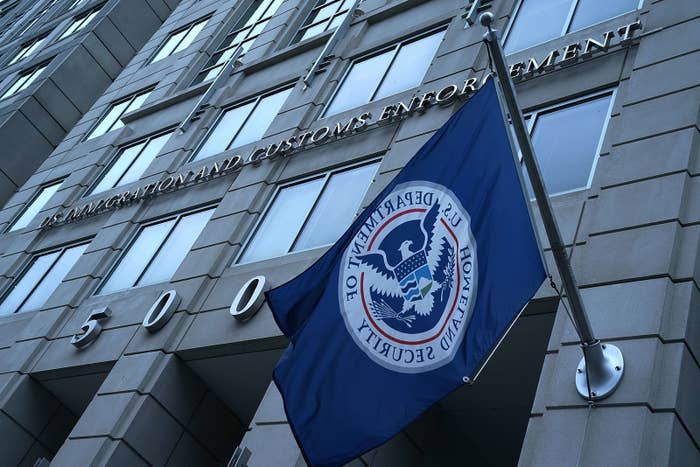 The American Civil Liberties Union on Thursday accused Immigration and Customs Enforcement agents of mistreating suspected undocumented workers who were detained in a major raid in Nebraska last week.
According to the allegations, the agents transported some of the detained workers, including two pregnant women, on a two-hour drive with no air conditioning. When passengers asked for cool air, the agents turned on the heater, according to the allegations released by the ACLU of Nebraska.
The pregnant women did not have access to water during the trip, the ACLU said.
"With high humidity and temperatures outside of the bus approaching close to 100 degrees, it was imperative that the authorities provide adequate water," said Rose Godinez, policy and legal counsel at the organization.
The allegations come just over a week after ICE picked up 118 suspected undocumented workers on immigration violations, part of a larger shift by the Trump administration to crack down on workplace violations.
ICE referred a request for comment to the US Attorney's Office in Omaha. That office did not respond immediately to a request for comment.
The treatment of detained pregnant women is an especially sensitive topic. BuzzFeed News reported in July that pregnant women in immigration detention said they had been denied proper medical care and had been abused.

In a detailed statement provided to BuzzFeed News, the ACLU of Nebraska said it discovered the reported abuses after speaking to many of the people who were detained and later released.
"Upon release, many reported ICE agents' lack of preparedness, negligence, and, in some cases, abuse of those detained in the raid. We received several reports concerning potential civil rights violations of the detained immigrants," said Godinez.
Shawn Neudauer, a spokesman for ICE, said that the "allegations made by the ACLU of Nebraska, and other NGOs, are blatantly false."
"The ACLU's irresponsible claims leave out many salient facts, including that 66 of those arrested were released shortly afterwards, that public testimony has already confirmed many of those arrested were grateful that ICE took action to stop their exploitation, and that ICE was well-prepared, well in advance, for this operation; to include providing commercial cooling units and a large tent for anticipated warm weather, on-site medical services; and ample food and water, during both transport and processing," he said.
Neudauer said that ICE had no tolerance for inappropriate treatment of anyone and that they took every step possible to ensure individuals were given food, water and restroom breaks. Those arrested were "processed as quickly as possible in order for our agents to focus on the criminal investigation that they are conducting into money laundering, wire fraud and the exploitation of these individuals."
ICE officials said that the buses transporting those arrested had air-conditioning and water was given to everyone on board, adding that once they arrived at the detention center, individuals were given hot meals. Three women who were pregnant had their processing expedited, officials said.
Among the complaints, the organization says that workers were not allowed to provide documentation proving they had authorization to work or were already in deportation proceedings, were unaware of their constitutional right to an attorney, were handcuffed with chains around their waists, and were given only a small cup of soup and crackers — not adequate food, they say — for the 12 hours that most were detained as they were processed.
The allegations regarding high temperatures during the drive were confined to one bus carrying workers, the ACLU said.
The League of United Latin American Citizens filed a complaint Thursday with the Department of Homeland Security's Office for Civil Rights and Civil Liberties, detailing complaints it had heard about transportation for the suspected undocumented workers, including high heat.
"We formally request an investigation into these allegations commence immediately to assure that in the future no human being detained … has to suffer inhumane treatment that can place them in dangerous conditions that can cause harm and even death while in the US government's custody," said Julie Contreras, chair of the organization's immigration affairs committee.
ICE agents came across the workers as they served search warrants at a hydroponic tomato plant, farms, and restaurants, and arrest warrants for 17 individuals in multiple states who allegedly were connected to a "criminal conspiracy to exploit illegal alien laborers for profit, fraud, wire fraud and money laundering."
The ACLU also claims that a mother of two young children was not given a phone call to check in on the status of her young children even though she asked several times to do so.
"The mother worried her childcare provider could not care for her daughter long-term and did not know where her two children were going to be taken, how long she was going to be detained, and if she would ever see her children again," said Godinez. "She was promised she'd be allowed to make a call at the end of the day but was never allowed to do so."
The raid, according to Godinez, "is a frightening look into the Trump administration's war on immigrants and its violations of the basic human and constitutional rights that our country was founded upon."
UPDATE
This story was updated to include ICE's detailed response to the ACLU's claims.