On an overcast Sunday afternoon in February, I entered a small fluorescent-lit room inside an office strip mall in Northeast Atlanta for a meeting of Subby School, a support and educational program for BDSM submissives. A plastic panda piggy bank stood on one table so that attendees could give donations. On a typical night, donations range from $5 to $20 total. Others bring snacks instead. Notepads sat in a pile, ready for members to take.
Like an AA meeting, Subby School is discreet. Few people write their legal names on the name tags provided, for good reason. "All impact play is technically illegal in the state of Georgia," explained Jinni (who, like all the attendees quoted in this story, requested a pseudonym for reasons of privacy), a 53-year-old military veteran and cofounder of Subby School, brown hair pulled back in a ponytail that grazed her Walking Dead T-shirt. People involved in kink can lose custody of their children or be fired from their jobs.
(According to Susan Wright of the National Coalition of Sexual Freedom, BDSM is "in a legal gray area because it's been criminalized under case law. Case law has established that consent is not a defense to assault, including relatively mild BDSM acts like playing with a riding crop or dripping hot wax on someone without burning them." But despite the potential illegality, "prosecutors are no longer charging people for doing consensual BDSM," she said. "But the stigma caused by this criminalization keeps people closeted and is why some people are fired from their jobs for being kinky.")
Fourteen people were in attendance. They ranged in age from early 20s to mid-70s, mostly white, with all manner of gender presentations. One woman came with a plush unicorn in tow. A man with a gray goatee and curled mustache passed out Disney chocolate valentines to everyone.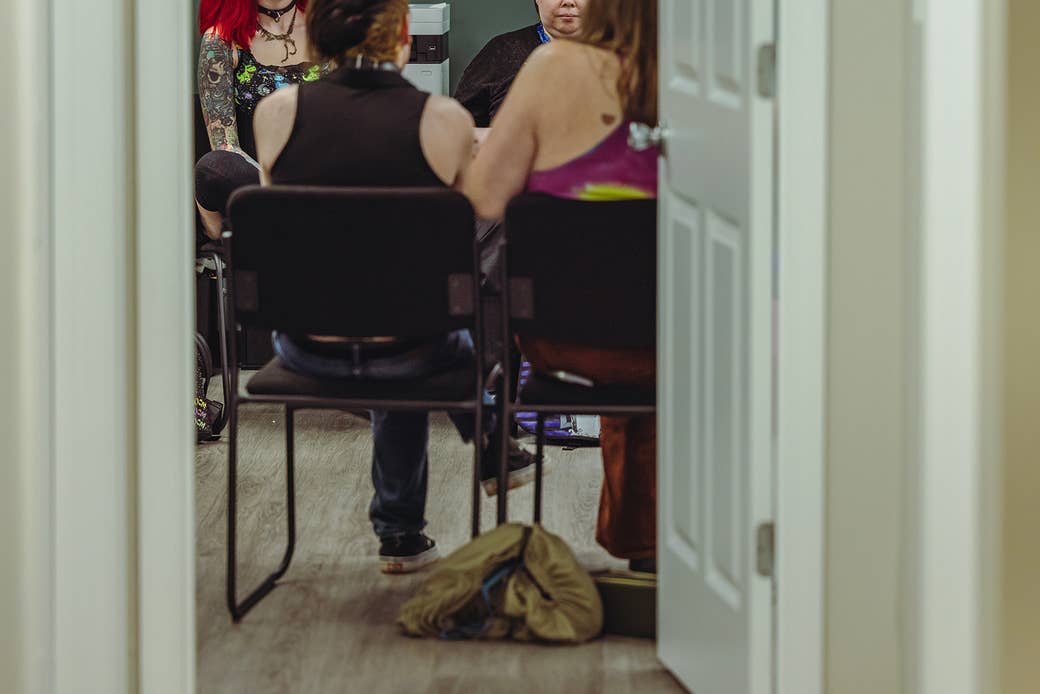 As Jinni and I made our way to the Papa John's boxes in the corner, her sub Zakree schlepped over, wearing a blue plastic chain mail choker with a dangling lock. He asked Jinni for permission to eat, then eagerly dipped a cheese slice into garlic butter.
Jinni told me that BDSM had helped her to cope with PTSD more than therapy had. Her second wife became her dominant, or dom, after she became interested in BDSM. "When [the PTSD] started to get out of hand or I got too upset, she would just tell me to kneel," she said. "And that did my mind a world of good. It's just funny when you're in the grocery store."
Zakree finished eating and sat down in a chair next to Jinni. But at Subby School, subs aren't allowed to sit with their doms, because it can take them out of support-group mode and into their dom/sub dynamic.
"Zak, you know you're not allowed to sit next to me," Jinni said. Zakree got up and moved to the next chair in the circle.
Then, fellow Subby School cofounder Snow (who requested a pseudonym to protect her privacy), a 34-year-old married mother of two and corporate manager with bright red hair and a black choker around her neck, called the meeting to order. "What's your name and your happy place?" she asked. "I'm Snow, and my happy place is at my dom's feet."
When new subs enter the kink scene, they commonly claim to have no limits. Jinni sees it as her mission to show them that they do. Once, at a training session, Jinni brought in a triangular grill scraper. "OK, you have no limits," she told the group. "Imagine what I can do to very sensitive body parts with this scraper."
Jinni also has a cautionary tale she likes to tell mentees. Decades ago, Jinni and her second wife had not established clear limits in their dom/sub relationship. One day after a motorcycle ride to visit her wife's family, Jinni's wife whispered in her ear that she wanted to have sex. Jinni said no. Her wife protested, and Jinni grabbed her by the hair and pulled her to a bench and made her kneel. "If you want sex, you're going to have to beg," Jinni said. Her wife's brother, sister, parents, and uncle were 20 feet away.
"Imagine what I can do to very sensitive body parts with this scraper."
Feeling humiliated, a few days later, Jinni's wife brought home a funnel and habanero sauce from the restaurant where she worked. She demanded Jinni pour it into her own anus as a punishment, and Jinni did as she was told. For nearly two weeks, her asshole bled and burned. There was also the time her ocular socket shattered after her wife slapped her during a BDSM scene, the time her wife broke her fingers, and the time she fractured her ribs.
The moral of the story: Set limits before engaging in a BDSM scene (a prenegotiated episode of play, which may or may not be sexual).
BDSM has been part of Jinni's life for over 25 years. When she started, she was a submissive, but now she's a switch, someone who is submissive or dominant, depending on the partner. "I got into it pre-internet. And the only way you got into it was through other people," she said. "Nobody came in new and didn't get either trained or mentored." After meeting a submissive trainer at a kink club, Jinni and her wife learned how to participate more safely and negotiate their boundaries. And after undertaking her own training, Jinni became a trainer herself.
Jinni said that having subs train each other is ideal. "Doms are horrible at training. They teach you their personal preferences; they don't train you to be a submissive. And there's a big difference in those two things," she said. "A perfect example is kneeling down — they teach you three or four positions [that they like]. I can teach you three dozen."
But by the 2000s, Jinni said, there were no good routes for subs to get training, and much of the information online was unreliable and even dangerous. So she had an idea: a kind of school that wasn't traditional, but a hybrid of support group and skill-sharing class. It would also connect submissives with other submissives.
Independently, Snow had the same idea. She came to Atlanta from Hawaii, where she used to hold a bimonthly "slave gathering" for submissives in her living room. Doms would drop their submissives off at her house and they'd sit on the couch talking shop. When she moved to Atlanta, she missed the community she'd built.
She also noticed that there wasn't much submissive education in Atlanta, especially around the emotional elements. "I was like, what would I have wanted, when I first came in the community? What would have helped me?" Snow said.
Jinni and Snow met in the kitchen at an Athens Ladies Munch, an event where subs get served by doms. Both worked at an Atlanta BDSM club, which is where they initially formed Atlanta Subby School (they realized later that the acronym was ASS). "We started Subby School as a kind of discussion group — everybody could bring their own ideas, bring their own thoughts and their own experiences, and share," Snow said. She prepares topics for each class, inspired by her experiences, research, and member suggestions. "We talk about safety, we talk about being healthy-minded and healthy-souled," she said. They've been running Atlanta Subby School together for 18 months.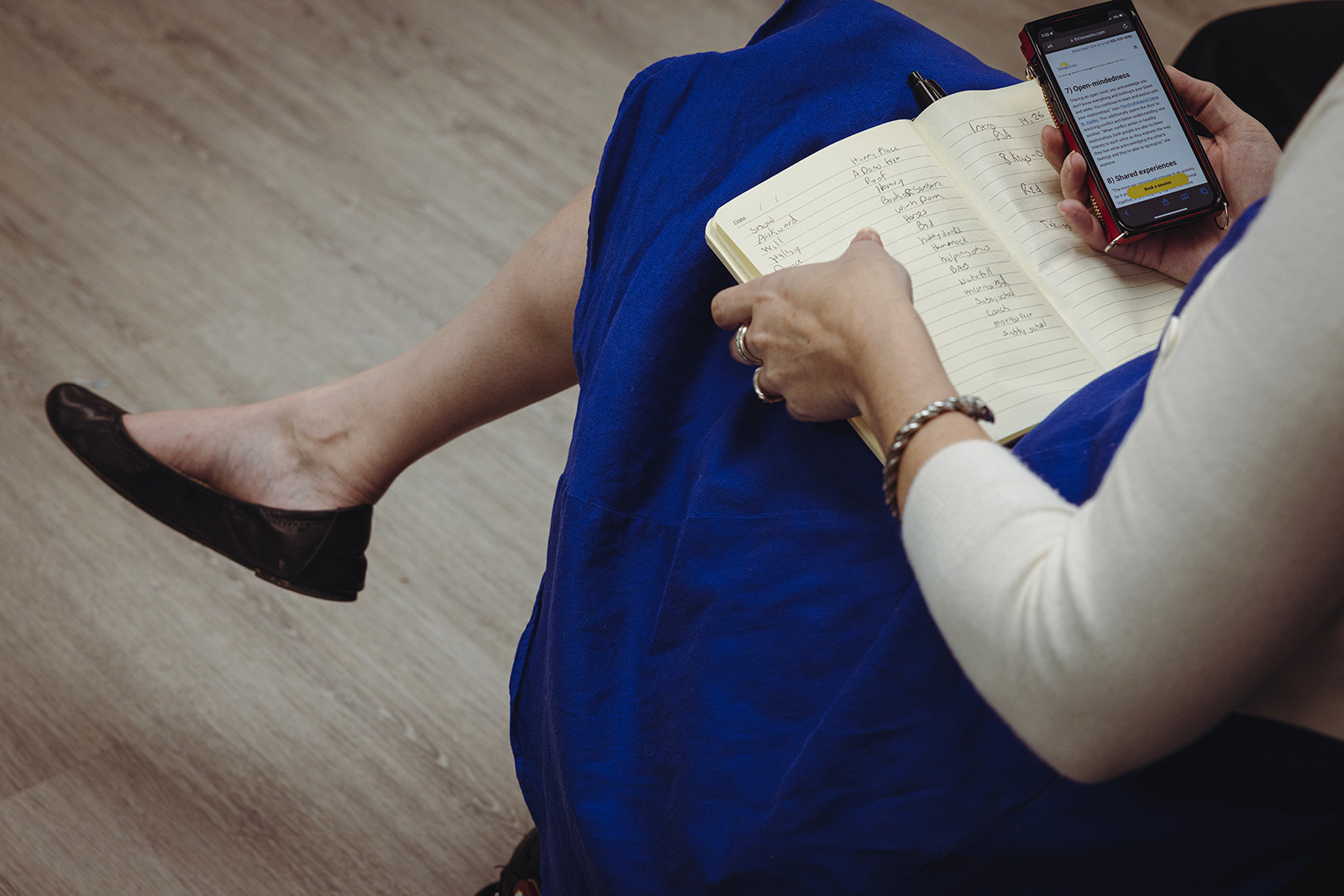 Another reason Snow wanted to start Subby School was to mitigate submissive burnout. She'd seen submissives new to the kink scene do up to six or seven scenes a night, entering a state she called "frenzy," or "the energy most people get at the beginning of a new thing."
"They build their endorphins so high and then the endorphins drop, and all of a sudden, they're in the worst depressive episode of their entire lives," she said. In the Subby School community they call this "drop-off." Even when the high occurs after months of play, the drop can be hard, and people stop participating. "It's really sad," Snow said. "[For] a lot of people, this is how we interact with the world. And to not have that outlet and not have that connection with people anymore can be really difficult to handle."
Subby School also addresses self-care, red flags, and aftercare, or how individuals take care of their emotional needs following a scene. "We deal a lot with what to look for in a dom [and also issues like] not being afraid to use safe words," Jinni said. "Subs hate using their safe words because they feel like they failed in some way."
Jinni said that when her wife was learning to be a dom, her wife's mentor suggested an exercise where she would keep increasing the pain level until Jinni called out "red" — her safe word, indicating she wanted to stop — because if Jinni wasn't willing to do so, there might be problems in the future. "Being a new sub, I did the same thing that all of us tried to do. Not say a damn word," she said.
Jinni and Snow also discuss correct methods for edgeplay: physically or mentally dangerous play, including humiliation, rope, choking, electricity, knife, or blood play. Jinni warns newcomers to initially avoid humiliation play, where you are consensually embarrassed or humiliated by your dom. Even with boundaries in place, the emotional toll can be heavier than subs expect. "Do you know how much damage I can do to you with humiliation play in less than three minutes?" Jinni said.
No doms are allowed at Subby School. Dominants "get very headbutty," Snow said. Switches are permitted, and sometimes attend because they want to explore their submissive side further. But the inverse can also be true: One switch told Jinni that Subby School is really upping their game as a dom.
The first Subby School meeting, back in 2021, had fewer than 10 attendees. The largest meeting so far has attracted 50. Subby School does little marketing, aside from a page on the FetLife social network. Most of its members discovered the group there or via word of mouth. "Some of the people that come frequently call it free therapy, because a lot of what we talk about is relationships, and we talk about how to take care of ourselves," Snow said.
Although BDSM and kink seem to occupy a different universe than the vanilla world, they're actually not that far apart. "BDSM, like all other recreational activities, is about seeking a change of state," said Midori, an educator, sexologist, and artist who is the codirector of Curriculum for Kink Informed Certification.
Stefani Goerlich, a certified sex therapist who works with BDSM practitioners, said that submissives often hear mixed messages. "Within the kink community, they hear that submissives are strong and that they are really the ones who hold the power in a power exchange relationship. Meanwhile, the general community tends to view submissive personalities as fragile, weak, or broken in some way. … This push-pull of being on a pedestal in one space and misunderstood in another can be really difficult for submissive folks," she said. "The best people to understand what it means to move through the world as a submissive … is another submissive."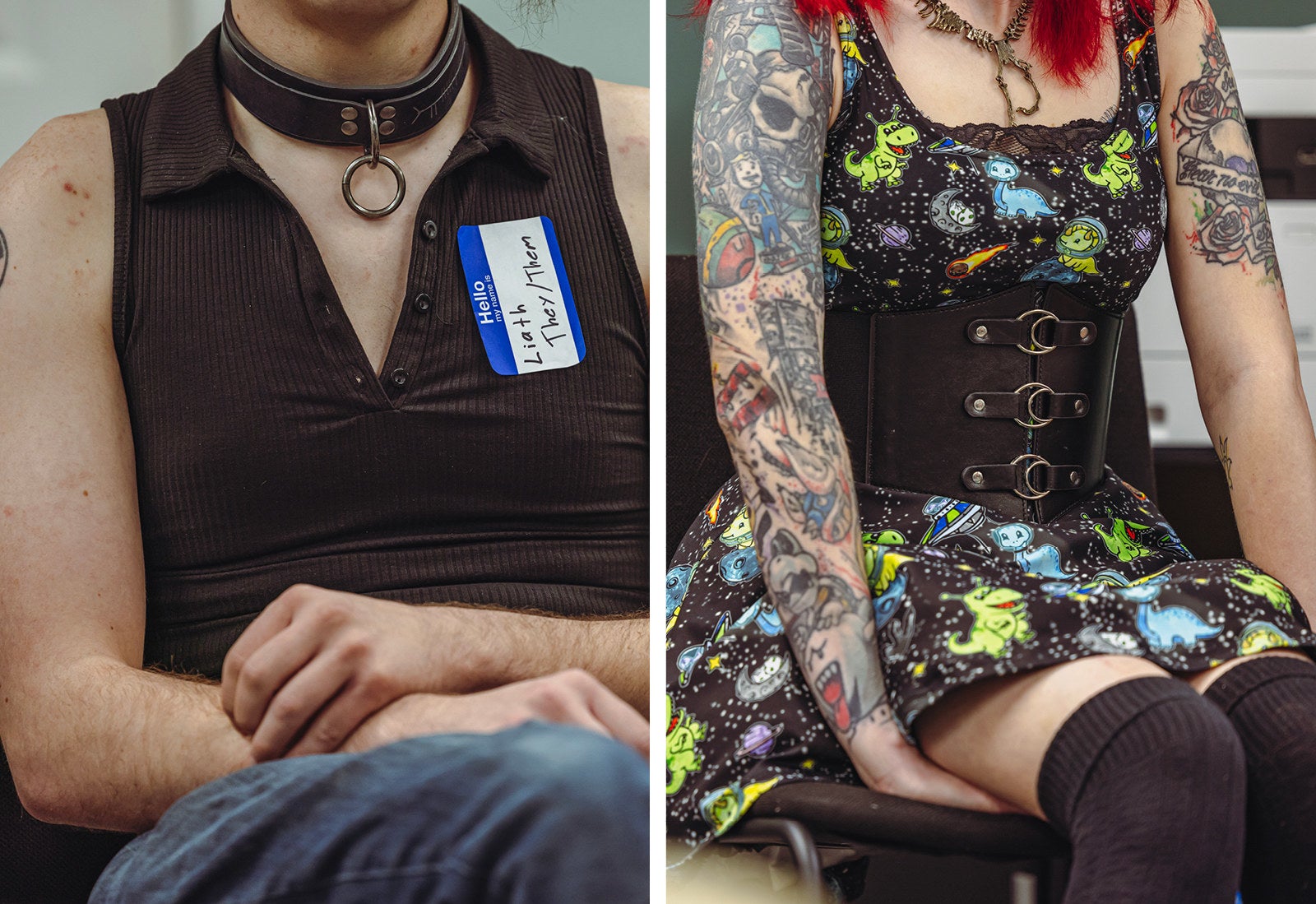 After reminding attendees about an upcoming leather care class, which would focus on how to clean and condition whips and leather clothes, Snow asked the group how they managed their time with their doms and polycules.
"Me and my husband, who is also my kinky partner, have monthly state-of-the-relationship meetings," a woman with striking purple hair said. A college student said that he lets his dom know the dates for final exams in advance.
Soon the group tired of calendar discussions. Snow said she was changing to a "fun topic."
"Every time you say that, it's not," whispered Awkward, her girlfriend, who was wearing a Rick and Morty T-shirt.
The group burst into laughter.
"I love you," Awkward added.
Snow pinched her.
"She's not allowed to sit next to you. Go move," Jinni said.
"She's my girlfriend, not my submissive," Snow said.
Talk turned to relationship dynamics. "What are you looking for in a dominant? Or in your regular relationships?" Snow asked. "Do you have relationships [where] you are fudging your own wants and desires because of some specific reason?"
A few people murmured in assent.
Snow posed a question about deal breakers. "What if they are the perfect dominant for you, except you're [monogamous] and they're poly?" Snow asked.
"That's going to cause serious problems in the end," someone said.
Snow offered another hypothetical. "They like electric play, you absolutely hate it. Everything else is fine," she said.
"I have that issue in my own personal dynamic. I love electric play. Mistress hates electric play," said Liath, who introduced themself as a college student. "My mistress devised a solution. Her friend comes over and I get the shit zapped out of me."
Everyone laughed.
"Let's talk for a minute about our red flags," Snow said.
"I don't like intentional blood. It's just not my thing," said Haley, a talkative, self-described "brat" with glasses and long brown hair.
"No barbed wire for you," said Snow.
"But I like really heavy impact. So [blood is] gonna happen. And that's fine. … I'm in happy land," Haley said.
"It's gonna sound weird, but dry cardboard — it's an autistic thing for me — it's the sensation," said Greg, the guy with the curled mustache. "I can't stand to give my body goosebumps. And that's the first time I've ever admitted that to a group of people."
A supportive hum rippled throughout the group.
Subs can inflict emotional pain too, sometimes unknowingly, Snow said. Once, she said she saw someone "age regress" — or pretend to be younger — while engaged in an impact scene at a kink event.
"It went from 'Oh my god, this sucks' to 'Daddy, ouchy,'" Snow said. "And it triggered a lot of people around them, because that was not what you expect to come out of someone's mouth in the middle of an impact scene," Snow said. Age regression should be negotiated with partners, she suggested, because it can trigger childhood trauma.
"I've become a completely more confident person thanks to my dom."
The college student said a past partner had often disregarded their boundaries. "That left me in kind of a bad place where sexuality was concerned. And it was building trust with a mistress and another partner that actually has helped me back from there," he said.
"I've become a completely more confident person thanks to my dom," Greg said. The day before, he had received constant compliments on his mustache. "I was getting annoyed by it at first because I was trying to enjoy my day. My dom's like, 'You're gonna keep track of every time someone says something to you today about that. And it'll basically teach you not to get upset when people are complimenting you.'" Then Greg received 24 compliments. His dom said he would be receiving 24 nipple twists as a punishment. "I'm looking forward to it," he said.
For some submissives, expressing needs and limits can feel like it runs counter to the idea of being obedient. Members shared their fear of being abandoned if they appeared to be overly eager or trying too hard. According to Snow, fear of abandonment is one of the submissive community's "biggest traumas."
Haley shared that she'd recently felt abandoned by her dom. So for Valentine's Day, she bought herself a cage. "It's a little safe spot to go to, and I have a bunch of my stuffed animals in there," she said.
Jinni chimed in. "Cages are great," she said, suggesting that draping a blanket on top can make it feel even more secure. "It's actually really easy to go to sleep, even surrounded by 200 people," she said.

In addition to these meetings, Snow and Jinni also organize Subby School high-protocol dinners, which Snow said are modeled on royal events, except the rituals are kink-related. At the dinners, Snow, Jinni, and other Subby School members wait on dom diners. They recently held a kinky auction to support Jerusalem House, an Atlanta charity that provides housing for low-income and homeless people and families affected by HIV/AIDS. Snow auctioned off herself as a human charcuterie board.
Kink helps Snow cope with her busy life as a mom and corporate manager. "I've always had such a tight grip of control on everything, so when I don't have to have that control, it makes me happier," Snow said. "I'm a better parent because I don't have to always have all the answers. It makes me a better employee."
Snow is polyamorous, and her husband isn't kinky. Recently, they explored kink to work out tension in their relationship, but it wasn't for him. "He's just like, 'I'm done. I can't do this,'" she said. But he supports her in pursuing kink with other people.
Her kids don't know that she's kinky. When one of her daughters was 6, she noticed bruising on Snow's thighs and asked what had happened. "You know how we go play outside, you have fun, you get bruises? I had fun. And so I got some bruises," Snow replied. After her daughter noticed, she was more careful about avoiding marks and hiding them. She doesn't plan on telling her kids that she's kinky until they are 16.
The kids know that she's poly "because that's really hard to hide," she said. She lives with her husband and Awkward, who also has a child. She also has another girlfriend who doesn't live with her. They are all part of a 10-person polycule in the Atlanta area.
In their basement, Awkward creates onesies and bedazzled pacifiers for other "littles," people in kink who pretend they are children, around 4 to 7 years of age. She sells them in an online store. Awkward is not a "little" 24/7, but that side comes out when she is stressed. "When I'm having happy 'little time,' I'll color, watch shows, play Animal Crossing," she said.
For Snow, one of the most memorable Subby School sessions involved a discussion of how their childhoods affected their kink lives. Many people brought up being abused as children. "We had a lot of tears; a lot of heartbreak," she said. "A lot of support and love and healing came from it."
Snow has observed that a lot of people who become submissives come from homes where they didn't have much control. "So when they leave home, they start floundering," she said, and they "go looking for dominance" because they're seeking structure. And that's dangerous, she said, because they can end up in abusive relationships.
"The person in charge has no power if nobody follows. So there's always more power in submission than there is in dominance."
But a good dominant can be life-changing. "One of the things we talk about [in Subby School] is healthy dynamics," she said. "The dominant is going to push you to be a better person."
The previous night she'd gone out drinking and her dominant told her she was only allowed to have three drinks. She texted him throughout the night, updating him on her progress. "I got to do fun things and still feel like somebody cared enough to check in on me," she said.
Subby School isn't just a part-time pursuit for some of its members. For people like Persephone, it's become a lifestyle. Persephone has been attending Subby School nearly since its inception. The 32-year-old moved from Atlanta to New York for her fiancé's job and didn't know anyone in the city. She was new to kink, and while attending her first-ever event, another person said, "You seem a little nervous. … Why don't you come to Subby School?"
She and her fiancé came to Subby School together. She was anxious, but also excited. "I was worried that I wouldn't know enough, and I didn't want to come across as naive," she said.
Instead, it was one of the least judgmental spaces Persephone had ever been in. "It's a safe space, like Switzerland. … There's not a single person I would let into this community as a submissive without having to go through Subby School first," she said. People shared deep desires and fears, but there was also levity. Some days they would shoot Nerf guns together. "It's a little family. It has a lot of playful spirit. We do talk about a lot of really heavy things, but … you feel lighter when you leave," she said.
She thinks the dom/sub dynamic appealed to her partly because she's neurodivergent, with autism and ADHD, and has trouble speaking up for herself and making decisions. Subby School helped her learn that being a submissive wasn't just doing what other people tell you to do. The stereotype that submissives are weak is false, she said: "The person in charge has no power if nobody follows. So there's always more power in submission than there is in dominance."
Many of the people in her first class were very powerful in their professional lives, working as CEOs and in other upper-level jobs. "It's an ability to check out of being in charge. It's being able to put your trust in someone else and say, … 'I don't want to choose anything,'" she said.
"I have seen an improvement in my life. I have also gained a bit of a backbone."
Snow and Persephone started to hang out frequently. One day, Persephone texted Snow that she was having a bad time. "Pack up. You've got three hours. We're going to Disney," Snow texted back. Snow knew a trip to Disney World had been Persephone's dream. They stayed overnight at another submissive's house. It was a "whirlwind," Persephone said. "We held hands and fell asleep."
"Neither of us knew we liked each other until we were already dating, which is really funny," Persephone said. "We're both just so submissive about it."
Persephone said that attending Subby School was the best choice she'd ever made. "It changed my entire life," she said. "Now I am pretty much 24/7 involved [in kink], including helping plan events and teach classes. … I went from knowing no one to having the most insane social life. I literally have to schedule time to eat and function."
She said she has "two-and-a-half doms." Each plays a different role in her life. "Having a dominant allows me to have a framework and accountability. It's almost like free personal training, free life coaching," she said. "I have seen an improvement in my life. I have also gained a bit of a backbone."
Subby School could even help those who aren't kink practitioners, she said. "I wish there was a Subby School for life. A lot of us don't have healthy boundaries," she said.
"Growing up we're not told that it's OK to say no. We're taught to be yes people. We're taught: Someone says jump, you say, 'How high?' Subby School says it's OK to say, 'Yeah, I'll jump but I'm only jumping this high,'" she said. "It's the school for submissives that teaches you not to be a doormat." ●