When Melissa, now 40, first started corresponding with people who had profiles on the Write a Prisoner website, she had one rule: "I would never write anybody with murder charges." (We've withheld last names and some locations to preserve interviewees' privacy throughout this story.) Melissa was pursuing a bachelor's degree in criminal justice and had learned that having a pen pal reduces an incarcerated person's chance of reoffending. "I never was looking for a relationship," she said.

About three years later, in September 2021, in the midst of a divorce and grad school, she stumbled upon Travis's profile. A photo showed him clad in a jean jacket, smiling, straight brown hair framing his bearded face. "I am the kind of guy who would prefer to watch a movie or play a video game rather than going out on the town," his profile read. They had a lot in common: Both lived in Virginia, loved The Twilight Zone, enjoyed writing, and held Wiccan beliefs. He was a certified dog trainer who taught puppies to work with people in prison who had disabilities. But linked on his profile was a startling fact: He'd been convicted of second-degree murder. She wrote him a letter, but she never mailed it. She tried to forget about Travis, but she couldn't. Ah, whatever, she thought. I'm gonna give him a chance.
She sent the letter and included a photograph of herself so he could see what she looked like.
They clicked immediately. "A short time after we started writing, [we started] having feelings for one another," she said.
Travis, 39, had been in prison for 13 years. Melissa was the second person he had communicated with through Write a Prisoner; he thought she looked stunning, and he was impressed by her writing. "She seemed like such an interesting and accomplished person," he said via email. "I found that when I wrote her [back] the words just flowed. It was almost like love at first sight. … We had such an immediate, deep connection."
After his conviction, Travis had given up on relationships. When he joined Write a Prisoner, he was looking for a pen pal because life in prison had been more tedious than usual. Due to COVID-19, his dog training program had been paused because the prison wasn't allowing human visitors. "That makes the days slow," he said. Instead, he worked as a custodian (for 45 cents an hour), exercised, wrote (both fiction and nonfiction), watched TV, and made desserts with ingredients from the commissary. He'd heard about Write a Prisoner many years before from a friend, but at the time he didn't have $65 for the fee.
Travis and Melissa began talking to each other for 40 minutes a day on the phone. Then they progressed to video visits every other week. Travis would go to a room in the prison that was equipped with a monitor and an old-school phone; Melissa would access the Zoom-like service from her home computer. He paid for the phone calls and she paid for the video visits, which cost $20 an hour. Soon they were in love.
But Travis feared losing Melissa once she discovered what he had done. After they'd been together for about a month, he wrote her an email. "In a moment of intense stress and thoughtless panic when [I] was taking care of [my] 11 month old daughter, [I] threw her down and killed her," she recalls him writing. At the time, he had been married, had just lost his job, moved in with his father, and was high on cannabis. He told her that he'd since tried to kill himself in prison.
Melissa didn't respond for about a week. He emailed her again. "If you hate me, just tell me," he wrote. Then he called, fearing it was the end of the relationship. But Melissa hadn't ever received his email. In any case, she had known about his crime all along. "I told him point-blank, I think he should have been put in prison. … He took a life," she said. "What he did was deplorable. But he's doing his time for that. … We need to be able to forgive people and not define them by the worst moment in their lives." Instead of breaking up, they got even closer.
When Melissa told her close friends about Travis, their first question was often, "What's he in for?" And once she told them, "They [were] like, 'Oh fuck,'" she said. "There's such a stigma around people who are convicted, and people are quick to judge." So she decided not to tell anyone else, including her family.
On March 11, 2022, six months after she first contacted Travis, Melissa drove over three hours to finally meet him in person. When she arrived, staff led her to the prison visitation room. "It kind of reminded me of a kindergarten cafeteria. There's little plastic chairs and little plastic tables," she said. She wasn't nervous, because she felt like she'd known Travis forever. When he entered the room, he was wearing the required orange jumpsuit and orange sandals. "He was concerned about what I would think. But I was like, '[I'm] there to see you, not your outfit,'" she said. They hugged and kissed, as five correctional officers looked on. One was in the room with them, and four others were outside, separated by glass walls. Travis and Melissa weren't allowed to touch again until they said goodbye.
Travis is scheduled to be released next June. They plan on getting married. He wants to work as a vet tech or a truck driver. "I always tell him … I will help you get a job, but it's not going to be easy," she said. "Formerly incarcerated people leave prison thinking they'll have a fresh start. And unfortunately, society does not provide that."
Although Travis is counting down the days until he can be with Melissa, they appreciate the way their relationship has developed. "This time apart gives us time to know each other on an intellectual level," he said. "It has given us a strong foundation."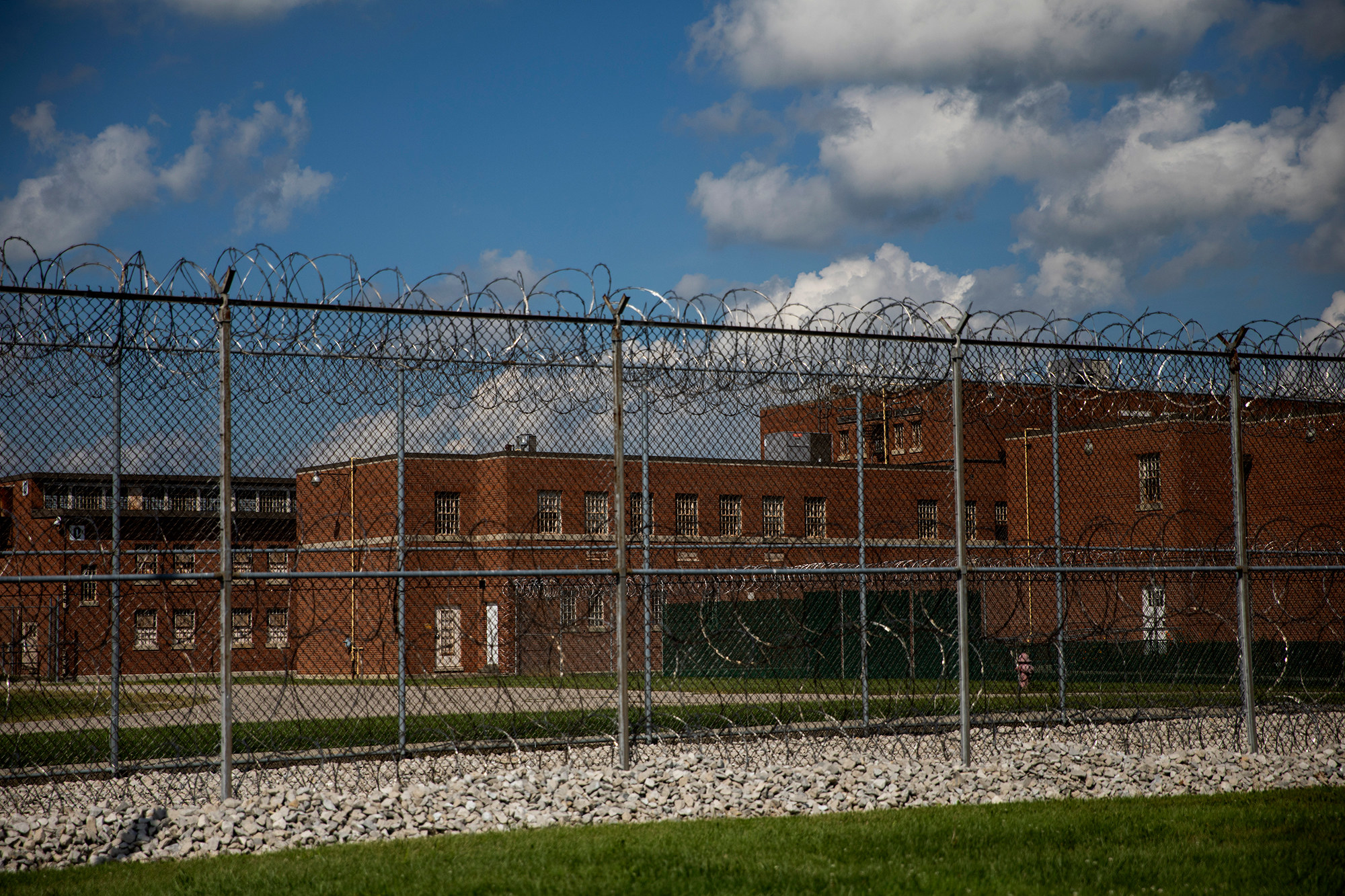 Melissa and Travis are two of the thousands of people who have connected through Write a Prisoner, the most popular prison pen pal website in the US. In February, the site received 445,801 unique visitors; in some months, it has reached 4 million, according to Write a Prisoner's founder, Adam Lovell.
Write a Prisoner is one of a handful of pen pal sites that cater to the more than 2 million people behind bars in the US, which has the highest number of incarcerated citizens of any country. Some sites, like Hot Prison Pals, which only allows male users (men account for about 93% of the US prison population), Love a Prisoner, and Prison Friendship, market themselves more explicitly as dating sites. Prison Friendship, which costs incarcerated users $39.99 a year (users who aren't in prison do not pay a fee), also has a TikTok account with over 91,000 followers.
On Write a Prisoner, the average writer on the outside is over 30 and motivated by empathy and friendship, according to founder Lovell. About 50% are women who seek men correspondents. "We try to discourage people from coming to the site seeking romance. But it does happen," Lovell said. "There are multiple couples that have been together for over 10 years," he said. But "most inmates need a friend more than they need a romantic partner." The site requires all users to disclose their crime and whether or not they are serving a life sentence. People who admit to multiple homicides on their profile are rejected, as are those whose crimes garnered a lot of media attention. The site also rejects profiles that are racist or that refer to sexual fetishes. Profiles can be somewhat sexy; many photos feature the users shirtless or showing cleavage. "But we don't let them post lingerie or nudes or anything like that," Lovell said. Users also can't link to their OnlyFans.

Write a Prisoner stipulates that all correspondents must be 18 or older. They check incoming messages for hate speech and gang-related speech, and whether any of the content violates the law, then print and mail them to the incarcerated person. Leonard A. Sipes Jr., a former director of public information for the Maryland Department of Public Safety, said this protocol exists because people have tried to smuggle drugs by soaking them into paper. People in prison can choose to get in touch with correspondents via snail mail, JPAY (a paid service that provides email), or phone. The site currently has 22,000 incarcerated users. "We have over 1% of the incarcerated population [nationally] actually using the site," Lovell said.

Lovell founded Write a Prisoner in 2000 when he was 21 after writing letters with close friends who were in prison. He then discovered a prison ministry that was helping connect incarcerated people with pen pals online; he thought he could do a better job and commercialize it. But when he started, there was no email in prison and no internet connectivity for people serving time, and the reception to his idea was hardly enthusiastic. "Most people kind of scoffed or laughed at it," Lovell said.
Write a Prisoner did pretty well thanks to media coverage and happy testimonials from incarcerated people, although it took him three years to make a profit. The site makes money both through profiles (most of which are paid for by family and friends) and Google AdSense. Yet, he added that he is not "getting rich on Write a Prisoner."
Prisons, on the other hand, weren't always thrilled with websites that profited from incarcerated people — some even blocked the service, including prisons in New York, Arizona, and California. Sipes said people seeking prison pen pals should not join websites that require the incarcerated person to pay to create a profile, nor should people seek romantic relationships on such sites. "People really do need to understand that there's a big risk in terms of who you're interacting with," Sipes said. Instead, he suggested people should try to volunteer at a prison. "We have volunteers in every correctional system in the country and they're the people to work through," he said.
In 2003, the Florida Department of Corrections banned ads from incarcerated people seeking pen pals, like the ones featured on Write a Prisoner. But the ACLU mounted a defense in every state where Write a Prisoner faced obstacles. When Florida proposed a complete ban on prison pen pal services in 2011, Randall Berg, an attorney at the Florida Justice Institute, and Lovell traveled to Tallahassee to fight via lawsuit. The law passed anyway.
"We've grown every single year that we've been in business," Lovell said. These days, he said, prisons are more accepting and the Florida law isn't really enforced. "I think it's really hard to make the case against allowing an inmate to seek a pen pal through a correspondence service through postal mail, when you're actually giving them access to email, through things like JPAY," he said.
Lovell now oversees a staff of eight full-time employees who manage hundreds of emails from incarcerated people each day. The company also provides free "welcome home kits" to people when they leave prison that contain clothing and shoes, and helps them receive education behind bars; they can post their educational goals and ask for civilians to send them resources about courses, scholarships, and future job leads. "We also correspond with many incarcerated people (not just clients) directly by answering questions and providing resources, as needed," Lovell said. About a decade ago, Lovell began putting art and poetry by incarcerated people on the website.
"Cutting off their communication from the inside … is so counterproductive," Lovell said. "When you cut them off, all you're going to need to do is build more prisons."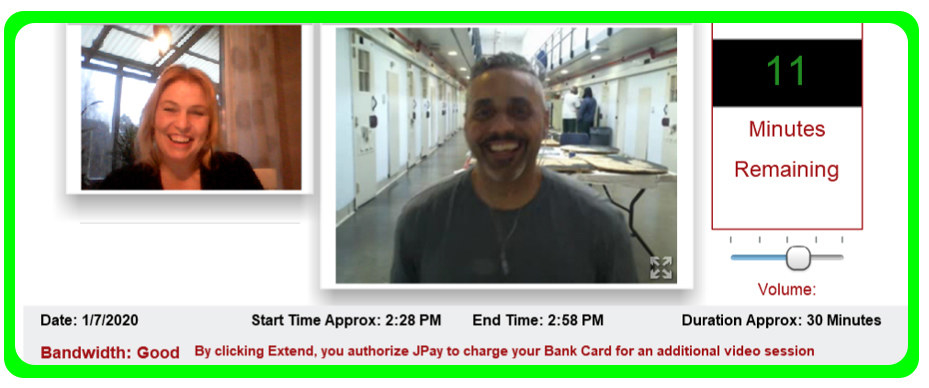 In summer 2019, Toria, a 44-year-old retirement home worker who lives in Gothenburg, Sweden, was in the process of separating from her husband. Her friend, a 67-year-old true crime fan, had heard about women writing to incarcerated people, and wanted help joining Write a Prisoner. Helping her friend piqued Toria's curiosity.
She saw Tony's Write a Prisoner profile. He seemed handsome, funny, and educated, but she was afraid to write to him. "I didn't want to play with fire," she said.
Toria wrote to two other members instead. "I wanted to make a change in a person's life," she said. Then three weeks later, she caved and emailed Tony. "I said something about a friendship application from Sweden," she said. About a day later she got a response. "It had him laughing," Toria said.
The connection was instant. They began emailing back and forth four or five times a day (each email required a "stamp" that cost about 50 cents). After about a month, they had their first phone call. "The first day, we talked five or six hours on the phone," Toria said. Daily calls soon followed.
Tony, 51, calls himself "the mayor" of his cellblock. He has been incarcerated in Ohio for 15 years and said he hasn't received any disciplinary infractions, which means he can access certain privileges. He lives in an "honor" block in a medium security prison, which has amenities including a workout room, an arts and crafts room, and a TV room. He's allowed to spend around nine hours outside a day, so he helps run the community garden and tends his personal garden plot. "I can grow all kinds of stuff in there: broccoli, tomato plants, pepper plants, all types of kale and radishes. So I'm very fortunate and blessed to be a part of that," he told me.
Tony landed a 25-year sentence on charges of burglary and robbery. He was armed and threatened people, so he's considered a violent offender. "He told me what happened. And he doesn't make any excuses. And that's it. We're not really talking about that," Toria said. "It's in his past. I don't tell him everything that has been in my past either. I'm not the same today as I was when I was 15 or 20."
Three months into the relationship, Tony suggested a video visit. "I was really scared," she said. She didn't want to rush things. But she agreed, and he paid $10 for a 30-minute chat. "The time just flew by. It felt like two minutes," she said.
Soon Tony met Toria's ex-husband and her children through video. Her son, who is 20 and was still living at home, had a tough time coping with the fact that she had a new beau, but her 22-year-old daughter thought it was "cool" to have a mom who was dating someone in an American prison, Toria said. Toria's friends were skeptical of Tony at first. "At first it's like, 'Um, why are you talking to someone in prison?'" she said. But then Tony called when her friends were over. "And then they talk to him, and they say, 'Oh, he's really cool.'"
In 2016, three years before he met Toria, Tony suggested his mom enter the prison pen pal business. He had been underwhelmed by other pen pal sites, including Write a Prisoner. "The idea was to make a better website that was affordable and different," he said. He also wanted incarcerated people to be able to connect with pen pals faster. When someone who's in prison connects with someone on the outside, he said "it changes the morale of the entire cellblock." Tony's mom bought PrisonFriendship.com that year.
The website didn't do well at first. It only received about 400 visits each month. Then in March 2020, when Prison Friendship was basically inactive, Tony asked Toria if she wanted to help improve the site. Despite the fact that she had a job and was studying for a bachelor's degree in law and social work, she started volunteering about 25 hours a week. She cleaned up the website's interface, added video messages, and banned people who had been convicted of crimes against children from creating profiles. She also created social media accounts for the site, including the TikTok channel. Because many people in prison aren't permitted access to the internet, Toria creates and posts the profiles. She converts them into PDFs and sends them to Tony's mom, who prints them out and sends them to the prison via snail mail or JPAY with a welcome letter.
Now the website gets 14,000 hits a month. About 700 incarcerated people have profiles on the site, 90% of whom are men.
Toria had planned on visiting Tony in April 2020, but COVID scuttled that. She visited this month and said it went well, but because Ohio doesn't allow conjugal visits (only four states do), they were only able to embrace at the beginning and end of the visit. "There's always the thought that maybe we meet in person, she won't live up to the expectation, right?" Tony said. "But I'm not really worried about that at all. She's a beautiful woman. She's very kind, so very giving, compassionate."
The soonest Tony can get out is later this year, which might happen if a hearing for judicial release goes in his favor, but his release could be as late as 2032. Tony plans on moving to Sweden after he gets out and finishes his probationary period, which could last between one and three years. "I feel Sweden is a much better country," Toria said. "We have free healthcare, free schools. We don't have guns… It's just a more democratic country."

Toria's view of prisons has been shaped by Sweden's approach. In Sweden, prisons are not called correctional facilities; they're called "criminal care." "And it's all about rehabilitating [people] into society," she said. Toria thinks that in the US, rehabilitation is not the goal. "They lock up kids for life."
Elizabeth Greenwood is a journalist and the author of Love Lockdown: Dating, Sex, and Marriage in America's Prisons. She interviewed about 50 women who were dating incarcerated men. In many cases the "choice to be with someone in prison has the most incredible positive effect on [these women's] lives. … For the first time, they're standing up for themselves and saying, 'This is what makes me happy,'" Greenwood said. "And that confidence, I saw translate in all these other incredible life choices: women going back to school, women starting their own businesses, becoming real leaders and advocates in prison communities, or prison policy reform."
Lynne Vieraitis, a professor of criminology at the University of Texas at Dallas, told me that research shows that healthy relationships reduce the likelihood that someone will reoffend after release. A 2020 study of imprisoned Americans and their partners found that the higher the quality of their romantic relationship, the lower the likelihood of reincarceration. Another study, from 2001, found that incarcerated Midwesterners who were in strong marriages with partners who weren't incarcerated felt less lonely in prison. Having a pen pal, whether romantic or not, can provide mental health benefits. A 2015 study of incarcerated people in Britain who had pen pals found that they felt less isolated, happier, and more hopeful about life after prison.
That was the reason Rachael Phelps, 34, a postal service employee, started writing to incarcerated people when she was 18. "It was very much meant to be a hobby. I was doing it because I thought they would be lonely," she said. She had two rules: She'd never date someone in prison, and she'd never send them money.
In 2020 Rachael was in the midst of a breakup of a long-term relationship. She had decided to stay single for a year. "I was just going to work on me," she said. "I lasted one month."
One of her prison pen pals had sent her a very pushy sexual letter. "I tore it up. I couldn't even deal with it," she said. "And I thought, 'I just need to feel safe.'" So she turned to another platonic prison pen pal she had been writing for over a year, Lucas Phelps.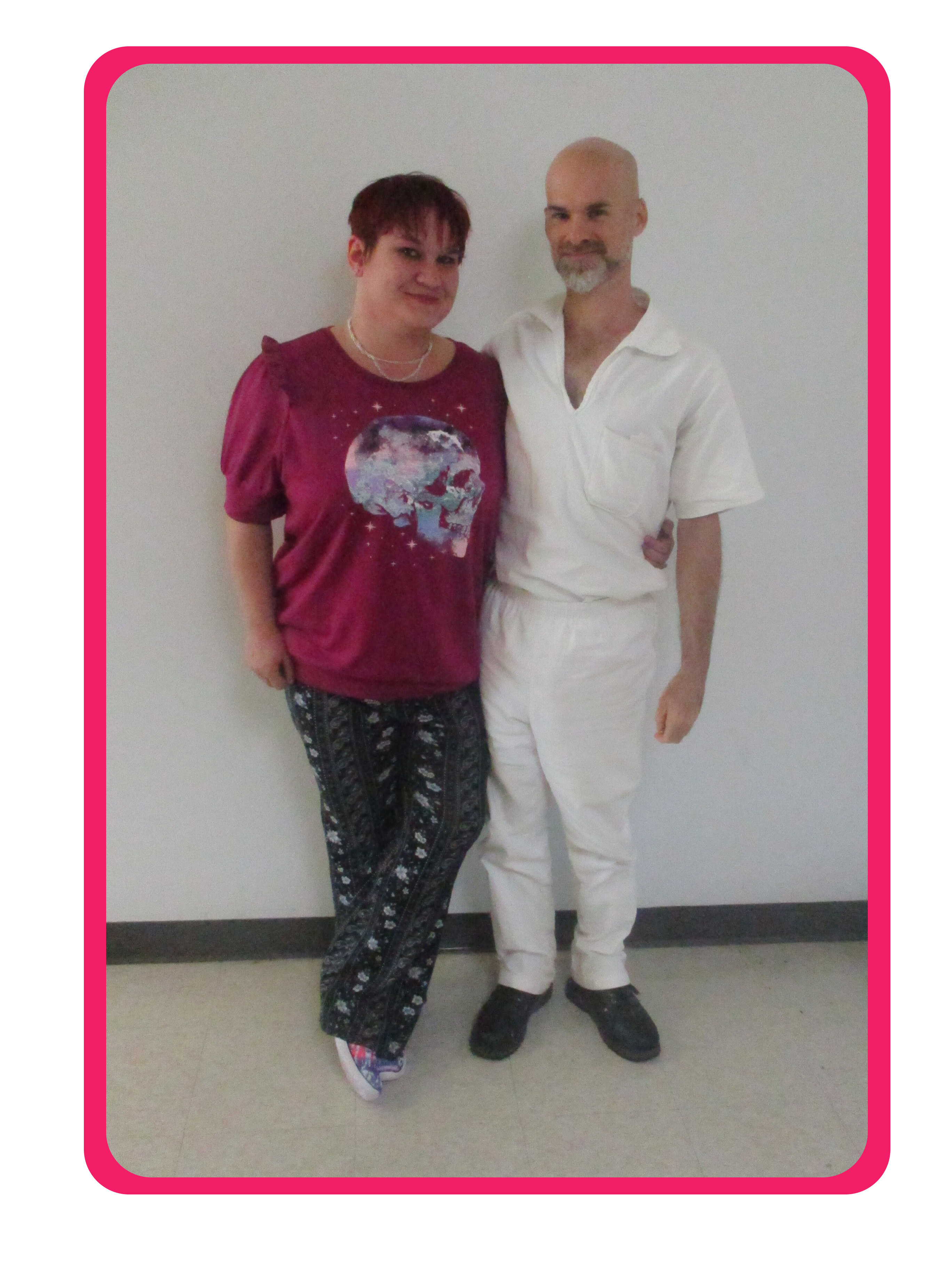 Rachael was one of a handful of women pen pals Lucas had. "[Rachael] made it clear that she was only interested in a platonic relationship," he explained in a handwritten letter from Hightower Correctional Facility in Dayton, Texas. Lucas had joined Write a Prisoner in 2015 and said he hadn't been looking for a relationship either. "I wanted to have a pen pal just to have someone to write to who I wasn't related to," he wrote.
As she was writing Lucas, Rachael realized she might be ready to break her rule about dating people in prison. "I was like, 'I have a ton of friends. I have family … and you were my first thought for a safe place. You know what, I would date you.'"
In the early 2000s, Lucas was a rising star in the webcomic community and a student at the Houston Institute of Art. He was married, had a toddler, and had never been arrested. (He later got divorced.) In 2002, he got into an argument with his then-wife, jumped into his car, drove past the speed limit, and hit another car driven by a pregnant woman. The crash killed the woman and severely injured her two children. "Lucas also almost nearly died. Both of his lungs deflated. He smashed his pelvis, his ankle, one of his ribs, broke his skull. He was in a coma," Rachael said. "They didn't know if he was gonna make it."
He did recover, and was charged with manslaughter and two aggravated assault charges, resulting in a 30-year prison sentence. The story became news in the insular comics world, where Lucas was known for his dystopian series Skritch, which features a mutant roach in a world "devoid of humans." Lucas is "a dapper professional, the precise opposite of his selfish, nasty title character," wrote one fellow artist after his sentencing in 2004, in a blog post that has since been taken down. As Lucas told me, "I wasn't a troublemaker. I was the quiet kid from a small town who drew cartoons."
Lucas doesn't think his sentence was fair. "My crime was terrible. Someone died. Some kids were badly hurt. Some form of punishment was necessary. But 30 years? That's excessive," he wrote. "I feel terrible for what I did. It was entirely avoidable. But I'm not some bloodthirsty psychopath."
A week after sending her letter, Rachael got a response from Lucas. "You're totally my type. And I'm pretty sure that I'm ready for a relationship after 17 years of being single," she recalled him writing. Within a month they were together. They began talking five or six hours a day. "I'll be at work, I'll be showering, I'll be doing my entire life. And he's there on the phone with me. He's just very involved in my life, even though he's not physically with me," she said.
Soon Rachael traveled from Wichita, Kansas, to Texas to visit him for their first in-person date. An armed guard met her at the facility; recorded the year, make, and model of her car and searched it; then patted her down. "They go all up in your inner thigh and all in and around your breasts. It's a little bit intrusive," she said. They waved a metal detector over her and cleared her for the visit.
Since they weren't married or related, Rachael was only permitted a no-contact visit. A guard escorted her to a room where she sat in front of a very thick plexiglass screen, next to a phone dangling on the wall. Lucas entered on the other side of the plexiglass and picked up the phone on his side. They talked for nearly eight hours. After the visit was over, a guard told her to meet Lucas in the lobby, and he handed her lotion and candles he'd made for her. "On our first date, that was the coolest thing," she said.
Lucas's life has changed substantially since their relationship began. "Every day, I've got someone to call and talk to," he wrote. "She prints memes, articles, and artwork she finds online and mails them to me. If I need to look something up, she'll do it for me since my resources are limited. She also stays in contact with my friends and family and lets me know what's going on in their lives."
When Rachael told her mom about Lucas, she "wasn't thrilled." Then Lucas and Rachael's mom talked on the phone and began chatting regularly. "Most of my relationships were abusive. I've been raped. I've been beat," Rachael said. Lucas was a big contrast, and her mom came around.
People often ask Rachael how she handles not being able to have sex with her partner. But the couple have agreed that she can have sex with other people. If it's with a man, she can't tell him about it. If it's with a woman, he encourages her to tell him. "I mean, he's a guy… They think it's hot," she said. But she doesn't want to have sex with other men and she hasn't been able to find a woman she's connected with. Originally, she hadn't been sure that she could give up sex, but she decided it was worth it. "I would much rather feel loved and safe than be getting laid, you know?" she said. She admitted she's touch deprived, though. "It hurts when I see couples walking down the street holding hands," she said.
Around six months after they started dating, Rachael started planning to move to Texas so she could be closer to Lucas. "I cashed out my retirement," she said. "I was about to go buy a house in Texas." Then her mom asked her to help fix up her old house for sale, offering her some of the proceeds. She moved to Pittsfield, Pennsylvania, expecting to be there for just a few months. When she visited Lucas, she had to drive 36 hours to see him, not even stopping at a hotel to sleep.
Then COVID hit. She spent a year and a half in Pennsylvania. She never saw Lucas in person, but they talked constantly. Lucas spent his time learning languages (French, German, and Gaelic); he wrote a fantasy novel, drew portraits and comics, and worked as a dungeon master for tabletop role-playing games. ("Yes, Nerds in prison," he wrote.) "Even with all this time it's still hard to actually complete anything," he said. "There's a severe lack of resources and inspiration. There's no internet access for inmates." The Texas Department of Corrections just brought tablets into prisons in 2021, which came with free podcasts and Project Gutenberg e-books. He read the Middle English Dictionary and the Kama Sutra in French, which he called "actually boring." He also takes an urban farming class.
"Texas is one of the harshest states to do time in," Rachael said. "Every inmate is forced to work full time, unless they're disabled, and they get $0." Lucas works as a janitor. "Not exactly a dream job, but it's preferable to [others]," he said.
In late February 2022, Rachael finally moved to Victoria, Texas. On the way she stopped to meet Lucas's parents. Lucas was on the phone for the meeting, but she was still nervous. "When you meet your boyfriend's parents, you do it with your boyfriend. You don't just show up without him," she said. "But his family … made it seem totally normal."
She began visiting him weekly in prison. Even though they had been a couple for two years, contact visits still weren't allowed. They decided to get married so they could have contact visits, but there was no ceremony or ring or wedding reception. It was all done through the postal service. "Alabama passed this crazy law where they no longer require in-person ceremonies," she said. "Both of you need to get a notarized signature, you send them like 70 bucks, and they mail you back an actual legitimate filed marriage certificate."
She had still never kissed Lucas or held his hand, never eaten a meal with him. "I feel like the state forced us to get married," she said. "I love him and we wanted to do this, but this is not ideal. When we grow up, we think we're gonna have the pretty white wedding dress and this beautiful ceremony. I got none of that."
When I spoke to her in March, she'd been married for 11 days. "I've never touched him and I'm legally married," she said, incredulously. She was looking forward to hugging her husband that weekend. "He's one of the smartest people I know," she said. "We balance each other a lot, because I'm neurotic and emotional and impulsive, and he's rational and thinks things through."
Now that they're married, she talks more freely about Lucas to others. "People are generally supportive," she said. Some think she's being scammed. Others think she's a 'sugar mommy' who financially supports him. "There's a whole subset of people who are like, 'Are you with him because you can't get a real man on the outside?'" She tells people that's not the reason she's with him. "I say my relationship is better than anybody else's that I know," she said. "My 'free world' friends, they're going through very toxic situations."
Lucas goes up for parole this summer. It's his 14th attempt. He's been denied 13 times, "even though the unit parole interviewer said I'm a model inmate … and even though my charges are considered non-aggravated, which is why I come up for review as early as I do," he wrote. "Something does need to be done about crime, but does it need to involve locking people in a 100 degree sweatbox for 20 years?" Lucas asked.
If he doesn't get parole earlier, he will leave prison on Dec. 26, 2031. He plans to work on art full-time after he gets out: comics, novels, games, and videos.
He understands why people judge Rachael for being with him. "I have a friend who's dated inmates, and I was like, 'Why??' And this was after I was incarcerated," Lucas wrote. "But at the same time, we're still people. We're just people who made a mistake." ❤