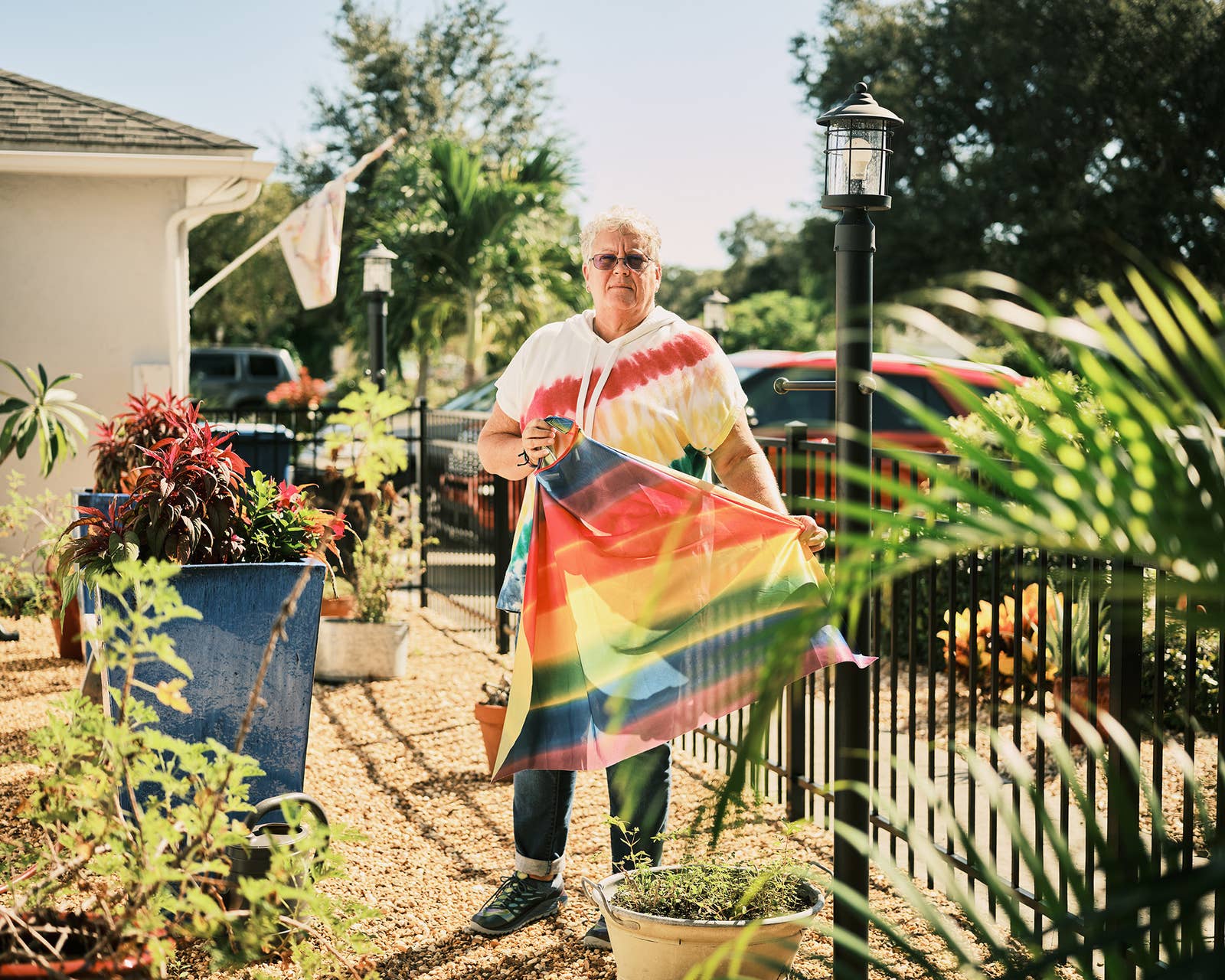 SARASOTA, Florida — Gail Foreman, a social studies teacher at Booker High School in Sarasota, Florida, loved to decorate her classroom. Her desk was adorned with Pittsburgh Steelers stickers and pride flags. A rainbow cape hung on the wall, next to 300 or so baseball caps that students had given her. Foreman, a 60-year-old lesbian with short gray hair and wire-rimmed glasses, is a sponsor of the school's gay–straight alliance.

Booker is the fifth-most-diverse public school in the state: 28% of students are white, another 28% are Latinx, and 27% are Black. Teens hang out in Foreman's classroom during lunch, where she provides cheese and crackers. They grab books from her extensive in-class library full of history tomes on numerous subjects, including slavery and women's rights. "I've been going to Ms. Foreman's classroom for lunch for two years now," senior Helen Mosquera informed me. "I've always felt comfortable there." Her students are like a little family, who both encourage and rib each other, Foreman told me in September. Sometimes Foreman's wife, Patricia, would pop in to supply extra snacks like muffins. Seven years ago, she and Patricia became one of the first LGBTQ couples to get married in Sarasota County.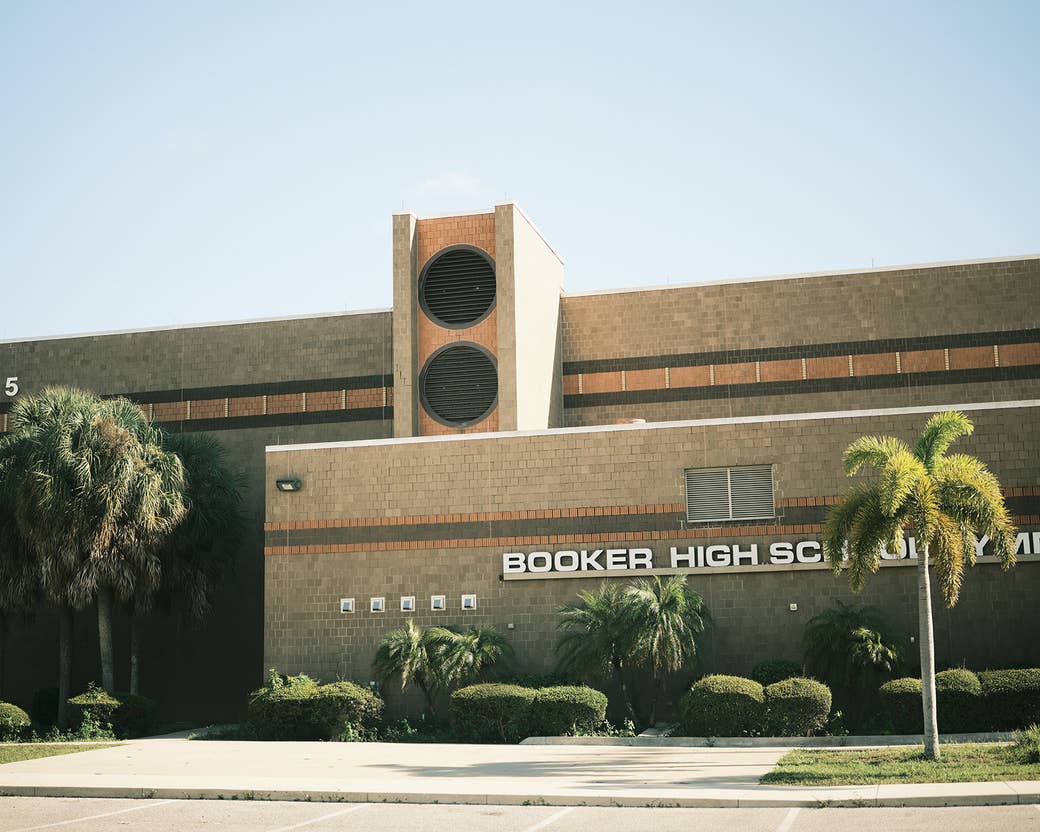 But in March of this year, Foreman's classroom — and life — changed dramatically. One morning, Booker High's principal, Rachel Shelley, showed up and scanned the room. A rainbow hat from Foreman's collection had to be taken down. A student had given Foreman a Mickey Mouse pen with a rainbow head — that too had to be removed. The principal asked for student-created posters that read "All Students Deserve Equal Education" and "All Minds Matter" to be taken down from the bulletin board in the hall. The pride flags, cape, and "Safe Space" stickers from the Trevor Project, a nonprofit group focused on suicide prevention among LGBTQ youth, all had to go.
"Anything that could even remotely be construed as gay-related came down. It wasn't me putting this stuff up. It was the kids. It was their classroom too," Foreman said. "Rainbows now symbolize politics." (In an email, Sarasota County Schools spokesperson Craig Maniglia said, "Mrs. Foreman as well as other teachers were asked to take down posters and flags that were deemed political. Teachers were never asked to remove personal items. Mrs. Foreman may have voluntarily removed items from her classroom.")
Liz Ballard, a 51-year-old sixth- and eighth-grade teacher at Sarasota County's other public school, Pine View, a magnet school for gifted students located in Osprey, has had a similar experience. When I visited her classroom on a Friday afternoon in September, she pointed to the rainbow lanyard securing her school ID to her neck, and said, only half-jokingly, "This is probably going to be banned." Ballard, dressed casually in a T-shirt and rainbow-checkered Vans, is also openly lesbian and married. An "Everyone Is Welcome" sign hung over the whiteboard, with hearts dotted beneath it; one was rainbow-hued and another was pink, blue, and white, the colors of the trans flag. To the left of the whiteboard hung a student's somber drawing of George Floyd.
Like Foreman, Ballard is more than a teacher. She chaperones trips, participates in the history fair, and supports LGBTQ students on campus. "My priorities are teaching students accurate history in a safe and inclusive environment. There are many people who contributed to the formation of our country that deserve recognition," she said, mentioning gay general Baron Friedrich von Steuben, who was integral to America winning the Revolutionary War.
But since the passage of the Parental Rights in Education Bill, dubbed "Don't Say Gay" by critics, attendance has been down in Ballard's classroom. "Don't Say Gay," signed into law by recently reelected Florida Gov. Ron DeSantis in March, bans "classroom instruction … on sexual orientation or gender identity" for children up to the third grade and discussions of those subjects "in a manner that is not age appropriate or developmentally appropriate for students." The law also empowers parents to sue schools if they believe schools are in violation of it. "I've got some of the lowest numbers [of students] in eighth grade," Ballard said. "I think parents said, 'I don't want my kid in the class where the teacher is going to make my kid gay.'"

Even though she has helped with school extracurriculars, she won't consider chaperoning multiple-day trips. "The people who are calling us groomers and pedophiles want to send their kids away with us on an overnight trip — are you out of your mind? I'm not chaperoning that," she said.
Ballard used to keep her class library well stocked with Benjamin Franklin biographies, books on the Civil War, and James W. Loewen's Lies My Teacher Told Me, but she has shut it down because parents must now be informed beforehand about all materials used in classrooms, from books to 30-second YouTube clips. If a book isn't on the syllabus, a child can't read it without permission. (Sarasota County Schools' Maniglia responded in an email: "If there are reading or viewing opportunities that fall outside of what's included in regular communication, we ask that teachers inform both school administration and parents ahead of the opportunity.")
According to Sarasota County's interpretation of the law written in its school board policies, parents have "the right to object to…materials used in classrooms based upon his or her belief regarding morality, sex, religion, or the belief that such materials are harmful." Schools are not acquiring new books until they hire media specialists who can vet materials. "I'm not going to [have a book that] a kid finds and then a conservative parent goes nuts over, you know?" Ballard said. "It's just not worth it to me."
For Ballard and Foreman, teaching is a calling. They certainly wouldn't be doing it for the pay, which is poor nationwide, but particularly bad in Florida. The state ranks 48th in the nation for teacher salaries, with a $51,000 average, according to the National Education Association. Florida is in dire need of teachers, as the state looks to fill 4,489 vacancies, according to the Florida Department of Education. "We don't have a teacher shortage," Foreman said. "We have a group of human beings that are educated; they're unwilling to be disrespected and treated like marginalized garbage."

Sarasota County lies on the Gulf Coast, just north of where Hurricane Ian did its worst damage. It's a cultural center, with attractions like the Ringling art museum, an annual film festival, and the Sarasota Ballet. It's a vacation destination with white sand beaches and daiquiri joints, and home to 447,057 people, 91% of them white. Over 54% of Sarasota voters chose Donald Trump in the 2020 presidential election. The last time a Democratic presidential candidate won the county was in 1996.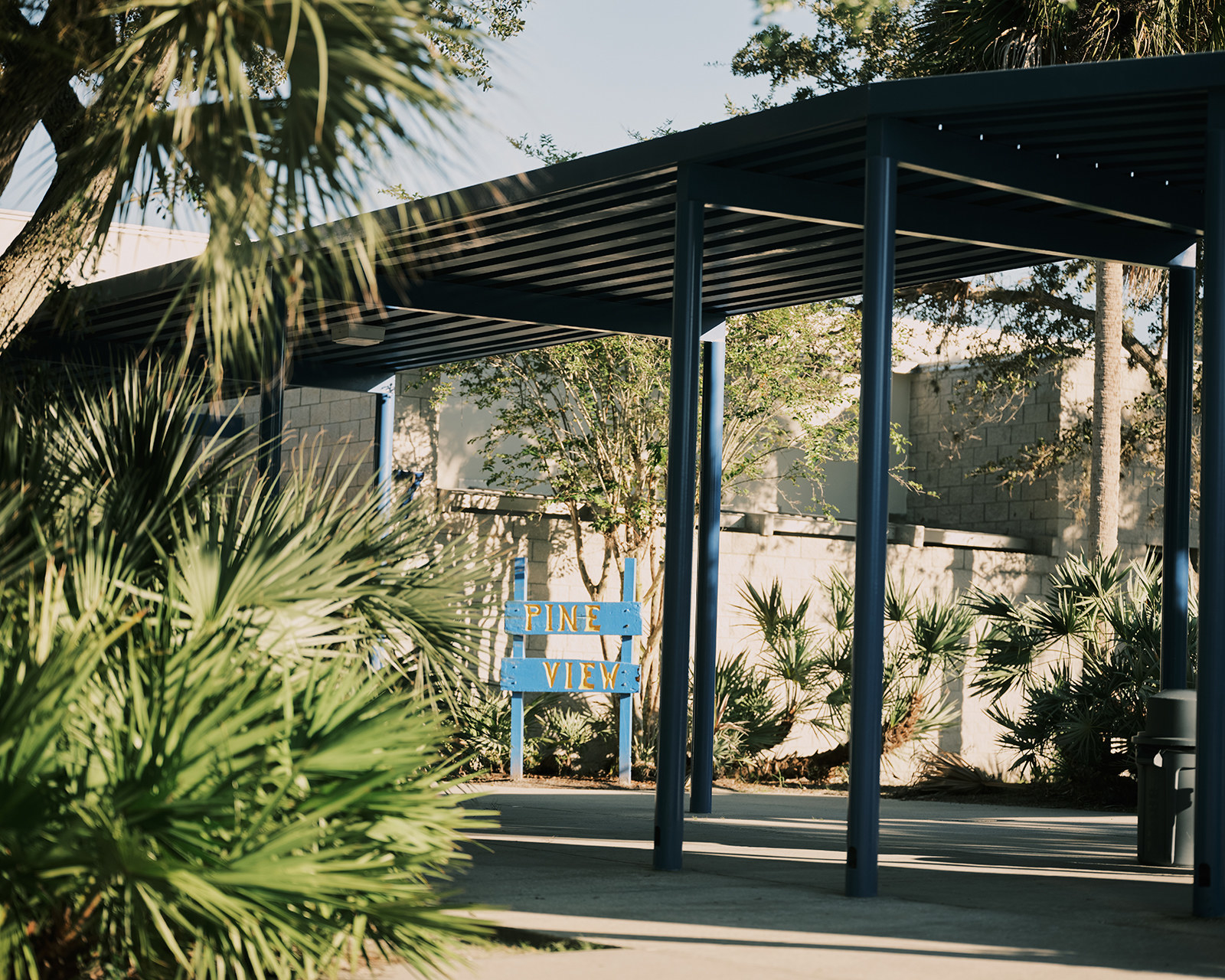 Although "Don't Say Gay" didn't go into effect until August, the rainbows came down in Foreman's room when the bill was proposed in March, and school board meetings turned into shouting matches over gay and lesbian teachers and critical race theory. Parents no longer seemed to view public school teachers as a force for good; instead, they were pernicious influences on the youth, "grooming" kids to be queer. While Florida is the first state to pass such a law, 12 other states have introduced similar bills and House Republicans introduced a national version last month.
The changes at Booker and Pine View were sanctioned by the Sarasota County School Board, which has three new right-wing members whom DeSantis personally campaigned for. Two of them, Bridget Ziegler and Robyn Marinelli, were photographed on Aug. 23 at their official victory party, celebrating with members of white nationalist group the Proud Boys. (Ziegler and Marinelli refused my request for comment about the photograph.)
In August, the local NPR media affiliate WUSF published a flowchart the district had released to staff members explaining how teachers and staff members would have to get parental consent before agreeing to a student's request for a pronoun or name change, a departure from previous policies.
According to spokesperson Maniglia, "Under [the Parental Rights in Education Act] [a Sarasota County] teacher/staff member is not obligated to tell the parent if student discloses to them that they are gay etc. [But] If a parent asks a teacher/staff member about their child, they are obligated under [the Parental Rights in Education Act] to tell the parent what they know about the student."
University of Virginia Law professor Craig Konnoth, an expert in LGBTQ rights litigation, said in September that the Parental Rights in Education law violates the constitution. "Legislative sponsors and Gov. DeSantis made it clear that the intent and effect of the bill is to suppress the ability of gay or transgender students to express themselves, while allowing heterosexual, cisgender students to do so. On its face, it targets LGBTQ children, and discriminates against them — it is a clear violation of Title IX and the Equal Protection Clause of the federal Constitution," he said. "The broader context of the bill's enactment — the DeSantis administration's cutting of funding for LGBTQ homeless youth, or for mental health services for survivors of the Pulse Nightclub Massacre — simply confirms its discriminatory purpose."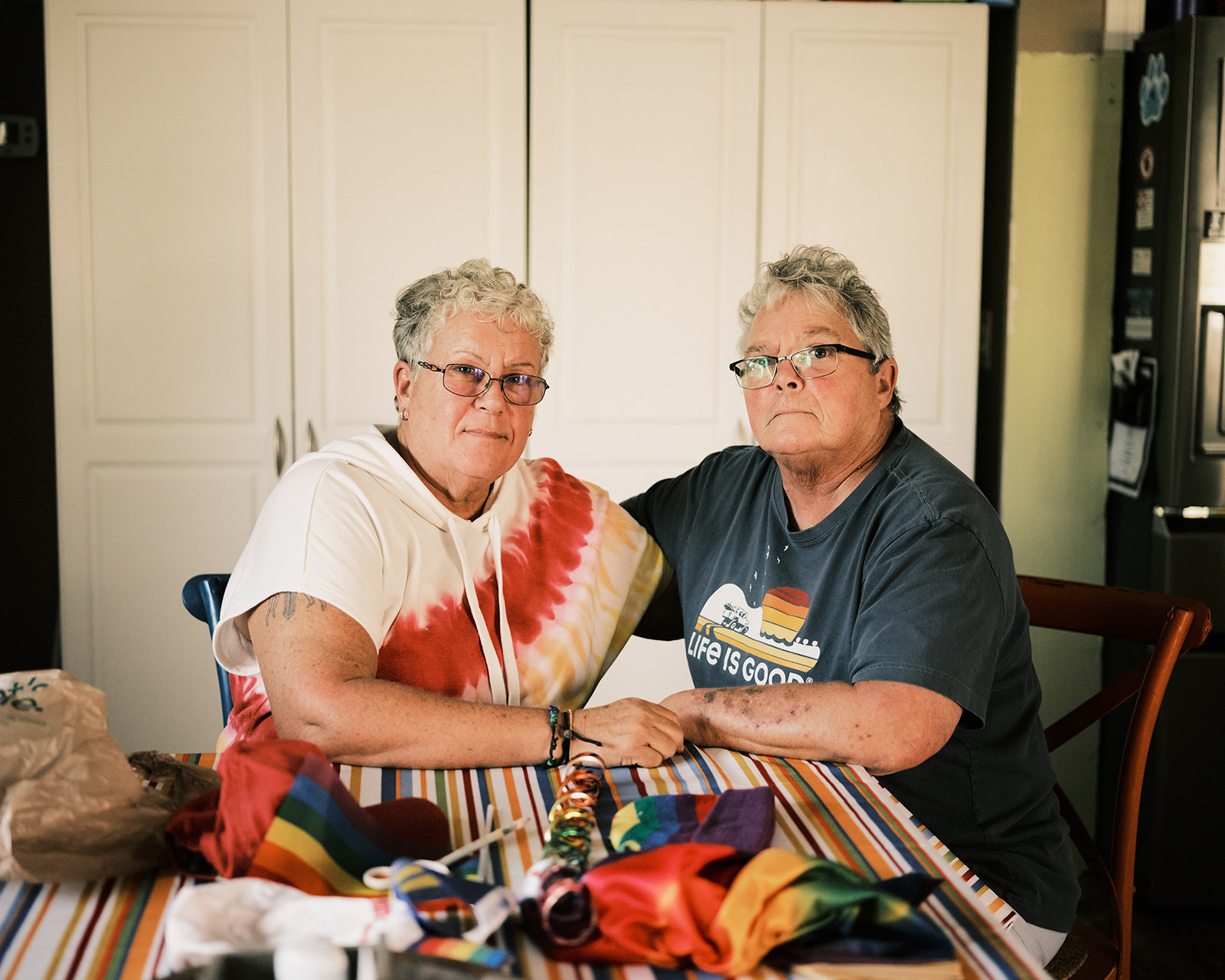 In September, I met a group of Pine View students at a Starbucks across the road from their school to talk about how "Don't Say Gay" was affecting them. "I definitely feel that teachers are censoring themselves more in front of classes," said Lily (all Pine View students are identified by pseudonyms, to protect their privacy), a junior whose parents are lesbians. "Just today, actually, my AP US History teacher was making a joke about how I can't talk about rainbows symbolizing anything anymore."
Her classmates nodded with recognition.
Lily said she fears that younger kids with queer parents won't be able to talk about their families. "In second and third grade, I used to talk about my gay parents all the time. I said, 'Oh, I have two moms.' It was my thing… It feels rough to know that they don't want to teach about my family at younger levels, because in reality you don't have to teach about sexuality. All you have to do is teach about loving each other. Not being able to talk about it … would have made me feel ashamed of my family and myself."
"In second and third grade, I used to talk about my gay parents all the time. I said, 'Oh, I have two moms.' It was my thing…"
Colin, a soft-spoken sophomore, chimed in. "I am gay. And luckily, I had supportive parents. But actually, I heard from the adviser for the Gender-Sexuality Alliance that she now has to get these permission slips [before kids enroll in the club]," he said, referring to a new policy requiring parents to approve of clubs before students join them. (In an email, Maniglia wrote, "The district expectations regarding students joining clubs and organizations apply to all clubs, organizations, and activities equally.") "For kids that don't have more supportive parents … it can have a big impact on their mental health," he said. Colin said he doesn't feel unsafe because he's gay. "But at the same time, it's still pretty taboo."
Yet Lily said, "Pine View has always been very open and receptive to talking about the LGBTQ community. In my English teacher's class, he still has Harvey Milk day, a Harvey Milk sticker … it's almost like they're nonchalantly letting you know that they're there for you." And the students told me no rainbows or LGBTQ symbols had been removed from their classrooms.
After the "Don't Say Gay" bill passed, hundreds of middle and high school students at Pine View staged a walkout on March 3. (Teachers weren't allowed to participate.)
"I was surprised that it was only two or three [students] who came out with 'Don't tread on me' flags, counterprotesting, but they were shut down pretty quick by the overwhelming support otherwise," said Bailey, a senior wearing a bright smile.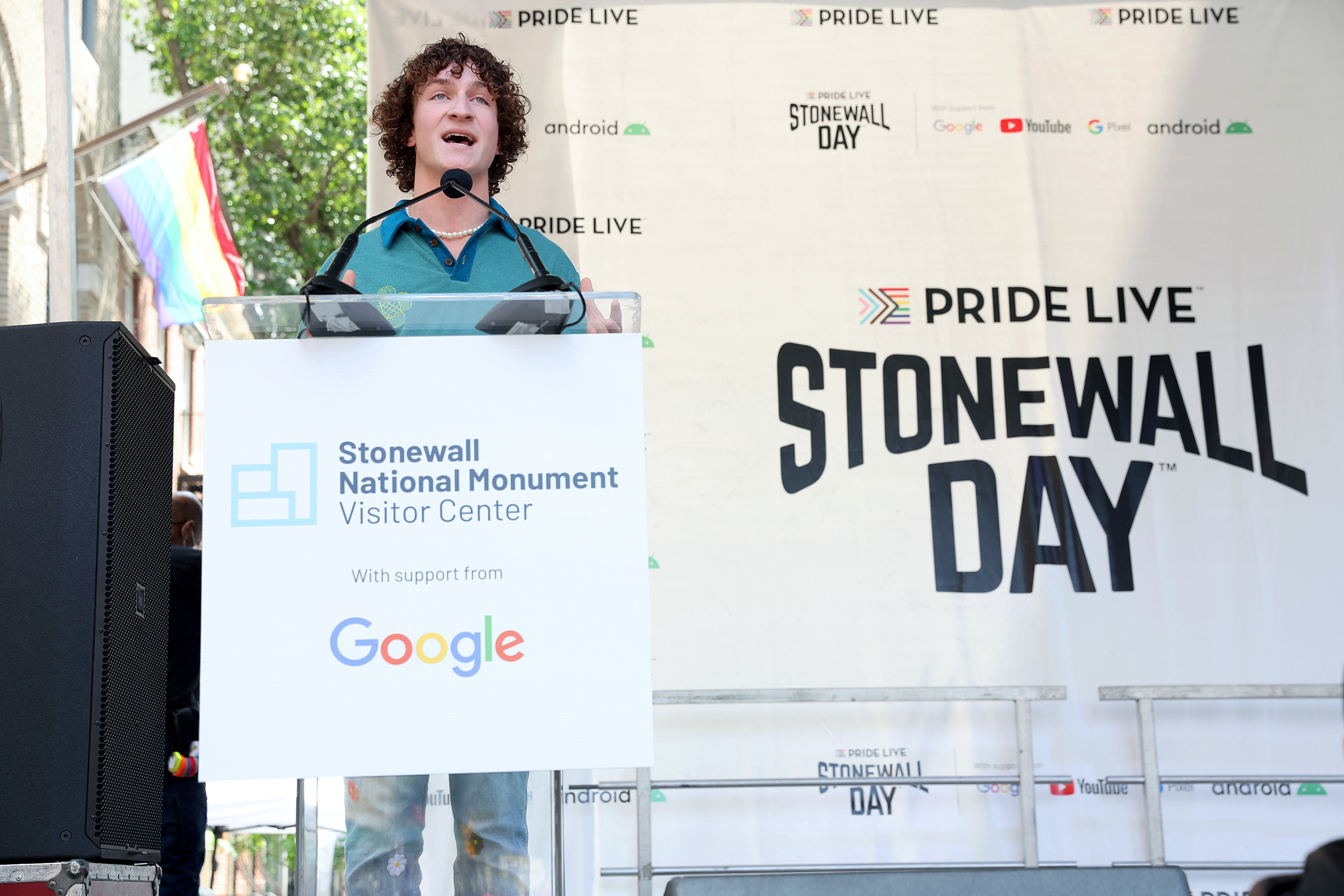 Zander Moricz, who graduated in May 2022, organized the walkout and became the youngest plaintiff in a lawsuit brought by the National Center for Lesbian Rights and law firm Kaplan Hecker & Fink against "Don't Say Gay," seeking to block enforcement of the law on the grounds that it violated students' rights to free speech, equal protection, and due process. "I did that because [of] my perspective as an organizer in Florida, who has seen school boardrooms and education just become something so controlled by politics, even though education is a human right [that] should not be politically affected or impacted," Moricz told me. (The suit was dismissed on Sep. 29 by a federal judge who claimed the plaintiffs didn't have legal standing because they didn't show enough evidence of harm from the law. The lawsuit was refiled but Moricz is no longer a plaintiff.)
The overwhelming sentiment that the students kept bringing up was fear: fear that classmates would be outed to their parents, that gay teachers would be forced to resign, and that education would no longer be about learning but about politics instead. Lily said that the "Don't Say Gay" law is itself based on a "fear that if you are discussing LGBTQ issues … children are going to be completely mind warped." Lily claimed social media was driving these beliefs. It is "opening this whole new world where gender and sexuality is finally being discussed. And with that, I felt like we've gone two steps forward, and [they're] trying to take it one step back, because people are afraid," she said.
"We're not getting all that we can possibly get from our education."
Lily said that the effects of "Don't Say Gay" were tangible and immediate. "There are books you can't read. There are new materials which we could have been learning," she said. "We're not getting all that we can possibly get from our education."

In their campaigns for "Don't Say Gay"–type laws, DeSantis and other Republicans have claimed that "gender ideologies" were rife in the classroom. When I asked the students if this was actually happening at school, all four said no.
The belief that public school teachers are forcing students to be trans or gay is "100% driven by this mass irrational fear on behalf of conservative voices in the community," Bailey said. "They are under the assumption that you go to school, and then the teachers just preach that you should be gay, you should be trans." Lily added that she only remembered being taught about gay people or gender once during her years in school, "during an AP European History class, which was in the textbook that the College Board provided us."
I asked the students whether they were optimistic about the future and whether they thought things would change. "If there's any form of optimism, it's optimism in my peers," Bailey said. "Knowing that there are kids out there trying to stop this, that's where the optimism comes in," said Kayla, a first-year student. Colin was so upset by the district's changes that he emailed the school district superintendent asking why students weren't consulted. He never heard back.
Lily said her parents weren't too hopeful. "My moms feel like this is just going backwards the way they were when they were kids," she said. But she has her own way of coping with the change. "I like to think, as a personal mantra, that in the end, things will be OK. And if it's not OK, it's not the end."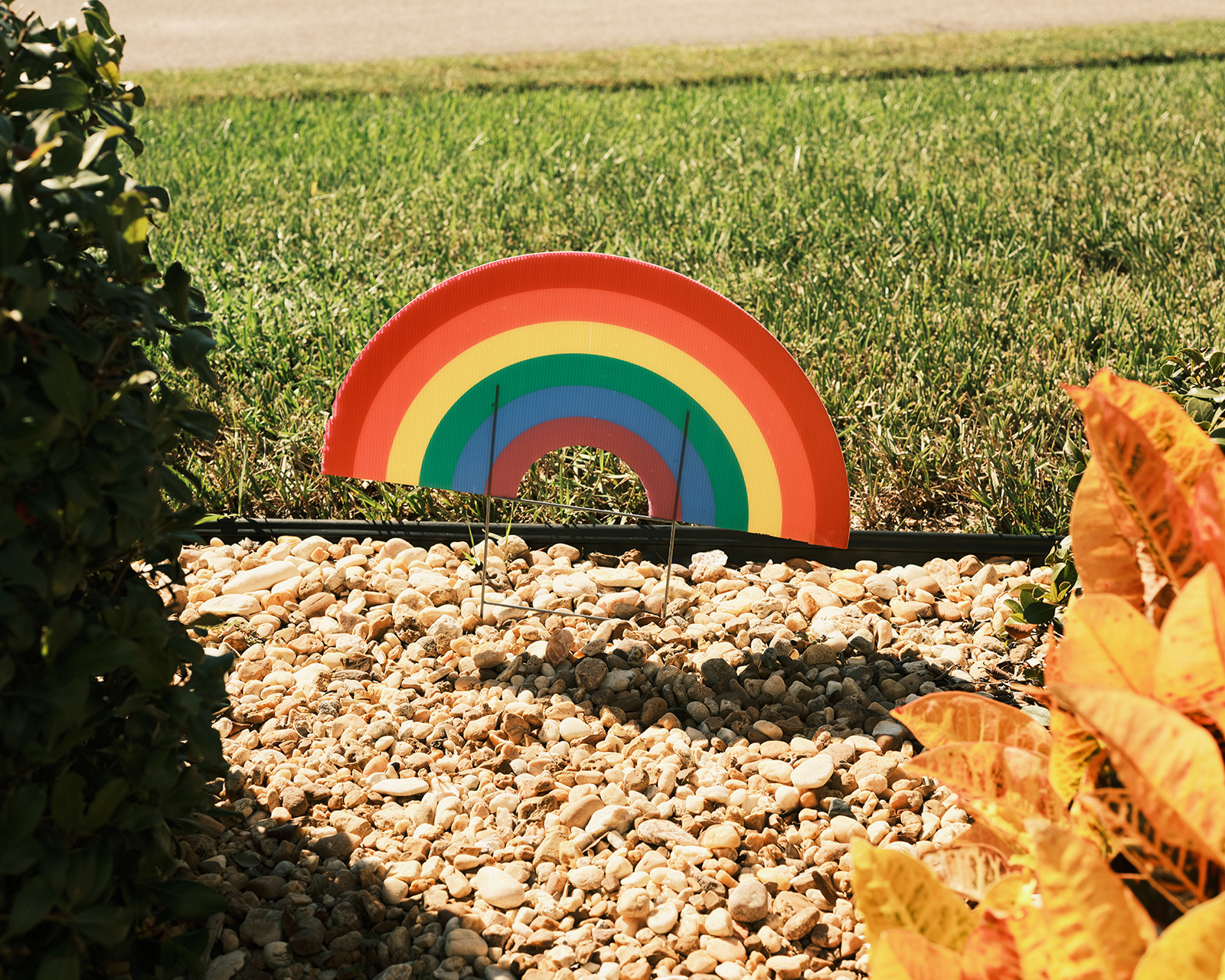 The next day, I met a group of Booker High students and graduates at another Starbucks filled with soccer moms and college kids typing away on laptops. When I walked in, Anthony Frisbee, a 2021 graduate of Booker High, was sitting at the end of a long table in front of the barista; seniors Nora Mitchell and Helen Mosquera came rushing in 10 minutes later, after multiple texts apologizing for their lateness.
Mitchell, who founded the social justice group Sarasota Students for Justice in 2020, was full of energy, apparent even behind her face mask. "Don't Say Gay" has "allowed the Sarasota County School Board to create new policies that are, for lack of better words, extremely repressive within our school," Mitchell said. She is particularly upset about the possibility that a teacher might have to out a student to their parent or guardian and that teachers may be required to use a student's birth name or pronouns if their parents don't approve of their gender identity.
Frisbee, who is gay, said that he'd seen the effects of "Don't Say Gay" when he visited his alma mater a month earlier. "I understand what it feels like to be denied your identity based on your sexual orientation, and it's painful."
Mosquera, who is in her fourth year at Booker, said she'd also seen the fallout firsthand. "You can see them just start to cry because of how long the process even takes [to get the name change] … It's so difficult for so many students, because it's constantly being denied who you truly are," she said. "It used to just be, 'Hey, I want to go by so and so, these are my pronouns,' and it will be automatically respected."
Mitchell said she had come out to friends and teachers, including Foreman, right before "Don't Say Gay" was announced. "There was certainly a lot of trepidation because I'm not out to my mom," she said. She fears that, because of the law, other students won't be able to come out in a supportive environment. "The only place I have felt comfortable coming out was school," she said. "My biggest fear when the law was initially announced was, Am I going to be ratted out because I've already shared?"
Thousands of students come out to their teachers every year. A 2012 survey by the Human Rights Campaign of 10,000 LGBT teens found that 38% were out to their teachers. Given that a 2020 UCLA fact sheet estimated that there are just under 2 million LGBT teens in the United States, it's possible that hundreds of thousands of teens have come out to their teachers. LGBTQ students often fear that if they come out to their parents they'll be ridiculed, sent to conversion therapy, or kicked out of the house. And these aren't idle worries. A 2021 Trevor Project study found that 14% of surveyed LGBTQ youth had reported "that they had slept away from parents or caregivers because they were kicked out or abandoned." LGBTQ youth who experience homelessness or housing instability are more likely than their straight, cisgender counterparts to become depressed, engage in self-harm, and die by suicide.
Since March, Booker School administrators have not only asked teachers and students to take down rainbow-themed imagery — posters featuring balled fists and symbols associated with Black Lives Matter or LGBTQ rights have also been targeted. "The comparisons to totalitarianism are very apparent. [Extremist elements of the GOP] ban books, they ban the ideas, they ban symbols," Frisbee said. Two banners Mitchell had created for her school clubs — one, created for Black History Month, said "Black Minds Matter," and the other featured pride flags and the slogan "We are all welcome here" — were taken down because they were "too political," Mitchell said. "[School administrators] did not give those back to me. They threw them away. … [Government officials] want school to feel unsafe, and they want schools to be spaces where they can impress their own values of heterosexuality of whiteness. They want to reaffirm those values."
Sarasota spokesperson Maniglia denied that this event took place.
Frisbee, Mosquera, and Mitchell think that Booker High is responding to "Don't Say Gay" in a more extreme way than other schools. "I visited a different high school in Sarasota County. They still had their pride flags up," Mosquera said. I was just shocked to see that there's just so much prejudice at one of the schools that are more diverse racially and more out in the LGBTQIA plus community."
"You truly feel that a lot of the teachers are terrified of their own students. You can feel it."
Mitchell added that it's not just administrators enforcing the law. "Students have reported about teachers who are wearing anything rainbow-related. … It's horrible," she said. "It's like the Hitler Youth outing their parents," Frisbee added. Mosquera said Foreman was reported by a student for mentioning her wife in class. Foreman confirmed this, and said she now refers to her wife as her "best friend." "You truly feel that a lot of the teachers are terrified of their own students. You can feel it," Mosquera said.

"You feel the sense of danger — like, school does not feel safe. It does not feel as vibrant as it was before," Mitchell said. "Teachers can't teach what they want, they can't call students by their actual name, students are scared to be themselves at school. I mean, how can that possibly be conducive to learning or be a welcoming and fun place?"
Some compassionate teachers are trying to get around the law, Mitchell said. "I've never heard any teacher explicitly say, 'I will break the law for you,'" she said. They will say, 'I still want to make you feel welcome in my classroom. I know I can't call you by your actual name. But maybe we can come up with a nickname together, or I can call you by your last name, [or] a term of endearment.'"
Mosquera said that students worry that their favorite teachers might "quit because they realize that this is not worth that they deserve a better life for themselves."
"That breaks my heart," Mitchell said, her voice cracking. "I hope they do think that we're worth it."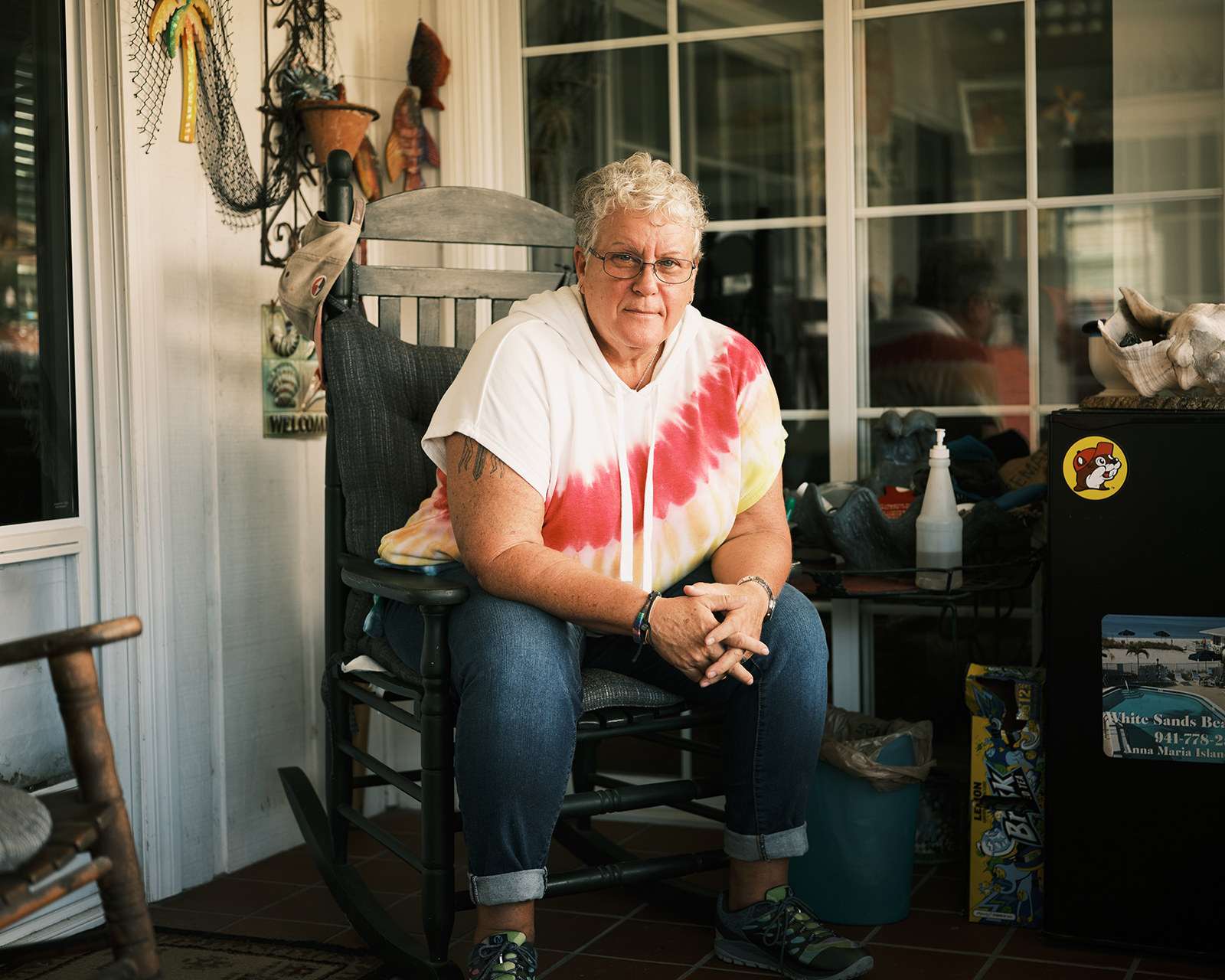 On the first day back on campus in August, Foreman's classroom was a shell of its former self. The vibrant rainbows were gone, the class library covered up with construction paper. Some of her students thought the construction paper was a joke, so they took it down. A few days later Foreman replaced it with police tape that said "Do Not Cross."
Foreman was particularly upset that several books, mostly with LGBTQ themes, have been removed from the main library after parental complaints. "It didn't make the gay kid straight because they read straight material," she said. "It's not going to make the straight kid gay because they read something about a gay person."
She distributed a nine-page syllabus to her students that listed every book, website, video, and other resource they were going to be using that year. She will rely heavily on textbook support materials to be safe, which, she admitted, are "dull."
She also read the Sarasota County School Board's attorney's statement aloud. According to the statement, if a student wants to tell her they are trans and use a different name or pronouns, she is bound by state law to tell a guidance counselor and their parent. "As soon as I get the paperwork, I'll be more than happy to be completely respectful and use their preferred pronouns or their preferred name," she told her class.
Although the safe space stickers have come down, Foreman's room continues to be a de facto safe space, particularly during lunchtime, when she provides cheese and crackers. "My room is packed with kids. They just want to come in and eat lunch because they know that nobody's going to call them 'faggot' or 'dyke,'" Foreman said. "We talk about their classes, their jobs, their goals. … We try to make each other laugh. We try to keep it as lighthearted as possible so that they have a half an hour where they're not on guard."
Mosquera, who eats lunch in Foreman's classroom, said the vibe "is completely different from last year."
"It feels very dull, and you don't feel nearly as happy," she said. "You can't joke or talk about certain subjects without the risk of someone listening in and telling administrators."
Students are frustrated and angry, Foreman said, but most of all, they are scared.
"The common question is, are we going to relive history? And are we going to be gay bashed? Are people going to be able to use slurs at us when we walk down the hall?" she said. "I've said before, when kids asked me, 'Are we safe?' I tell them, 'You're safe in here with me.' Do I really believe that? At this point, I don't know what to believe."
Ballard's classroom has changed too. Not only are her classes smaller and her in-class library closed, but she faces a moral dilemma: Out students to their parents and keep her job, or keep the student's secret and face expulsion?
"I will never out a student," Ballard said. "No. I am not putting a kid in harm's way." ●
Correction: Ballard's involvement with school extracurriculars was misstated in an earlier version of this post.
Correction: The percentage of LGBTQ youth who reported being kicked out or abandoned due to their identity was misstated in an earlier version of this post.