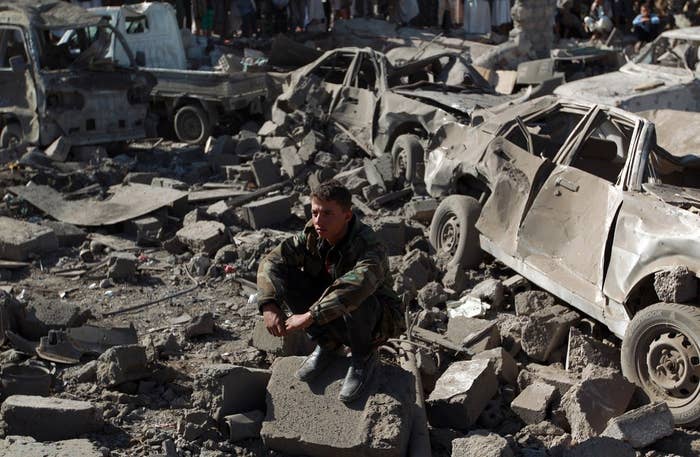 Dozens of Saudi jets conducted a late-night raid into Yemen on Thursday, launching an operation that has no clear end.
The strikes started around 1:30 in the morning local time, hitting targets in Sa'dah, in the country's northwest, and the capital city of Sanaa. Thirty minutes later and nearly 7,000 miles away, Saudi Arabia's ambassador to the United States, Adel al-Jubeir, announced the beginning of Operation Decisive Storm.
The military action, Jubeir said during the press conference in Washington, is "designed to protect the people of Yemen and its legitimate government from a takeover by the Huthis."
But that takeover has already happened. The Huthi rebels targeted in the strikes are in control of what is left of Yemen's fracturing bureaucracy, and Yemen's internationally recognized president, Abd Rabu Mansur Hadi, has fled the country to Riyadh, Saudi Arabia's capital, according to Saudi state TV.
At least 18 people were killed and 24 wounded in the raids according to Yemeni state media, which is controlled by the Huthis. In the capital of Sanaa, bombs pounded neighborhoods around the international airport, which is also used by the Yemeni military. In Sa'dah, near the border with Saudi Arabia, the strikes centered on known Huthi weapons depots and homes. The Huthis responded by firing rockets over the border into Saudi Arabia, one source in the area confirmed to BuzzFeed News.
"Yemenis were saying final good-byes to loved ones who were killed by al-Qaeda last Friday in the mosque bombings at the same time Saudi and-US-led attacks were killing more people," Hussain al-Bukhaiti, a Huthi spokesman told BuzzFeed News in a reference to a mass funeral that took place earlier on Thursday.
How exactly Saudi Arabia planned on restoring Hadi to power was not immediately clear.
Hadi came to power in February 2012 as a transitional president for what was supposed to be a single, two-year term. In February 2014, he extended that term another two years. Throughout his tenure, Hadi, who suffers from heart troubles, has refused to appoint a vice president. That decision may now prove problematic if the Saudis are unable to reinstall him.
"The use of force is always the last resort and it is with great reluctance that we took this step," Jubeir said in Washington.
One possibility, that will now go unexplored, would have been to allow the Huthis to attempt to govern the country. The militia group, which comes out of the Yemeni highlands near the Saudi border, is desperately overstretched. It has enough strength to seize territory south of the capital, but not enough to hold it.
And as an opposition group, the Huthis have never been forced to contend with the compromises of governing. Whether the Huthis inevitable failure to form a broadly supported government would have forced them into power sharing talks is now one of history's counterfactuals.
Instead, the Saudi-led coalition of 10 countries is now attempting to bomb the Huthis back to the bargaining table. This is likely to be much more difficult and take more than just air power to accomplish. Later on Thursday, a Saudi official acknowledged to Reuters that "a land offensive might be needed to restore order." Egypt soon after confirmed to the Associated Press that it would help lead the ground assault alongside the Saudis.
But Saudi Arabia has been down that road before with poor results. In 2009, the Saudis fought a series of border skirmishes with Huthi guerrilla fighters. During those clashes, the Huthis frequently embarrassed their more polished opponents, outflanking Saudi units and stealing Saudi military equipment, which they later broadcast on videos uploaded to YouTube.
This time the Saudis have put together a coalition of Sunni states, both inside and out of the Gulf region, including the United Arab Emirates, Kuwait, Bahrain, Qatar, Jordan, Morocco, Sudan, Egypt, and Pakistan. It is unclear to what degree, if any, these countries participated in Thursday's airstrikes. The U.S. did not participate, but the White House announced that it was coordinating military and intelligence support with Saudi Arabia through a "joint planning cell." The U.K. also said it supports the Saudi-led airstrikes.
Yemen has a history of resisting foreign military interventions, and none — from the Romans in 24 AD to the Egyptians in the 1960s —have succeeded. "This attack has united most Yemenis," Bukhaiti said.
With reporting from Casey Coombs in Sanaa and Maged Atef in Cairo.