5 Questions About Al-Qaeda's Claim Of Responsibility For The Paris Attack
Are there more attacks to come?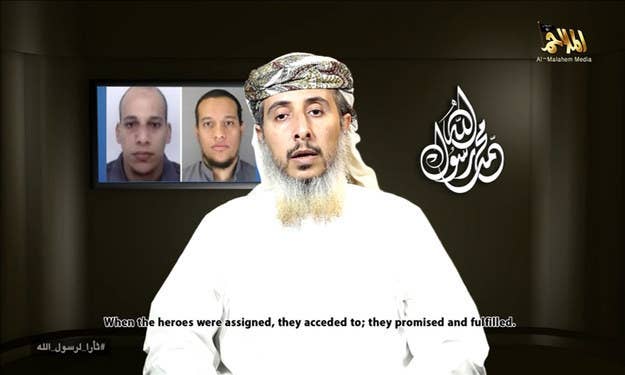 Al-Qaeda's Yemen branch, known as Al-Qaeda in the Arabian Peninsula (AQAP), took responsibility for last week's deadly attack by Said and Cherif Kouachi on satirical newspaper Charlie Hebdo in an 11-minute video released Wednesday. "We in al-Qaeda in the Arabian Peninsula claim responsibility for this operation as revenge for the prophet," Nasir bin Ali al-Ansi, an AQAP official, said.
AQAP did not take responsibility for the actions of Amedy Coulibaly, who took hostages at a Jewish grocery two days after the Charlie Hebdo attack. Coulibaly recorded a video prior to the attack saying he was acting on behalf of the Islamic State in Iraq and Syria (ISIS), which has frequently encouraged supporters to carry out similar attacks in the West.
AQAP and ISIS are currently at odds, with members of AQAP publicly criticizing ISIS, and each struggling for supremacy of the jihadi movement.
Despite today's video there are still a number of questions about the attack and AQAP's role in it. Here are the top five:
1.
Is the video authentic?
It appears so. The video carries AQAP's official media logo in the upper-right-hand corner and was released online in a fashion similar to how al-Qaeda typically releases videos and statements. The AQAP official in the video — Nasir bin Ali al-Ansi — has previously appeared in several AQAP videos. The White House and State Department said they believed the video was authentic.
2.
Are the claims accurate?
Just because the video is authentic doesn't necessarily mean the claims of responsibility are accurate. AQAP is a sophisticated and opportunistic terrorist organization. At this point, there is little downside to the organization claiming the Paris attacks. Even if it did not directly order the attack, taking responsibility shows its target audience of potential recruits that al-Qaeda is still capable of striking in the West.
This is AQAP's second statement on the Paris attacks. On Friday, AQAP released a five-minute audio message praising the attacks, but stopped short of claiming responsibility. In that audio message, the AQAP spokesman referred to the Kouachi brothers as jund allah, or soldiers of God, instead of as mujahidin, fighters in the way of jihad, the Arabic term AQAP typically uses to describe its fighters.
The message released Wednesday also follows widespread media reports that both attackers mentioned they were from "al-Qaeda in Yemen." Wednesday's message — unlike the earlier one — describes the Kouachi brothers as mujahidin.
3.
How did AQAP order an attack in Paris from Yemen?
AQAP's top leadership is extremely careful about how it communicates. Much like Osama bin Laden toward the end of his life, they stay offline and rely on couriers to transport letters back and forth.
The National Security Agency scoops up much of the electronic traffic in and out of Yemen, and the Kouachi brothers were known to French intelligence and under at least some surveillance. All of this suggests at least three possibilities.
One is that AQAP communicated in code. On Friday an AQAP source told The Intercept's Jeremy Scahill that the latest issue of Inspire, AQAP's English-language journal, foreshadowed the attack through a picture of a French passport on one of the pages. The Kouachi brothers were last in Yemen in 2011, which makes this option unlikely although not impossible.
Another possibility is that AQAP dispatched a courier from Yemen to Paris. In November, Yemen expelled several hundred foreign students some of whom were said to have links to al-Qaeda.
Finally, it is possible that the brothers acted on their own, only receiving loose inspiration from al-Qaeda and now that they are dead AQAP is claiming post facto responsibility.
4.
What was the relationship between the attackers and Anwar al-Awlaki?
In a telephone call with a French media outlet on Friday, Cherif Kouachi claimed the Charlie Hebdo attack had been financed by Anwar al-Awlaki, an American-born cleric who was killed in a U.S. drone strike in Yemen in September 2011. Subsequent reports have cited anonymous Yemeni security officials as saying that at least one of the Kouachi brothers met al-Awlaki shortly before the cleric was killed. Al-Ansi suggests something similar in the video AQAP released on Wednesday.
But the brothers were in Yemen for a relatively short time, Awlaki was killed more than three years ago, and AQAP has been threatening Charlie Hebdo since early 2010, all of which begs one simple question: Why now?
Why did the brothers wait until early 2015 to carry out an attack, which AQAP now claims has been in the works since 2011? That question remains unanswered.
5.
Are there more attacks to come?
This is perhaps the most pressing and least answerable question about the attacks. Several Western passport holders have spent time at AQAP camps in Yemen in recent years. How many of these have returned to their home countries with training and orders is impossible to know. But as last week's attacks in Paris show it only takes a couple of determined terrorists to cause great disruption and tear at the fabric of a society.
As much as al-Qaeda prefers large-scale attacks focusing on aviation, it is also extremely adaptable. Paris was a success for al-Qaeda — whether or not it directly ordered the attacks — and terrorist organizations like to replicate their successes.