Interspersed among all the things you'd expect to see in Kaitlyn Garrett's office — desk, rolling chair, filing cabinet — are a few things that definitely didn't come from Staples. Like the cellophane bag of salmon-flavored dog treats casually propped up next to the printer. Or the wardrobe rack of neatly hung, miniature clothing: a cow costume, a Hello Kitty onesie, a red tutu, a ringer tee emblazoned with cartoon unicorns and rainbows. There's also the miniature photography studio that takes up most of the room's space, complete with a white seamless backdrop and professional lights. And in the background, the slightly muffled cacophony of hundreds of barking dogs.

On a pad of paper on Garrett's desk is a scribbled list of names: Franky, Frieda, Lady, Mackey. It's Garrett's ongoing, ever-evolving roster of dogs that need help — the ones who have been in metro Atlanta's DeKalb County Animal Services shelter, where she works as the shelter's on-site social media coordinator, for months. These are the dogs that shelter visitors walk past without stopping, or whose characteristics simply make them a little tougher to "sell." One of the names on the list is Strudel, a stocky little warthoggish dog with velvety ears. She was picked up by animal control three months ago and has been sitting in the shelter ever since. Garrett knows Strudel will need a little extra push in order to find a home: black dogs are historically overlooked in shelters, and people are still wary of pit bulls. Strudel is both.
Garrett retrieves Strudel from her kennel run on the noisy adoption floor, leashes her up, and brings her into the office. As Strudel excitedly waddles around, snorting every surface, Garrett assesses the dog and thinks about her approach. She's developed an unofficial tiered system: If a dog has been in the shelter for a few weeks, sometimes simply replacing their intake mugshot with a crisp professional photo will do the trick. If they need more help than that, she'll bust out a cute accessory, a silly toy, or an outfit from the rolling rack. Somewhere in between, there might be a cute, 30-second Instagram video of the dog. The nuclear option for the shelter's neediest dogs? Pajamas.
Garrett discovered the power of dog PJs a couple years ago when a coworker brought a pair in for fun; they dressed up one of their longtime canine residents, and the ensuing video resulted in an adoption the next day. Like a secret weapon, the PJs are rationed, reserved only for dire scenarios. "We can't put it on every dog, or it'll be worn out eventually," explains Garrett. "We have to save it for when we really need it."
Like a secret weapon, the PJs are rationed, reserved only for dire scenarios.
Fortunately, Strudel hasn't reached pajama level yet. Garrett opens a drawer in her metal filing cabinet, and it explodes like a jack-in-the-box with props and accessories: hats, bow ties, a pair of iridescent butterfly wings. She reaches for a particularly goofy propeller-topped baseball cap, but Strudel isn't ready to cooperate with the elastic chin strap. So Garrett settles on a stuffed hedgehog toy, which Strudel theatrically tosses above her head, as Garrett uses what she calls her "magic wand" (a Pup-Peroni stick) to coerce Strudel into politely sitting on the white background paper.
Her shutter clicks as the lights flash. Strudel grins. A few minutes later, Strudel has a new headshot that shows off her ludicrous joker smile and lolling tongue. In her previous photo, she was just another overlooked shelter dog; in this one, she's someone's future best pal. Garrett crosses Strudel's name off of her list: one down, dozens and dozens to go.
From a distance, Garrett's gig sounds pretty great: take cute photos and videos of dogs, post them to social media. In reality, it's a lot tougher. Her job, and that of her counterpart at the Fulton County shelter, over in Westside Atlanta, is to leverage every tool at her disposal to try and save one life at a time in a facility that houses 400 animals. The DeKalb and Fulton County shelters have historically been overcrowded and high-kill. In 2013, those counties contracted a local nonprofit organization called LifeLine to manage operations at both shelters.

LifeLine, whose mission is to end the euthanasia of healthy and treatable pets in Atlanta, has increased the shelter's lifesaving rates to nearly 90% (DeKalb's was 61% prior to the takeover). And social media plays a crucial role in their mission — so much so that in 2014, the organization brought on two full-time, on-site social media coordinators and photographers, one for each of the shelters. Garrett is one of them. "Ten, fifteen years ago, these jobs wouldn't have even existed," says Neely Conway, LifeLine's social media director. "And I can't imagine them not existing now."
With hundreds of animals in the facility, there's no way LifeLine can give every single dog the full Glamour Shots treatment. Instead, shelter employees triage incoming dogs based on which will need the most help. A cute puppy or a purebred golden retriever is likely to get scooped up quickly even with a grainy intake mugshot; the stocky dogs with big, blocky heads that make up the majority of LifeLine's population usually require a more strategic approach.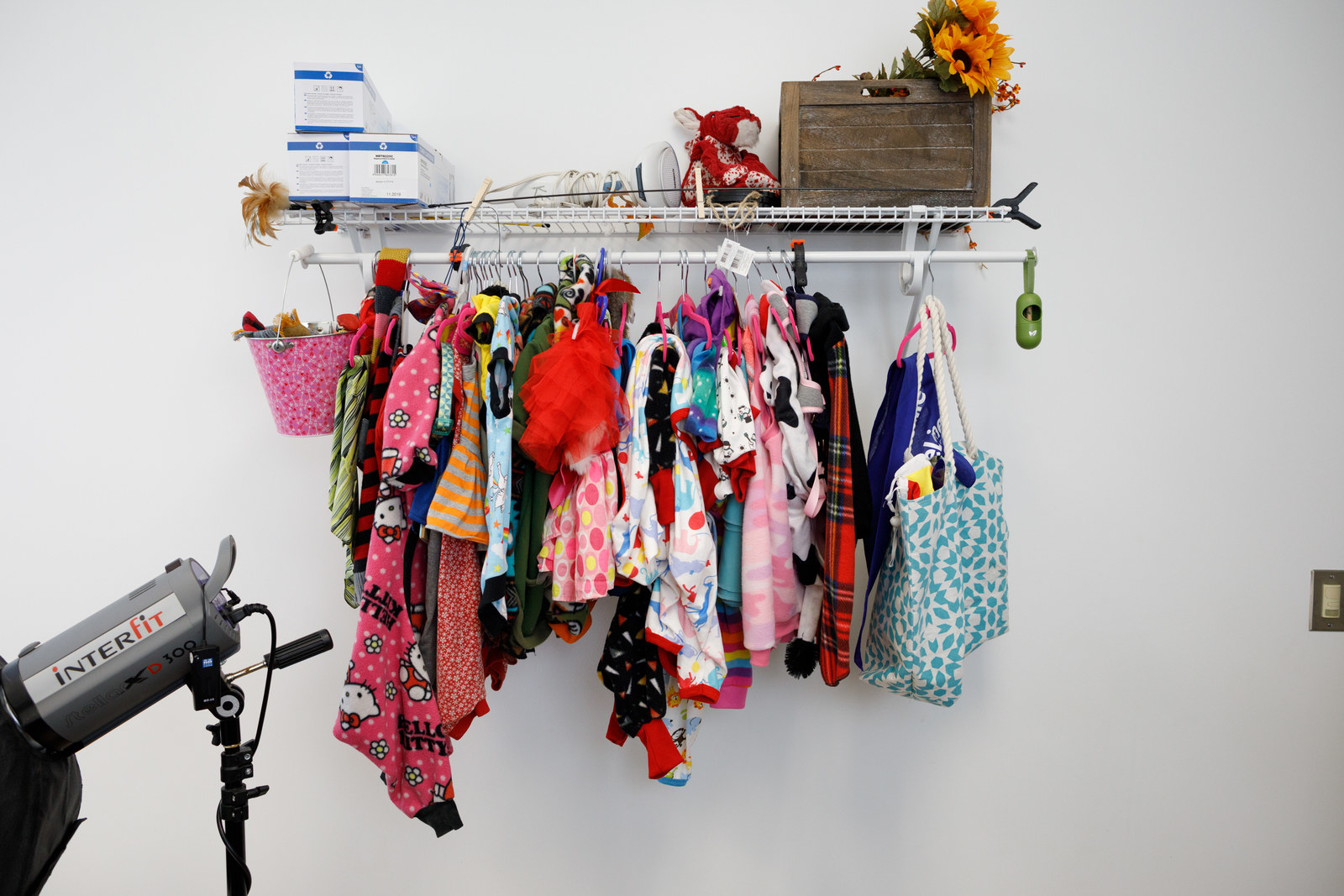 Garrett recalls a pit mix named Rusty whose shyness in the kennel was causing shelter visitors to walk right past her. "So, we changed her name to Turtle, got a new picture of her, did a PJ video, and boom, she got adopted." There was also Rush, another black pit mix who kept getting overlooked by shelter visitors, despite his magnificent underbite. The staff renamed him Cletus and shot a quick video that accentuated the dog's toothy grin. After 4,400 shares, the video was seen by nearly 200,000 people, and Rush-turned-Cletus was adopted just days later, along with all of his brothers.

By now, it's clear that dogs have supplanted cats as the unofficial mascots of the internet. We love sharing GIFs and memes of dogs talking on the phone and floating in space; we love meeting geared-up rescue dogs and gentle, sweet comfort dogs. Doggo influencers like We Rate Dogs, the Dogist, and I've Pet That Dog have racked up millions of followers eager for a daily injection of cuteness into our otherwise hellish newsfeeds, and Instagram accounts like Susie's Senior Dogs aggregate distinguished older rescue dogs around the country to share with dog-crazy followers in the hopes that one of them will find a place in their home for an elderly chihuahua or toothless beagle.

Dogs — thicc floofers, smol borkers, pupperinos, and all — have infiltrated not only our shared internet lexicon, but seemingly, our collective consciousness. We love faving them. We love saving them. And social media is upending the way we rescue them.
It's now more common than ever for someone to discover an adoptable dog via their Instagram, Twitter, and Facebook feeds. According to a spokesperson for Petfinder, the massive online directory of adoptable pets, about 4 million people a year are funneled to the site from various social media channels, and that figure has increased more than 15% in the last five years.
Matt Nelson, who founded @Dog_Rates, says he initially started the account just for fun, not necessarily with charitable intentions. Now, with an audience of dog lovers nearly 7 million strong, Nelson fields countless requests to share homeless animals' stories and GoFundMe pages for vet bills. Last February, Nelson tweeted about a dog named Miguel who'd been in the care of Chicago-based rescue One Tail at a Time for over a year. Miguel's story was retweeted more than 5,000 times; he was adopted a couple months later. "I wouldn't know about this rescue group if they hadn't DM'd me multiple times, and then continued to respond and interact with my account," Nelson says. "There's definitely a marketing aspect to running an organization like that."
In the era of the Viral Doggo, animal shelters and rescue groups, from crowded urban pounds to private networks of foster homes, are now faced with a choice: Learn to think like marketers and advertisers, allocate precious resources to online promotion, and capitalize on this good boy groundswell, or cede those potential internet likes and shares to another organization who will. In other words, hop aboard the doggo meme train — or risk getting left behind.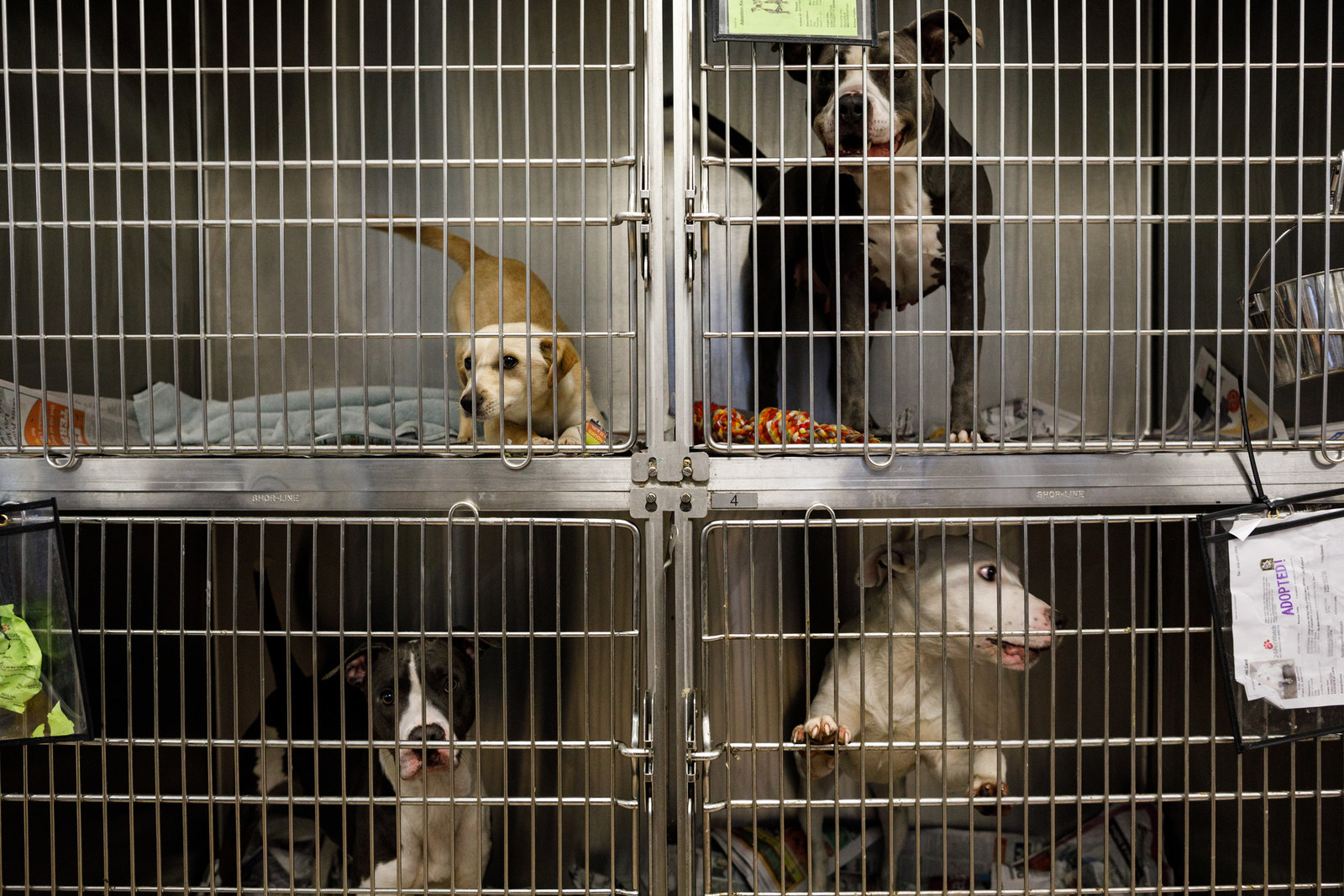 Few images call to mind the phenomenon of the Viral Shelter Doggo like Sophie Gamand's work. The New York–based photographer made the news in 2015 with her Pit Bull Flower Power project, an attempt to soften the tarnished rep of bully breeds by photographing them in flower crowns. (Her recent Kickstarter for a book of the portraits was overfunded within days of launching.)

"I wanted to show shelter dogs as dignified, clean, and healthy, and show their personality," says Gamand, who moved to New York from Europe in 2010 and was astonished to learn the scale of shelter animal euthanasia rates in the US. Realizing that most shelters didn't have the capability to produce decent, shareable photos of their animals, she began volunteering her skills to rescue groups. "My goal was for people who see the photo to think, Oh my god, that dog could move onto my sofa tomorrow," she says. The regal images spread across the internet like wildfire, and their subjects almost always found homes.
"My goal was for people who see the photo to think, Oh my god, that dog could move onto my sofa tomorrow."

Gamand now flies to rescue groups around the country to photograph their dogs pro bono; each individual shoot represents about a month's worth of preparation (including flower crown construction), work, travel, and editing for her. After her shoots, Gamand sends questionnaires to the shelters she worked with asking them if the images made a difference, and the answers are universally positive. The photos routinely result in more social media shares on the shelter's channels, and more shares results in more potential adopters seeing an animal, more donations, and more people getting in the door of the shelter to meet other dogs.
The weekend following Gamand's first Flower Power shoot at Animal Haven in New York, visitors poured in, asking to meet "that dog I saw on Facebook — you know, the one with the flower crown?" Even after the flower crown dogs had all been adopted, the shelter staff was able to introduce visitors to similar pets. They often ended up finding homes that day.
Cute puppies are low-hanging fruit in terms of Instagram bait, and for rescuers, they're typically the easiest animals to quickly place. Elderly dogs, special needs pups, or generally misunderstood breeds are a different story. For these dogs, who would often be overlooked in a shelter, clicks and shares aren't just imaginary internet points — that engagement can result in a real chance at life outside the shelter.
In 2016, a small, scrappy Oregon-based rescue outfit called Luvable Dog Rescue transported a pair of graying pit bulls from a crowded shelter outside of Los Angeles up to Luvable's small sanctuary in Eugene. (Remember Picasso? He was a Luvable dog.) The "elderbulls," Indie and Choco, represented a sort of unholy trinity in terms of adoption prospects, explains Ashley Olson, Luvable's general manager.
"Finding a home for a senior dog, or a pit bull, or a bonded pair — one of those things is difficult enough, but you get all three and that can be a death sentence," she says. "So we took them in, and kind of assumed we'd always have them here at the sanctuary."
Everything changed a few months later, when Gamand traveled to Eugene for a flower crown session at the shelter. Indie and Choco were pictured looking majestic, almost Baroque in their full floral splendor, and the images spread across the online doggosphere. Shortly thereafter, Luvable received an inquiry about the pair from a man named Niq Brening.
"I had just lost my senior pit bull and was completely devastated and not looking for another dog," Brening recalls. But after seeing their portraits, he says, that changed. "Soon all I could think about was these two pups that needed a home…and how I had a home that needed these two pups." Brening made the two-hour drive from where he lived on the Oregon coast to meet them; by the time Luvable came out to do his home check a week or so later, it was a done deal. "The dogs just walked right in there like they'd always lived there," says Olson.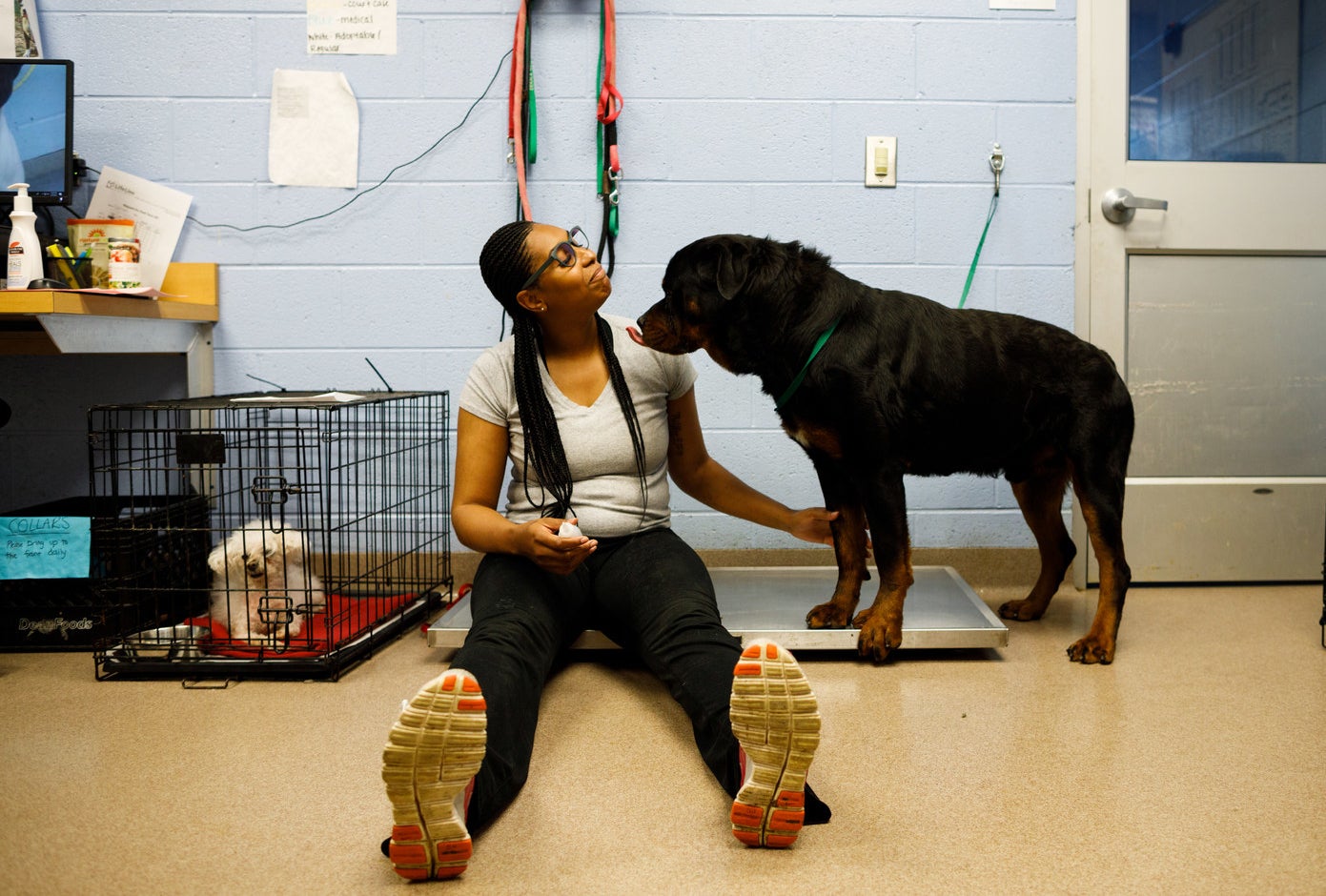 Given the hellscape of the contemporary daily news cycle, many of us are feeling especially susceptible to just about any innocent, logged-off being, whether that's a "pitopotamus" or a literal hippo. (Salon posited that the internet's doggo fixation took root right around the time Donald Trump began rising to political power.) And, as media has become increasingly visual and ephemeral in recent years, rescuers have found that they can forge meaningful, wholesome connections with their audiences through something as brief and simple as a video clip — rather than, say, a multi-paragraph written description of a given dog's life story. Or as Garrett says, "It's way cuter to see a dog wiggling than it is to read something that says, 'This dog wiggles.'"

The idea of committing to a pet because you saw it on Instagram wearing a purple bow tie may seem weirdly akin to a late-night Amazon impulse buy. But for Gamand, this focus on distilling dogs down into cute, shareable imagery inspires something a little romantic. "For me, it's more about showing that spark in the eye, that smile, that special something that's going to get to the heart of these people," she says. On a practical level, effective content ultimately becomes a question of what cuts through the noise to efficiently evoke an emotional response with minimal effort or time from the one consuming it. Liesl Wilhardt, the founder of Luvable, puts it simply: "A dog in a bow tie will be more approachable than a dog that's terrified and not even looking at the camera. You have to communicate everything you can about what's special about that dog...and you might have two seconds to do that."
Obviously, the internet's love affair with good boys and girls is advantageous to shelters and rescue groups in more ways than one: Beyond placing more animals in loving homes, social media exposure also results in more community engagement, more volunteers, sometimes even the occasional PayPal donation or Amazon Wish List gift. Wilhardt, whose love for animal welfare is matched by a shrewd business sense, says Luvable has even positioned itself for promotional partnerships and sponsorships with brands. She thinks like an influencer, thanks in no small part to the nearly 50,000 Instagram followers they've accrued.
They're hustling for clicks just like any brand or publisher or influencer. Only in this case, those clicks might be the difference between life and death.
On the flip side, though, there's something naggingly bleak about the idea that a good Instagram photo can make or break an animal's survival, a dynamic that eerily parallels our modern dystopia of crowdfunded health care. Or that rescue groups and animal shelters, already strapped for time and resources, are now tasked with promoting their animals as products. Or that rescuers have to catch our fleeting, fair-weather attention spans by tricking out homeless animals with costumes and Snapchat filters. They're hustling for clicks just like any brand or publisher or influencer. Only in this case, those clicks might be the difference between life and death.
It's easy to imagine that rescuers now feel unprecedented pressured to memeify and hashtag their overlooked dogs in order to secure homes for them. But it's a challenge many rescues and shelters seem to gamely embrace, if it means reaching more potential adopters and saving more lives. Garrett explains that in the nearly four years of having her job, she's had to constantly reassess how to keep their content relevant without exhausting or boring their online audience; they've tried everything from putting dogs on Tinder to writing Amazon reviews for them. She even taught herself video editing. It's just something she decided she needed to learn once she realized how important it would be — not just to her day-to-day job, but to LifeLine's mission.
LifeLine is a large organization, with more than 150 employees and hundreds of volunteers, reaching a metro population of nearly 6 million people. They have the capability and the resources to hire a full-time social media coordinator working on-site at each of their shelters, an advantage that smaller county shelters in far-flung rural areas almost certainly don't have. Conway agrees that the viral doggo phenomenon may be leaving smaller, underresourced organizations behind — especially shelters that, like LifeLine, are obligated to take in every single dog picked up by animal control or surrendered by owners. "If rural shelters don't have a good volunteer base, or they don't have someone who is social media savvy, they probably are struggling a little bit to keep up, even just with new technologies, understanding something like Instagram stories, or getting on Snapchat," she says.
Some organizations are working to level that playing field. Hearts Speak is a nonprofit that provides photography training to shelter volunteers; they've led 25 photography workshops for shelters through their Perfect Exposure Project, including one at LifeLine. Other photography collectives, like Shelter Me Photography, offer their services to shelters at no cost, and so do a few individuals: Guinnevere Shuster focused on black dogs for the Humane Society of Utah, and Gamand herself estimates she's shot around 1,500 rescue dog portraits over the years at shelters everywhere from rural Alabama to Mexico (she has around 50 shelters on her waitlist at the moment). And thanks to the proliferation of smartphones with increasingly higher-quality cameras, it's more likely that staff and volunteers are equipped to at least bump the photo quality up a notch. They may not have the funds for lighting equipment or the time to edit Instagram videos, but a happy dog photographed outside is infinitely more 'grammable than the standard intake mugshot of a dog tethered to the wall, fresh off the animal control van and visibly frightened.
But even if our collective online canine fascination is putting new pressure on rescue groups and shelters to learn new technologies and think like marketers, every rescuer I spoke with seems to universally agree: If it means getting more dogs out of the shelter and into good homes, freeing up more kennel space for the next Strudel or Cletus, it's a good thing. Even when it's hard, costly, and time-consuming. Because it's not just about saving individual animals; for many rescuers, social media is helping to change the narrative of rescue and how we talk about rescue dogs.
Conway has noticed this change over the last few years. "It used to be that ... every dog was damaged and abused and neglected," she says. "We're now relying more on their known behaviors and the positive attributes of these animals instead of their negative pasts." Rather than focusing on why a dog is homeless, where they were before, and what breed they are, rescuers can shift the conversation to the dog's present: their known behaviors, their quirks, their penchant for belly rubs. It's a marked shift in tone from the sad, guilt-tripping Sarah McLachlan PSAs of the past. And where outdated breed hang-ups might prevent someone from even considering a dog like Strudel or Cletus, focusing on the personality of each individual dog — as a hiking buddy, a "Velcro dog," a happy-go-lucky goober velvet warthog girl — opens up a world of possibility for both the adopter and the adoptee.
Mostly, Doggo Culture as manifested through social media allows the most unlikely of canine heroes to emerge: special needs dogs like Tuna, who arrived at DeKalb with a pronounced jaw deformity and whose Facebook video inspired a man to drive all night from Texas to Atlanta to adopt him on the spot. Elderly dogs, like Indie and Choco, who almost certainly would've lived and died behind the bars of a shelter kennel had Niq not seen their portraits from over a hundred miles away. Dogs like Strudel, whose genetic lottery ticket is unfairly saddled with our own cultural baggage, but whose new portrait shows her ridiculous, charming goofball persona in full color. A couch copilot, or a running partner, or a snugglebug, rather than just a breed or a charity case.
By the way, Strudel the shimmying sentient burrito is still up for grabs. Garrett's already working on an Instagram video for her, and hopes that a playful, 30-second spot set to peppy stock music will be Strudel's ticket out from behind bars and into her new life. I have a feeling it won't take long. ●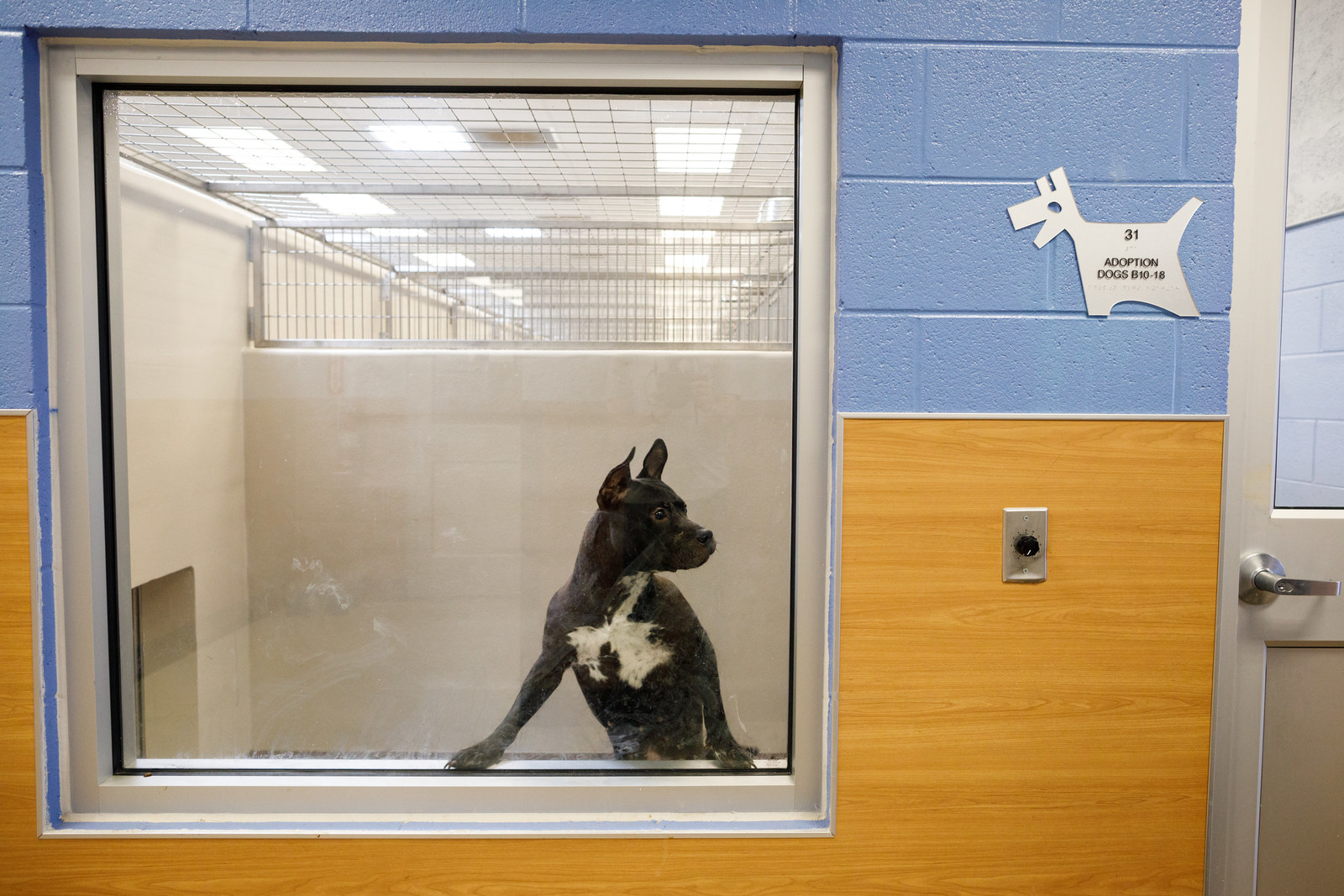 Gray Chapman is an Atlanta-based freelance journalist who has written about culture and behavior for Racked, Vice, Atlas Obscura, the Outline, and Punch. She is the proud dog mother of Jerry, an 11-year-old rescue and very good boy.