Brazil will receive more than 100 foreign intelligence officials to monitor and thwart potential threats and risks during the Olympic Games, amid reports that French officials foiled a plot to attack members of the French delegation in Rio.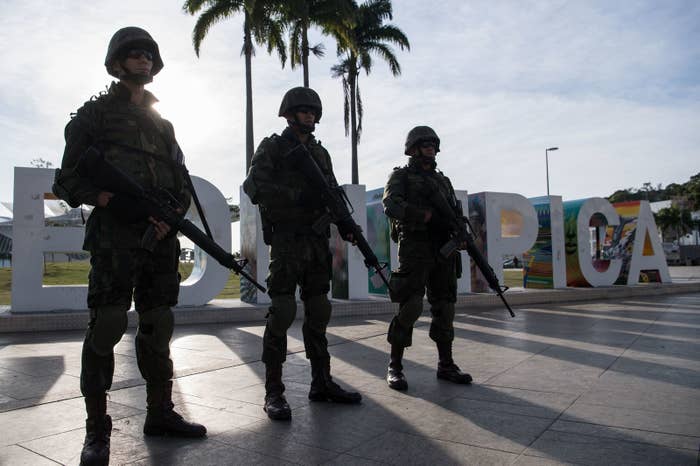 Brazilian officials announced on Wednesday that at least eight intel centers have been set up throughout the country — in cities like Rio, Brasília, and others where soccer matches will be played — where foreign officers will work with Brazil's federal and state security agencies, exchanging information about potential threats and risks throughout the duration of the games.
The announcement came hours before a report that said the French military intelligence agency (DRM) had foiled a plot to attack the French delegation during the games in Rio. However, Brazilian intelligence officials said information about the plot was not shared with ABIN, its intelligence agency, by French officials.
A French official made references to the planned attack during a closed-door parliamentary inquiry into last year's deadly attacks in Paris. But details about the briefing only became public on Wednesday, after Libération published a transcript of the meeting.

According to the transcript, the head of the DRM told the committee in May that the plot was discovered "through our partners." But the transcript offers no other details about the case, including if the suspected terrorist was recruited in Brazil or abroad. It is also unclear to what stage the plans for the attack had advanced or how and where the suspect had been caught. An official at the French anti-terrorist services told BuzzFeed News it would not comment on anything.
Brazilian officials have said that they are most concerned about the so-called lone-wolf attacks during the games in Rio.
Although ABIN has neither confirmed nor denied the information, O Globo reported that at least 100 extremists who fall into the lone-wolf profile are being monitored 24 hours a day, according to an internal report by the same agency.
Brazil's intelligence in recent months has detected a terrorist group that has been trying to recruit volunteers to translate extremist propaganda into Portuguese. Online, ISIS members have been using social networks in an attempt to spread the group's message and recruit in Brazil.