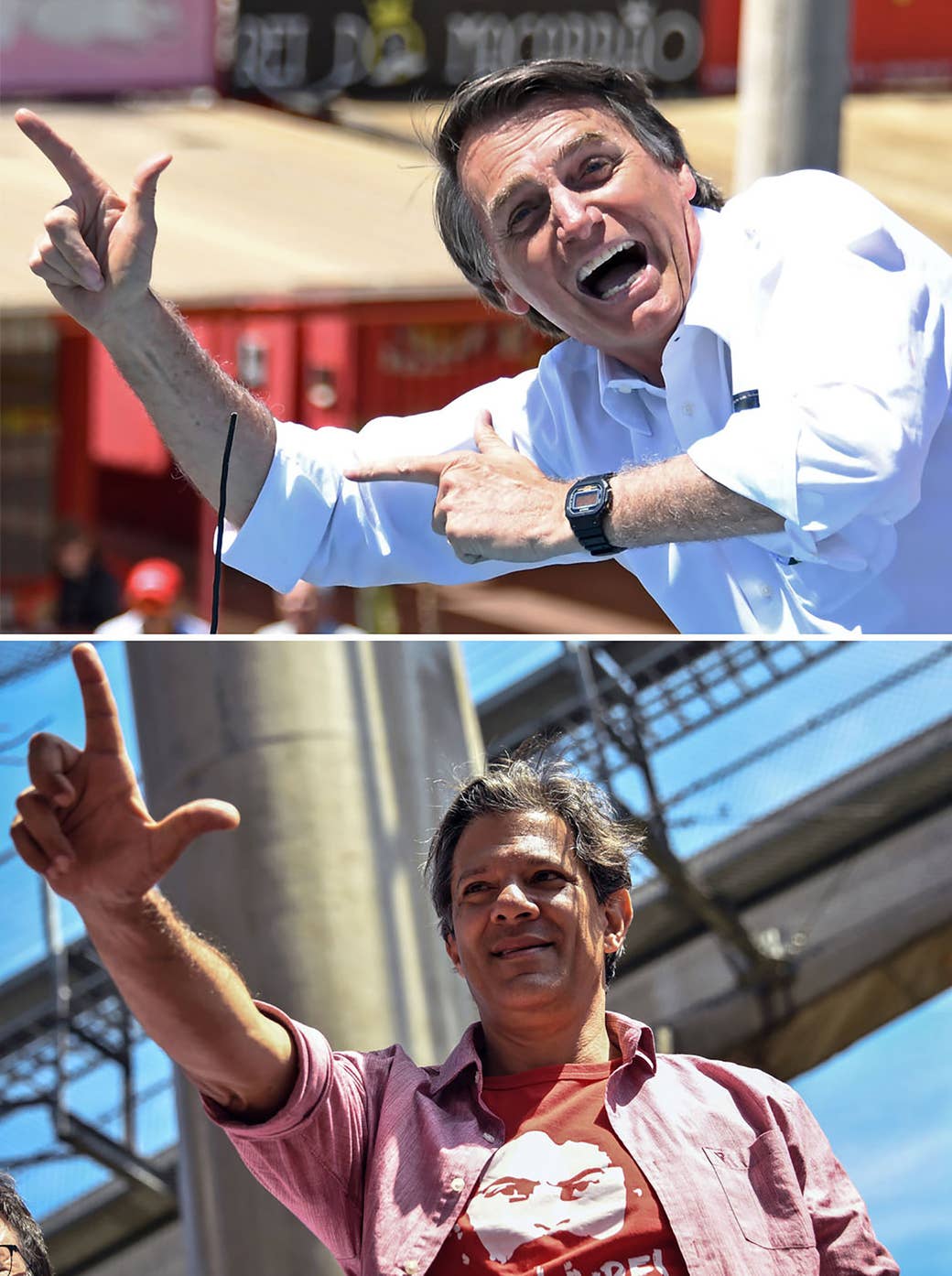 As the global wave of populism arrives at the shores of Latin America's largest democracy, new polling suggests that Brazilians will pick a new leader not based on which candidate they love, but which one they hate — and that the results will likely produce an even more deeply divided country.
This contest of political disenchantment pits the far-right candidate Jair Bolsonaro, often referred to as Brazil's Donald Trump, against Fernando Haddad, the candidate of Brazil's the leftist populist former president Lula da Silva and his Workers' Party (PT).

In the last few days before the first round of the presidential election Oct. 7, Bolsonaro has 35% of voters' support in recent polling, while Haddad has 22%. Meanwhile, the so-called political center has collapsed: Ciro Gomes (center-left) has 11%, Geraldo Alckmin (center-right) has 8%, and Marina Silva appears with 4%.

Unlike the United States, the Brazilian election will hold a second vote on Oct. 28 if none of the candidates gets 50% or more of the vote next Sunday. In recent weeks, Bolsonaro's approval among voters has been growing and some of his supporters have suggested that the candidate can win in the first round. This is the most volatile election in Brazil's recent history.
That collapse of the center reflects a deep distrust of the country's elite, held responsible for a deep economic downturn, for the impeachment of former president Dilma Rousseff, and for a series of corruption scandals — leaving just Bolsonaro and Haddad standing.

But there is little overlap between their bases: According to polling firm Datafolha, 45% of voters say they would never vote for Bolsonaro, against 40% who say the same of Haddad.

There is also a gender gap: 47% of men say that they will not vote for the leftist candidate and 49% of women reject Bolsonaro.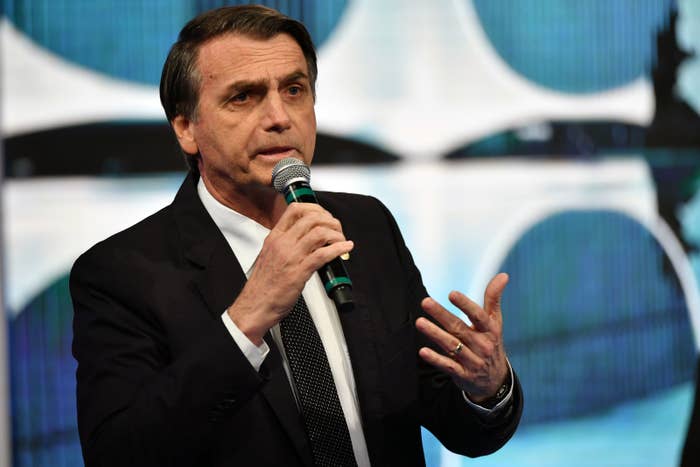 Bolsonaro, a former Army captain and a congressman for 27 years, has — like his American inspiration — has led a disruptive campaign on social networks. He's railed against the political establishment and raised doubts about the integrity of the electoral system, while attacking the country's mainstream media.
Last week, Bolsonaro said he would not accept the outcome of the election if he were not the winner. (He walked the statement back after public outcry.)
His opponents have focused on Bolsonaro's misogyny and racism. The candidate once said that an opposing female congresswoman did not deserve to be raped and he's insulted the descendants of rebel Afro-American slaves. None of this has slowed the steady growth in support for Bolsonaro, however.
Bolsonaro's platform is also reminiscent of that of Philippine leader Rodrigo Duterte. Bolsonaro has already suggested that police should shoot to kill in confrontations with criminals. In a country that has more than 63,000 homicides a year and where there are several areas dominated by gangs in big cities, including Rio's favelas, this hard-line approach against the crime has resonated with the voters.
The driving force behind Bolsonaro's popularity is a rejection of Brazil's leftist Worker's Party and former president Lula, who is currently serving a 12-year prison term for corruption and money laundering.
Bolsonaro spent three weeks out of action after being stabbed during a campaign event on Sept. 6. Since leaving the hospital last week, he has been resting at home — doctor's orders — and communicating through live videos on social networks. His supporters campaign mainly through group messages on WhatsApp, a network with more than 100 million users in Brazil.
His campaign represents a turning point in the Brazilian political establishment. Previously, television advertising used to decide elections in favor of the most supportive parties. With barely 8 seconds of TV advertising time, Bolsonaro has been the frontrunner since a court banned Lula's candidacy last month.
In recent weeks, Bolsonaro has garnered important support within the financial sector with promises of a business-friendly government, and evangelical leaders, who represent a growing share of the poorest electorate.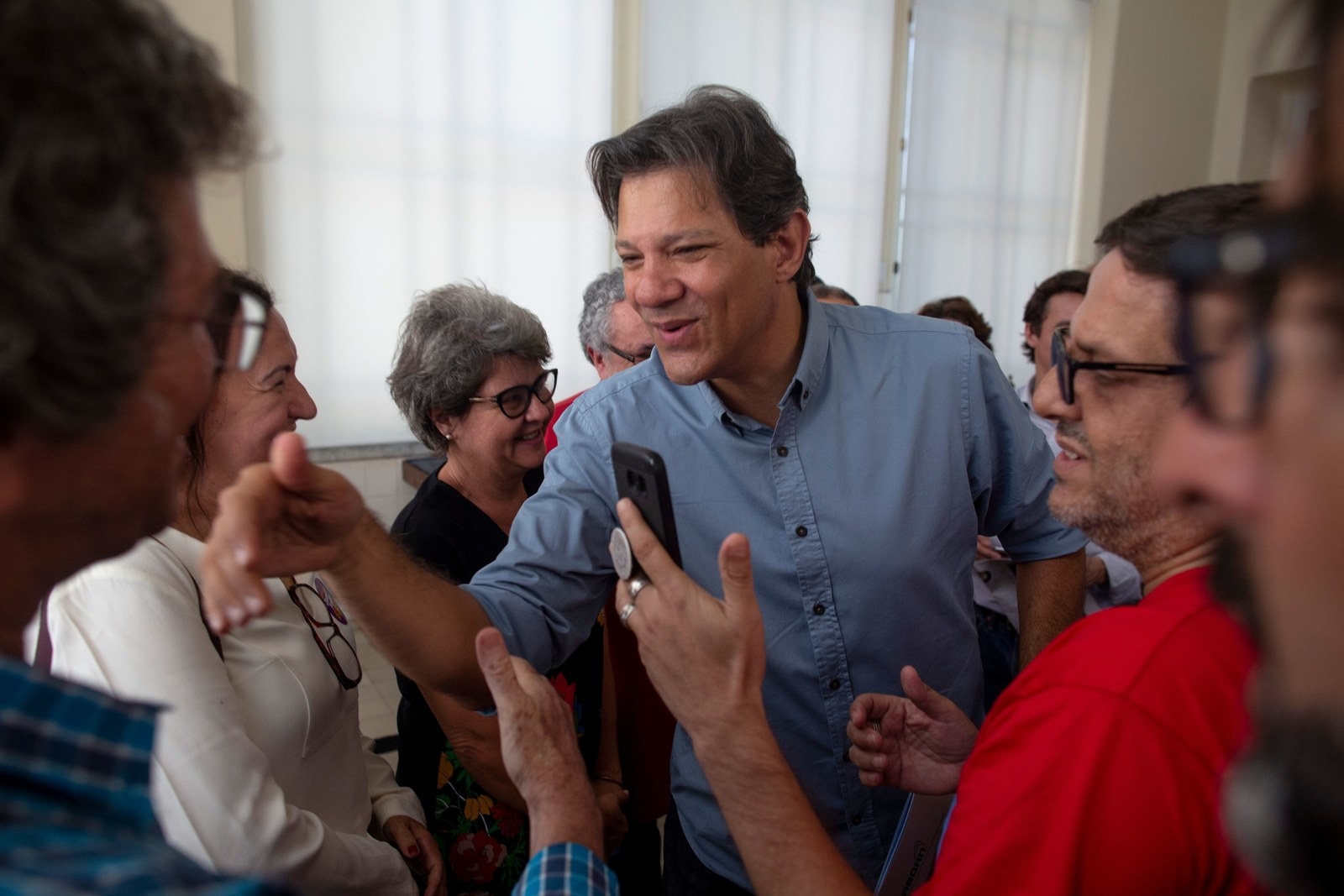 Bolsonaro's closest opponent in the second round is the former mayor of São Paulo, Fernando Haddad.
Haddad's best bet is to build a coalition of supporters among those who reject Bolsonaro's extremism, repeating what happened in France when far-right leader Marine Le Pen was defeated by Emmanuel Macron with votes from the center-left and center-right.
Although he's from a leftist party, Haddad is a moderate. In the period when he was mayor of São Paulo, his fiscal responsibility policies reduced the indebtedness of the largest city in Brazil without essential services being interrupted.
Bolsonaro has more support in the business world, but rating agencies, like Standard & Poor's, consider the former mayor a less risky option for financial industry than Bolsonaro.
"The two leading candidates have high rejection rates for different reasons and it is hard to say who will win, but the PT candidate is not an outsider while Bolsonaro is an outsider, and this increases the risk of incongruities or delays in getting things done after the election," an analysis from Standard & Poor's said.
The rejection of Bolsonaro's misogyny has spawned a movement called #EleNão (#NotHim). The popular hashtag on Facebook turned into a massive series of street-driven women's protests against the far-right candidate last weekend. This week's polls showed, however, that women's support for Bolsonaro grew by almost six percentage points.
The explanation for the apparent contradiction is that many see #EleNão as a leftist movement that has driven away working-class or evangelical women who may not support Bolsonaro, but who reject the Workers' Party.
"There are women who are very conservative or who are dissatisfied with the current political system and have not been affected. They have no ideological bias, and it did not reach this other group of nonideological women," David Fleischer, a professor at the University of Brasilia, told BuzzFeed News.