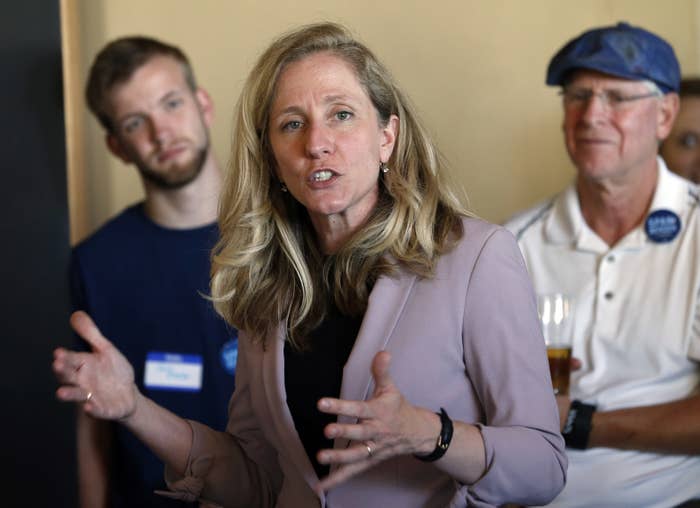 The United States Postal Service has released the entire federal security clearance application of a former CIA officer running for Democratic Congressional seat, in what experts say is a highly unusual and perhaps unprecedented move, given the extensive, highly personal nature of the information contained in such documents.

In an interview with the New York Times published Tuesday, the former officer, Abigail Spanberger, accused the Congressional Leadership Fund, a super PAC aligned with House Speaker Paul Ryan, of improperly obtaining the document, and suggested that the Trump administration may have leaked the information for partisan purposes.
But BuzzFeed News can confirm that an unredacted copy of the federal security clearance application was obtained by America Rising, a research group allied with the Republican Party, through what the organization believed was a response to its July 9 Freedom of Information Act request from the US Postal Service's human resources section. Once America Rising obtained the documents it then shared it with its client, the Congressional Leadership Fund.
"America Rising submitted a standard Freedom of Information Act (FOIA) request seeking information from the National Personnel Records Center which was referred to the United States Postal Service, an independent agency, which provided us responsive documents," America Rising CEO Joe Pounder said in a statement to BuzzFeed News. "Why the USPS disclosed certain information in response to the FOIA is for their response. At the end of the day, this Democrat candidate is trying to block the one thing FOIA is meant to provide, transparency."

Documents viewed by BuzzFeed News show that the request for Spanberger's entire civilian personnel file was submitted early last month to the National Personnel Records Center, a division of the National Archives. America Rising's request, which sought records related to Spanberger's employment dates at the US Postal Inspection Service, salaries, title, and position descriptions, did not explicitly mention the federal security clearance application, known in bureaucratic circles as an SF-86. Historically, such records would be withheld or heavily redacted under a FOIA privacy act exemption. America Rising's FOIA request included the first five numbers of Spanberger's social security number, which the group obtained from LexisNexis, BuzzFeed News has learned, as a way of assisting NPRC in locating the file.
The NPRC pulled Spanberger's personnel folder and, in a letter dated July 12, informed America Rising that the US Postal Service's corporate personnel management office in Washington, DC, maintained custody of personnel files of its former employees. NPRC said it forwarded Spanberger's personnel folder, along with all of its documents, to the USPS management office for review and handling. NPRC also noted in its letter that some information from the file could be released under the FOIA "without consent from the individual."
A spokesperson for the NPRC did not respond to requests for comment.
On July 30, the USPS human resources division provided America Rising with Spanberger's entire personnel folder, including the SF-86.
USPS spokesperson David Partenheimer told BuzzFeed News on Wednesday, "We are looking into this matter. I will reach out to you when we have more to say."
According to the Times, the SF-86 is one of two security clearance applications Spanberger submitted when she first applied to work for the federal government in 2002: one to the CIA and one for a postal inspector job at USPS, which she took while waiting to hear back about the job at the intelligence agency.
The decision by USPS to release the unredacted document was unusual, FOIA and security clearance expert Bradley Moss, an attorney with Mark S. Zaid, P.C., told BuzzFeed News. The SF-86 form is an extensive and probing questionnaire that asks applicants for all manner of personal background details, including where the applicant has lived and worked, their history of drug and alcohol use, and a number of other questions that could yield potentially embarrassing facts, he said.
Spanberger has said that Republicans seemed to be looking for information related to her brief stint as a teacher at the Islamic Saudi Academy, a private international baccalaureate program in Alexandria, Virginia, funded by the Saudi Arabian government.
"Someone at the USPS FOIA office is getting fired," Moss said. "If they truly managed to release this file without noticing the Standard Form 86 paperwork in the file, there is justifiable cause to fire that FOIA officer."
"SF-86 paperwork is categorically privacy-protected and to my knowledge has never been released through FOIA to a third party absent a privacy waiver," he added.
Spanberger's campaign and the Democratic Congressional Campaign Committee have called the release of the information troubling, and suggested that the documents may have been improperly released by the Trump administration, noting the president's persistent attacks on US intelligence agencies and personnel.
In a letter to congressional candidates seen by the Times, DCCC Chair Ben Ray Luján wrote that Spanberger's SF-86 was "an official government document that only President Trump's administration should have in its possession in its unredacted form."

"To be clear, we have no reason to believe that Republican groups have illegally obtained any of your personnel files, nor are we certain how C.L.F. got Ms. Spanberger's document in the first place," Mr. Luján conceded. "But even the evidence of this isolated incident is deeply troubling."
UPDATE
This story has been updated to include new details about how the USPS came into possession of Abigail Spanberger's personnel file and a response by a USPS spokesperson.