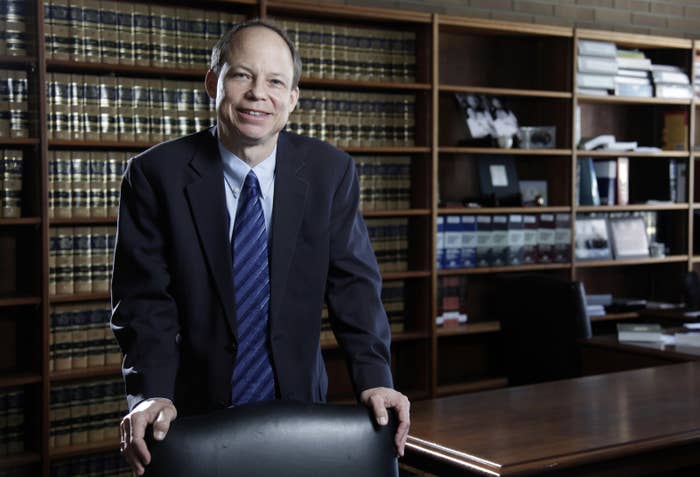 Northern California judge Aaron Persky was recalled from office Tuesday night, two years after sparking a national outcry over his sentencing of former Stanford swimmer Brock Turner, who was convicted of sexually assaulting and attempting to rape an unconscious woman behind a campus dumpster.

With two-thirds of precincts reporting, 59% of voters in Santa Clara County had cast ballots in favor of removing Persky, making him the first California judge to be recalled from the bench in 86 years.
It marked the culmination of an aggressive — and expensive — campaign that divided academics, feminists, and the state's legal community, and drew national interest usually reserved for a much larger race.
Recall efforts had largely centered around Persky's handling of the Stanford sexual assault case, in which the judge ordered Turner to serve six months in jail for three counts of felony sexual assault — a sentence that was far less than the six years prosecutors had asked for, and that Persky's critics decried as outrageously lenient.
The case drew widespread attention after the victim released a letter, published by BuzzFeed News, describing the devastating impact that the attack had on her. Turner served just three months of his sentence, prompting another wave of public outcry over the perceived inadequacy of his punishment.
A state panel cleared Persky of any misconduct in the case. But the sentence prompted state lawmakers to pass mandatory minimum sentences for sexual assault offenders, and to close a loophole in the state's sexual assault law that allowed offenders whose victims were unconscious to escape prison time.
In a letter filed with the county registrar last July, Persky defended his record and argued that he had a responsibility "to consider rehabilitation and probation for first-time offenders."
"It's not always popular, but it's the law and I took an oath to follow it without regard to public opinion or my opinions as a former prosecutor," he wrote. "As a prosecutor, I fought vigorously for victims. As a judge, my role is to consider both sides."
The recall campaign — led by Stanford law professor and sociologist Michele Dauber — argued that the problems with Persky's record went beyond the Turner case, and highlighted other cases in which the judge, in their view, was overly accommodating to offenders in sexual abuse and domestic violence cases.
In one of those cases, first reported by BuzzFeed News, Persky delayed sentencing for a man who pleaded no contest to felony domestic violence, giving the offender more than a year's reprieve from punishment so he could attend the University of Hawaii to play football. The judge also agreed to reevaluate the charges in that case if the victim met certain requirements, without any mechanisms in place to monitor whether those requirements were met.
Even opponents of the recall have raised questions about his handling of that case, which may have violated a federal statute regulating when offenders can move out of state.
Leaders of the recall cheered Tuesday's result as a culmination of their years-long effort, and sign of the political potency of the #MeToo movement that emerged during their campaign.
"The voters of Santa Clara County are the winners of this election," Dauber said in a statement to BuzzFeed News. "We voted against impunity for high status perpetrators of sexual assault and domestic violence. We voted that sexual violence is serious and it must be taken seriously by elected officials."

"In this historical moment," she added, "when women's rights are under attack, the women and men of this county stood our ground.
Still, many legal scholars had rallied to Persky's defense, arguing that ousting the sitting judge would have dangerous implications for judicial independence and lead jurists to hand down much harsher sentences in an effort to avoid public outrage. In August, more than 90 law professors — including 29 from Stanford University — signed a letter opposing the recall campaign and defending Persky's sentencing judgment.

"We did everything we could possibly do to fight the most dishonest campaign I had ever encountered. It was dishonest about who Aaron Persky was on the bench, and dishonest about his record," LaDoris Cordell, a retired judge who led the anti-recall effort, told the Palo Alto Post Tuesday night. "People were basically ill-informed about him and also about how the court system, and particularly the criminal justice system, works."
Though Persky was largely silent during the recall campaign, he had become more vocal in recent weeks, attending an anti-recall rally and sitting down for an extended interview with the Associated Press.
In a press conference last month, he compared his decision in the Turner case to the Supreme Court's decision on school desegregation in Brown v. Board of Education, asking reporters to "imagine for a moment if those federal judges had been faced with judicial recall in the face of that unpopularity."