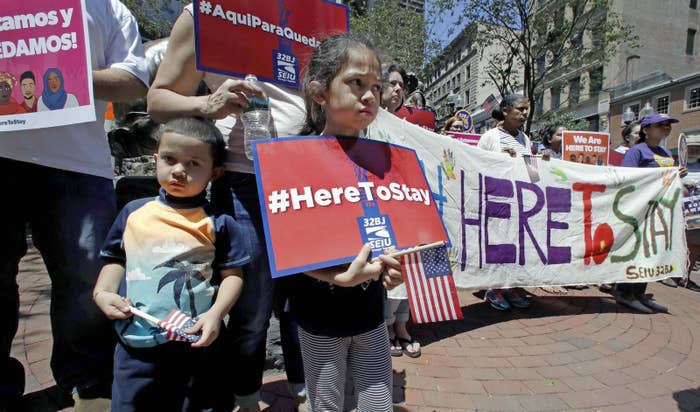 Eight cities and counties, along with the state of California, have rebuffed the Justice Department's warnings over their so-called "sanctuary" policies, throwing up new roadblocks to the Trump administration's promised crackdown on jurisdictions that decline to participate in its immigration enforcement strategy.

In letters to the Justice Department, officials from the nine jurisdictions defended policies restricting cooperation with immigration agents, and sharply rebuked the administration for its "arbitrary" threats to punish states and cities that resist Trump's immigration mandates.
"This is another example of the Trump Administration acting before doing their homework," wrote New Orleans Mayor Mitch Landrieu, whose city was among those singled out by the Justice Department as a possible violator. "We will send all the documents requested by the federal government again, but the NOPD will not be a part of President Trump's civil deportation force no matter how many times they ask."
In addition to New Orleans, responses were submitted by New York City, Chicago, Philadelphia, Miami-Dade County, Milwaukee County, Illinois' Cook County, Nevada's Clark County, and the California Board of State and Community Corrections. In April, the Justice Department threatened to cut grant funding for the nine jurisdictions unless they proved they were in compliance with federal immigration law regarding information sharing.
The nine letters, obtained by BuzzFeed News, offer a mix of legal arguments for why the jurisdictions are in compliance with Section 1373, a 2002 measure that says local and state governments cannot prevent employees from sharing information about immigration status with other agencies.
There is no legal definition of sanctuary cities, and the jurisdictions targeted restrict immigration cooperation to varying degrees — by ignoring ICE detainer requests, for example, or by barring police from asking individuals about their immigration status. Each letter essentially argues that while these policies might protect some immigrants from enforcement efforts, they do not restrict information sharing, and thus don't run afoul of any applicable immigration laws.
Regarding state laws limiting compliance with ICE detention requests, California's response noted that the state's laws "ensure certain protections for persons in the custody of local law enforcement," wrote Aaron Maguire, general counsel for the state's Board of State and Community Corrections, but "do not prohibit or in any way restrict the sharing of citizenship or immigration status information."
Citing state restrictions on compliance with federal immigration holds, Maguire pointed out that "civil immigration detainers are voluntary," and are not mentioned in Section 1373.
The argument was echoed by several other jurisdictions. "ICE detainer requests have been deemed to requests for cooperation, not orders with which the Sheriff is required to comply," Cook County State's Attorney Kim Foxx wrote in her response.
Defending policies prohibiting officials from asking about an individual's immigration status, Foxx and several other city and county representatives pointed out federal law does not require jurisdictions to collect that information, but merely restricts them from sharing any information they obtain.
"The City complies with Section 1373 because the City doesn't proactively collect immigration information and, therefore, the City has no information to share," said Philadelphia City Solicitor Sozi Pedro Tulante.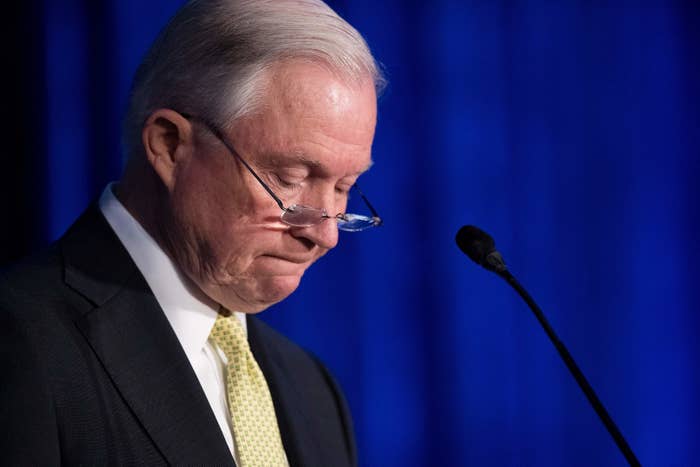 But while each of the nine jurisdictions maintained their compliance, Attorney General Jeff Sessions suggested that the Justice Department might disagree.
"It is not enough to assert compliance, the jurisdictions must actually be in compliance," Sessions said in a statement. "Sanctuary cities put the lives and well-being of their residents at risk by shielding criminal illegal aliens from federal immigration authorities. These policies give sanctuary to criminals, not to law-abiding Americans."
The Justice Department said Thursday that it is currently reviewing the responses, adding that "some of these jurisdictions have boldly asserted they will not comply with requests from federal immigration authorities, and this would potentially violate 8 U.S.C. 1373."
The response underscores the legal hurdles facing the Justice Department as it tries to follow through on President Donald Trump's oft-repeated promise to strip federal funding from sanctuary cities.
In the absence of a federal law mandating local cooperation with immigration enforcement, the Justice Department has been forced to rein in its definition of sanctuary cities to "refer only to jurisdictions that 'willfully refuse to comply with 8 U.S.C. 1373.'" But the letters submitted to the Justice Department suggest that few jurisdictions would actually fall under this scaled-back definition.
The Trump administration and other Republicans have now turned to legislative channels to expand the sanctuary city definition. Last week, the House of Representatives passed two bills last week that would broaden federal immigration law to bar any limitations on cooperation with immigration agencies, and punish cities for any non-compliance. And in its budget proposal submitted to Congress last month, the Justice Department included a provision that would tie grant funding to immigration enforcement.
In the meantime, Justice lawyers have filed a motion to lift a federal court injunction blocking implementation of Trump's sanctuary city order, citing the narrower definition that would tie funding cuts to compliance with Section 1373.
With Trump's sanctuary city policies still undefined, it is not clear how the administration plans to review the nine jurisdictions already targeted by the Justice Department. Several city and county officials offered scathing rebukes for the lack of clarity, and vowed to mount legal challenges should the government follow through with any funding cuts.
Combined, the nine jurisdictions stand to lose an estimated $270 million in Justice Department grant funding.
"Issuance of this opinion was complicated by uncertainty regarding the interpretation, scope and breadth," of the administration's sanctuary policies, Milwaukee County Corporation Counsel Margaret Daun said in her letter. "This quandary stems from a paucity of specific, clear, and actionable guidance from the federal government."
To highlight the confusion, she noted that although county officials have advised local law enforcement not to comply with ICE detainers, the policy is "routinely ignored" by Milwaukee County Sheriff David Clarke, a staunch Trump supporter.
Calling the Justice Department's policies "arbitrary and capricious," Tulante argued that "the agency's new position reflects a departure from its prior practice of granting Department of Justice funds."
"Problematically, the agency changed its longstanding position without sufficient reason or explanation," he added.
And while most jurisdictions defended their immigration policies, some said those polices never existed in the first place. Both Miami-Dade and Clark County, Nevada, for example, noted their jurisdictions did not have any limits on enforcement, and attached hundreds of documents to illustrate extensive local collaboration with immigration agencies.
"If anybody in the Trump administration would actually do some research before firing off letters, they would see that the City of New Orleans has already provided the Department of Justice documentation that shows we are in compliance with federal immigration laws," New Orleans Mayor Landrieu wrote.
"Unfortunately, your actions and recent rhetoric have already had a chilling effect on the reporting of crimes by victims and witnesses in some cities, including New Orleans," he added. "Fear within immigrant communities pushes individuals and families, undocumented or not, into the shadows, and makes the task of protecting everyone much more difficult for law enforcement."