Motel 6 Sued For Handing Over Guest Information To ICE
A new complaint presents fresh allegations that the discount hotel chain aided the federal government in identifying and detaining undocumented immigrants.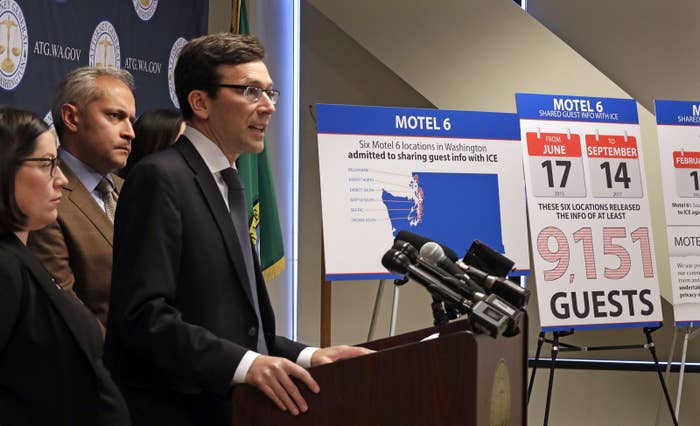 The Washington state attorney general sued Motel 6 Wednesday over its alleged practice of providing guest information to federal immigration agents, presenting fresh allegations that the discount motel chain aided the government in identifying and detaining people living in the country illegally.

According to the complaint, Motel 6 locations in Washington routinely provided guest registries to agents with US Immigration and Customs Enforcement, sometimes on a daily basis, without any documentation of reasonable suspicion, probable cause, or a search warrant. The suit claims ICE agents would then single out guests based on national origin, "including guests with Latino-sounding names."
At least six people were detained at or near the motels as a result of the practice, Washington Attorney General Bob Ferguson said Wednesday.
The complaint comes just four months after Motel 6 faced similar allegations against two of its Arizona locations, following a report that found the motels had regularly handed over guest information to ICE, resulting in the arrest of as many as 20 people. At the time, Motel 6 insisted that the policy was "implemented at the local level without the knowledge of senior management."
But the results of the Washington investigation suggest the practice of sharing information with ICE was more widespread, Ferguson said.
By the company's own admission, at least six of its Washington locations shared guest registries with immigration enforcement agents, he said. At four of those locations, the practice led to the release of private information of more than 9,000 guests between 2015 and 2017, according to the complaint filed Wednesday.
"It was not isolated to two motels in Phoenix," Ferguson told reporters Wednesday. "Not by a long shot."
The suit alleges that the guest list sharing violated Washington state privacy laws, as well as laws preventing discrimination based on national origin, and aims to recoup penalties of as much as $2,000 for each guest whose privacy was violated. It also seeks an injunction to bar Motel 6 from disclosing guest information to law enforcement without a warrant.

"Motel 6 takes this matter very seriously, and In a statement to BuzzFeed News, a spokesperson for G6 Hospitality, which operates Motel 6, said that the company "takes this matter very seriously."
"We have and will continue to fully cooperate with the Office of the State Attorney General," the spokesperson, Raiza Rehkoff, said.
The company also pointed to a September directive, issued in response to the Phoenix allegations, which ordered the more than 1,400 Motel 6 locations in the US and Canada to stop voluntarily handing over guest information to ICE.

ICE, which is not a party to the lawsuit, declined to comment on the complaint, or to provide specifics on its enforcement practices.
"The agency's immigration enforcement actions are targeted and lead driven, prioritizing individuals who pose a risk to our communities," ICE spokesperson Jennifer Elzea said in a statement to BuzzFeed News. "It's worth noting that hotels and motels have frequently been exploited by criminal organizations engaged in highly dangerous illegal enterprises, including human trafficking and human smuggling."
In their complaint, as well as in statements to reporters Wednesday, Washington state officials mapped out the motel chain's informal system of handing over information about guests to federal agents. According to the suit, ICE agents would request a guest list from the motel's receptionist, who would then give the agents a form to sign to acknowledge the list's receipt.

The registries included guest names, as well as information like driver's license numbers, room numbers, dates of birth, and vehicle plate numbers, which agents would use to cross-check the information with their own data on individuals wanted for civil immigration violations, according to the state's complaint. The suit states that "Motel 6 staff observed ICE identify guests of interest to ICE, including by circling guests with Latino-sounding names."
At one Motel 6, in South Everett, Washington, for example, ICE agents visited the motels early in the morning or late at night, requested the day's guest list, circled any Latino-sounding names and returned to their vehicles. On one occasion, ICE agents returned to detain an individual at the motel, according to the attorney general's office.
Overall, the investigation found that the South Everett motel gave guests' personal information to ICE on approximately 228 occasions between Feb. 1 and Sept. 14, 2017.
"The company's actions were methodical. They trained their new employees on how to do this," Ferguson said Wednesday. "We're going to find out who at Motel 6 knew what, and when they knew it."