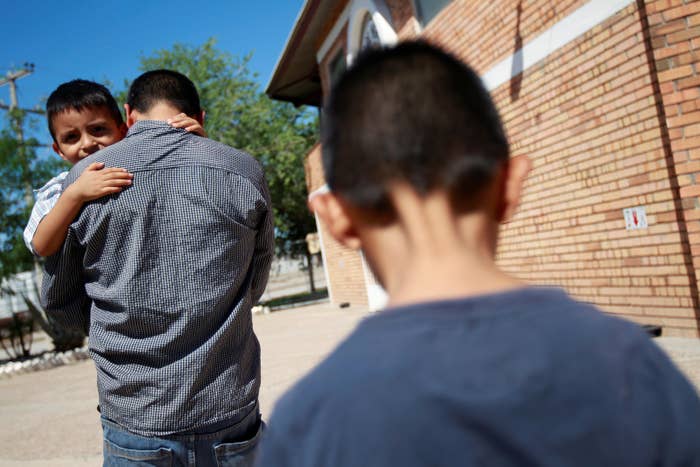 Immigrant children and their families apprehended at the southern border in recent months described in court filings being held for days in squalid, freezing detention facilities, where they were often given spoiled food and unclean drinking water, and were left in a state of confusion about what — if any — future they would have in the US.
Keylin, a 16-year-old from Honduras, said that she and her mother were detained at Customs and Border Protection facilities in Texas. Despite arriving "muddy and wet," having crossed the border at the Rio Grande river, she said they were not allowed to shower or change for several days. Separated from her mother in a facility known as the "Dog Pound," she said that she was put in a cell with other teenage girls.
"The female guards yelled at me and the other girls a lot. They called us names and made fun of us," she said in an interview filed in a federal court in Los Angeles this week. "I was very frightened and depressed the entire time. I was scared of the guards and scared I would be deported without my mother."
Dixiana, a 10-year-old from Honduras who also crossed the border with her mother in Texas, similarly described being separated from her parent and given food that seemed spoiled. "They gave me a frozen ham sandwich. The ham was black. I took one bite but did not eat the rest," she said through a translator.
And Sergio, a 17-year-old from Guatemala housed in Casa Padre — the largest facility for immigrant children, run by Southwest Key in McAllen, Texas — told interviewers that he and his father were separated shortly after presenting themselves at the border, and taken to different detention centers. His father, he said, now faces deportation.
"When I left, and my dad wasn't with me, they told me not to worry, that he would be coming in a moment," he said. "I went in the car and felt very relieved and happy that he would follow. But it wasn't like that. He didn't come. I haven't seen him since then."
"I do not want to be here anymore, especially since I know how much my father is suffering. The way I have been treated makes me feel like I don't matter, like I am trash," he said.
The statements are part of a new cache of testimonies from immigrant children and parents filed in the court this week as part of a long-running lawsuit that resulted in the 1997 Flores settlement, which dictates the treatment of minors in immigrant detention facilities.
Lawyers at the Center for Human Rights and Constitutional Law, which is representing the immigrants, said these interviews are evidence that the government is violating the terms of that settlement. They have asked the court to appoint a special monitor to oversee the network of detention facilities that house children and families across the US.
Volunteers for the Los Angeles–based group interviewed more than 200 immigrants at eight CBP facilities along the US–Mexico border, as well as at the three family detention centers run by Immigration and Customs Enforcement and a shelter for unaccompanied minors in Brownsville, Texas.
The statements, taken between June and July of this year, provide an often damning account of life for immigrants detained under the "zero tolerance" policy implemented by the Trump administration this spring that separated children from their families.
"It amounts to a picture not just of forcibly separating thousands of children from their parents, but on a much broader level of a program of forced hunger, forced thirst, forced sleep deprivation, coupled with routine insults, threats, and physical assault, that leave class member children crying, trembling, hungry, thirsty, sleepless, sick, and terrified," Center for Human Rights attorney Peter Schey wrote in a declaration describing the testimonies.
"Mental health experts agree that many class members will never fully recover from the terror and humiliation they experienced" in custody, he added.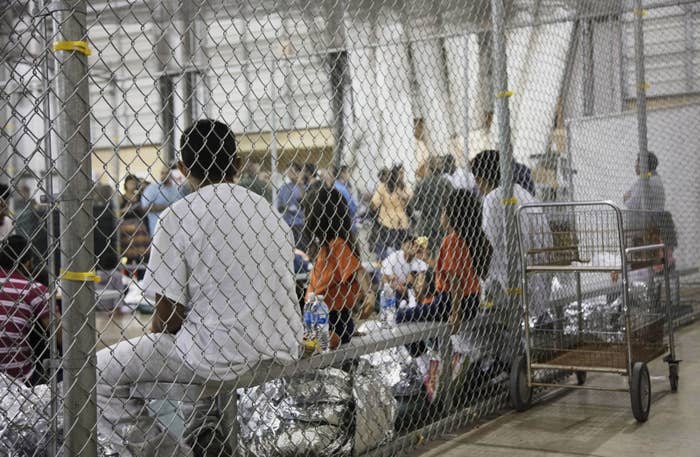 The accounts are remarkable both in their volume and in their consistency — there are 223 in total. At CBP facilities in Texas, Arizona, and California, immigrants described being separated from their relatives, and held in cold, crowded cells and cages with limited sleeping mats and drinking water. In many cases, immigrants said they were not allowed to shower and were not given a change of clothes. They said they were deprived of sleep by guards who would kick their feet and leave the lights on at night.

Timofei, a 10-year-old Jehovah's Witness from Russia, who said he and his parents were escaping religious persecution there, described being held in a crowded room with other teenage boys after being detained by CBP in California. "My body hurts because we have to sleep on hard mats," he said.
"All day we are in a locked room," Timofei added. "I have not seen sunlight since I have been staying in the camp."
Ventura, who was held with her 6-year-old daughter at a CBP site in Yuma, Arizona, said the only water she received was from the bathroom sink, which she drank with her hands because detainees were not given cups.
The 21-year-old said the cup of noodles the immigrants were given don't fully cook because the water is not warm enough. The mother and daughter weren't given any pillows or mattresses and were forced to sleep on the cold floor.
"It's loud because kids are crying because of cold," Ventura said.
Sachin, a 17-year-old from India who was apprehended June 14 after climbing over the border wall in California and interviewed at a CBP facility there, said he still had not been able to bathe or brush his teeth the following day. "I really want to take a shower, but I don't know how to ask," he said.
In a statement to BuzzFeed News, CBP declined to comment on the filings.
"As a matter of policy, U.S. Customs and Border Protection does not comment on pending litigation," CBP spokesperson Daniel Hetlage said. "However, lack of comment should not be construed as agreement or stipulation with any of the allegations. CBP takes all allegations seriously, and investigates all formal complaints."

Asked to comment on the interviews, a spokesperson for the Department of Justice referred BuzzFeed News to a report filed by the government in the Flores case last month, in which CBP's juvenile coordinator Henry Moak Jr. assured the court that the government was meeting the standards laid out in the settlement agreement.

The government makes an extensive effort "to ensure all minors in CBP custody are treated with dignity, respect, and special concern for their particular vulnerability as minors," Moak wrote. He said that parents and children he had interviewed in CBP custody told him they had "received meals and snacks; had access to drinking water, functioning toilets, and functioning sinks; and were held in rooms that were maintained at an appropriate temperature."
Moak added that he even drank the water from containers at processing centers in McAllen and Yuma and found it was clean.
However, Delmis, who said she was detained at Texas facilities with her 9-year-old daughter and 2-year-old son after fleeing Honduras, said, "The worst thing was the water."
"I had to plug my nose to be able to drink it. It came out of the faucet and smelled terrible," Delmis added.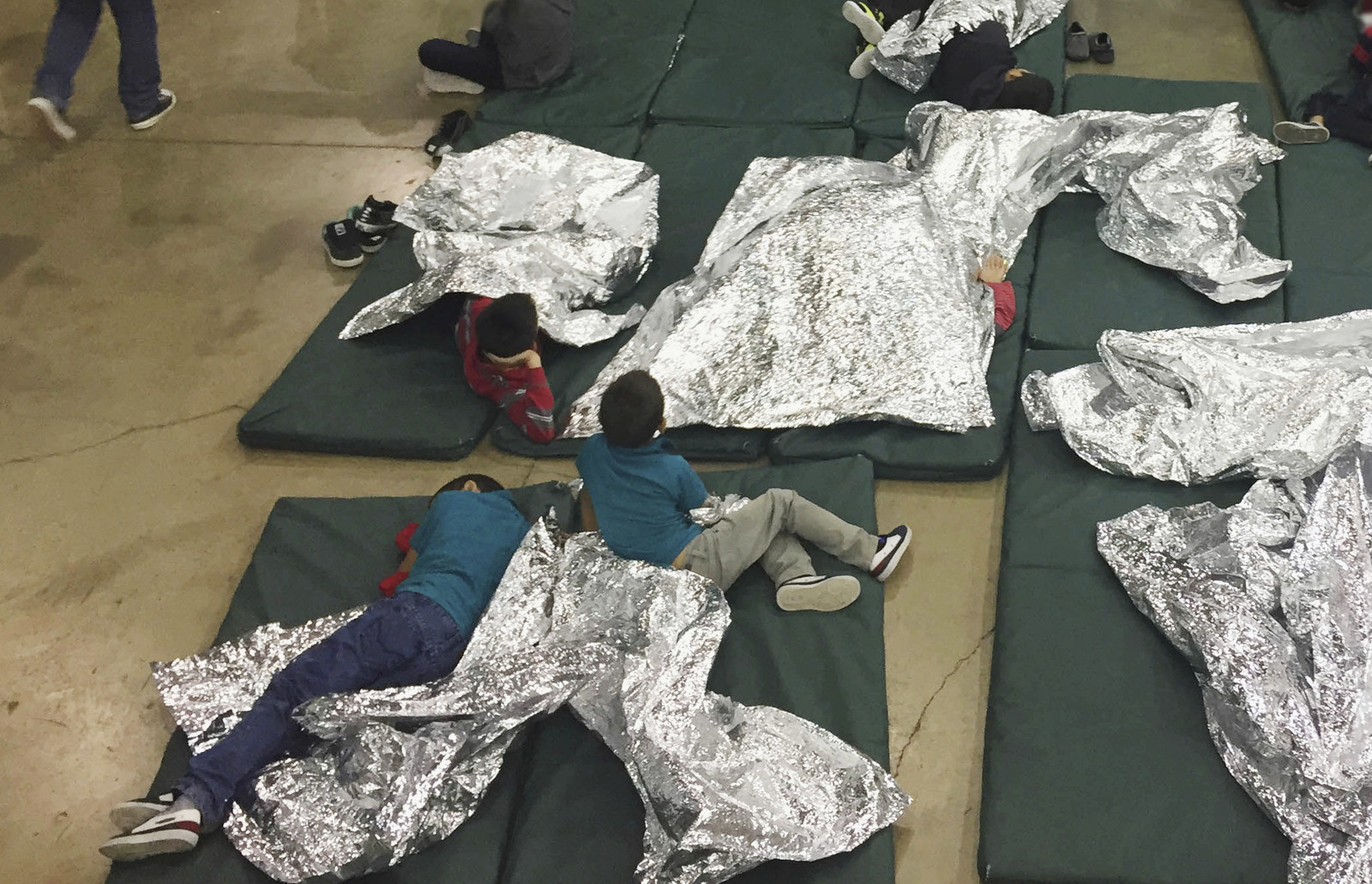 In McAllen — where a majority of family separations have taken place — dozens of immigrants described the grim treatment at two CBP facilities known as the "Ice Box" and the "Dog Pound."

Lidia, a 22-year-old citizen of El Salvador who crossed the border in Texas with her 4-year-old son, told an interviewer that the two of them "went hungry the entire time" during their stay at the two facilities last month. "The only food we were given were sandwiches that were frozen and not able to be eaten."
The "Dog Pound" — so named because of the cages that immigrants are detained in — "was so overcrowded that we could not stand or walk around," Lidia said, adding that, while at the facility, she contracted a urinary tract infection, which has since developed into a kidney infection.
Guards at the facility "were yelling at the mothers separated from their children not to look at their children in the separate cages," she added. "The female guards told the mothers and children that they would be punished for looking at each other."
Some immigrants also detailed verbal, and in some cases physical, abuse. And their interviews underscored the emotional toll that family separations and detention have had on children taken into custody.

Angel, a 13-year-old from Mexico, said that he was separated from his mother at CBP facilities in McAllen, where "the guards told the boys in my cell that they were going to be adopted and that they would never see their parents again, that were the property of the United States because we were on their territory."
"The atmosphere in the cell was really hard," Angel said. "The children would cry constantly. Sometimes the mood would lighten — they would put on a movie — but then a guard would come by and say that the children would be sent away to live in a foster home and never see their parents again."
Though allegations of poor treatment at CBP facilities have surfaced regularly for years, including under the Obama administration, the new interviews suggest that harsh conditions have been exacerbated by the Trump administration's "zero tolerance" policy. Announced by Attorney General Jeff Sessions in April, the policy mandated that US Attorneys' Offices prosecute every person caught entering the country illegally, and resulted in the systematic separation of parents and children at the border because the kids could not accompany the adults into federal custody.
The immigrants' testimonies also document some of the confusion that has resulted from the Trump administration's new policies. Several immigrants described being yelled at to sign documents that they couldn't read, and in one case, a single mother described being temporarily separated from her teenage son after he was deported to Juarez, Mexico, in what immigration officials later told her was a mistake.
The Trump administration's border crackdown has been stymied somewhat, following an executive order declaring an end to family separations. A subsequent court order mandated that the government reunite the more than 2,000 children with parents from whom they were separated at the border.

In the Flores case, US District Judge Dolly Gee rejected a recent attempt by the Trump administration to amend the 1997 settlement to allow indefinite detentions of families as an alternative to separating parents and children, calling it a "thinly veiled" effort to raise challenges to the settlement that the judge had already considered and denied.
But lawyers representing immigrant children in that case claim that the government continues to violate the settlement, and point to the toll that Trump's policies have already taken on children in federal immigration custody.
One single parent in CBP custody, identified as Mayra, said her 9-year-old son continues to be anxious after seeing parents separated from their children at a facility in Nogales, Arizona.
"He saw someone bound with chains and asked me whether I would be chained in the same way," she said. "He wonders when we will get to the United States. I do not tell him that we are already here. He wouldn't believe that the United States would treat us this way."