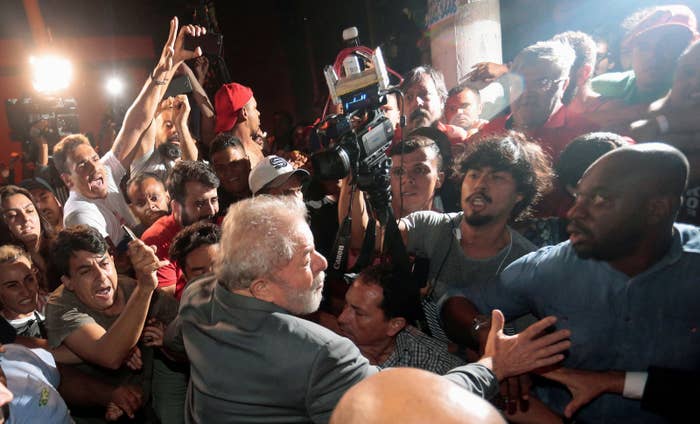 Former Brazilian president Luiz Inácio Lula da Silva surrendered to police on Saturday to begin serving a 12-year prison term for corruption, leaving the union hall where he had been ensconced among supporters following a judge's order for his arrest.
Before being driven away by authorities, the 72-year-old addressed supporters who had camped outside the Metalworkers Union of Sao Bernardo do Campo, where da Silva launched his political career four decades ago and where his career in politics appeared to come to an end after a televised standoff this weekend.
"They have to know that the death of a combatant does not stop the revolution," da Silva told the crowd Saturday, as supporters jostled to prevent his departure. "The powerful can kill one, two, or three roses, but they will never be able to stop the arrival of spring. Our struggle is for the arrival of spring."
"This will not be the end of me because I am no longer human," he concluded. "I am an idea."
It was a remarkable end to a saga that began last July, when da Silva was convicted of corruption and money laundering in connection to bribes he accepted from a construction firm — including the renovation of a vacation home he denies ever owning — in exchange for help scoring public contracts. The charges were part of a four-year probe known as Operation Car Wash that has ensnared most of Brazil's major politicians and several business leaders and sent the country spiraling into a deepening political crisis.
Da Silva has denied the charges against him and insists the case was an attempt to thwart his campaign for another turn at Brazil's presidency. Heading into 2018, polls showed da Silva, who previously served as president from 2002 to 2011, as the favorite to win the country's presidential election this October.
But da Silva lost his first appeal of the conviction earlier this year, and on Thursday, a court issued an order for the former president's imprisonment, denying his petition to remain free while he continues to appeal the conviction. Judge Sergio Moro, a leading figure in the Car Wash investigation, gave da Silva until 5 p.m. Friday to turn himself in.
Da Silva has vowed to continue his campaign from his jail cell, though Brazilian law will likely prevent him from running. His imprisonment throws the country's presidential race into disarray, with no clear leader emerging to take the former president's place as the standard-bearer for Brazil's left.
As da Silva holed up in the metalworkers union hall following Thursday's ruling, thousands of his supporters gathered outside to demonstrate and jostled to block authorities from taking the former president as he surrendered Saturday. Later, as he arrived in Curitiba, police fired rubber bullets and tear gas into a crowd of supporters awaiting the former president, according to news reports.

Da Silva's detractors, meanwhile, heralded his arrest as the opening of a new chapter in Brazilian politics.
"We must once again believe that power is of the people and this power generates the responsibility of every citizen to engage in public affairs," federal prosecutor Carlos Fernando dos Santos Lima wrote on Facebook Saturday. "We don't need heroes or saviors of the fatherland. We need citizenship. And we need to have good people in politics again."
BuzzFeed News reporter Alexandre Aragão contributed reporting from São Paulo.