A senior Trump administration official has apologized for mocking and fat-shaming journalist April Ryan, after exchanging a series of ugly insults with the CNN analyst on Twitter Wednesday night.

In a now-deleted tweet, Lynne Patton — a former event planner who now runs all of the federal government's housing programs in New York and New Jersey — referred to Ryan as "Miss Piggy," posting an unflattering picture of the journalist with the hashtag #BankruptBlogger.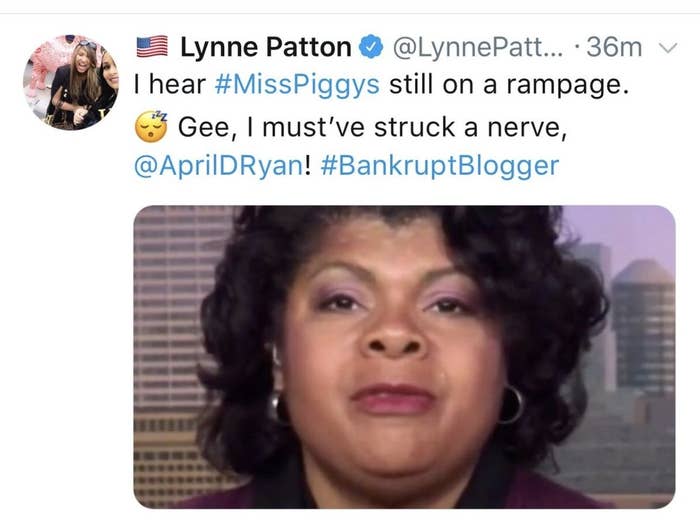 About 30 minutes later Patton deleted the tweet and posted an apology to Ryan with a photo of herself speaking at the 2016 Republican National Convention.

A longtime friend of the Trump family, and former director at the Eric Trump' Foundation, Patton was tapped by the administration in July to lead one of the Department of Housing and Urban Development's largest federal housing regions, though she has no prior experience in government or housing.

Since taking the job, she has maintained an active personal Twitter account, where she expresses enthusiastic support for Trump and spars with his critics and journalists.
Before posting her apology Wednesday, she sent out a series of tweets insulting Ryan, primarily by calling her "a blogger from a bankrupt outlet." Ryan, who is not a blogger, is the White House correspondent for the American Urban Radio Networks.
Patton's beef appears to have begun on Tuesday, after someone tweeted a CNN clip of Ryan talking about the Trump administration's attitude toward the press and saying she has received death threats since she began reporting on the White House.
Patton responded by claiming that she too has gotten death threats, and that those who "instinctively defend" Ryan without expressing the same concern for conservative women are "the actual problem."

At some point, Ryan took notice of the exchange and got involved, calling the federal housing official a "fruit loop" and a "washed up wedding planner" — a reference to Patton's previous career as an event planner for the Trump family who helped plan Eric Trump's wedding.

The tweets, which culminated with Patton's message comparing Ryan to Miss Piggy, attracted a wave of criticism online, with several people calling for her resignation, and demanding that HUD investigate her social media accounts. Neither HUD nor Patton immediately responded to a request for comment from BuzzFeed News Wednesday night.
Ryan has also not yet responded to a request for comment. But in a tweet following Patton's apology, she thanked people for their support and said that she does not know Patton.