One man is dead and six firefighters sustained non-life-threatening injuries after a large fire broke out at Trump Tower in Midtown Manhattan Saturday.
The New York Fire Department responded to the four-alarm fire around 5:30 p.m. as the blaze engulfed a 50th-floor apartment in the high-rise owned by President Donald Trump.
One occupant, 67-year-old Todd Brassner, was seriously injured in the fire, officials said, and was transported to a nearby hospital where he later died. Six firefighters were also taken to local hospitals for non-life-threatening injuries, including burns, fire officials said Saturday.
The unit was a large apartment and heavily furnished, New York Fire Commissioner Daniel Nigro said, and was "virtually entirely on fire" when firefighters arrived.

Officials have not yet determined the cause of the fire, which was initially reported as a two-alarm blaze but upgraded as the smoke spread to units above the 50th floor.
President Trump, who was with his family in Washington, DC, this weekend, declared in a tweet Saturday evening that the fire was "out."
Shortly after his tweet was sent, however, fire officials tweeted that they remained on the scene, and said the fire had been upgraded to a four-alarm blaze. (BuzzFeed News reached out to FDNY for clarification but did not immediately receive a response. Just after 8 p.m. Saturday, the department tweeted that the fire was finally under control.)
The building's residential units, which are located on the higher floors of the building, are not equipped with sprinklers, New York Fire Commissioner Daniel Nigro said Saturday. In 1999, Donald Trump was among developers who opposed rules put forward by then-mayor Rudy Giuliani that all high-rise residences be fitted with sprinklers.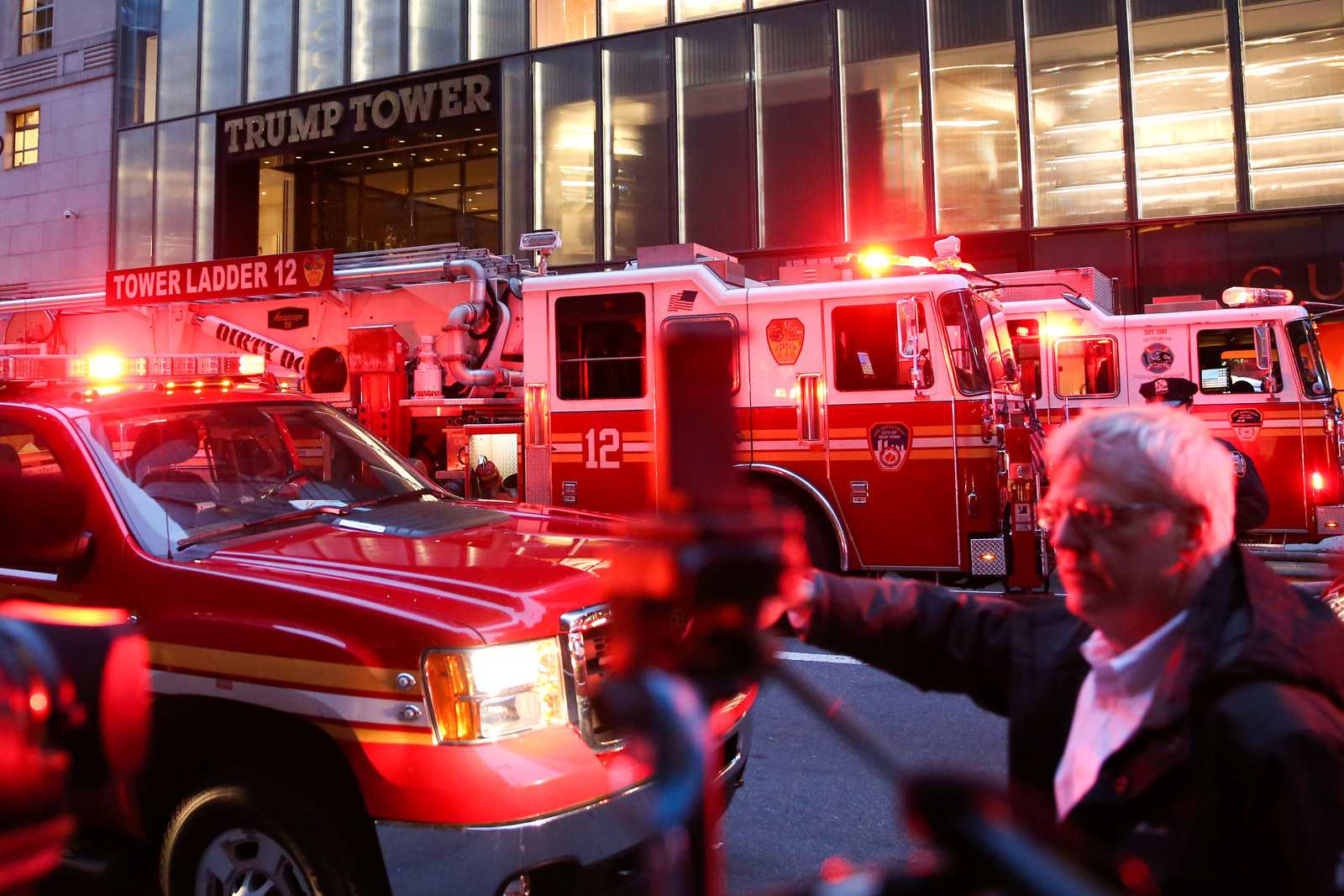 Neither the president nor his family was in the building when the fire broke out, fire officials said. The president's residence was not damaged in the incident.
Asked about President Trump's assertion that his eponymous high-rise was "well built," Nigro responded: "It's a well-built building. The upper floors, which are residence floors, are not sprinklered. But the building, sure, stood up quite well."
Videos posted on social media showed the fire burning through the windows of the high-rise as emergency crews responded to the scene.
Two residents of the building told the New York Post that they were not aware of any evacuation system and that they didn't know what to do when the blaze broke out.
"It was a very horrible experience ... there was no evacuation system in place ... we were at a loss of what to do. I almost fainted. I thought we would die," Lalitha Mason, who lives on the 36th floor, told the paper.
"My husband is disabled and we were helpless. All we could do is put wet towels under the door and pray."
Another resident, Claudia Ospina, told the Post she walked down 37 floors with her 19-month-old twins after she looked out her window and saw the extensive fire department presence.

"We were afraid because I didn't hear any alarm; I didn't receive a call," Ospina said.
CORRECTION
The occupant who died in the fire was 67. An earlier version of this story misstated his age.