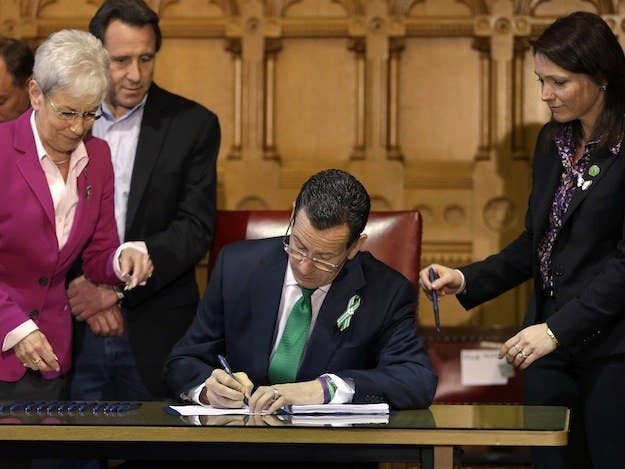 There are at least 50,000 assault weapons in the state of Connecticut, state officials said this week.
Since new legislation went into effect last year, Connecticut has required gun owners to register guns defined as assault weapons in an attempt to reduce the number of guns in the state and decrease the illegal sale of those weapons.
The deadline for registration, a process that began in July of 2013, was Dec. 31, 2013, after which people who, by definition, had not registered their weapons are potentially subject to arrest.
Connecticut State Police Lt. Eric Cooke told BuzzFeed that his department has received 50,242 applications during the registration period. Cooke said that the Dec. 31 deadline was part of the strict gun laws passed last year in the state.
April 4 marks the one-year anniversary of the sweeping gun control effort, but the question remains: How many guns are actually in the state of Connecticut?
"[Guns] are bought and sold, in many cases, no questions asked," said Michael Lawlor, under secretary of policy and management to Connecticut Gov. Dannel Malloy. "It's not like we have a paper trail for everything. I wouldn't even try to quantify it."
While the legal definition of an assault weapon is pretty expansive, according to Lawlor, there are always loopholes to avoid procedural registration. In the amended law, a weapon containing a "large-capacity magazine" is defined as a firearm with the capability of carrying more than 10 rounds of ammunition. But the definition does not cover assault weapons with feeding devices that have been altered to accept fewer than 10 rounds or with certain other types of feeding devices.
The state of New York is finding that gunmakers have devised simple ways to circumvent the SAFE Act, the law passed last year that bans the sale of high-capacity magazine guns and mandates all weapons defined as assault weapons be registered with the state.
For instance, altering the grips on certain rifles that would otherwise be banned makes the weapons legal for sale under the SAFE Act — without changing how the gun fires or the number of rounds in the magazine.
Anthony Testa, general manager of Just Right Carbines in Rochester, N.Y., told The Guardian that he's been building modified assault weapons and showing them to judges, sheriffs, and state troopers, who have all told him that the altered weapons would pass the test and be legal for sale. "We haven't had anyone willing to put their name on the dotted line and say that's not legal," Testa said.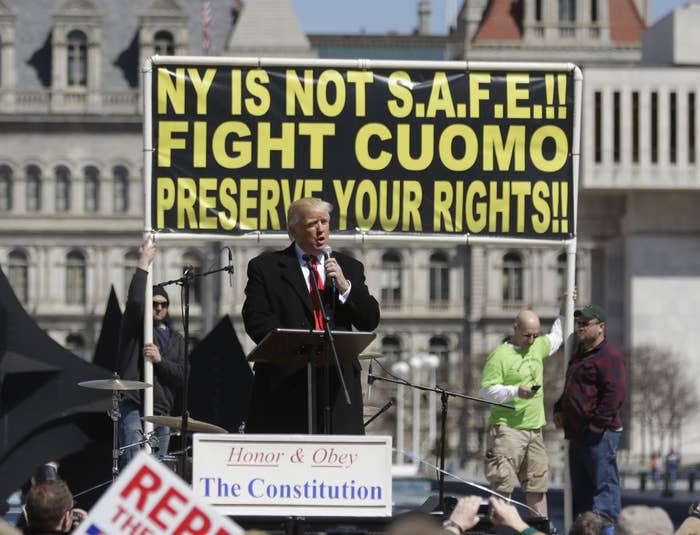 Unlike neighboring Connecticut, as New York approaches the registration deadline, state police are not releasing assault weapons numbers. Michelle Hook, the chief public information officer for Public Safety in New York, provided BuzzFeed with the following statement:
"State Police cannot release information related to the registration of assault weapons including the number of assault weapons registered. Those records you seek are derived from information collected for the State Police database and are, therefore, exempt from disclosure."
BuzzFeed has submitted a request to acquire early projections on the number of assault weapons that will be registered in New York by the deadline but has yet to receive a response.
In New York, emotions are running high as the deadline approaches. At a pro-gun rally this week opposing the SAFE Act, protesters waved around a dummy of Gov. Andrew Cuomo, essentially hanging him from the Empire State Plaza in Albany.
In Connecticut, with the Sandy Hook School shooting in Newtown still in mind, Malloy more vocally considers the past year as a success.
"In the wake of one of the worst tragedies to befall our state, we took clear and decisive action to make all residents in every one of our cities and towns safer," Malloy said this week. "The common sense limitations we put in place will make sure that guns are less likely to fall into the hands of someone who shouldn't have one."
Lawlor is quick to say that the state of Connecticut only had 97 murders in 2013. And even though there's always a path around the law, he thinks that his state is better off in 2014.
"I assume most people did the responsible thing and either got rid of the gun or registered," Lawlor said. "But if history's any guide, there's some people who didn't. I don't know how many there are in that category. But I do know for sure, that going forward there will be a lot fewer of these weapons in circulation in Connecticut. What happened in Newtown, couldn't happen again."