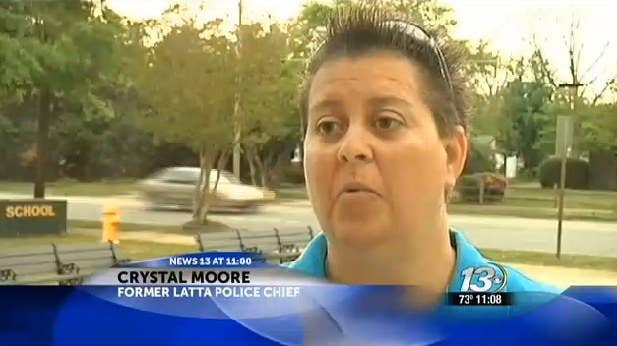 The town council of the small South Carolina town whose openly lesbian police chief was fired last week has turned against the mayor who fired her.
Council members in Latta, S.C., approved Tuesday night an "emergency ordinance" to temporarily block the mayor from hiring anyone to replace the recently fired Crystal Moore.
Moore, a 23-year veteran of the police force in Latta, S.C., was removed from her position, sparking protests and support for her from residents. After she was fired, audio emerged of the town's mayor, Earl Bullard, making a series of anti-gay comments, further stirring speculation she was fired for her sexual orientation.
In the clip, Bullard told another council member that he "doesn't agree with some lifestyles."
"I would much rather have… and I will say this to anybody's face... somebody who drank and drank too much taking care of my child than I had somebody whose lifestyle is questionable around children," Bullard said.
"I'm not going to let two women stand up there and hold hands and let my child be aware of it," Bullard went on to say in the clip. "And I'm not going to see them do it with two men neither. I'm not going to do it. Because that ain't the way the world works."
Bullard has denied that the firing was based on Moore's sexual orientation.
The story has garnered national press and at least one fundraiser with the intent of supporting the now-unemployed Moore. It is part of a larger narrative in South Carolina, as the state remains one of 29 in the country where an individual can be legally fired based on sexual orientation. It's a state in which legislators debated cutting funding to public colleges that assigned books with same-sex relationships.
The situation came as no surprise to Ryan Wilson, the director of South Carolina Equality, he said.
"It's quite clear that the mayor has some very anti-LGBT or anti-gay feelings, which he expressed in that recording," Wilson said. "That alone is just wrong. I think the mayor owes an apology to the thousands of South Carolinians who are gay and transgender, particularly the ones who live in the town of Latta."
Wilson said that his organization didn't have official comment on the particulars of the case but based on what he has heard from residents in the community, the mayor's comments didn't come from left field.
"What I've heard, which is again word of mouth, is that the mayor has been making comments like this for some time," Wilson said. "And the fact that the police chief has had a lawyer for several months makes me think that this is probably an issue that has been unfolding for a while. It is not unusual — there are cases that happen on a regular basis here in South Carolina — of individuals being fired or refused a position because of their sexual orientation or gender identity."
BuzzFeed has reached out for comment from Moore's lawyer through Wilson but has yet to hear a response. The Latta Police Department has also not responded to BuzzFeed's request for comment.
South Carolina Equality has advocated for the Workplace Fairness Act, a bill introduced by state Rep. James Smith, which would update the state's employment laws to include clauses protecting LGBT citizens from workplace discrimination. The bill is still being reviewed by the House Judiciary Committee.
"The indication I've gotten from the members of the judiciary subcommittee entertaining the matter is that there's the votes there to get it out of the subcommittee," Smith said. "But given that we are late in the session, its chance of passing and becoming law this year are not likely I would say. But these are often more than one session efforts."
In Moore's case, the mayor personally gave her seven reprimands for conduct last Tuesday, the first she had received during her time in active duty, after which he fired her.
In the reasoning given by Bullard for Moore's firing, the allegations leveled against Moore included running background checks without properly signed authorization, questioning the authority of a supervisor and questioning the authority of the mayor to look at job applications for potential employees. There has also been speculation that the firing was payback for Moore's investigation of Vontray Sellers, who was appointed Parks and Recreation director by the mayor. Bullard allegedly didn't conduct a background check before hiring Sellers.
Smith said that Moore's firing was an ironic answer to all the critics asking why this bill was necessary. "It ought to be the public policy of the state of South Carolina."
The South Carolina division of the ACLU has been pushing for that bill and similar workplace protections for LGBT workers this year.
"We need the protections afforded by (the Workplace Fairness Act) in South Carolina," Executive Director Victoria Middleton said in a statement to BuzzFeed. "LGBT employees in our state are still vulnerable to discrimination in the workplace. Everyone in South Carolina should have the same right to earn a living and support their family regardless of their sexual orientation."
"While a number of South Carolina towns and cities have passed nondiscrimination ordinances, we need more comprehensive protection for all workers in our state. Polls in South Carolina and around the U.S. show that the overwhelming majority of our fellow citizens support such protections," she said.
The case has garnered attention outside of South Carolina, as well. Human Rights Campaign is getting involved.
"On the surface this looks a like clear-cut case of employment discrimination based on sexual orientation," said HRC Vice President of Communications Fred Sainz. "Without explicit federal or state employment protections, a decorated police chief is left to fend for herself."
Bullard is a newly elected mayor, who, according to Wilson of South Carolina Equality, has stirred trouble with Moore since the beginning of his term.
"You have a situation in which a police officer with a wonderful record, has served the town for over 20 years without incident and then in one day she is given seven reprimands and is forced to sign the form or else lose her job," Wilson said. "At the same time, we have these comments coming to light about [Bullard's] view of gay and lesbian individuals. There's certainly a correlation. And it certainly, as the facts present themselves, raises questions as to whether the mayor is impartial on this issue."