New York City Mayor Bill De Blasio Defends Limits On Press Access
"Mayor de Blasio recognizes the importance of transparency with the media," said Phil Walzak, mayor de Blasio's spokesperson after the Associated Press published a story accusing the mayor of barring media from dozens of events.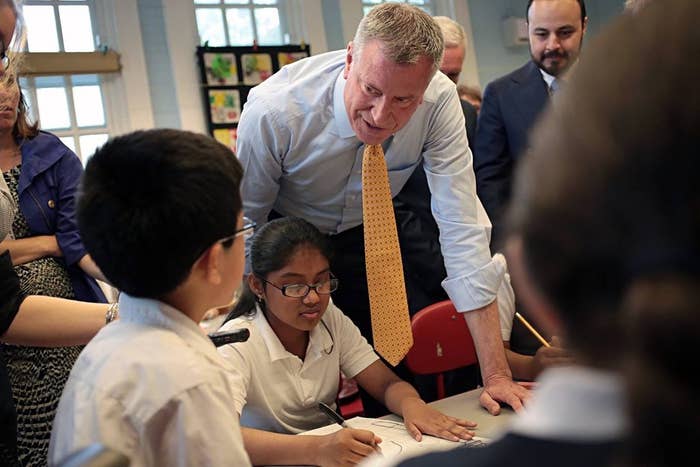 New York City mayor Bill de Blasio thinks he's doing a-ok with the pesky press.
The mayor's office Tuesday defended his decision to shutout reporters from dozens of events and place restrictions of 30 more, arguing that despite that lack of access he is committed to "transparency."
In the wake of a scathing Associated Press report detailing 53 instances of the press being barred from events and 30 more in which restrictions on their access were imposed, de Blasio spokesman Phil Walzak insisted the mayor remains committed to transparency, a key election talking point for the Democrat.
"Mayor de Blasio recognizes the importance of transparency with the media," Walzak said in a statement to BuzzFeed. "It's why his public schedule contains a detailed picture of the mayor's day and with whom he is meeting; it's why he answers questions from reporters on a wide range of topics many times a week; and it's why his press office releases transcripts of events for the press to use."
Given the opportunity to address the skepticism, de Blasio reiterated this sentiment. "I believe deeply in transparency," the mayor said at a press conference today. "By definition it is in the eye of the beholder. We believe there is a whole swath of information that needs to be available to the public and we will continue to do a better job on a lot of day-to-day government business that is appropriately disclosable."
Walzak cited de Blasio's frequent visits to classrooms as an example of a place in which press can be a disruptive element, in which case pool reports are frequently used. He also argued that a majority of the pool opportunities are accompanied by a media question and answer session, either before or after the pooled event occurs. The daily schedule does include updates regarding de Blasio's location after his predecessor, Michael Bloomberg, infamously went to Bermuda in the midst of a crippling blizzard.
Gideon Resnick is a political reporter at BuzzFeed. His work has appeared in VICE, the Atlantic and the Daily Beast.

Got a confidential tip? Submit it here.