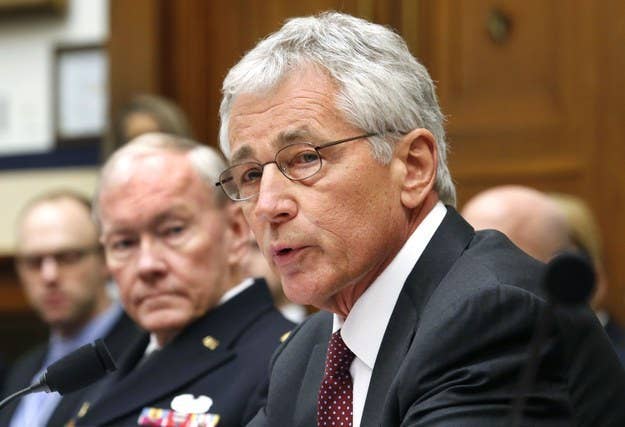 Secretary of Defense Chuck Hagel unveiled an updated initiative to combat sexual assault in the military on Thursday, following a 50% increase in the number of reported sexual assaults in the past year.
There were 5,061 reports of sexual assault in the military — up 50% from the year before, Hagel said, explaining the increase by saying: "We believe victims are growing more confident in our system."
"Sexual assault is a clear threat to the lives and well-being of the women and men who serve our country in uniform," Hagel said. "It destroys the bonds of trust and confidence that lie at the very heart of our armed forces."
Hagel said Thursday's update was the first since the military's Sexual Assault Prevention Strategy was initially drafted in 2008. He said the strategy would now be revised every two years.
New initiatives in the updated version aim to improve reporting for male victims, create a voluntary survey for victims and survivors and review alcohol policies. Additionally, the defense department said it hopes to develop a new collaborative forum to share and discuss practices among external experts and members of the military to prevent sexual assault.
"With estimates that men comprise more than half the victims of sexual assault in the military, we have to fight the cultural stigmas that discourage reporting and be clear that sexual assault does not occur because a victim is weak, but rather because an offender disregards our values and the law," Hagel said. "Input from male victims will be critical in developing these methods, and results will be closely monitored so we can make them more effective."
Major General Snow, the director of Department of Defense Sexual Assault Prevention and Response Office (SAPRO) delivered more extensive remarks about the specifics of the report which can be viewed in full here.
The Service Women's Action Network (SWAN), a civil rights group, said it was encouraged by the increased reporting of sexual assault, but said more needed to be done.
"Increased reporting is the result of relentless advocacy by military sexual assault survivors and advocacy organizations, heightened scrutiny by the media, and increased political pressure," Anu Bhagwati, executive director of SWAN, said in a statement to BuzzFeed. "Reporting is up, but sexual violence is still deeply entrenched in military culture. We need the structural changes that would be created by Senator Gillibrand's Military Justice Improvement Act to ensure that when this intense political pressure begins to fade, justice will be done."
Hagel emphasized the importance of these initiatives to the administration by contextualizing them with recent recommendations from the White House Task Force to Protect Students from Sexual Assault.
"To the victims and survivors of sexual assault in the military, know that DoD's leaders
and I are listening to you, and we will do everything we can to support you," Hagel said. "So will our commander-in-chief. The recommendations announced on Tuesday by the White House Task Force to Protect Students from Sexual Assault underscore the President's strong commitment to putting an end to this violence, wherever it occurs."
The new strategy comes on the heels of a year during which the Pentagon faced increased scrutiny for its handling of sexual assault allegations. In December 2013, Army Major General Gary Patton, the director of SAPRO at the time, retired in the wake of a severe spike in reports of unwanted sexual contact in the military in 2012 and the alleged cover up of a case of abuse at a hospital in Afghanistan.