Amid Scandal, Senate Conservatives Aren't Rushing To Defend Mississippi Tea Party Upstart
After a sordid scandal consumed national headlines, Chris McDaniel is fighting to shift the narrative and unseat incumbent Thad Cochran in the upcoming June 3 primary. But as some of the details of the scandal remain unclear, many on the Hill are holding their breath and reserving any outright support for the embattled candidate.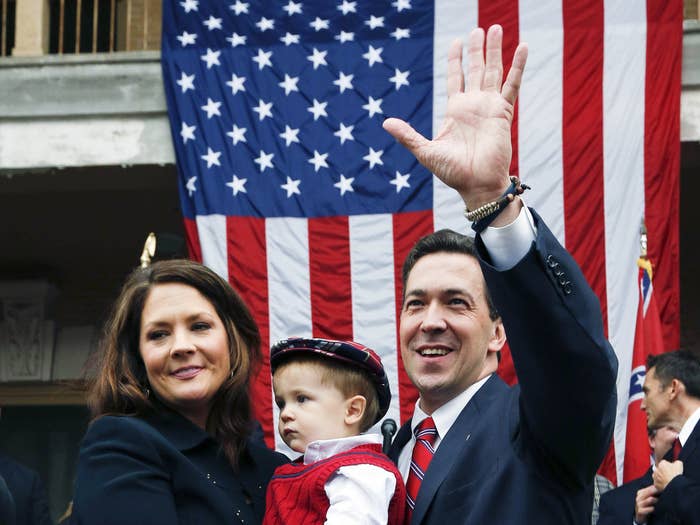 Senate conservative leaders are keeping their distance from Mississippi upstart Chris McDaniel's effort to oust veteran Republican Sen. Thad Cochran as the tea party favorite's scandal plagued primary campaign limps to the finish line.
To be sure, not all conservatives are staying out of the race: Celebrity conservative Sarah Palin, for instance, endorsed McDaniel on Thursday and was scheduled to make an appearance with him on Friday.
But if the Mississippi tea partyer was hoping for a last-minute shot in the arm from Senate conservatives before Tuesday's primary election, it doesn't appear to be coming.
"This election is ultimately going to be about policies, not personalities; specifics, not spin," Sen. Mike Lee said in a statement to BuzzFeed. "People not only want to hear where the candidates are on the issues, but the specific policy proposals they support that will accomplish real reform. So yes, issue-based campaigns are more prominent because, in true democratic fashion, candidates are responding to what voters want in this election cycle."
A spokesperson for Sen. Ted Cruz was similarly vague in response to questions about McDaniel's campaign, saying first that Cruz would leave "the pundits to speculate on other's campaign tactics."
"The senator has said before that we should respect the primary process and work together to elect a majority — not for the mere sake of a majority — but for a majority that commits in no uncertain terms to reject Washington business as usual, restore the Constitution, and enact meaningful reform," Cruz spokeswoman Catherine Frazier said in a statement. "He stands ready to work with anyone who commits to reduce the ever-growing power that the federal government imposes on the daily lives of the people."
As for Sen. Rand Paul, whom, along with Lee and Cruz, McDaniel has repeatedly cited as a model for his approach to politics, his office did not respond to requests for comment.
Although it is not uncommon for sitting lawmakers to avoid explicitly endorsing challengers to their Senate colleagues, with McDaniel's campaign mired in an ugly scandal, Senate conservatives are taking a decidedly noncommittal approach. This isn't entirely new for Cruz, though, as he refused to endorse Senator John Cornyn during the Texas primary earlier this year, which read as a breach of etiquette for a fellow delegation member. Yet, earlier this month, Lee backed Ben Sasse's successful primary run in the absence of an incumbent in Nebraska.
It wasn't supposed to be this way for McDaniel, one of the rising stars of the tea party movement. But in the last month, McDaniel has seen his campaign go from a top contender to oust an old guard Republican to a political nightmare as a scandal involving a number of high-profile supporters has engulfed the race.
Clayton Kelly, a political blogger in Mississippi, allegedly broke into a nursing home in which Thad Cochran's ailing wife Rose was housed in order to concoct a hit piece on the senator. The story ballooned into a national conversation when Kelly and three supporters of McDaniel's campaign were arrested in connection to the break-in. One of the men, John Mary, used to host "Right Side Radio" with Chris McDaniel, a program on which the latter made some questionable remarks in the past. Mark Mayfield, an individual with tea party ties in Mississippi who supports McDaniel's campaign, is one of the other men facing charges for the break-in.
While there is no confirmed link between the break-in and McDaniel's campaign, a Republican strategist on Capitol Hill told BuzzFeed that he and many of his colleagues think that the McDaniel campaign was connected in some way to the break-in.
"These guys who organized the break-in didn't seem very smart and must have had direction from above," he said.
Even without an direct connection, the break-in has been viewed as catastrophic at worst and damaging at best.
While some of McDaniel's most ardent supporters in his home state are still standing behind him, even they expressed some reservations about discussing the men who were arrested for the break-in.
"I'm not officially involved with his campaign, but I support [McDaniel] wholeheartedly," said Jennifer West, the founder of the Hattiesburg Tea Party. John Mary used to be a member of her organization but resigned a few months ago according to West, for reasons she would not explain.
West confirmed that she knew both Mary and Mayfield but alleged that they didn't know each other. "I've never heard either one mention the other," she said. And in the midst of all the confusion, she is certain that those who were arrested for the break-in were not acting on behalf of McDaniel or the tea party.
"Chris McDaniel and Mark Mayfield both share the highest level of integrity in this state," West said. "If you could name two people that never ever crossed the line, they would be two people at the top of the list."
While Cochran's camp has used the scandal in an attack ad, they were hesitant to make hasty allegations in a statement to BuzzFeed last week.
"The investigation is ongoing, and the McDaniel campaign has changed their story daily, sometimes more than once daily," said Jordan Russell, Cochran's spokesman. "Every time something new happens, it raises even more questions. They have a lot of questions that need answering."
The window for those answers is closing as the primary quickly approaches, leaving McDaniel's supporters to assume innocence until proven guilty.
"I can't imagine a guy like Chris McDaniel would ever think this is a good idea; that's ludicrous," said Kevin Broughton, spokesman for the National Tea Party Patriots Citizen Fund. "If I were a candidate and somebody came in and said, 'Hey, listen to this,' I'd have shot him with a Taser."
The National Tea Party Patriots Citizen Fund purchased a recent ad spot for McDaniel, and hopes he can join a growing team of ideological allies in the Senate.
"I got to thinking, Ted Cruz could use a little help," Broughton said. "And Chris McDaniel is the one guy who had the courage to step out and say, 'I'm going to do this.' He didn't wait. He stepped out there. I think he's got the mentality and the intellectual temperament to be a guy right there with Mike Lee and Ted Cruz and Rand Paul. I couldn't think of a stronger reason to vote for him."
Gideon Resnick is a political reporter at BuzzFeed. His work has appeared in VICE, the Atlantic and the Daily Beast.

Got a confidential tip? Submit it here.