A Pro-Gun Group Stole Bloomberg's Gun Safety Group's Name On Facebook
Former New York City mayor Michael Bloomberg launched a $50 million gun-control campaign called "Everytown for Gun Safety." But a pro-gun group took the name for its Facebook page.
Former New York mayor Michael Bloomberg announced on Tuesday the creation of Everytown for Gun Safety, a major gun-control campaign that will combine some of his previous efforts.
But a pro-gun group has already reserved that page on Facebook. The first post the group made proudly stated that it stole the name of Bloomberg's group.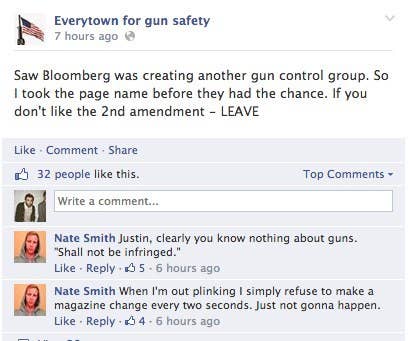 The administrator of the Facebook page, who refused to give their name, provided BuzzFeed with the following statement about the motivation behind the page: "I took the Bloomberg name because I wanted this page to remain open to debate, unlike his group at Moms Demand Action that block anyone with alternative views. Gun owners are getting a bad rep nation wide from their anti gun propaganda. As to who I am, I am your average citizen that believes the second amendment 'shall not be infringed.'"
When alerted to the presence of the page, a representative at Everytown for Gun Safety said that it wouldn't be long before it disappeared from Facebook.
"Maybe they'd like to duel for it," said Mark Glaze, the executive director of Everytown for Gun Safety. "I hear every person on our staff of 85 is a better shot than Wayne LaPierre. Or maybe a bidding war!"
We're going through the proper process for transitioning our Demand Action page to 'Everytown,' which takes a few weeks, and acquiring trademark protection for both Everytown and Everytown for Gun Safety. Once that happens, we expect Facebook to shoo these cybersquattters politely off this name/page."