The Mitt Romney Bullying Story
The sad, troubling tale of when a teenage Mitt Romney attacked one of his classmates. The Washington Post found numerous eyewitnesses to verify this incident from 1965. Romney has since apologized.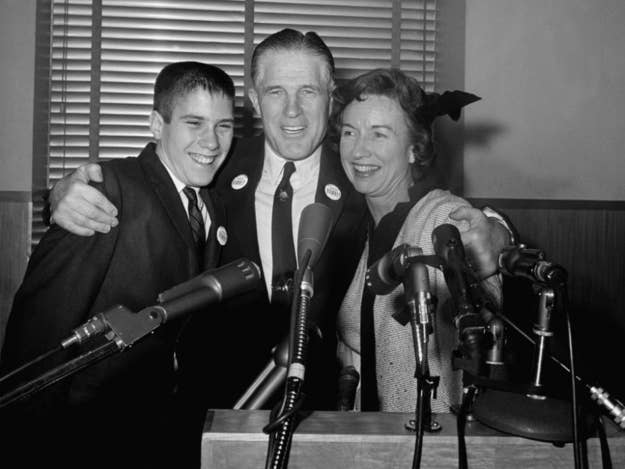 BLOOMFIELD HILLS, Mich. — Mitt Romney returned from a three-week spring break in 1965 to resume his studies as a high school senior at the prestigious Cranbrook School. Back on the handsome campus, studded with Tudor brick buildings and manicured fields, he spotted something he thought did not belong at a school where the boys wore ties and carried briefcases. John Lauber, a soft-spoken new student one year behind Romney, was perpetually teased for his nonconformity and presumed homosexuality. Now he was walking around the all-boys school with bleached-blond hair that draped over one eye, and Romney wasn't having it.
"He can't look like that. That's wrong. Just look at him!" an incensed Romney told Matthew Friedemann, his close friend in the Stevens Hall dorm, according to Friedemann's recollection. Mitt, the teenaged son of Michigan Gov. George Romney, kept complaining about Lauber's look, Friedemann recalled.
A few days later, Friedemann entered Stevens Hall off the school's collegiate quad to find Romney marching out of his own room ahead of a prep school posse shouting about their plan to cut Lauber's hair. Friedemann followed them to a nearby room where they came upon Lauber, tackled him and pinned him to the ground. As Lauber, his eyes filling with tears, screamed for help, Romney repeatedly clipped his hair with a pair of scissors.
The incident transpired in a flash, and Friedemann said Romney then led his cheering schoolmates back to his bay-windowed room in Stevens Hall.


Friedemann, guilt ridden, made a point of not talking about it with his friend and waited to see what form of discipline would befall Romney at the famously strict institution. Nothing happened.
After the incident, Lauber seemed to disappear. He returned days later with his shortened hair back to its natural brown. He finished the year, but ultimately left the school before graduation — thrown out for smoking a cigarette.
"It happened very quickly, and to this day it troubles me," said (Thomas) Buford, the school's wrestling champion, who said he joined Romney in restraining Lauber. Buford subsequently apologized to Lauber, who was "terrified," he said. "What a senseless, stupid, idiotic thing to do."
Sometime in the mid-1990s, (Romney's classmate at Cranbrook) David Seed noticed a familiar face at the end of a bar at Chicago O'Hare International Airport.


"Hey, you're John Lauber," Seed recalled saying at the start of a brief conversation. Seed, also among those who witnessed the Romney-led incident, had gone on to a career as a teacher and principal. Now he had something to get off his chest.


"I'm sorry that I didn't do more to help in the situation," he said.


Lauber paused, then responded, "It was horrible." He went on to explain how frightened he was during the incident, and acknowledged to Seed, "It's something I have thought about a lot since then."

...

Lauber died in 2004 (of liver cancer), according to his three sisters.