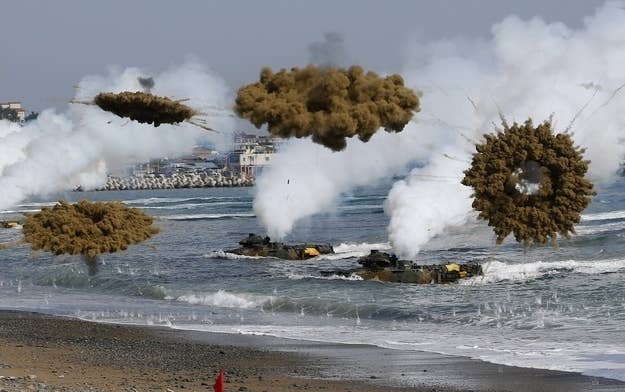 The simmering tensions between North Korea and South Korea boiled over into military action on Monday as the two nations exchanged more than 800 artillery shells. The back-and-forth follows weeks of belligerent rhetoric and missile launches from North Korea.
Monday's exchange was prompted by a fax from Kim Jong Un's government announcing military drills, a rare public warning from the reclusive Pyongyang regime. North Korea then fired more than 500 shells into the waters of a disputed maritime border between the two countries. South Korea then responded with a barrage of more than 300 shells into the same waters.
Even though no physical installations or vehicles were targeted in the exchange, South Korea still evacuated five islands near the border, relocating the residents to the mainland or sending them into shelters. The evacuation orders have since been lifted.
The flare-up follows weeks of belligerent rhetoric and rocket tests from the North, seen as a protest against the annual war games conducted by South Korea and the U.S., which began on Monday.
The disputed sea boundary has been the scene of frequent violence in recent years, including a North Korean bombardment of Yeonpyeong Island that killed four in 2010. "The boneheads appear to have completely forgotten the fact that Yeonpyeong Island was smashed by our military's bolt of lightning a few years ago," a North Korean military official, Yun Jong Bum, said Monday to the North's official Korean Central News Agency.
North Korea also threatened to conduct another nuclear test, but South Korea is skeptical of their capability for such a test.