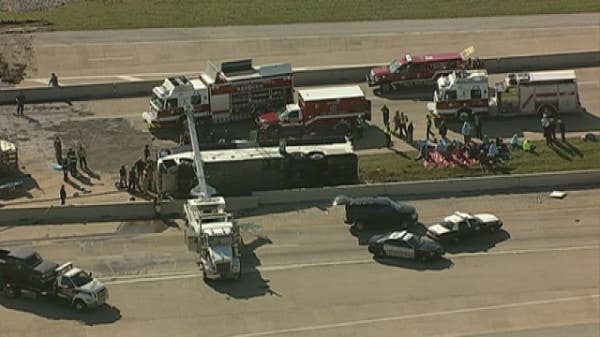 IRVING, Texas (AP) — A chartered bus has overturned on a highway in North Texas, prompting a large emergency response involving several ambulances and medical helicopters ready to airlift any injured to hospitals.
At least 2 are dead. Nearly 40 passengers were reported to have been trapped in the bus. The crash occurred just east of Dallas-Fort Worth International Airport in Irving.
Video from media helicopters at the scene shows the bus tipped on its side in the center median along State Highway 161. Emergency workers are using emergency exits on top of the bus to pull passengers from the vehicle.
The Texas Department of Public Safety says it does not yet have details on the accident.
The bus belongs to Cardinal Coach Line based in Mansfield, just south of the Dallas area.