Chinese Beachgoers Swallowed By Tsunami Of Green Sea Snot
Thanks to a massive algae bloom off the coast of China, people hoping for a day at the beach instead find themselves frolicking in gooey green shag. The best part is that the mutant mucous is likely a result of human waste in the water.
An algae bloom twice the size of Los Angeles, nearly 11,500 square miles, has been invading Chinese waterfronts for nearly a month now.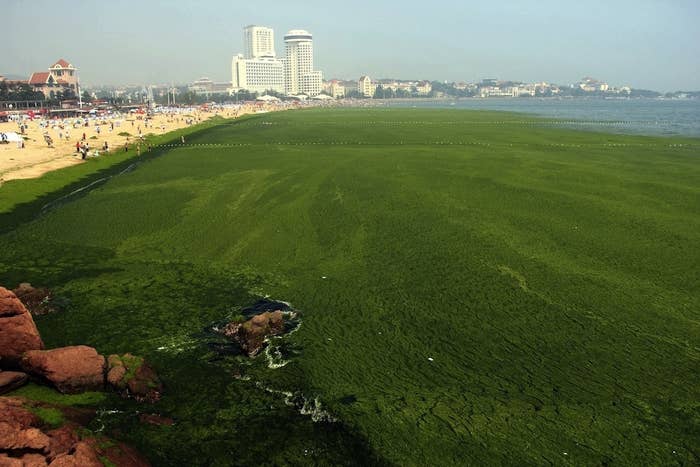 Despite bulldozers and pitchfork brigades, the ceaseless tide of plantlife continues to clog beaches around Qingdao in northeast China. It's reported to be 16 inches thick in some areas.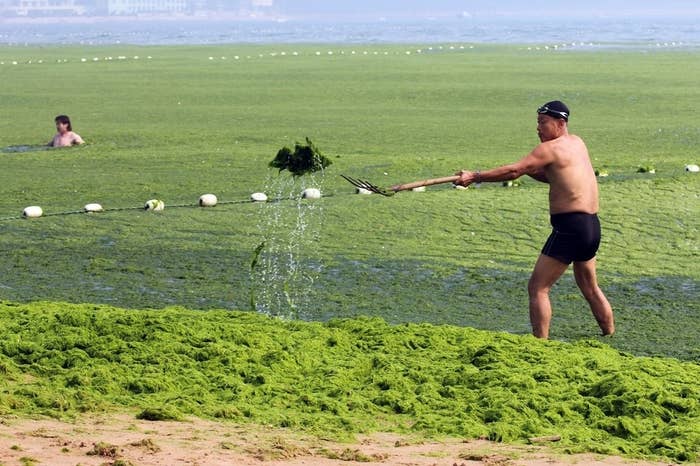 But since the algae poses no danger to humans, people have been making the most of the slippery slime, rolling around in it as though it were viscuos, verdant carpeting.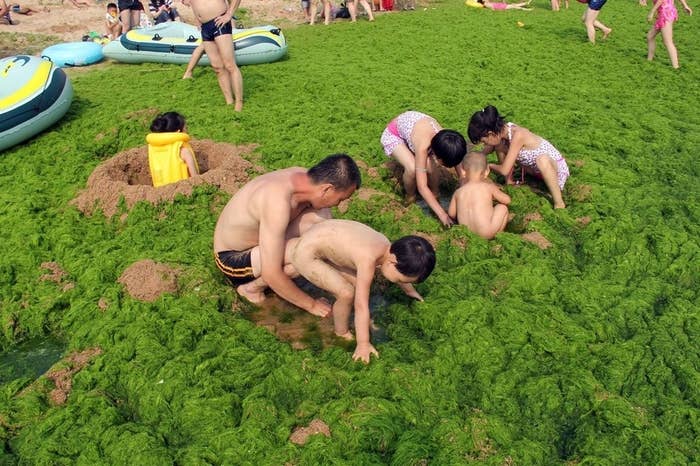 The scientific name for the algae is enteromorpha prolifera, but locals call it "hutai."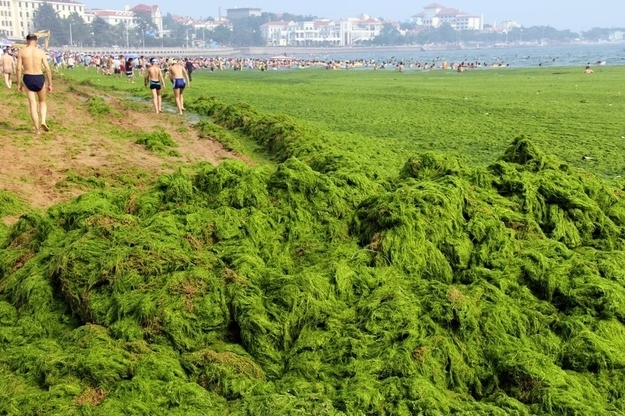 Hutai is actually a bit of a delicacy in some parts of China. Some enterprising farmers have been harvesting the sludge to use as feed.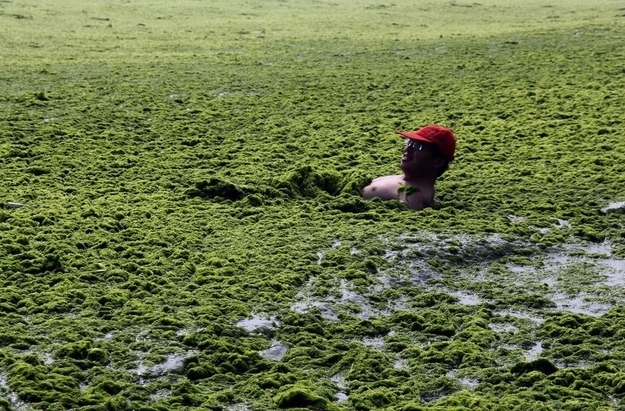 Users of social media site Weibo have even been swapping hutai guacamole recipes in response to the billowing booger bloom.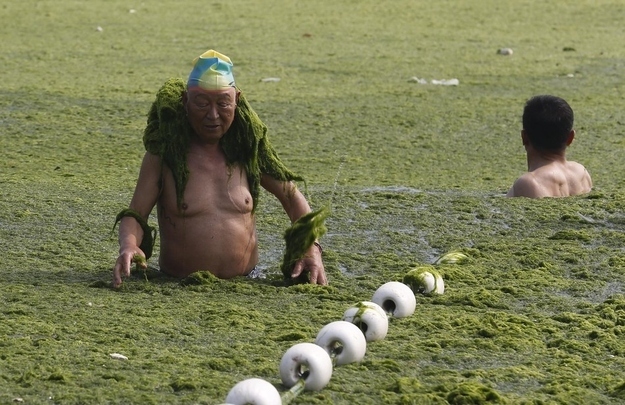 This is the 7th year in a row the algae onslaught has buried Qingdao (which, fittingly, means "Green Island.") Qingdao actually has a series of underwater nets to try and stop the sudsy scum, but this year the swell of slime overwhelmed their defenses.
Temperatures are currently ideal for the algae, with the water at 68 degrees or so.
As summer progresses and temperatures rise to above 73 degrees, the algae will naturally die off.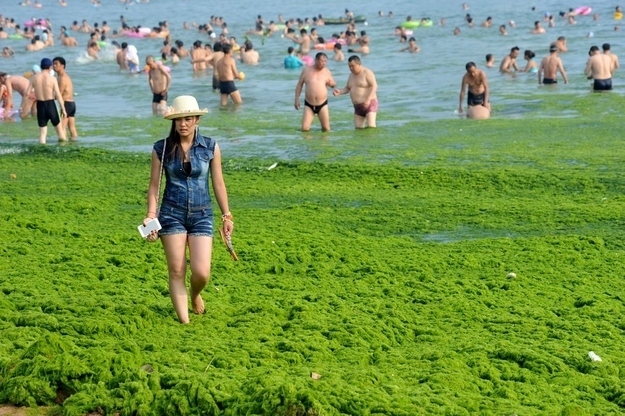 As to why the algae is setting records, with hundreds of tons of the gloop being hauled off every day, scientists blame an overabundance of phosphorus in the water.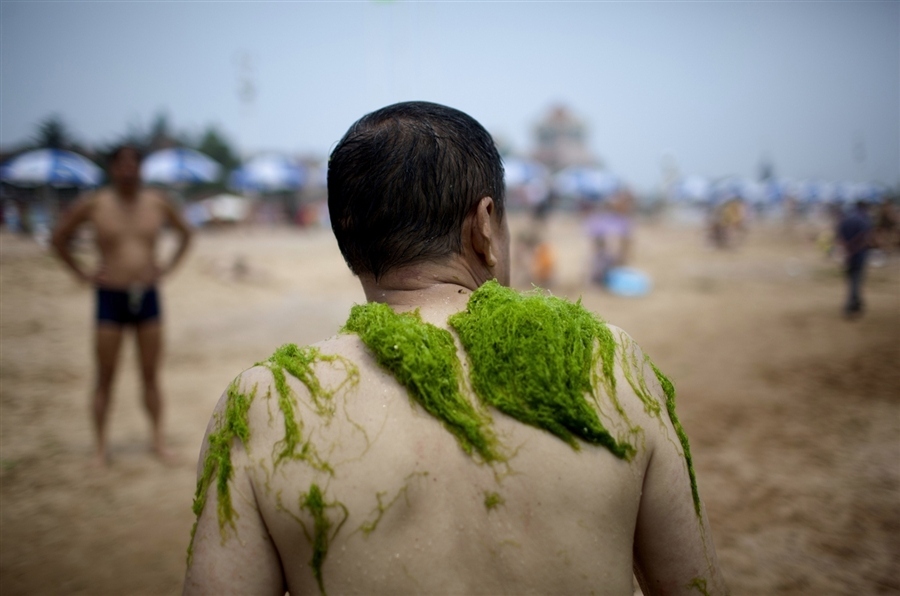 Why is there so much phosphorus? The culprits are likely industrial pollutants...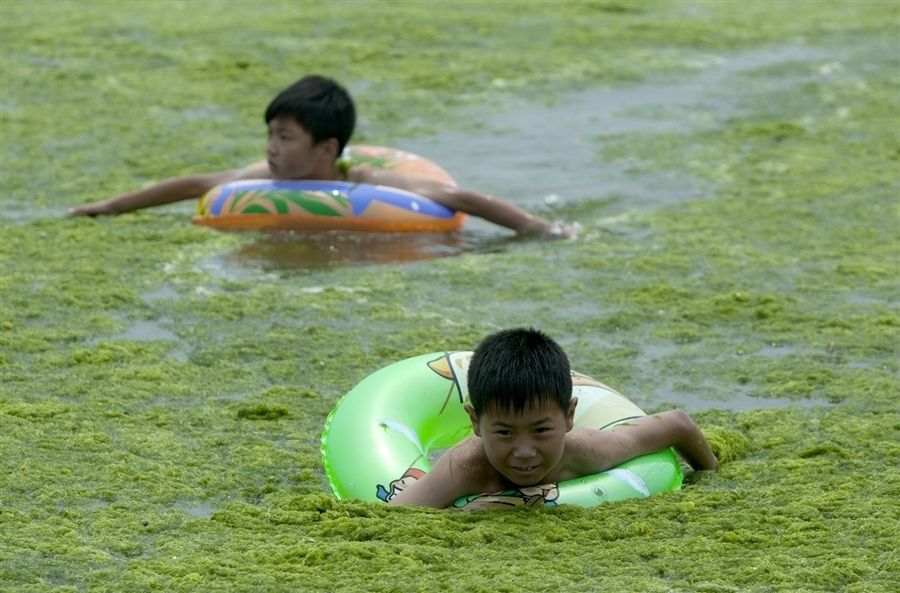 And human waste. Yum.