Bat Boy Program Suspended After 9-Year-Old Kaiser Carlile Killed By Stray Swing
Kaiser Carlile was taken to a Wichita, Kansas, hospital Saturday after suffering blunt trauma to the head from a baseball bat; he died from his injuries the next day. His injury and death triggered an outpouring of support from the Kansas sports community and sympathy from around the world.
Following the death of 9-year-old Kaiser Carlile on Sunday, the National Baseball Congress (NBC) has suspended the use of bat boys and bat girls for the remainder of the NBC World Series.
"We suspended the program for the rest of the tournament because of the situation that happened this weekend," said Jason Ybarra, operations manager for the NBC Baseball Foundation, to USA Today Sports on Tuesday.
Kaiser died after being struck in the head with a bat.
He was a bat boy with the Bee Jays, a semipro baseball team from his hometown of Liberal, Kansas. The injury occurred as the team was playing on Saturday in the NBC World Series.
Kaiser was hit in the head as a player was warming up in the on-deck circle. The umpire, Mark Goldfeder, happened to be a veteran paramedic and applied treatment until an ambulance could arrive, the Wichita Eagle reported.
At the urging of the Carlile family, the team played on and won the game.
"He was a terrific little guy that really became a part of our Bee Jay's family," Roy Allen, Bee Jays recruiting manager, told BuzzFeed News.
"I know it's kind of a clichéd thing to say right now, but he truly was the heartbeat of our team."
"He was at every game, home and away," said Allen. "The guys really rallied around him. If they'd show up to the park and not be having a good day, all it would take is for them to sit down with him for a minute and things would turn around."
The Bee Jays, with the permission of Kaiser's parents and with "much sorrow and a very broken heart," announced Kaiser's death on Sunday via the team's Facebook page:
A GoFundMe page dedicated to covering Kaiser's medical expenses was updated and is still calling for contributions to cover any of the Carlile family's expenses. As of this writing, it had raised $89,424.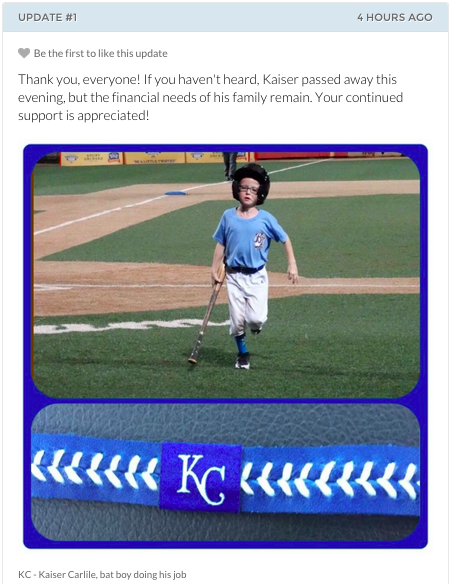 Major League Baseball team the Oakland A's contributed $1,500 to the effort.
The Bee Jays were informed of Kaiser's death after their game on Sunday, with the Wichita Eagle reporting that players broke down in tears and hugged one another, then formed a prayer circle.
After news of the injury, fundraising efforts also took place among other amateur Kansas baseball teams.
Kaiser's initials were added as a tribute on the scoreboard in the stadium where he was injured.
And players added his initials to their hats.
News of his death triggered an outpouring of support throughout the Kansas sports community.
Bee Jays player Kadon Simmons posted this memorial on his Instagram, calling Kaiser the "little brother I never had":
Kaiser, you were a little brother I never had. You took the field with us every game this summer. You were, and always will be a Bee Jay. No person or team could ask for a better bat boy. It is terrible to see you leave in such a way, but knowing your last moments were on the baseball field makes it easier through this whole process, because you were doing what you loved. It hurts to see someone so young and with so much heart pass like you did, but you are now in God's hands, and being the bat boy for the angels up above. We all love you, and you will be greatly missed. R.I.P. Kaiser Carlile
"I don't think [Kaiser] came in knowing a ton about baseball, and — before Saturday — was probably about as much a baseball expert as any player on our team," said Allen. "It's been really hard for our players because they were so close to him."
Roy Allen spoke to BuzzFeed News and is quoted throughout this story. A previous version of this article misstated his name in several quotes.