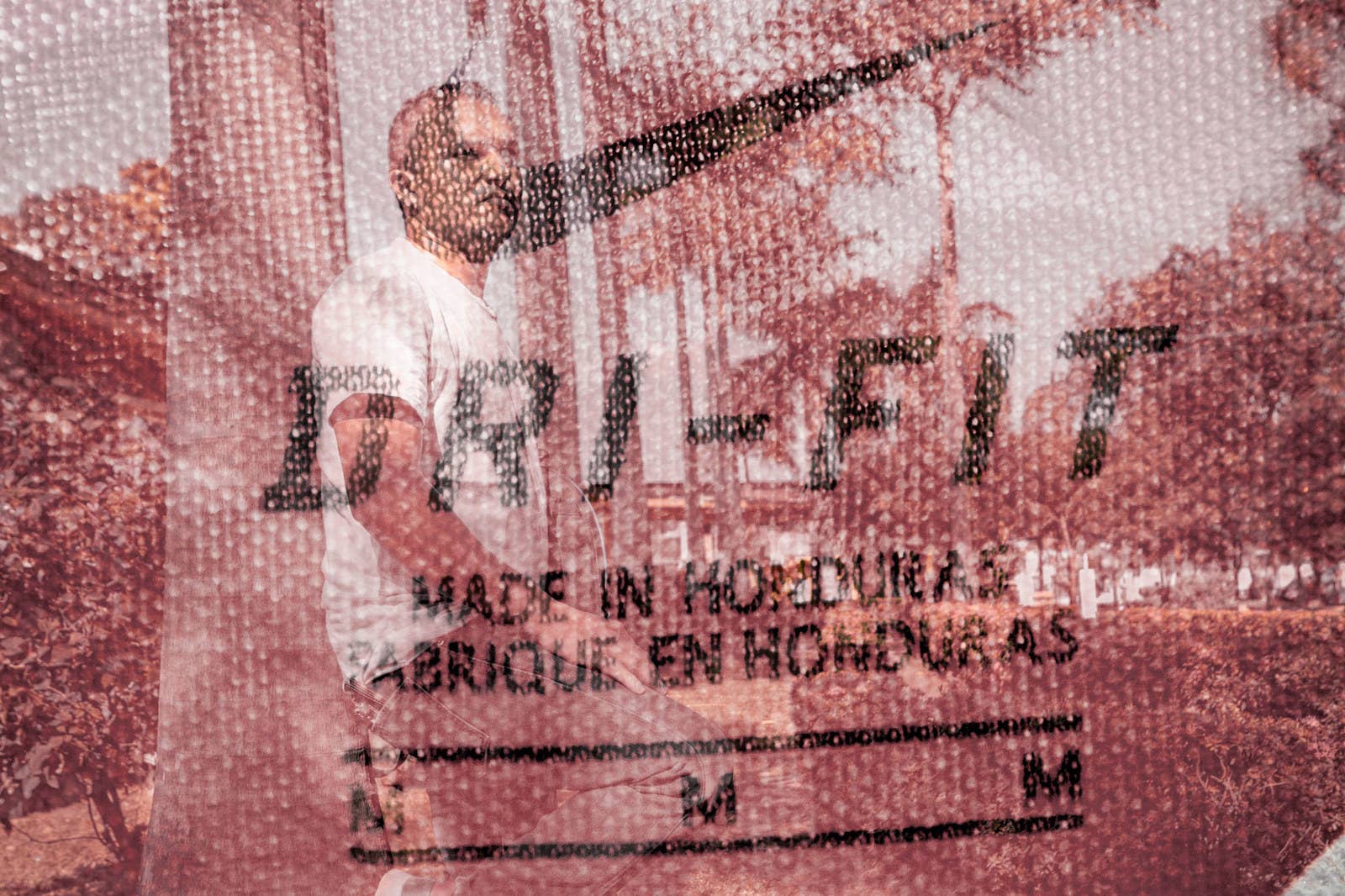 Photojournalist Emily Kinskey's work highlights the lives of migrants and the living conditions of what she describes as "persecuted subcultures" around the globe. After taking note of the debates on trade and immigration that continue to dominate today's political landscape, Kinskey traveled to Honduras to further examine the relationship between the US and Latin American maquila workers. Maquilas are factories that often operate duty and tariff free to produce goods that are exported to countries like the United States.
"I interviewed over 40 maquila workers, and each one of them desperately wants the job they have, even if it's underpaid or they are in chronic pain or it's not their dream," Kinskey told BuzzFeed News. "They desire healthy labor conditions, adequate medical treatment for work-related injury, and livable wages, but live in a country where unionization or protest is not protected or is met with violent force."
"Most of the maquilas are owned by Honduran companies to which the manufacturing is outsourced, sometimes these are subsidiary companies of the North American parent company, and other times completely independent. Most of these produce multiple brands, and the brands change through the year with sourcing patterns. A lot of the clothes are produced in pieces, so one maquila might just do the stickers for 15 to 20 brands, while another just does the hems."
To help share these experiences with a US audience, Kinskey embarked on a portrait series that captures each worker in a place of their choosing and gives them an opportunity to tell their story from their own perspective. "By questioning the ethics of how products are made," Kinskey goes on, "I hope my series drives people to think of the individual, not a fluorescent-lit factory floor crowded with machines and anonymous people behind them. It's much easier to be motivated to confront large injustices if you know just one person whose life is at stake."
"The people photographed aren't necessarily wearing products that they themselves made or products made in the factory they work in right now. I asked them to wear brands that they know are made in Honduras, which I then verified. They buy these clothes secondhand in markets called 'Ropa Americana,' after they've already been exported to the US and then brought back as secondhand."

Pictures and captions courtesy of Emily Kinskey. Several of the names have been changed for privacy. Reporting for this story was supported by the International Women's Media Foundation as part of its Adelante Latin America Reporting Initiative.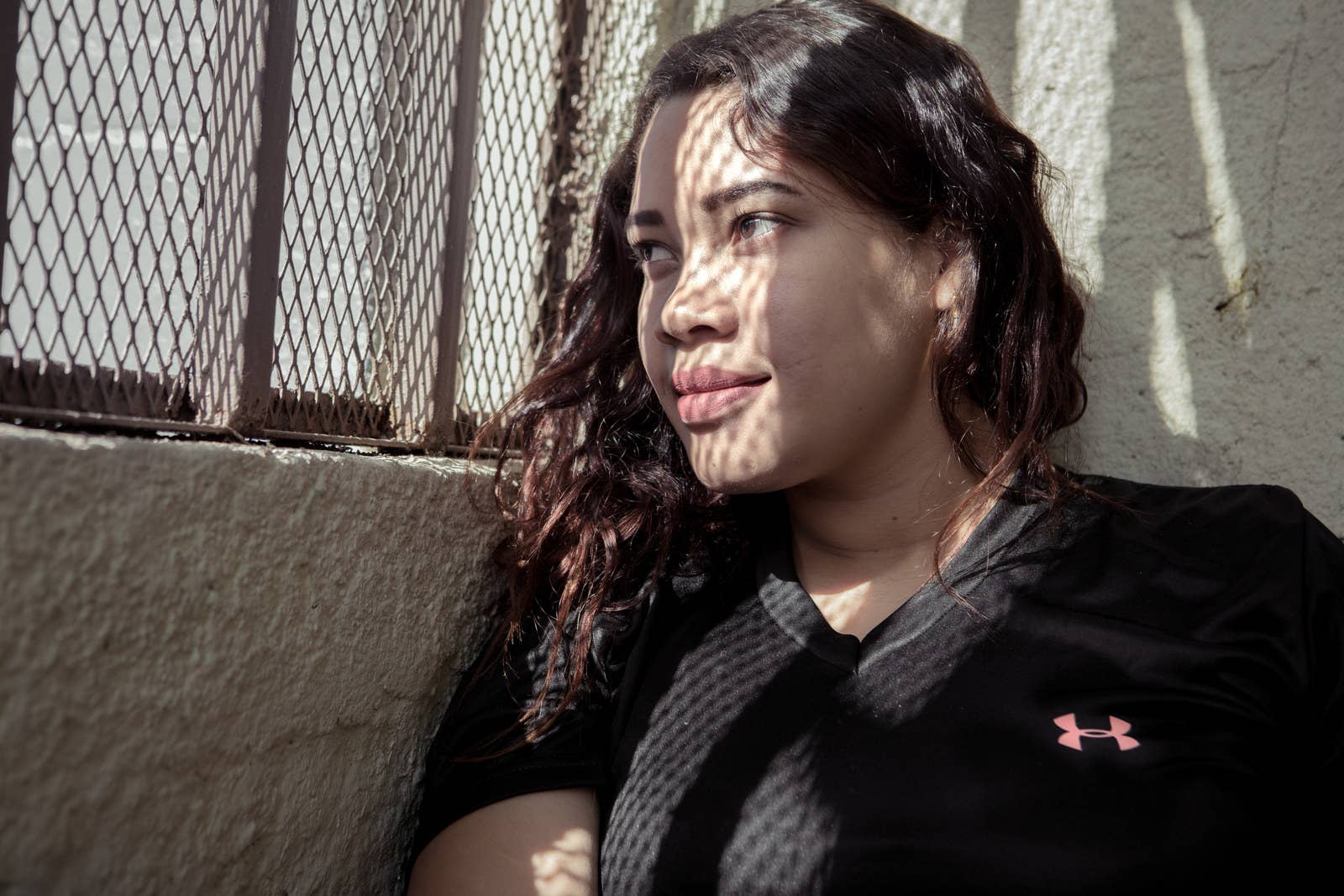 Carla, 21, chose to have her portrait taken at a bilingual primary school. She was forced to drop out of college because she couldn't afford the tuition and says a maquila job is her only option and only hope. The neighborhood she lives in has been heavy with gang violence recently, and this morning on her way to the maquilas, she was strangled and mugged at gunpoint and her cellphone was taken.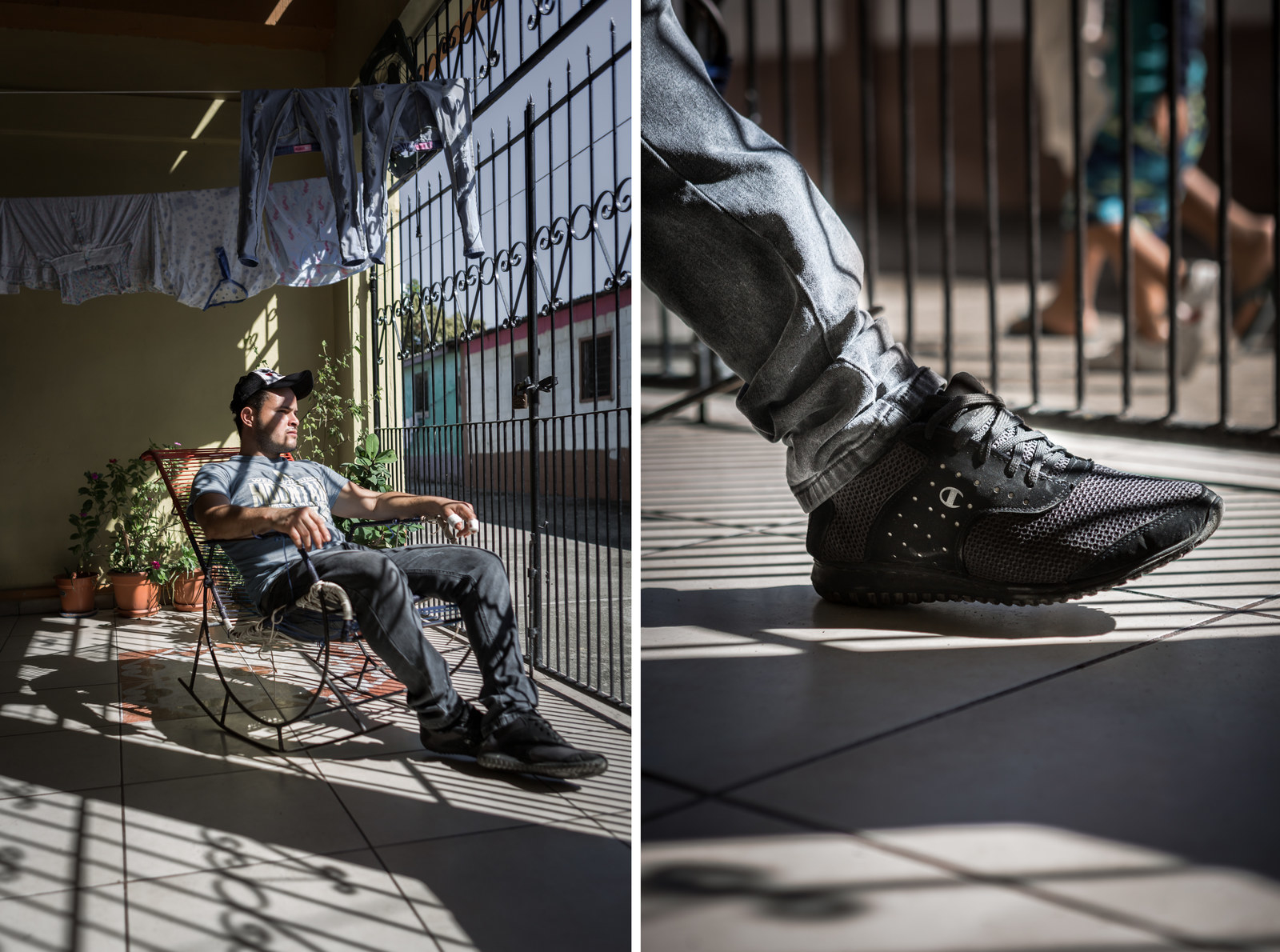 Emmanuel works as a cook in a maquila kitchen. He chose to have his portrait taken in the neighborhood he grew up in because he felt it was important to share that youth who grow up in this neighborhood have no chance but to join a gang or be killed by one.
Emmanuel's thumb and index finger are wrapped in bloodied bandages from an injury he received at work the day previous. The maquila clinic offered him only a painkiller and a bandage. He was forced to pay out of pocket for a private hospital to receive 6 stitches and now has to wait 7 days to go back to work without compensation.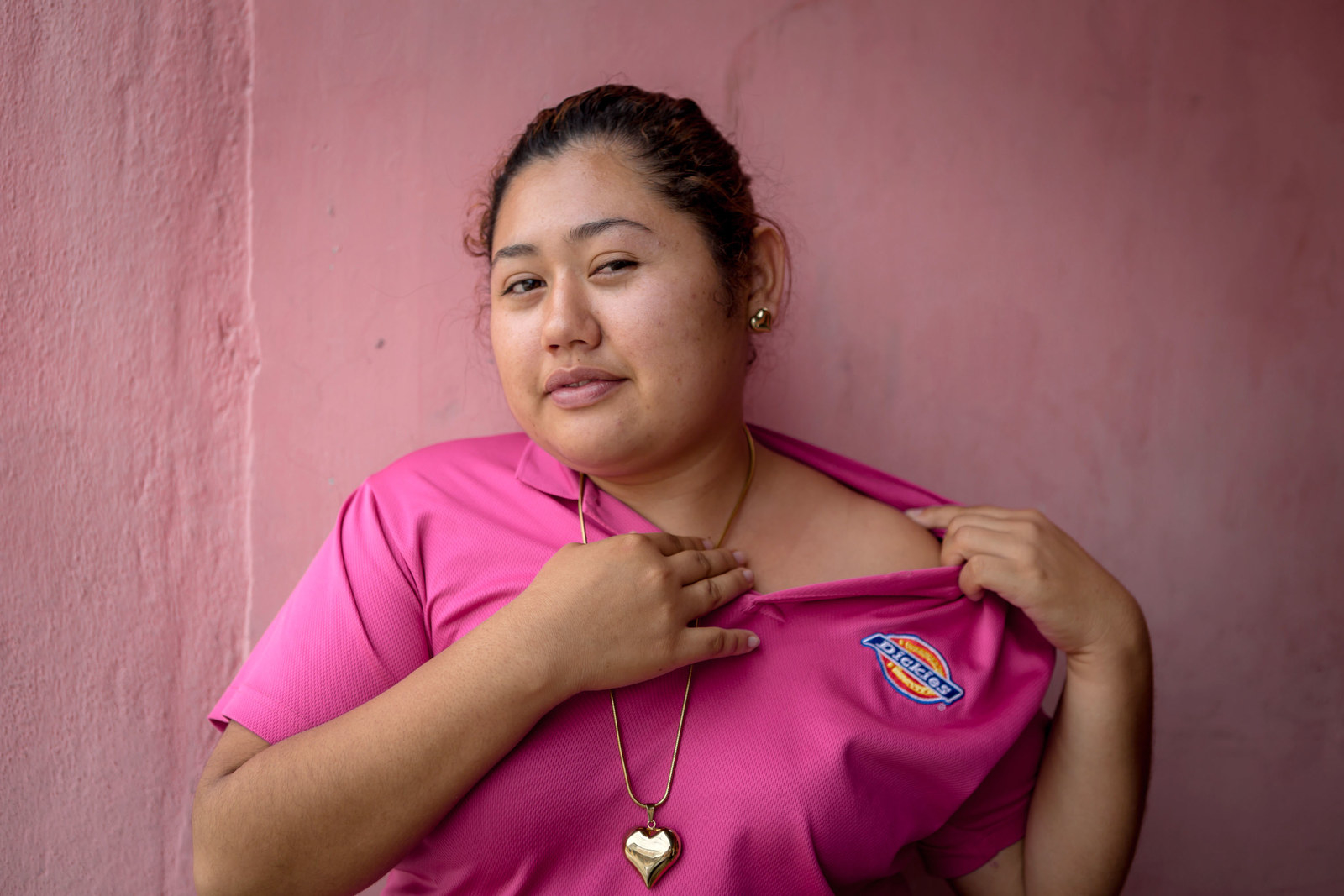 Paula shows the shoulder that causes her debilitating pain. She works at a Gildan maquila producing brands like American Apparel, Comfort Colors, and Anvil. Her production goal is 6,000 pieces a day, and her shifts are 12 hours. The repetitive motion has given her a rotator cuff injury and tendinitis. She wants US consumers to remember that "every time you buy one of these shirts, please think about it, you are buying a piece of the life of the woman who made it."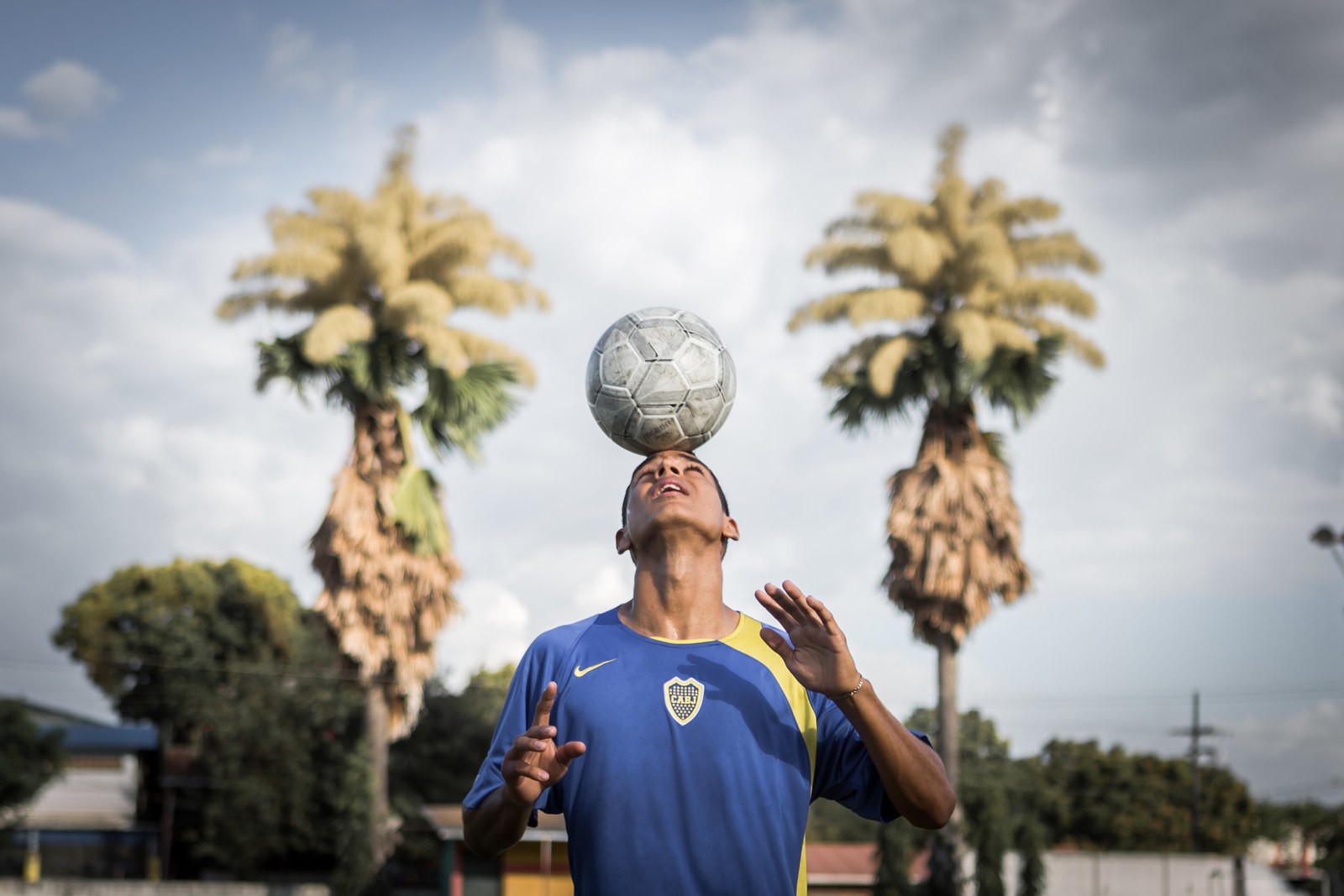 José, 18, plays on a soccer team that aims to keep young men off the street and out of gangs. His father is an asylum-seeker turned citizen in the US, and throughout his youth, José has struggled with the idea of whether to join him.
Joining the soccer league has changed his thoughts on migration, he says, "I started thinking, I will study and I will change my mindset and I will make something of myself in this country." He says that surviving on a maquila job is impossible, and he dreams of being a veterinarian.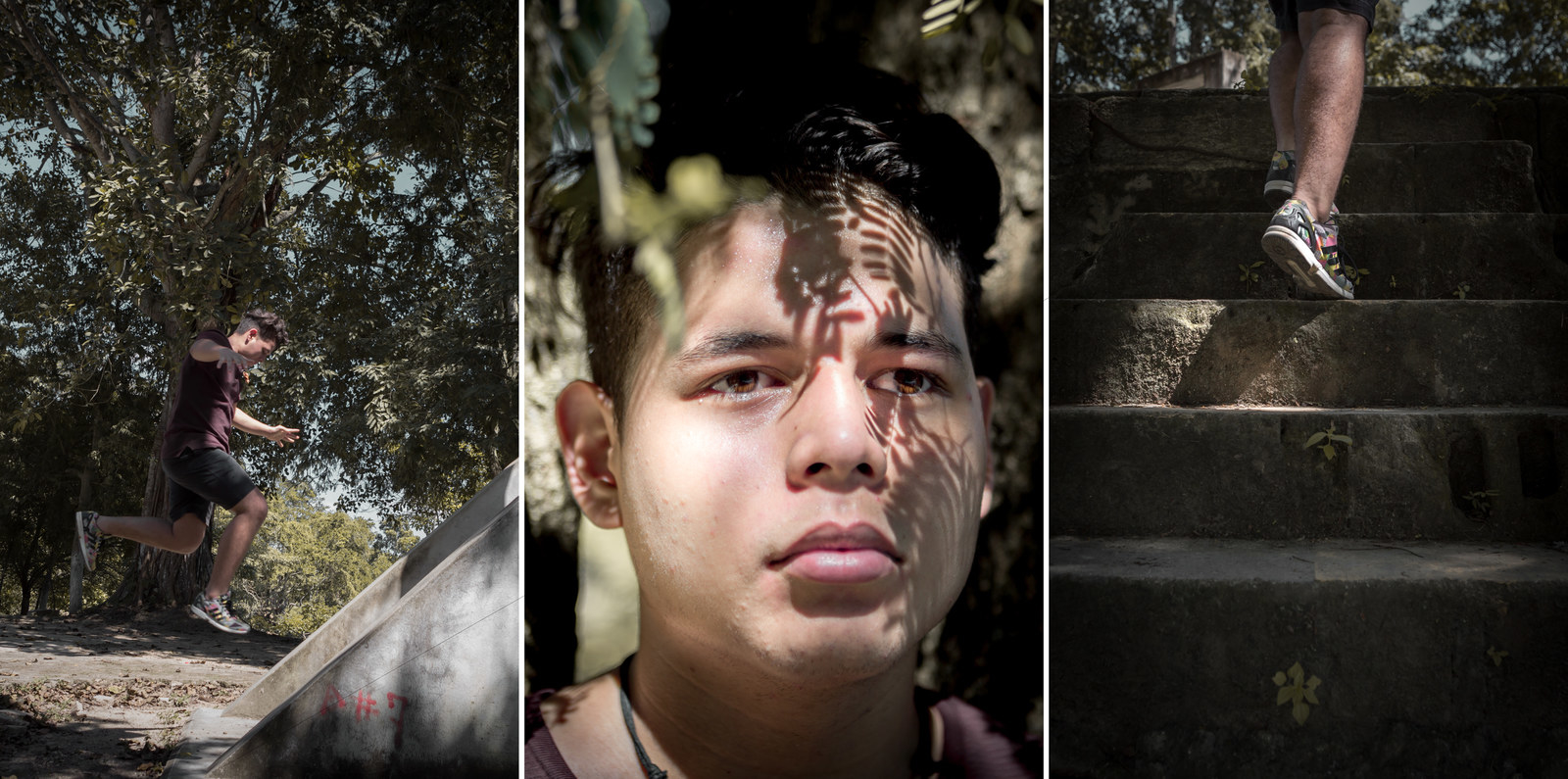 Anthony, 15, wanted his photo taken at one of his favorite places, Ticamaya, a large park centered by a lagoon in the municipality of Choloma. "I want to show you a magnificent place. I want people to see that it's not all bad in Honduras," he said. Anthony comes here to practice parkour with his friends, and his dream is to be sponsored by Red Bull.
Anthony's father was murdered by a gang when he was an infant, and his mother had to take on as many extra shifts as possible in the maquilas to support them. "I've missed my mother my whole life because of the long hours," he says. His uncle subsequently went to the US to help support them, and he was raised by his aunt, an activist.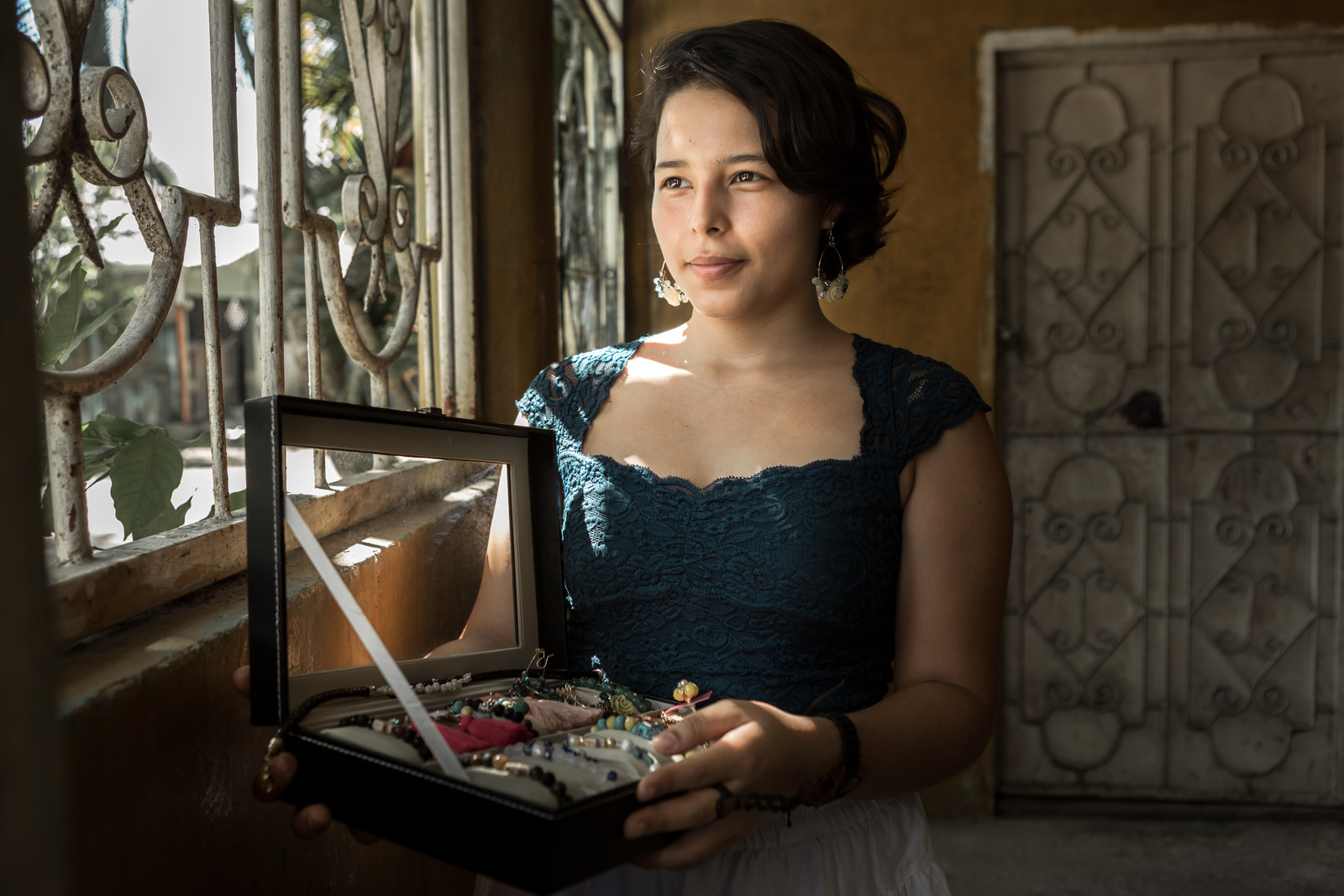 Susan, 17, is a prominent youth activist in Choloma. She explains that she is the daughter of a mother who worked in a maquila for 21 years and a father who was killed by gang violence.
Instead of working in a maquila like her mother, Susan instead started a business to sell her own designs. "There is an alliance between our government and the maquila owners from abroad. They have placed in our mind that maquila is the only job — they don't encourage us to start our own companies, they rob us of our land," she says.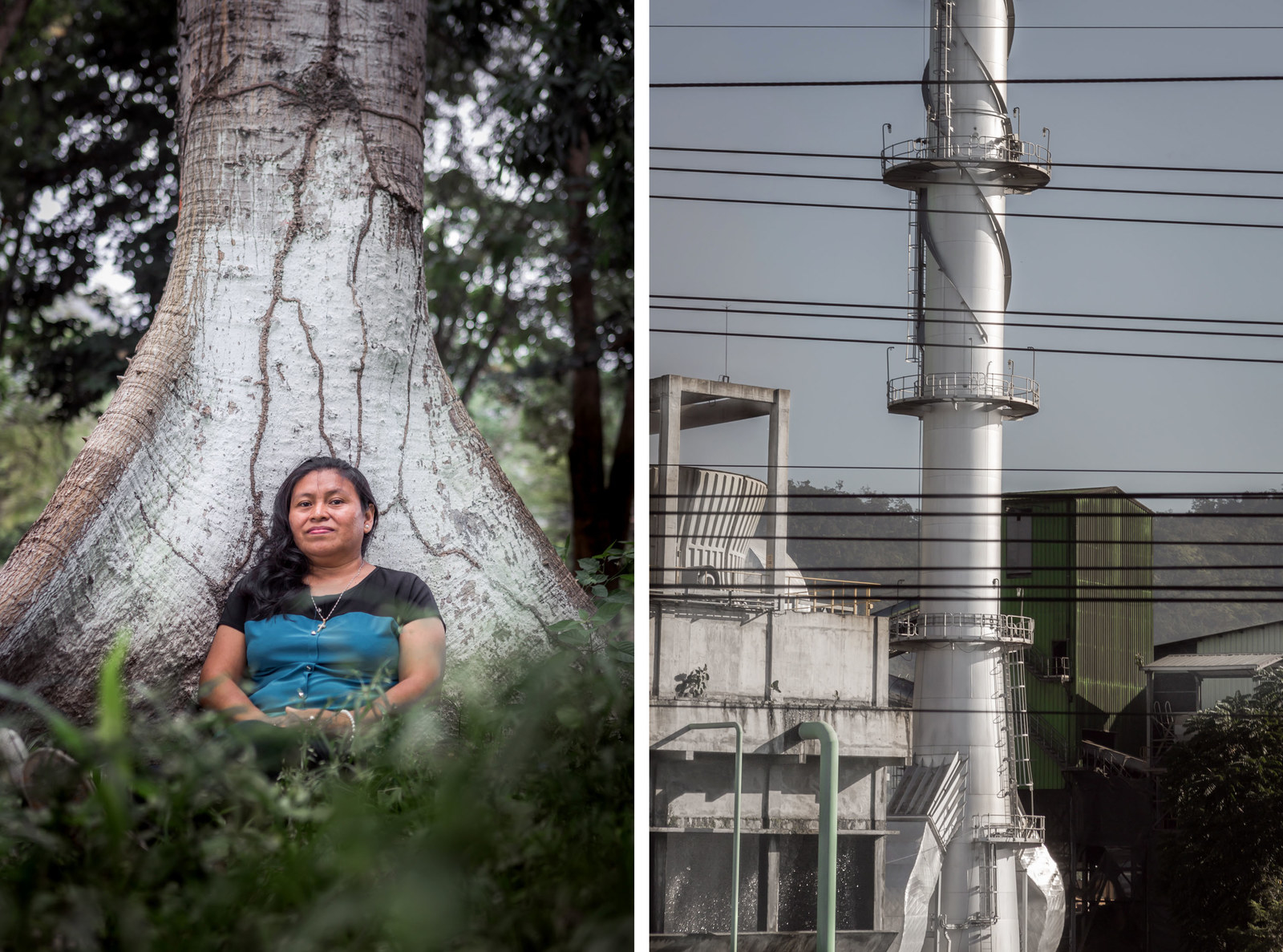 Rosa chose to have her portrait taken in the park where she practices her physical therapy exercises to counteract the chronic pain she's developed from 16 years of working in sportswear maquilas. Since 2005, Rosa has had two surgeries on her shoulder and experienced complete numbness from the shoulder down for three months. In 2016, she was fired from a Gildan maquila with 30 other workers. They were given impossible production goals and asked to hide in the bathroom when corporate visitors visited the plant.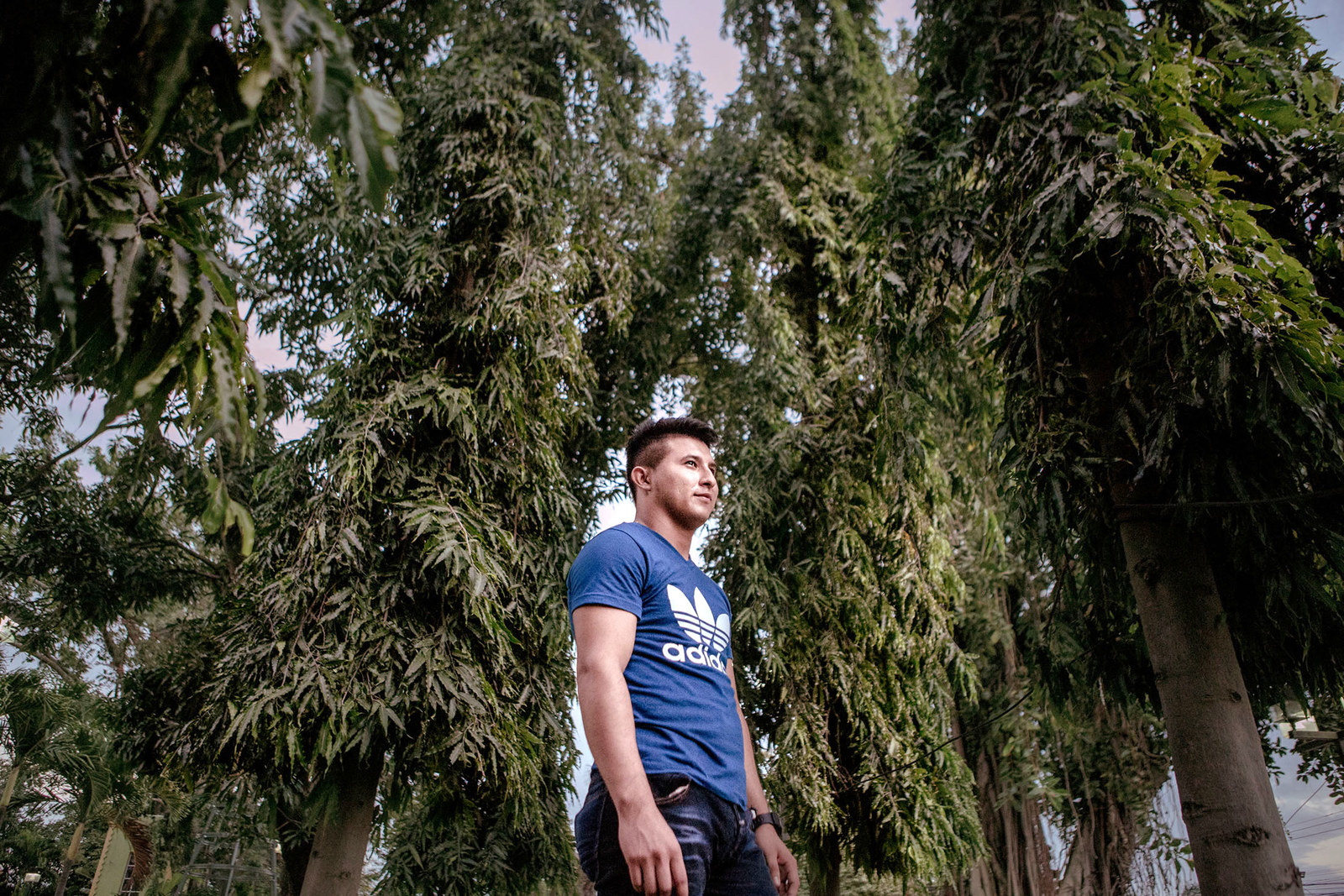 Wilson, 21, wanted his picture taken at the central park in Choloma. He likes to come here after work with friends, drink sodas, and listen to his favorite genre of music — love songs.
His college degree offered him a job as a maquila quality control supervisor. His salary is just a bit more than minimum wage, and his family is still largely dependent on the money his sister sends from the United States, where she migrated illegally and works as a nanny. Wilson says his job is good and he is grateful to be in quality control instead of working the machines, but that it still doesn't even come close to what his sister is able to earn, even without a degree, in the US.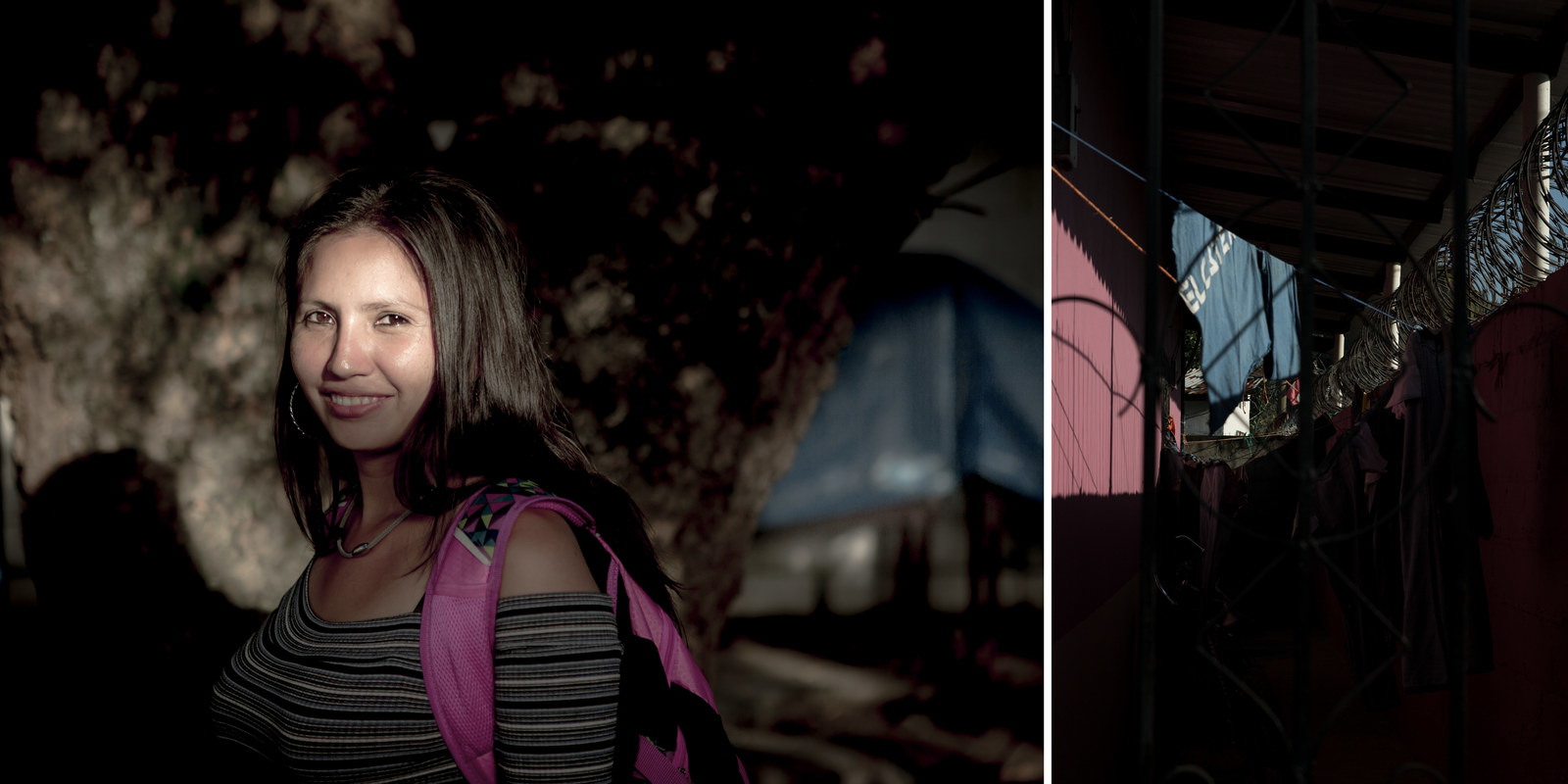 Suyapa, 25, wanted to be pictured with her backpack to show that she is paying for her own university classes and studying to be a nurse. To do this, she works from 4 a.m. to 8 a.m. selling baleadas, a traditional Honduran breakfast, outside of the maquila industrial park, then attends classes in the afternoons. After classes, she returns home at 4 p.m. and works selling sneakers to the maquila workers, followed by studying into the night for her classes the next day.
Often she only sleeps for an hour or two. Suyapa said on the morning of this photo, she fainted from exhaustion as she walked her 4-year-old to school, and woke up on the sidewalk with a crowd gathering and her son in a panic. Even with this rigorous schedule, she wouldn't be able to afford classes if her boyfriend wasn't covering their groceries with his maquila salary.
Nike, Under Armour, Dickies, and Champion have not responded to BuzzFeed News' requests for comment.
In a statement to BuzzFeed News, representatives for Adidas said that their company "only conducts business with manufacturers who work in a fair, honest and responsible manner. We have strict procedures in place to ensure that the individuals employed to make our products are paid and treated fairly. All factories that work with us are subject to regular labor and health and safety audits conducted by independent third parties in association with the Fair Labor Association (FLA) and Adidas' compliance team."
To see more of Emily Kinskey's work, visit her website at emilykinskey.com.