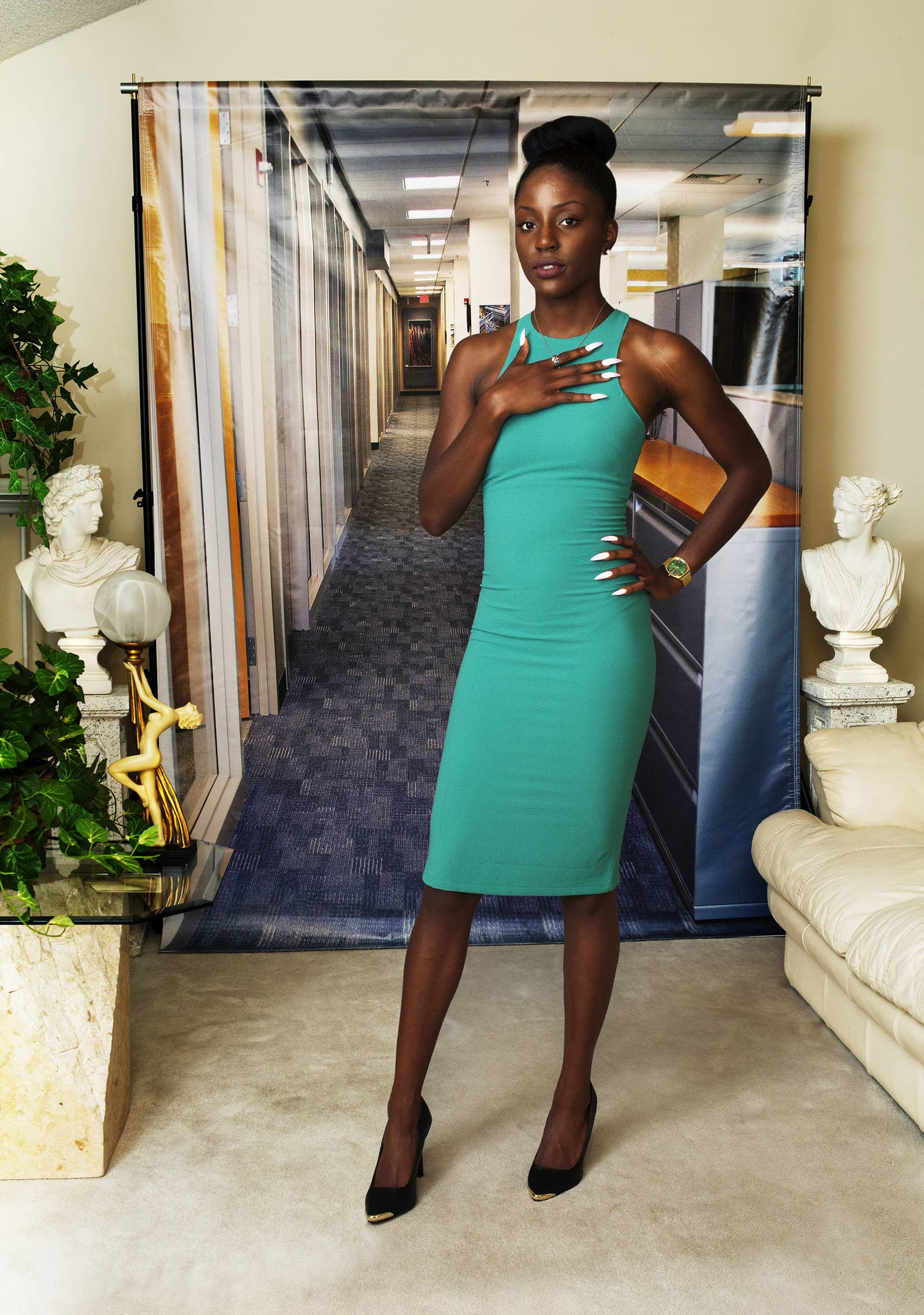 "I feel nervous about entering the corporate environment, but I will not let that change my attitude toward success as a black woman." —Mel, 21
Endia Beal is a North Carolina based artist and associate professor of art at Winston-Salem State University, whose work explores ideas of race, gender, and identity in the US. Through photography, her ongoing projects Am I What You're Looking For? and Can I Touch It? confront headfirst the prejudices that many young people of color experience every day in the workforce.
For Am I What You're Looking For?, Beal asks young black women to share their personal experiences with office culture and how those experiences reflect racism's legacy in the US. To illustrate the constant friction between their homes and professional lives, Beal asks the women to sit for formal portraits in their own living rooms, situated before a custom backdrop depicting a typical American office space.
Here, Beal shares with BuzzFeed News her ideas behind the work and a selection of new portraits from the series.
As a black, female photographer, I witnessed the underrepresentation of contemporary minority stories within fine art circles and photojournalism. Over the past five years, I have used photographic narratives and video testimonies to capture the experiences of women of color working within the corporate space. My projects stem from my personal journey and struggles as a woman of color in the office. The photographic series, Am I What You're Looking For?, provides a vehicle for women to give their testimonies and speak about issues that are normally ignored.
This project focuses on young African-American women who are transitioning from the academic world to the corporate setting. It reveals their struggles on how to best present themselves in often male-dominated settings that prefer western standards of appearance. The work provides an in-depth investigation into the racial and gender inequalities for women of color in corporate America.
For me, Am I What You're Looking For? began with my first interview after college. I will never forget when I wore my Afro to an interview. It was obvious from the expressions of the interviewers that they were displeased with my choice of hairstyle. They glanced over my résumé, and seemed surprised by my poise and ability to articulate my level of expertise; yet, no matter what I said, it was obvious that they had made up their mind about who I was based on how I looked. As you can imagine, I did not get the job. After a series of rejections, I soon realized that I had to conform for career opportunities. But no matter how hard I tried to "fit in" I remained the "other."
Many of the women who participated in the Am I What You're Looking For? series were my students at Winston-Salem State University in Winston-Salem, North Carolina. They would disclose their personal difficulties in securing employment after graduation. Employers would tell them that their natural hair was unprofessional or their name was too difficult to pronounce and would suggest they alter themselves for the job. These stories were all too familiar to my own struggles as a woman of color in the corporate space, but rarely are these stories shared with colleagues or management in fear of rejection or lack of opportunities.
For the series, I received a Magnum Foundation Emergency Fund grant. I traveled throughout North Carolina and photographed women in their childhood homes. These environments foster comfort allowing the women to be open about their concerns. I asked each woman to wear what she would love to wear to an interview and to imagine that she is waiting for the interview. An office backdrop is placed in their living room. The backdrop forces the viewer to reimagine the space.
I would like my audience to understand that these women are presenting their authentic selves. Yet they are still scrutinized and condemned for embracing their cultural identity. I realized that our personal experiences can be universally translated in ways we have never imagined. I receive messages from women all over the world who can relate to the experience of feeling uncomfortable at work regardless of their race or ethnicity. I hope the work begins a dialogue about racial and gender inequality in the corporate space and fosters real change for women.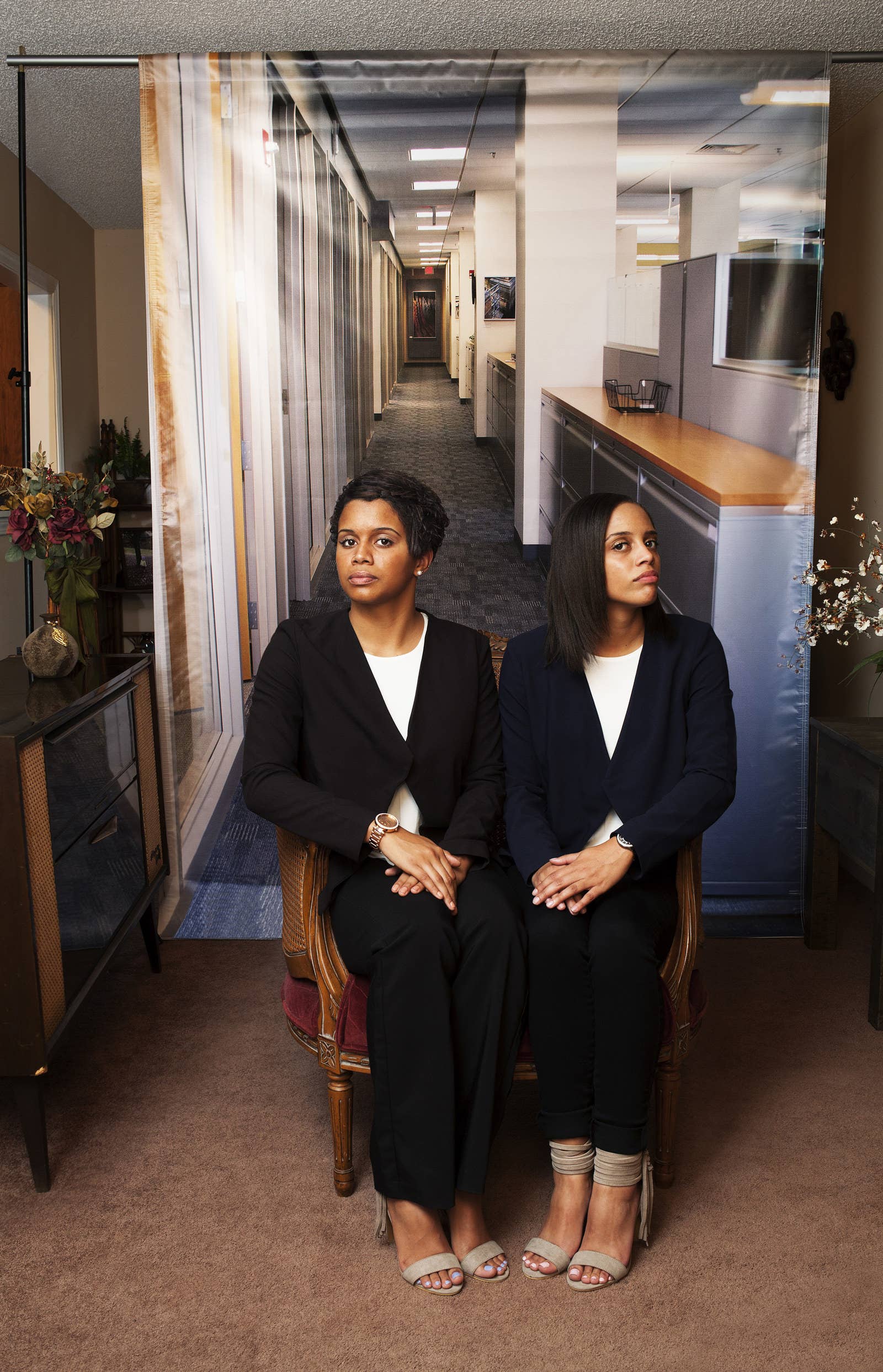 "As a woman of color in corporate America, I would almost seem out of place. Would they consider my distinctive hairstyles strange? Or reduce my intelligence to some accidental indication of potential? My character would be constantly assessed as I struggle to balance my silence." —Kayla (left), 19
"Corporate America is always depicted as a field dominated by white males. As a biracial woman, I feel there is a boundary placed among us to inhibit our success in positions of power or leadership. Although one is qualified, and possesses the drive and commitment, our appearances seem to stray from that of the ideal candidates for executive roles." —Kierra (right), 19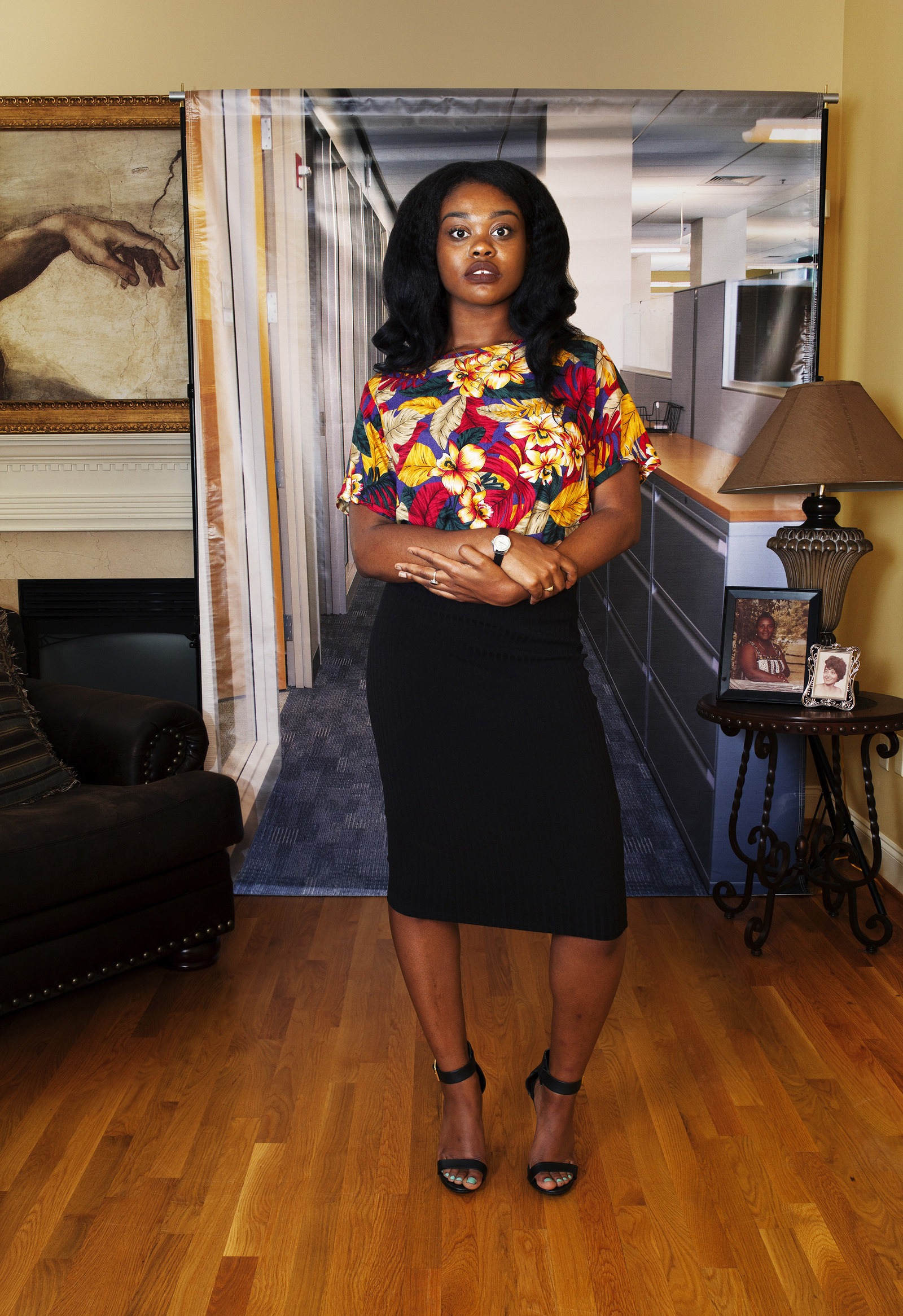 "As a black woman in corporate America, straightening my hair should be MY personal choice. Why is it okay for me to come to an interview with a weave in my hair and be accepted, but not with my Afro? It's not right. We want to be accepted just the way we are." —Kennedy, 20
"I feel as though the corporate world is not representational of me as a black woman or an individual. There are too many restrictions on appearance in corporate America. I am more of a free spirit. I fully believe in expressing myself. I do not feel as though I should have to compromise my culture and heritage to fit the corporate mold. I can definitely see myself in a more creative field." — Kyandra (left), 21
"Honestly, it can be intimidating. The major industries that come together to make up corporate "America," a country that claims to be all-inclusive, is mainly comprised of one type of person. That person is the white male...and there isn't a book you can read or a certification you can get to make you more of a white male — you are or you aren't."
—Shakiya (right), 24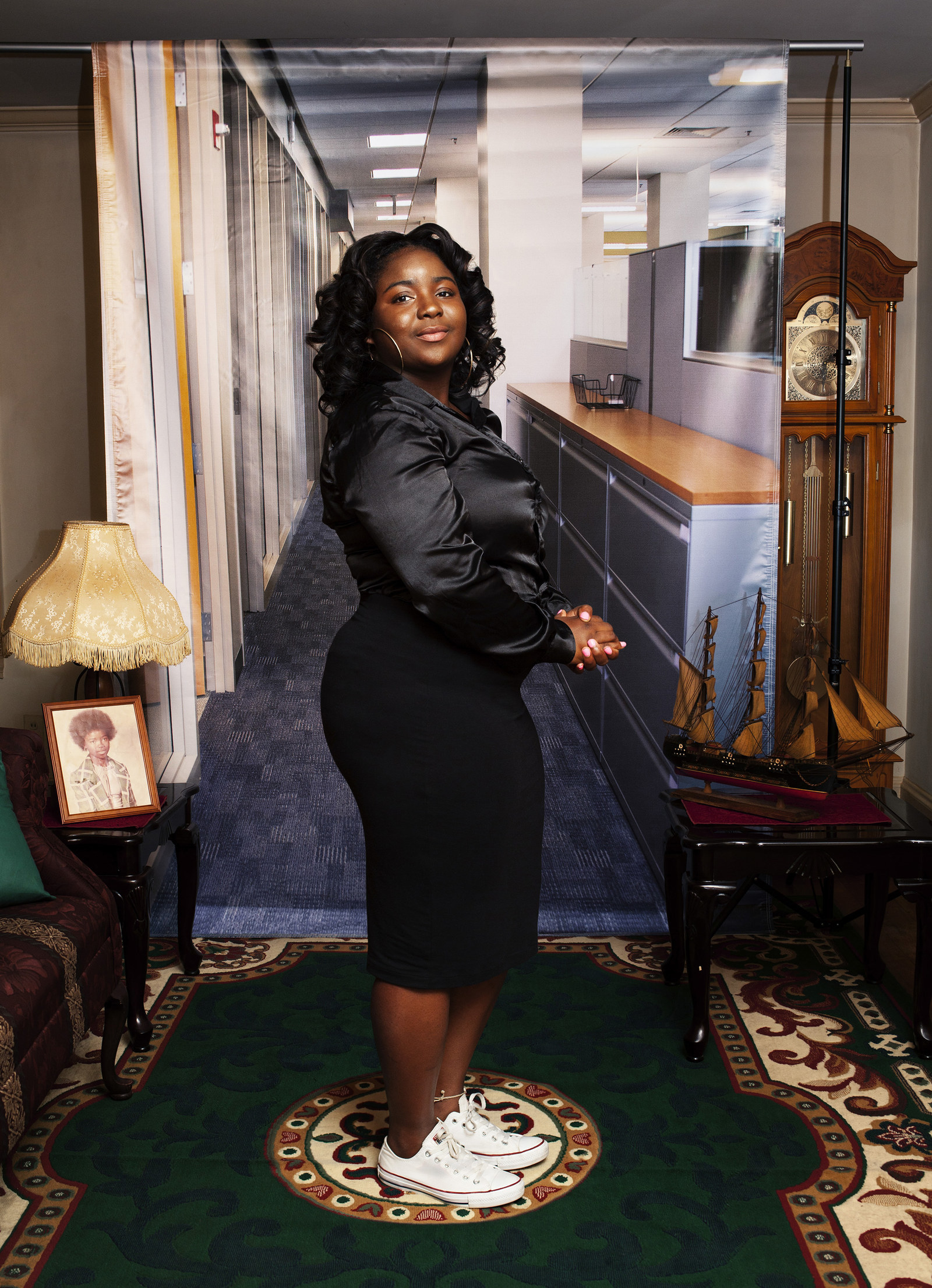 "This past summer I had the opportunity to intern in a corporate environment. My space had no windows and it was always cold. I worked in a cubical and I had to dress up every day. It just wasn't for me. I prefer to be in an open space with sunlight and the flexibility to wear my own style." —Sakeya, 20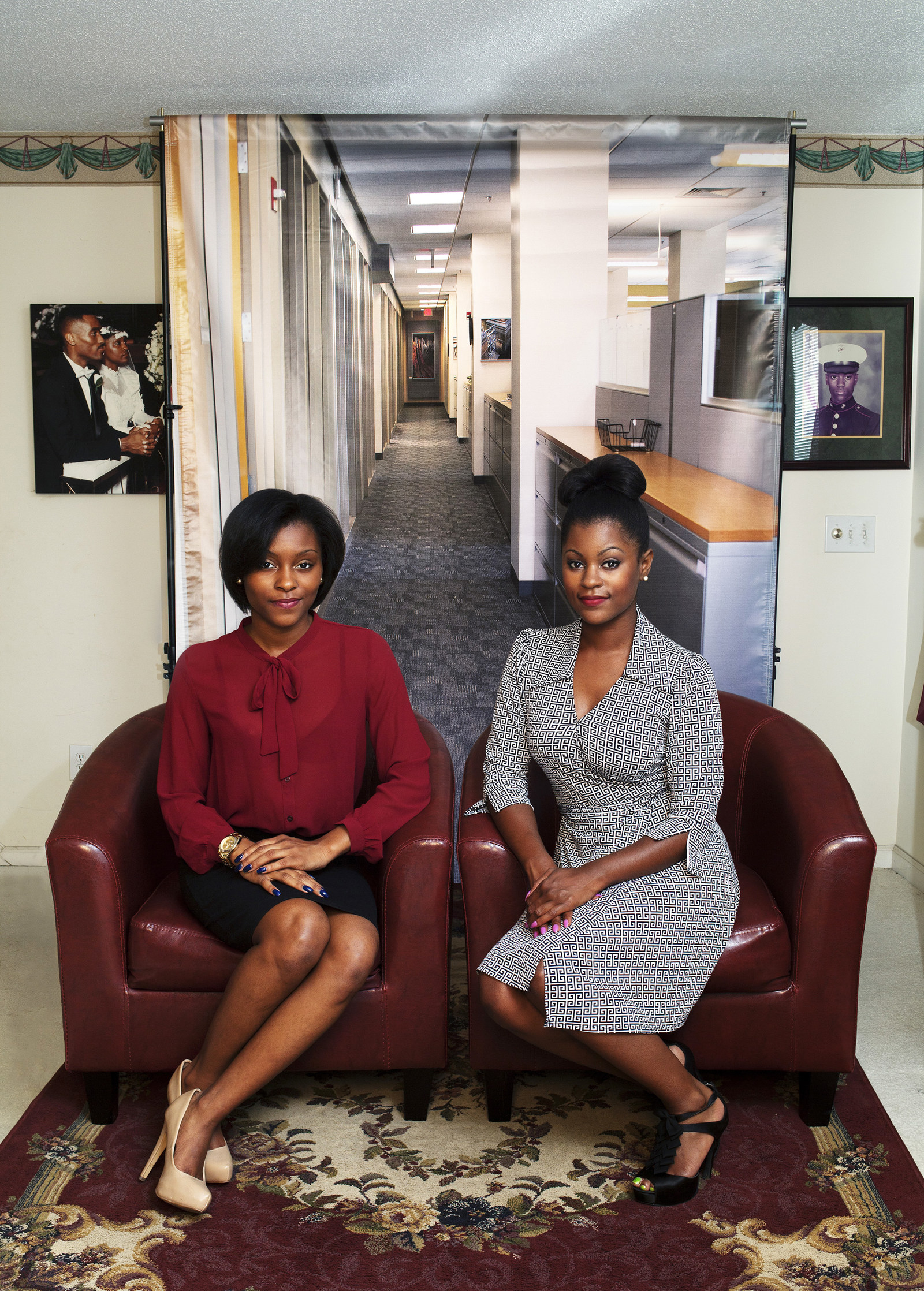 "I feel that I am looked down upon in the corporate space simply because I am a woman of color. Corporate spaces attempt to suppress my 'blackness' in the way I dress, talk, and even the way I style my hair. As a double minority, I must be extraordinary in all that I do to prove myself equally competent to my white and/or male counterparts." —Christina (left), 19

"As a black woman in a corporate space, I feel empowered to defy the stereotypes that society has placed on us. I have a venue through which I can show that my work ethic, professionalism, and dedication are just as evident in the workplace as that of my male Caucasian counterparts. I also feel empowered to show young black women that they can stand out and be successful in a corporate space, as long as they are passionate about what they do, and always give their best." —Crystal, 24 (right)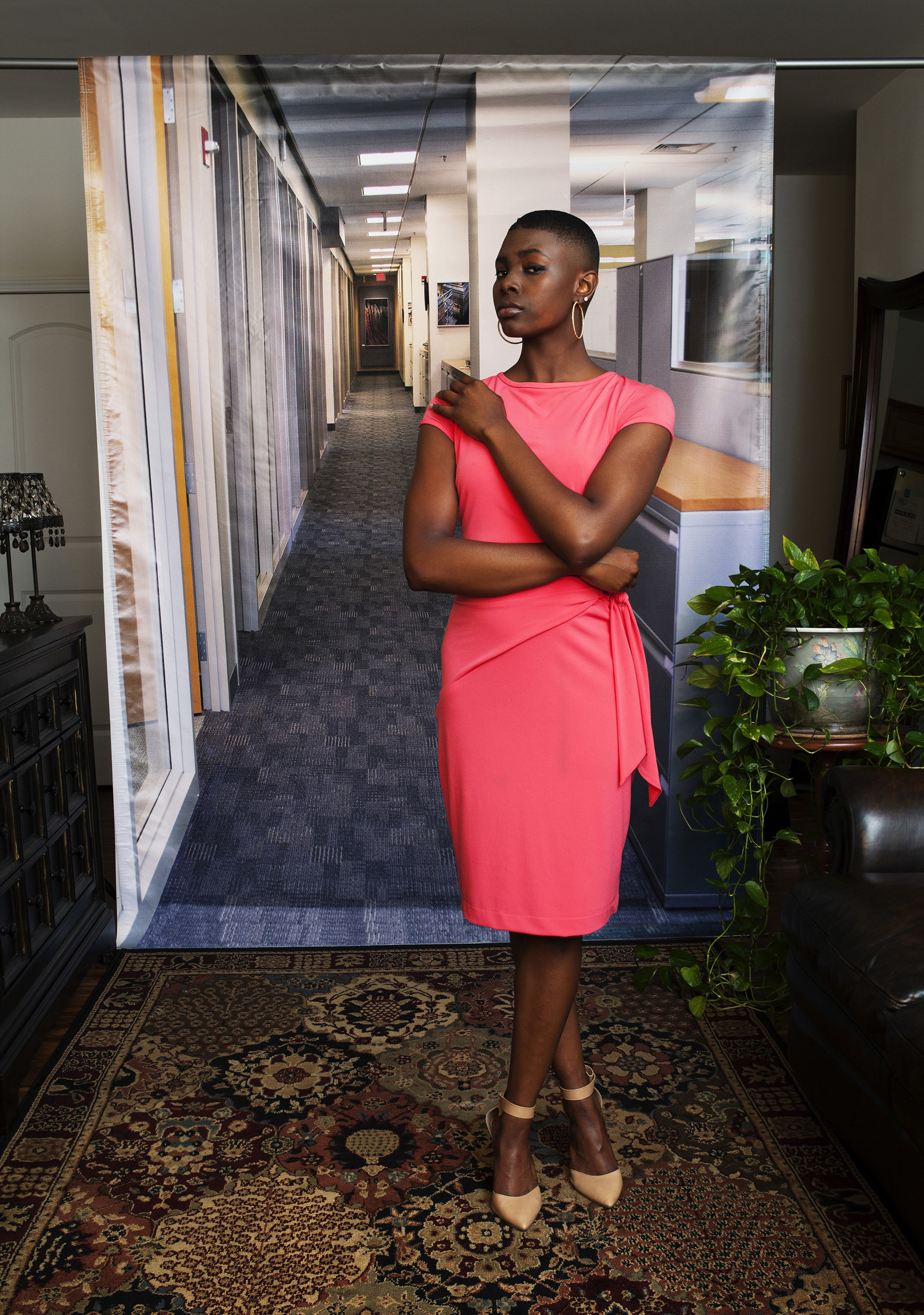 "In corporate America it is twice as hard to not only be a woman, but also a black woman. As black women we get more responsibility, but hardly enough power." —Tianna, 20
"Corporate America is intimidating, but my hope to succeed allows it to also be promising. I feel like I will have to fight twice as hard to exceed my competition for respect and wage." —Sabrina (standing), 23

"I join the band of minority women in corporate America as a faceless heroine. I believe corporate has lost its servitude for humanity and I feel obligated to supply it. I noticed that big-name corporations are making an effort to equal the playing field by hiring minority and female leaders...but it is an indication that there are highly skilled players on the bench ready to be called into play." —Katrina (seated), 23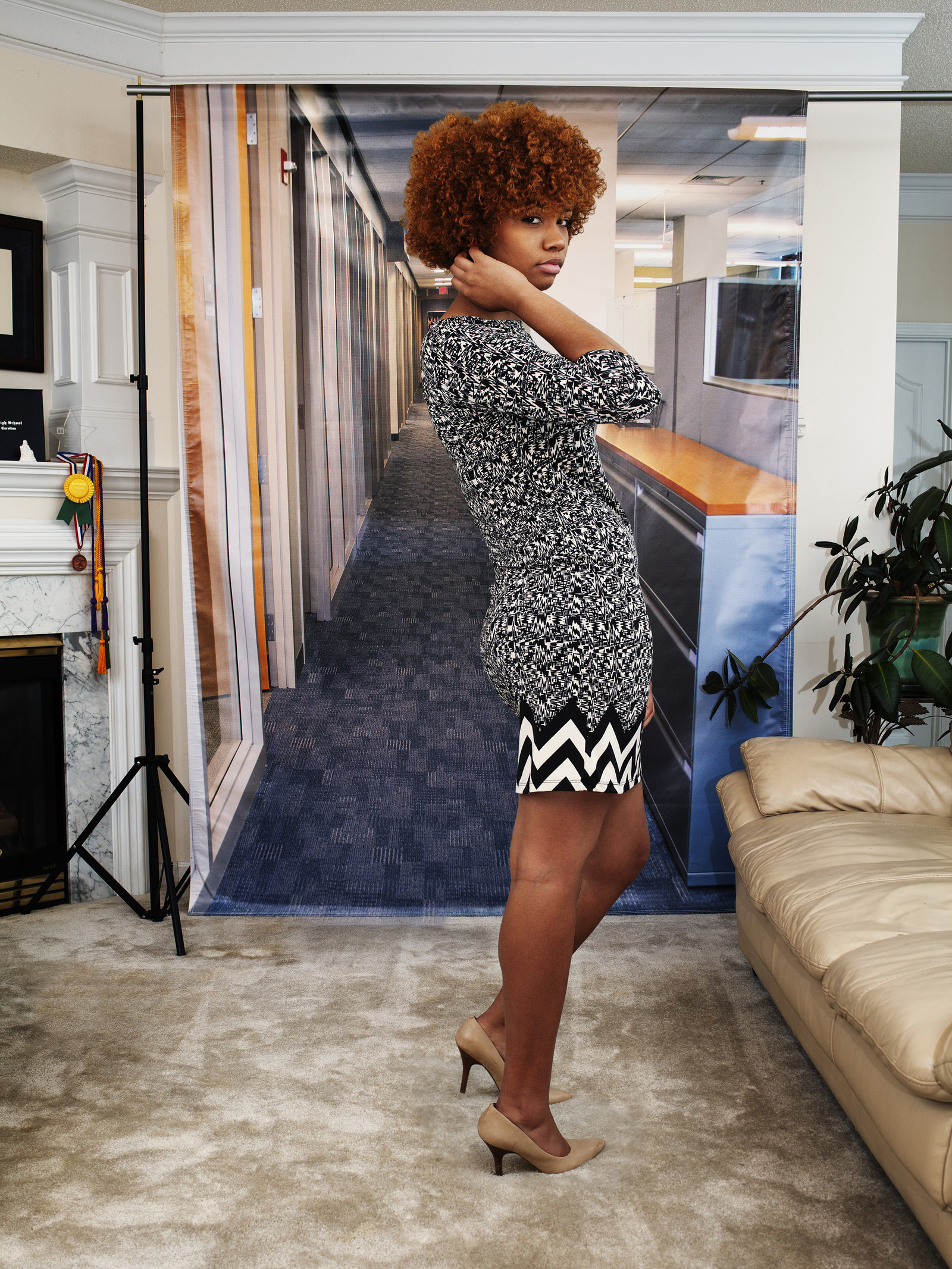 "Corporate America is already geared toward the success of men in the business. So as a woman — a woman of color at that — I always have to be better than the best to even be considered for the same opportunities. The way I wear my hair, my posture, and my outfit do not define who I am or what I know. They externalize my confidence." —Taylor, 21
To see more of Endia Beal's work, visit her website here. Selections from Am I What You're Looking For? are on view at the Open Society Foundation in New York City and the Southeastern Center for Contemporary Art in Winston-Salem, North Carolina.