Disturbing Pictures From The History Of America's Nazis
Since the 1930s, American Nazi parties have sought to advance their agenda of hate, bigotry, and ignorance.
In the early 20th century, US political groups such as the Free Society of Teutonia and the Friends of New Germany, aligned themselves with the bigoted ideology of Nazi Germany. These groups were known to distribute hate-filled propaganda and hold rallies that promoted anti-Semitism, racism, and their own twisted view of American nationalism. Some groups even hosted Nazi summer camps for American children.
Nazism in America reached disturbing heights on Feb. 20, 1939, when an organization known as the German American Bund held a rally in New York City's Madison Square Garden, attended by some 20,000 pro-Nazi Americans. Following the outbreak of World War II and the subsequent defeat of Nazi Germany, many of these larger organizations dissolved from the mainstream, but a revival of white supremacy principles during the civil rights era fueled a revival of neo-Nazi hate groups, such as the American Nazi Party and the National States' Rights Party.
This photo essay reveals the long and horrifying history of American citizens who have chosen to pledge their allegiance to Nazism since the 1930s.
This essay includes violent images that some may find disturbing.

All images and captions contained in this essay are from or adapted from Getty Images.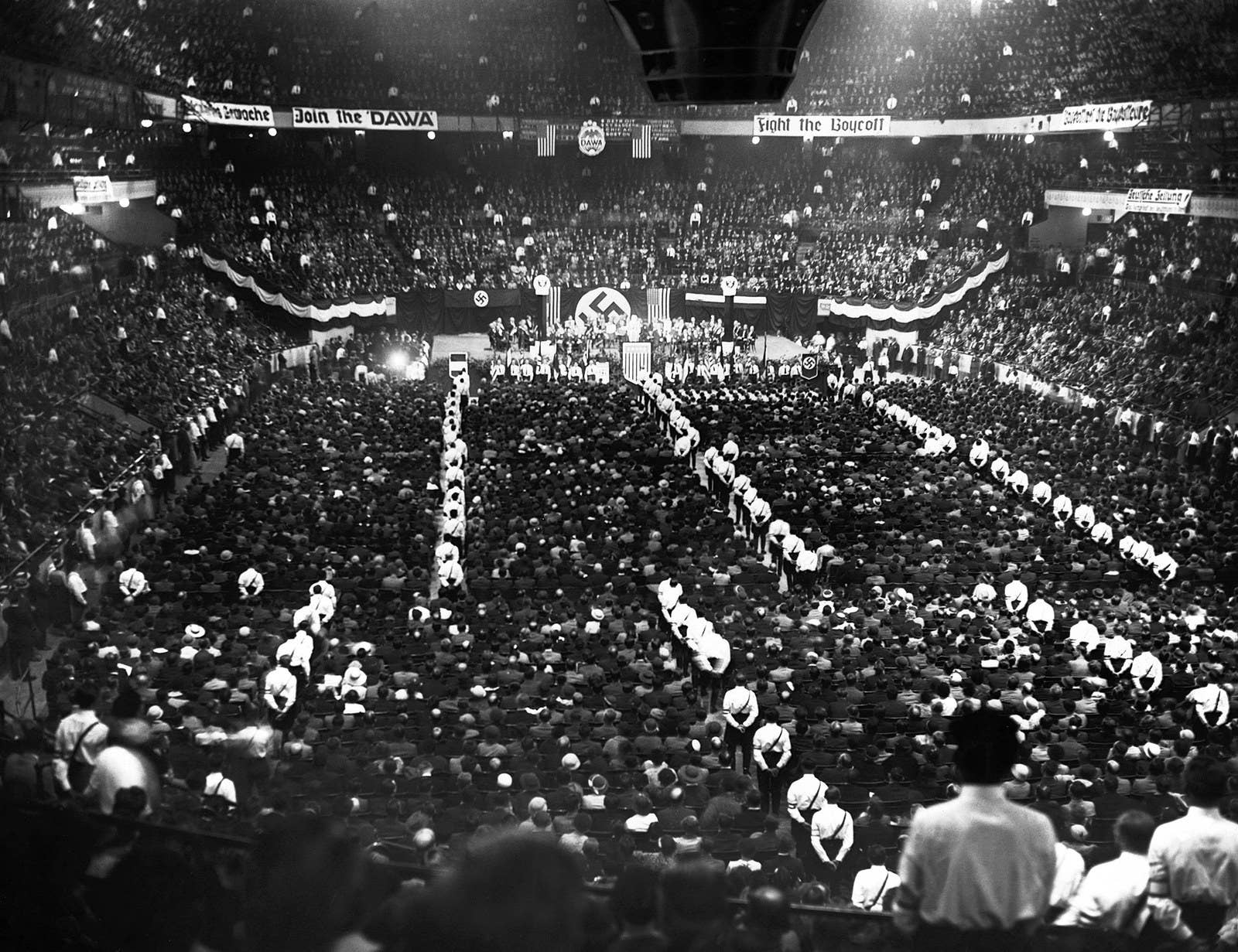 The German American Bund rally in New York City's Madison Square Garden on Feb. 20, 1939.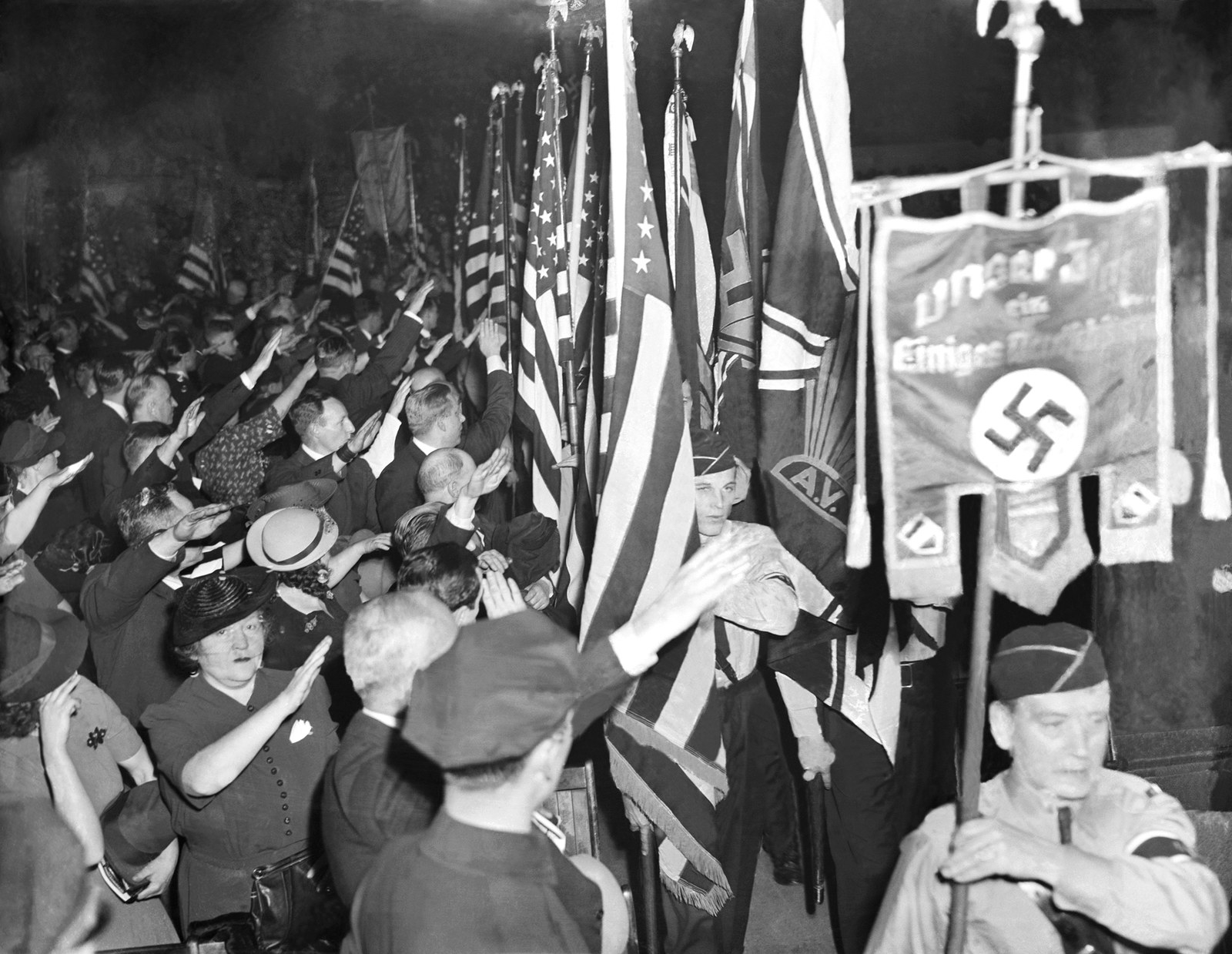 Snapping into the regulation Nazi salute, Bund members hail the swastika banner as it is paraded during the opening ceremonies of the pro-Nazi rally at Madison Square Garden.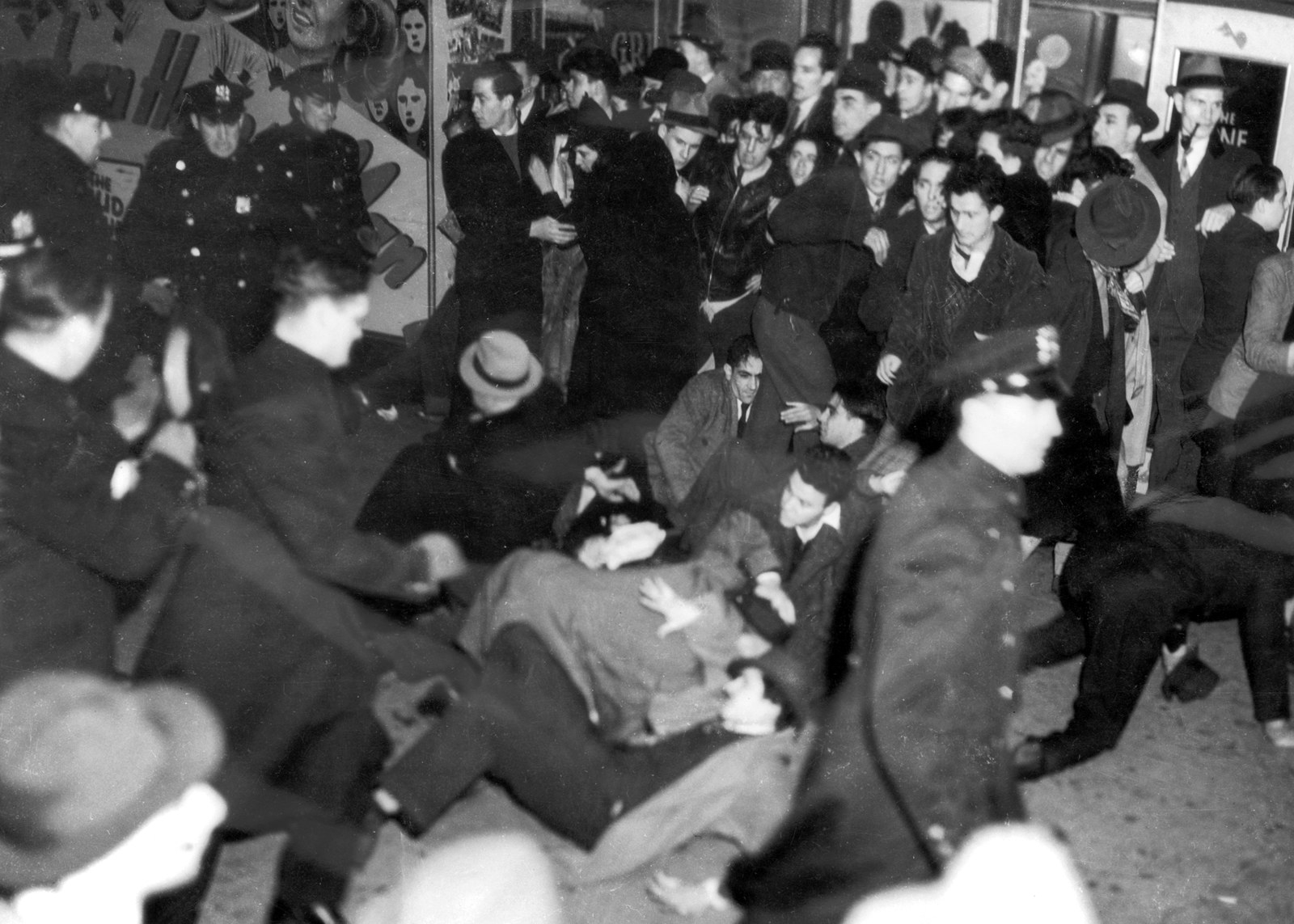 Police officers struggle with crowds gathered to protest against the pro-Nazi rally at Madison Square Garden.

The entrance to Camp Siegfried, a Nazi summer camp in Yaphank, New York, on June 21, 1937.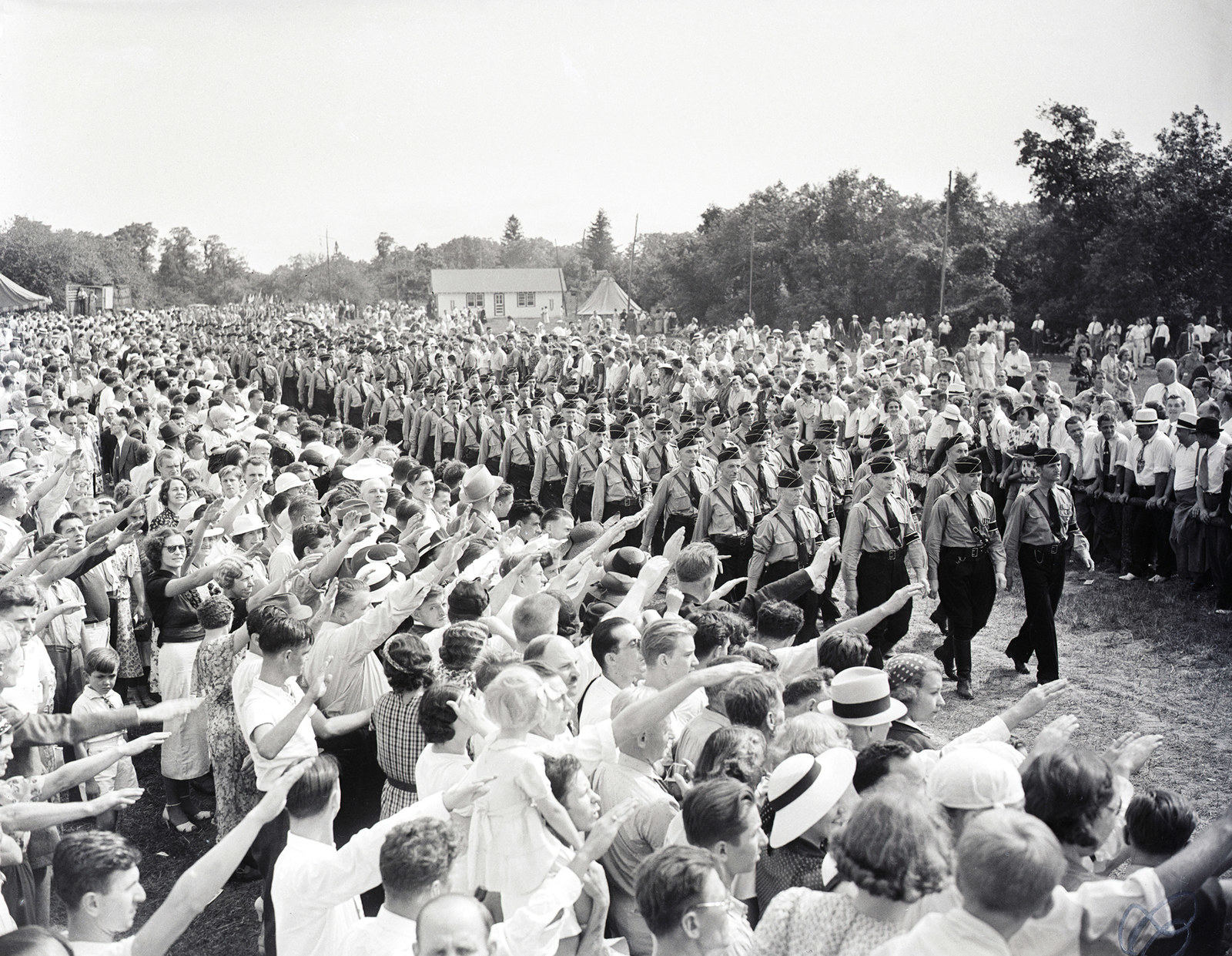 Hundreds of German-Americans give the Nazi salute to young men marching in Nazi uniforms at Camp Siegfried in 1937.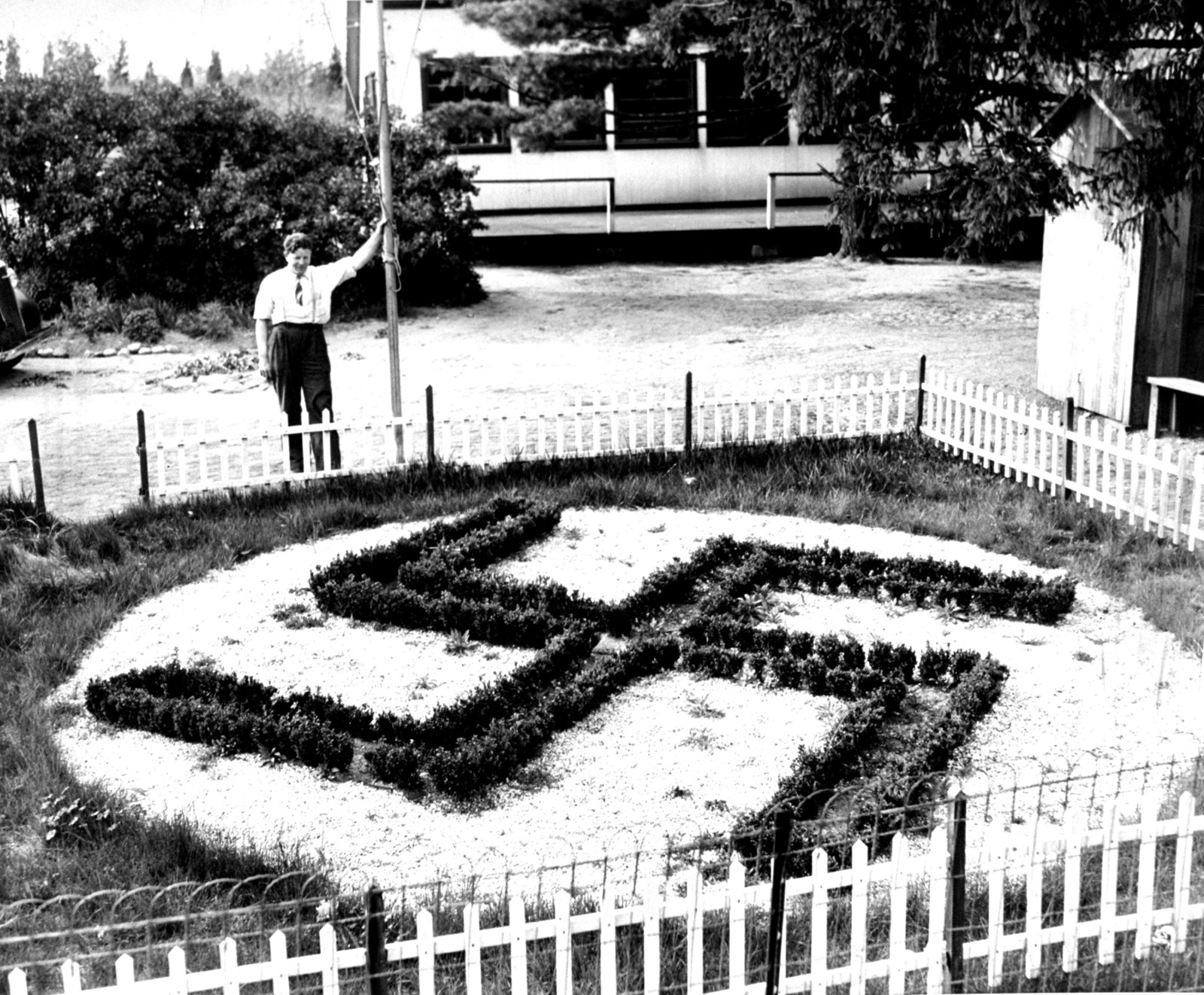 A hedge topiary trimmed in the form of a swastika at Camp Siegfried in 1937.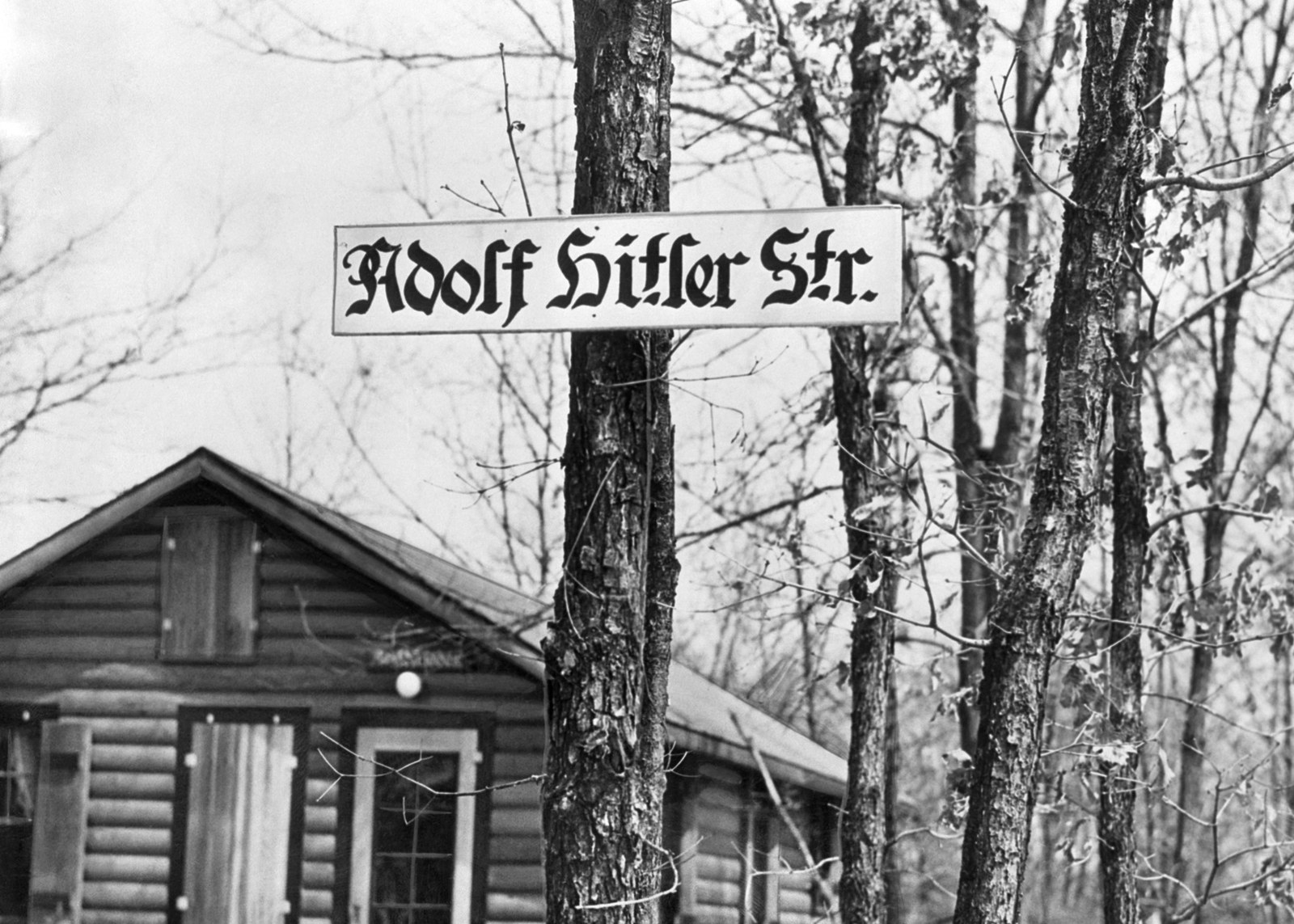 A sign marking Adolf Hitler St., which ran through Camp Siegfried, in 1937.

American Nazi Youth display a Nazi flag at a summer camp in Griggstown, New Jersey, in 1934.

Hundreds of German-Americans give the Nazi salute at Camp Siegfried in 1937.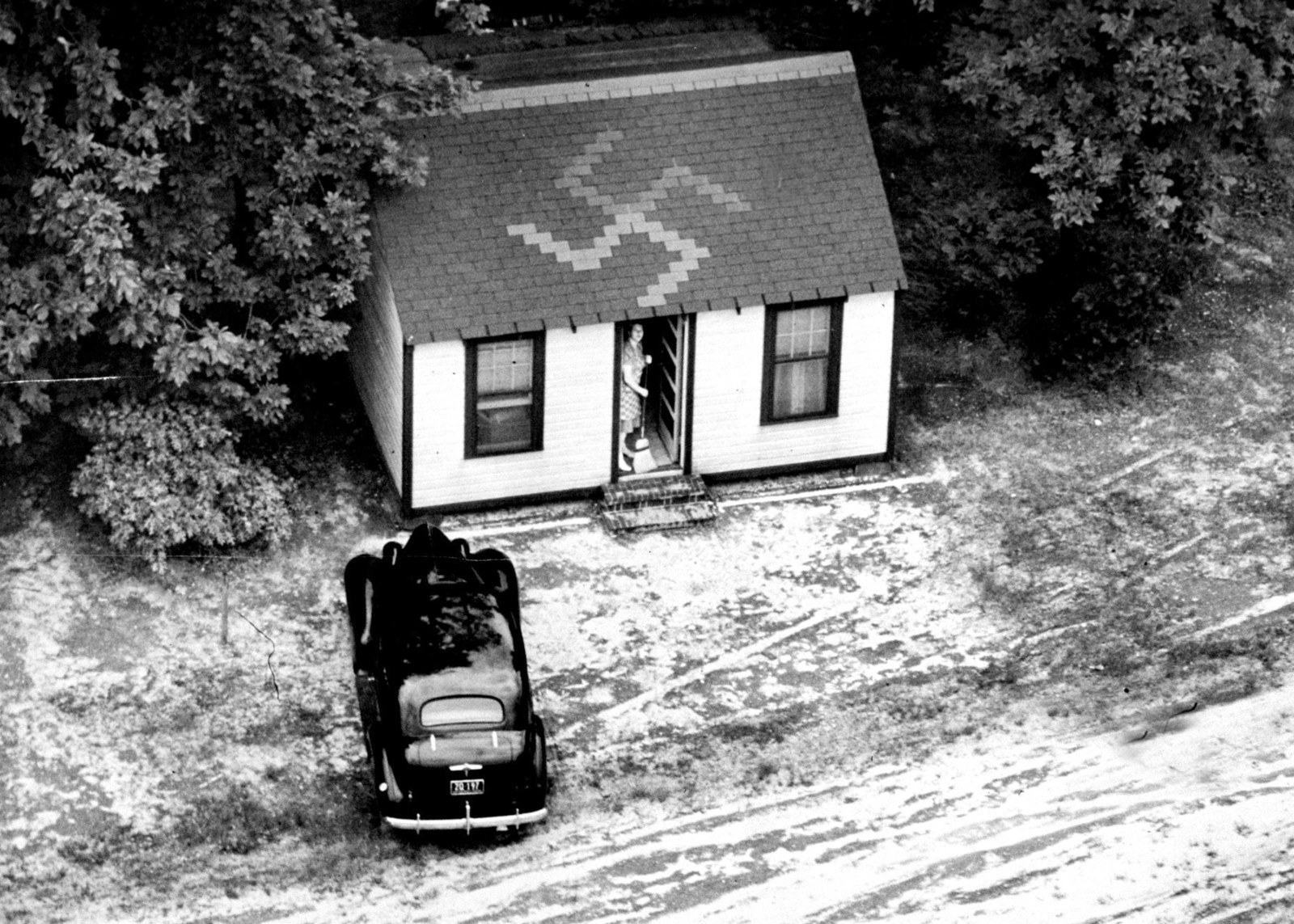 A swastika is visible on the roof of a cottage at Camp Siegfried in 1937.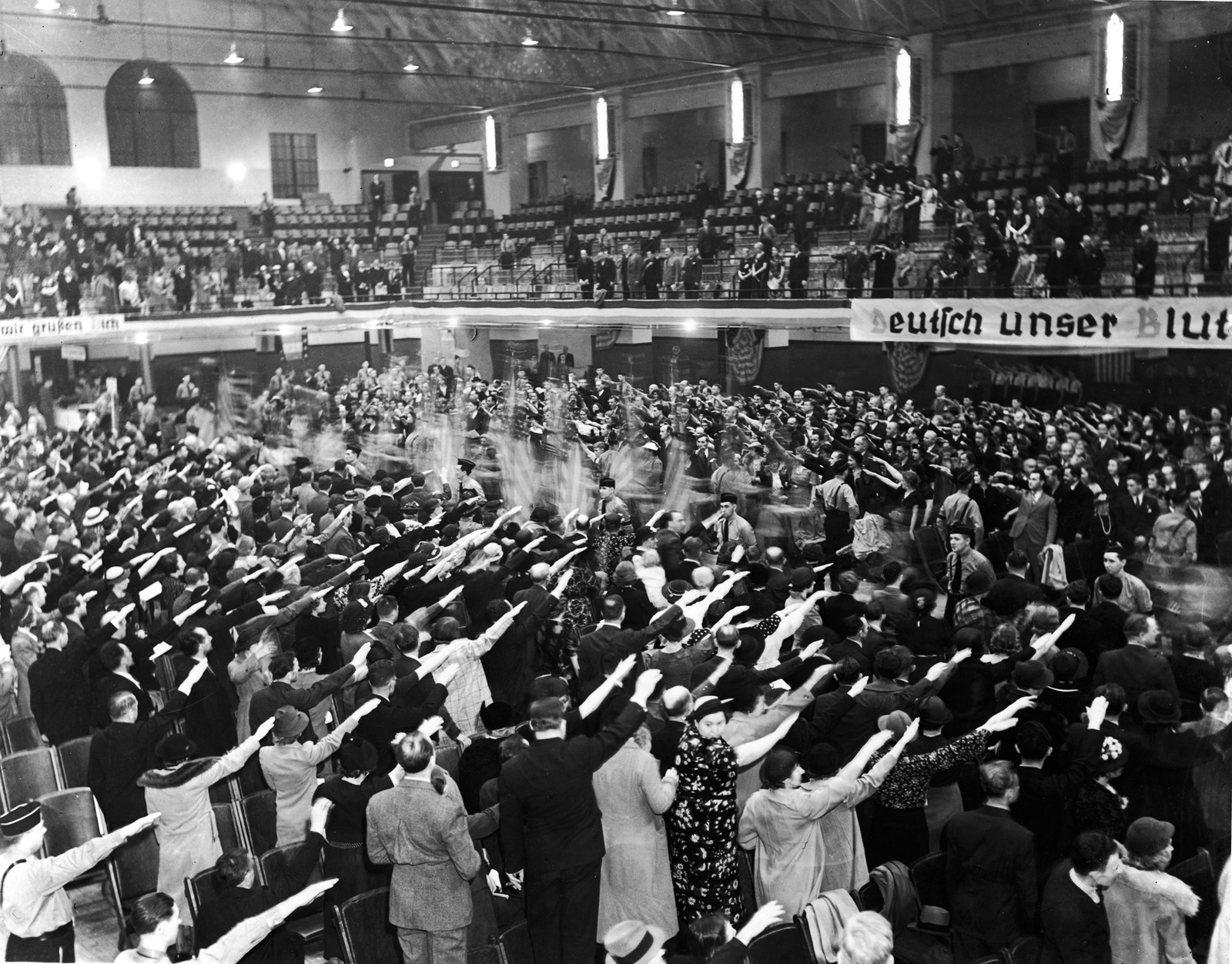 The audience gives a Nazi salute as flags are paraded down the center aisle of a Nazi rally in White Plains, New York, on April 24, 1938.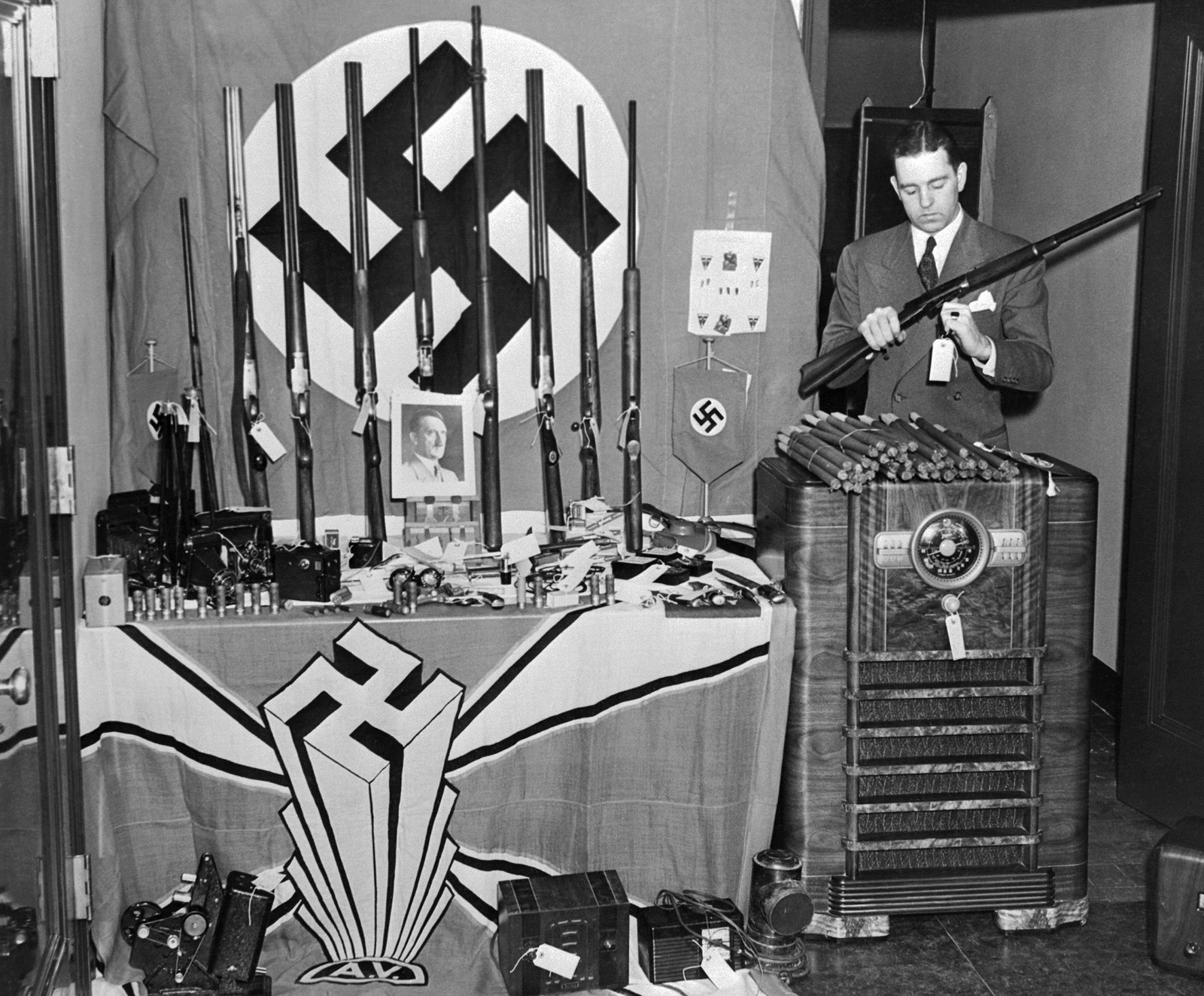 An FBI agent inspects weapons seized from Nazis in upstate New York on Feb. 23, 1942.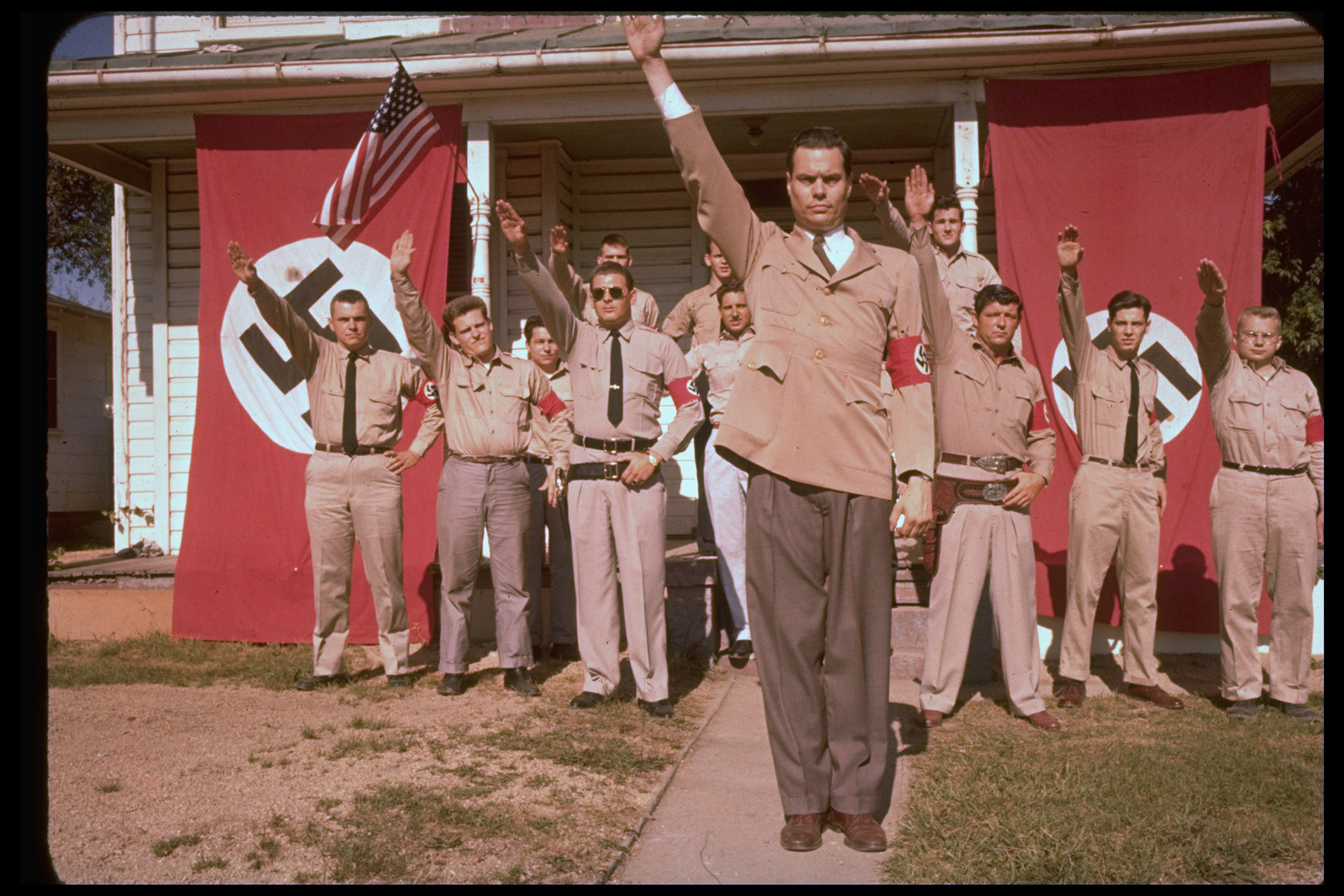 George Lincoln Rockwell, the self-styled head of the American Nazi Party, salutes with a group of his uniformed followers in 1960.

A member of the American Nazi Party wearing a mask depicting a Jewish stereotype performs for the amusement of other members in 1960.

A young boy (left), helped by an adult, holds up a swastika sign as part of a counterdemonstration to a civil rights march in Cicero, Illinois, in 1966. American Nazi leader Lincoln Rockwell (right image, standing to the left on the podium) looks on as Fred Tate, an American student, speaks at a rally in 1960.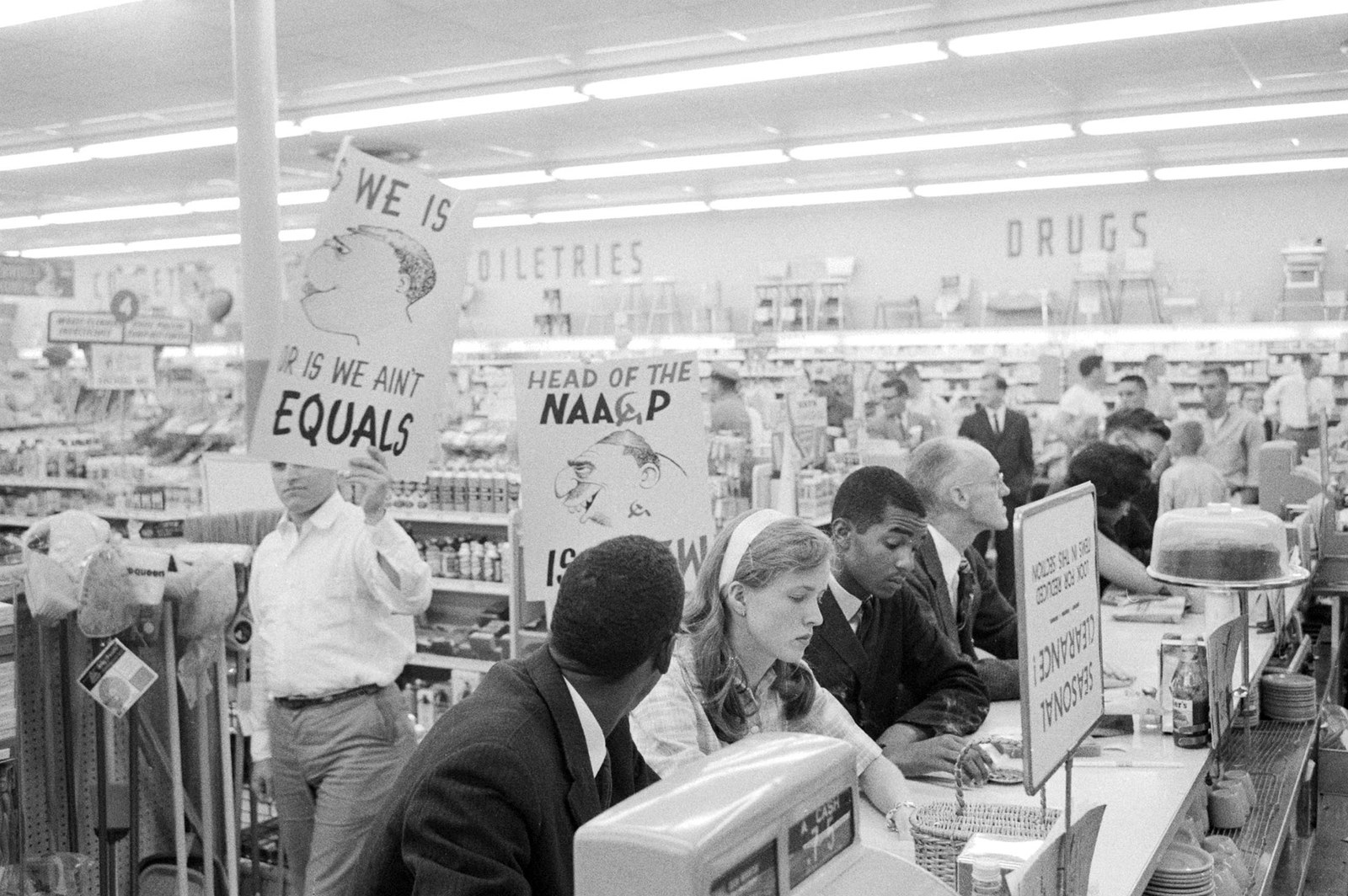 Demonstrators stage a sit-in at a drug-store lunch counter in Arlington, Virginia, while being picketed by American Nazi Party members on June 9, 1960.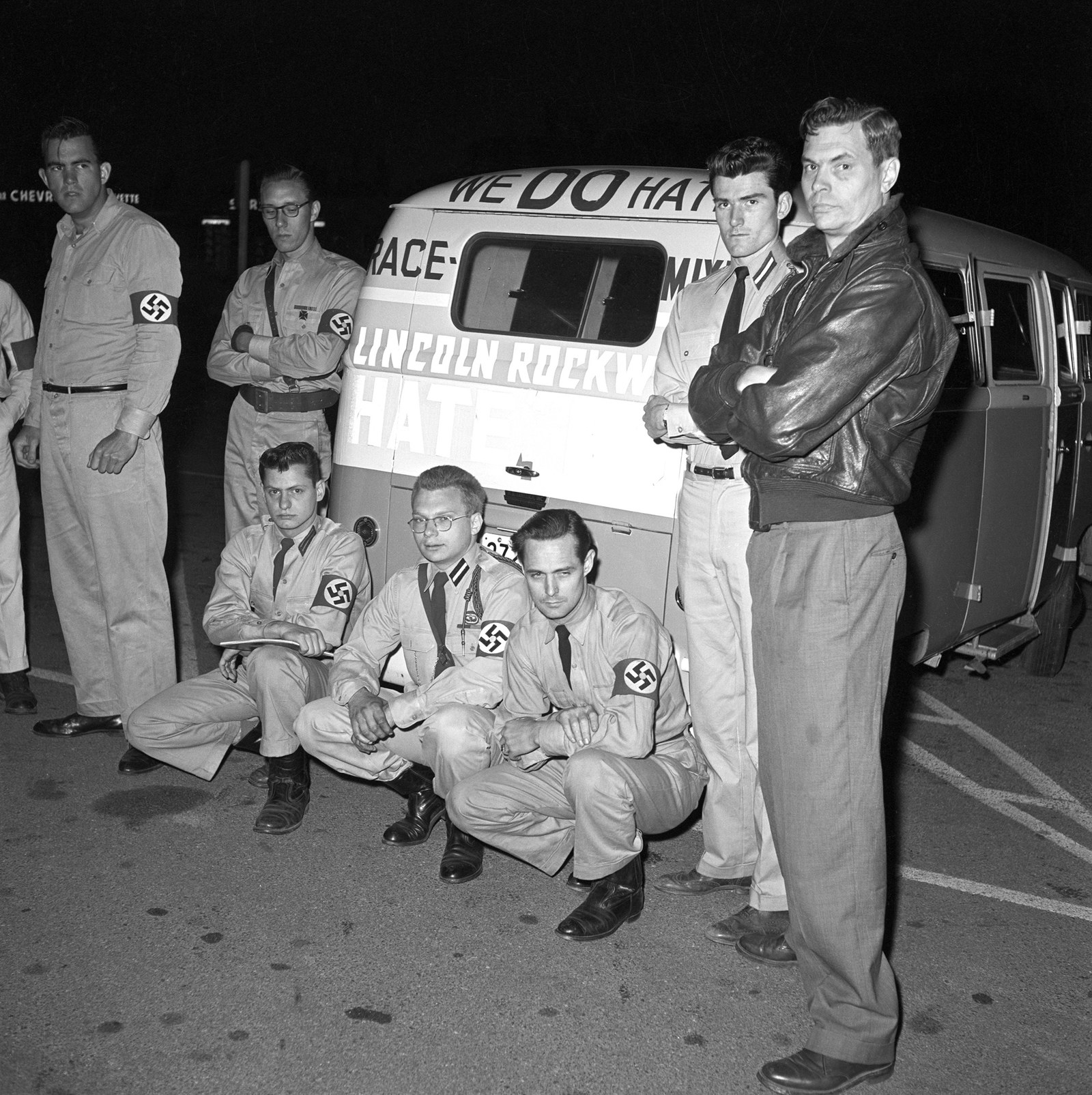 Lincoln Rockwell and followers of the American Nazi Party pose next to the "Hate Bus," a Volkswagen they used to drive around the country spreading their message, on May 23, 1961.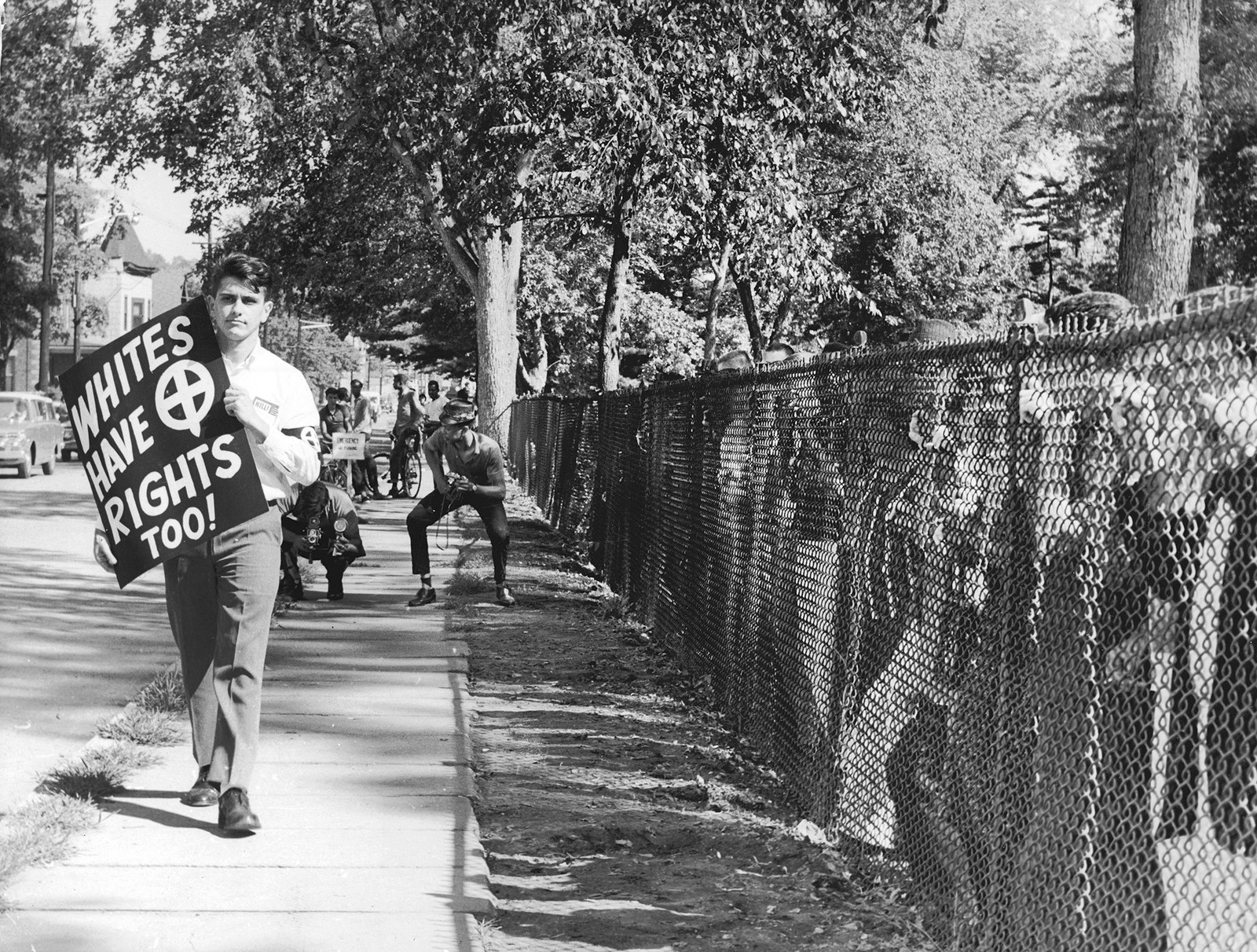 Neo-Nazi John Patler marches on his own to protest the desegregation of schools as a crowd of people watches in Englewood, New Jersey, on Aug. 20, 1962. Patler was arrested and jailed in 1967 for the assassination of Lincoln Rockwell.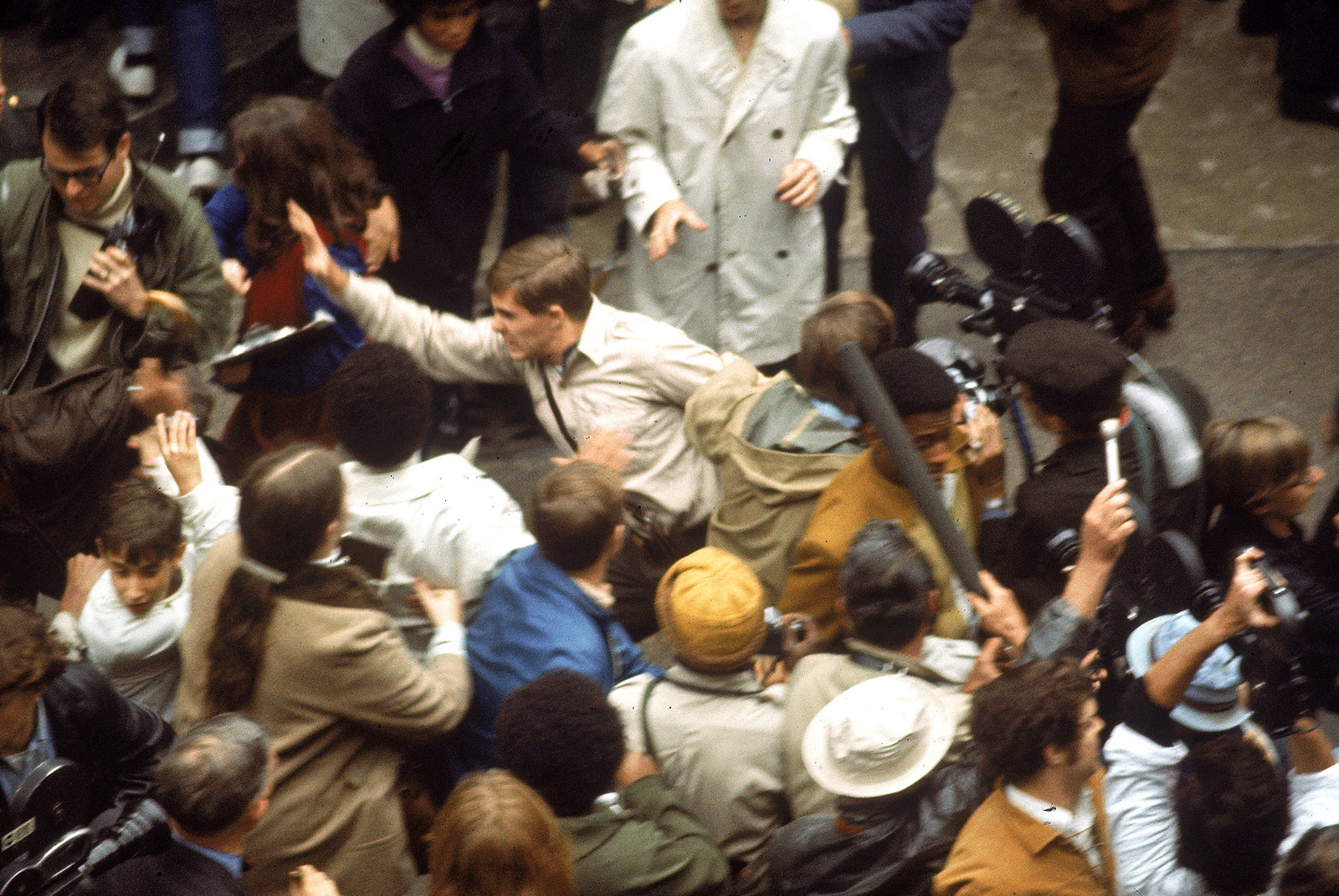 Neo-Nazis brawl with counterprotesters on Sept. 1, 1969.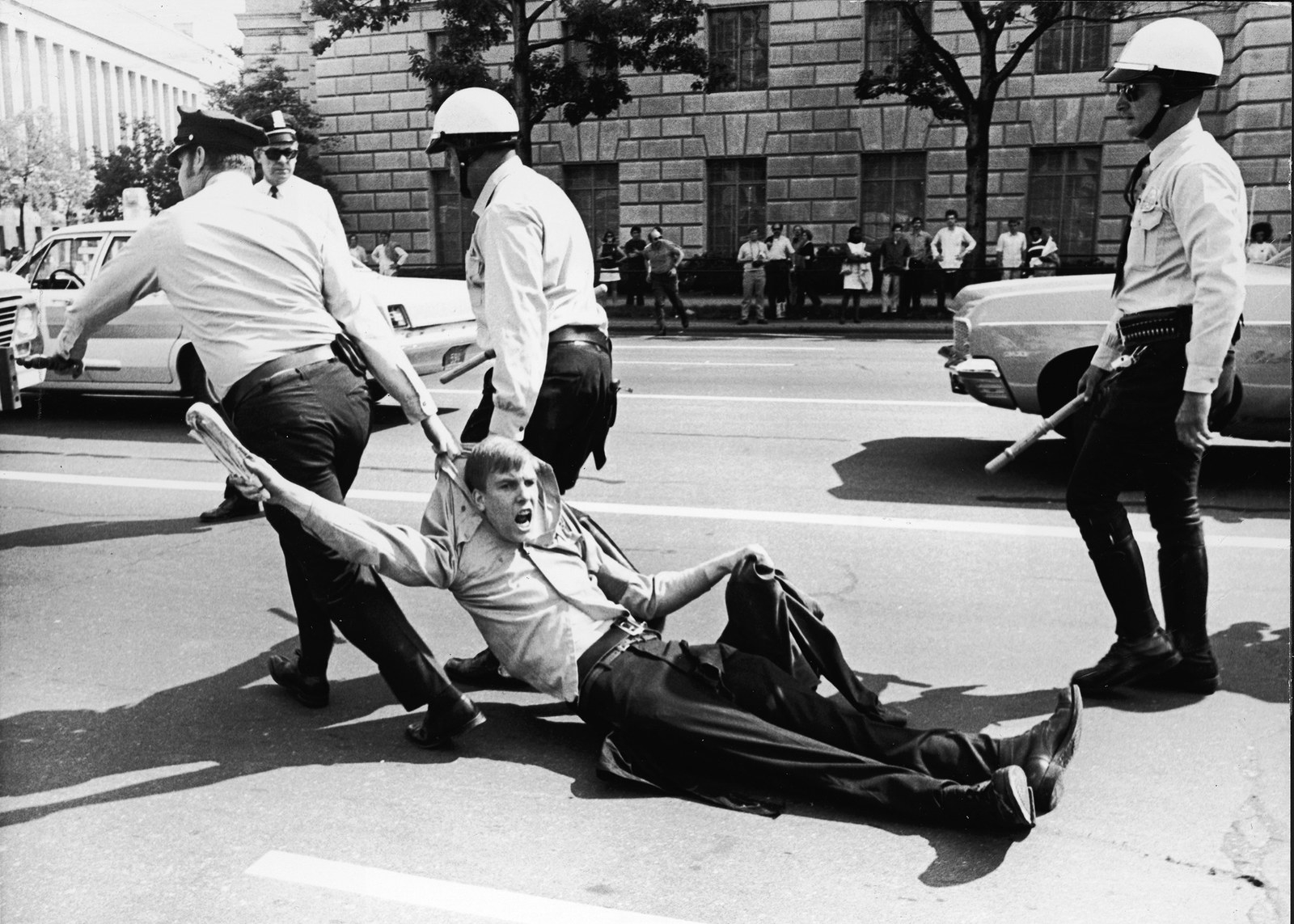 Police officers in riot gear drag a young man away after a scuffle between anti-war protesters and neo-Nazis in Washington, DC, on May 9, 1970.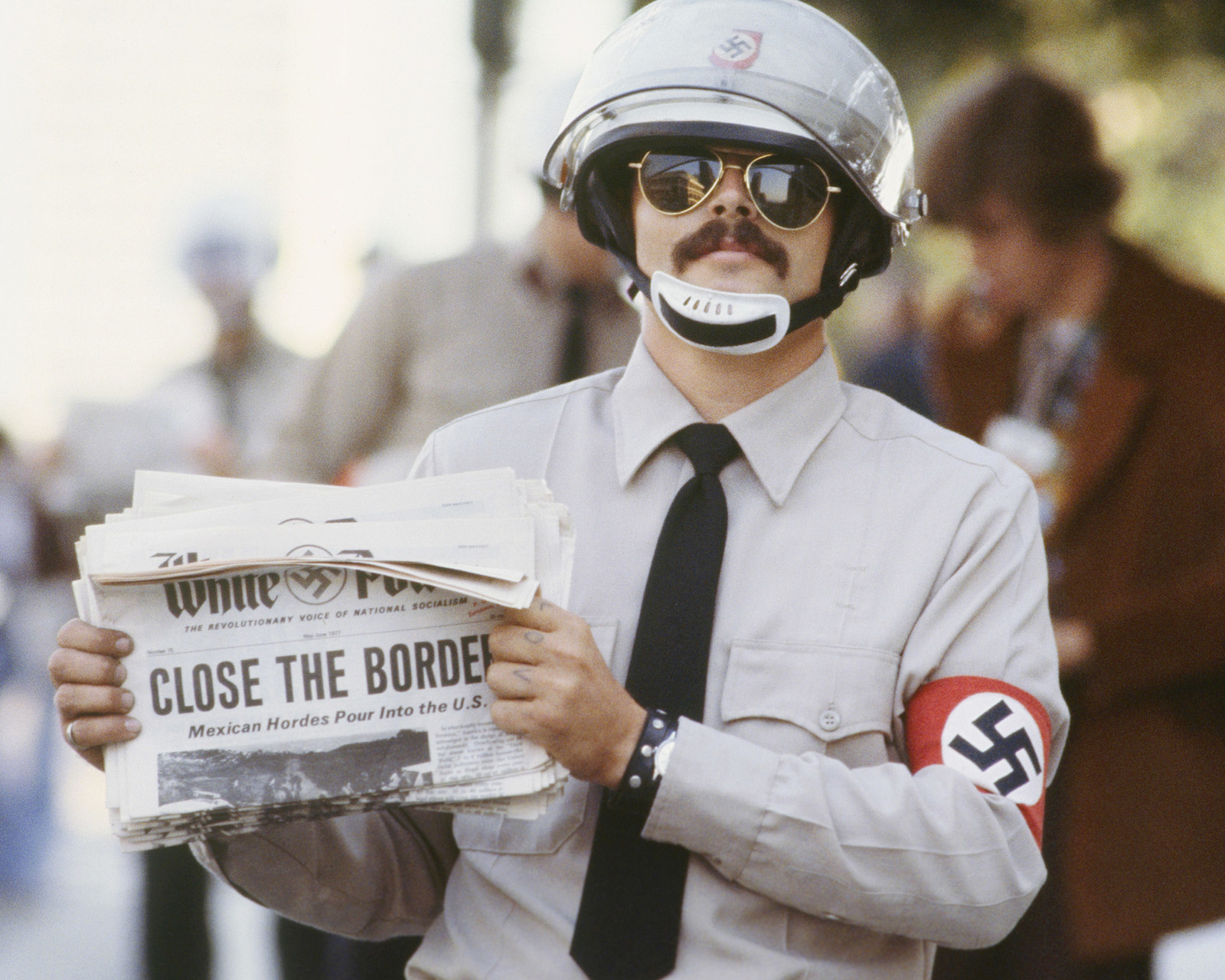 A neo-Nazi displays a white supremacist newspaper at a demonstration against President Jimmy Carter on Oct. 25, 1977.
A pistol-carrying comrade kneels beside a slain member of the Communists Workers Party moments after a shootout between the CWP and members of the Nazi and Ku Klux Klan on Nov. 4, 1979. Five people were killed at the rally.

Members of the KKK and Nazis hold a rally in Chicago's Marquette Park in September 1988.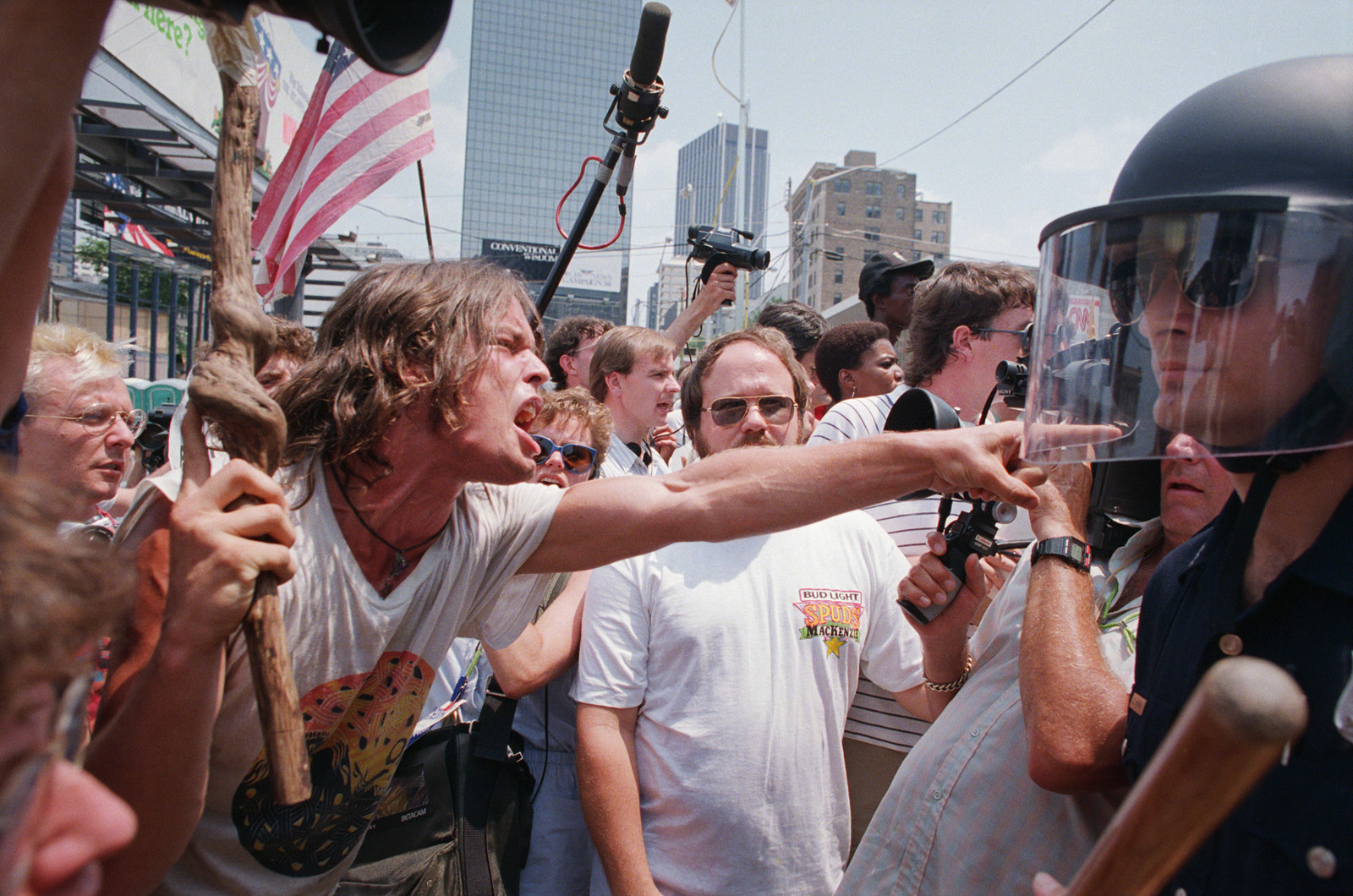 Demonstrators are held back by riot police during a protest against the KKK and neo-Nazi groups at the 1988 Democratic National Convention.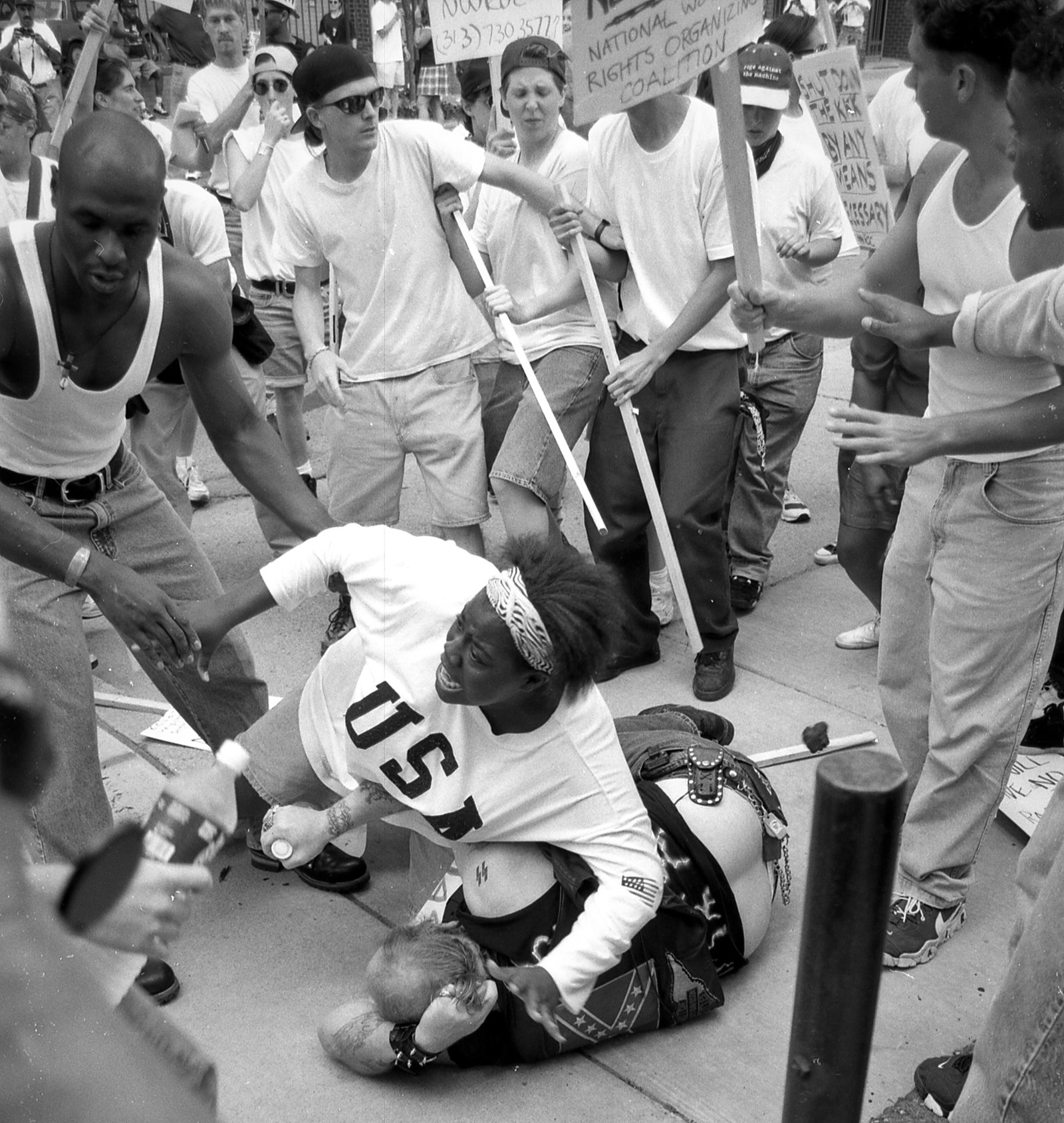 A young counterprotester steps in to protect a Nazi from an angry mob in Ann Arbor, Michigan, on June 22, 1996.

Neo-Nazi protesters organized by the National Socialist Movement demonstrate near the site of the grand opening ceremonies of the Illinois Holocaust Museum and Education Center in Skokie, Illinois, on April 19, 2009.

Chanting "White lives matter!" and "Jews will not replace us!" several hundred white nationalists and white supremacists carrying torches marched in a parade through the University of Virginia campus in Charlottesville on Aug. 11, 2017.