April Valentine always kept a vision board, and for the first month of 2023, she had three goals: get married, have a daughter, and have a healthy pregnancy. She was pregnant with her first child and absolutely couldn't wait to be a mother. Although she thought she might be having a boy, she was overcome with joy when she learned she was having a daughter.
"When we were little, it was like that thing of, who is gonna have a baby first? Who is going to get married first? She was so excited because she always wanted to be a mom," Mykesha Mack, Valentine's closest cousin, said.
Valentine, 31, was often described as a pillar in her community in Los Angeles; she kept in contact with everyone, Mack said. "April was that person that was gonna show up for you, you know? She was loyal almost to a fault."
Two days before giving birth, Valentine wrote on her vision board that she wanted to have a safe delivery.
On Jan. 9, Valentine entered Centinela Hospital in Inglewood, California, to give birth, but tragedy stuck. She complained of intense pain for hours, but her family said her pleas were ignored. On Jan. 10, Valentine died without ever getting to meet her daughter, Aniya Heaven Robertson. (Valentine's family has set up a GoFundMe for Aniya.)
"It's just been a lot for me," Mack said. "It's because she was robbed of something that she affirmed."
Centinela Hospital declined to comment on the case, citing privacy laws. "Despite the highest standards of care, there are certain medically complex and emergent situations that cannot be overcome," a hospital spokesperson said in a statement. "We express our sincere condolences to the family during this deeply sad and difficult time."
Unfortunately, stories such as Valentine's aren't as uncommon as they should be. Pregnancy can be a beautiful but also nerve-wracking journey — and one that comes with risks. For Black people, the chance of complications or problems during pregnancy is elevated.
The US has the highest maternal mortality rate of all high-income countries, with 23.8 deaths per 100,000 live births. That rate jumps to 55.3 per 100,000 for Black women and an astounding 263 per 100,000 births for non-Hispanic Black women 40 or over. (In comparison, the rate in white women 40 or over is 96.8 per 100,000 births and in Hispanic women 40 or over is 86 per 100,000 births.)
Black women are three times more likely to die from a pregnancy-related cause than white women are. Overall, about 861 people died before, during, or after childbirth in 2020, according to the CDC, and more than 80% of all pregnancy-related deaths in the US are preventable.
One common factor seems to be that medical staff either ignore or simply do not believe the pregnant person's pain or other symptoms are real — and this type of medical mistreatment could happen to anyone. In one of the most publicized examples, tennis icon Serena Williams told Vogue that she experienced a life-threatening health scare when her symptoms were repeatedly ignored after she gave birth. (People who are Black are at higher risk of hypertension and preeclampsia in pregnancy too.)
In response to the high mortality rate among pregnant Black people, many organizations and resources have been launched to offer the services of Black doulas who can specifically help people have a safer birth experience.
A doula is a hired professional who provides both physical and emotional support to the pregnant person and their family. They can help not only during pregnancy but childbirth and postpartum as well. Doulas first became popular in the 1980s, when cesarean sections and other interventions were on the rise.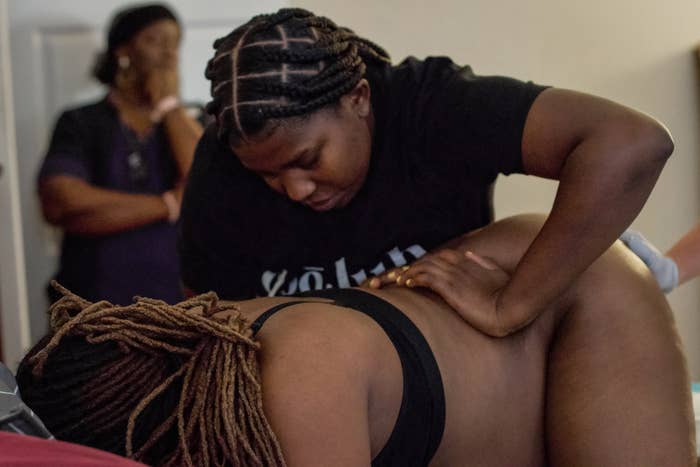 Doulas aren't midwives, who actually deliver the baby; instead, a doula can help with a variety of tasks, such as advocating for the pregnant person and their baby, helping people stay calm throughout the pregnancy, making sure that healthcare providers stick to the original birthing plan, and in general ensuring that patients are as safe and comfortable as possible at all times.
While doulas may assist during the birth or the postpartum period, in many cases you can find someone who can operate in both capacities.
"I am there as a calming presence. I am there as a reassuring presence. I am there as their guiding light, their nurse star, someone they know that they can look to who has their best interest in heart," said Ebony Harvey, a Los Angeles–based registered nurse and doula. "As a doula, I do not work or serve the hospital in their agenda."
In 2022, Harvey partnered with Gerber, the baby food manufacturer, and Un-ruly, a site that celebrates the beauty of Black hair and women, to create a new platform called Overdue to support pregnant people.
The site offers a variety of videos and resources to help pregnant Black people know what to expect during childbirth and learn about the options available to them.
"Even if they cannot afford a doula, it gets them started on the right path because it gives them information, it gives them education, and it's also a great resource." (Pricing varies by city, but the cost of hiring a doula in larger cities is closer to $2,000 and in smaller cities, closer to $500.)
Other organizations, such as the National Black Doulas Association, the Black Doula Project, and the Alliance of Black Doulas for Black Mamas, also provide resources, information, and sometimes financial grants and support to help people cover the cost of a doula.
CEO Tracie Collins founded the NBDA in 2017 to raise awareness about Black maternal mortality rates.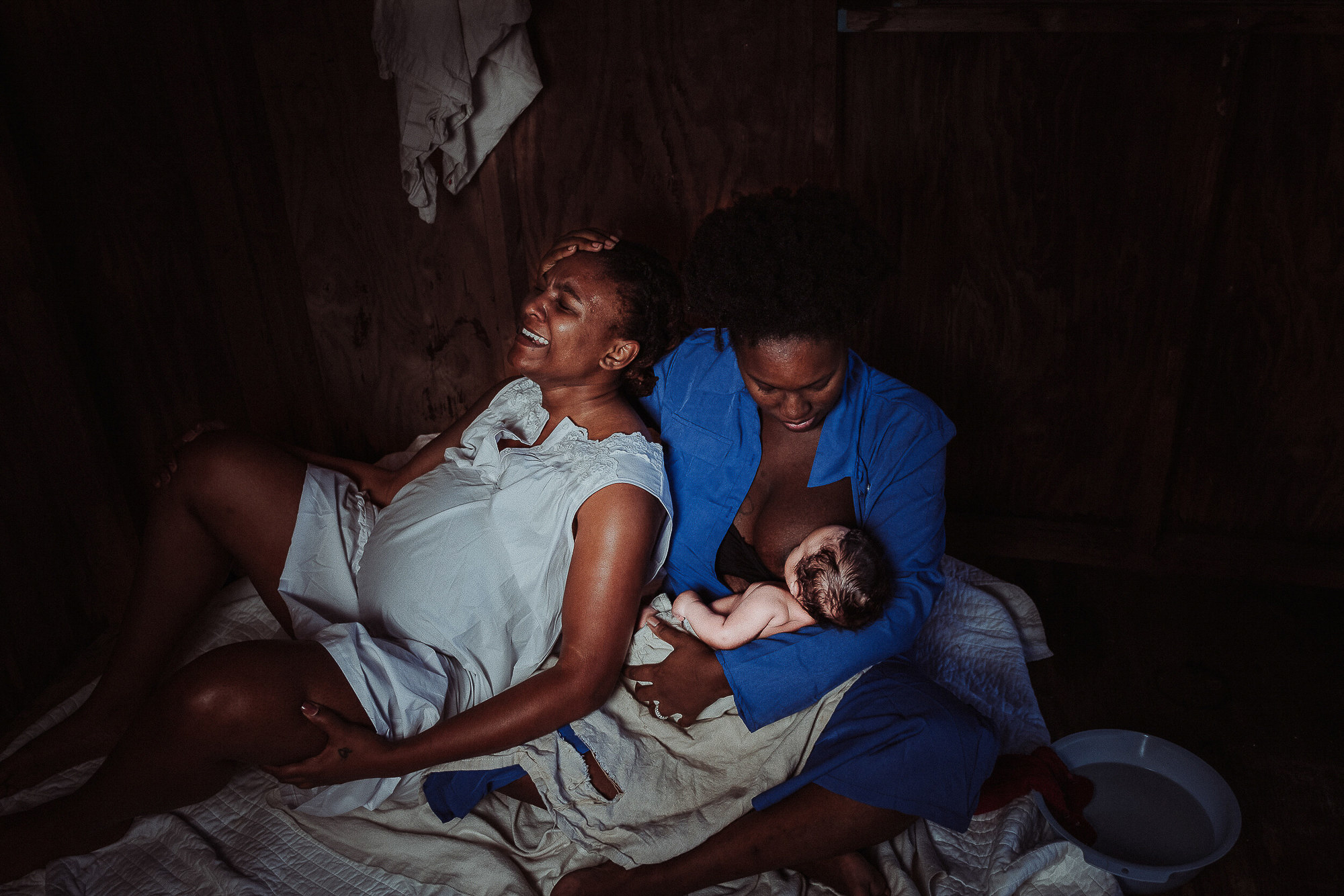 "After 17 years of being a birth professional, there was more data about Black maternal death rates and the health disparities in this country," Collins told BuzzFeed News. "I needed to do something about it. So I began creating a collective database and resource where Black birthing professionals can be found."
With more than 100 people serving across the US and Canada, the organization's training program ranges from educating individuals to medical practices in a variety of specialties. It offers training in reiki healing, massage therapy, and licensed midwifery, as well as doula services. The NBDA training curriculum highlights caring for people with diverse experiences, including those in the LGBTQ+ community.
"One of our instructors has been a sex educator for 29 years," Collins said. "She's also a birthing professional and she is a member of the community herself. She is the one who I always call in to teach the components of the LGBTQIA community birthing, family structure, and chosen family versus birth family."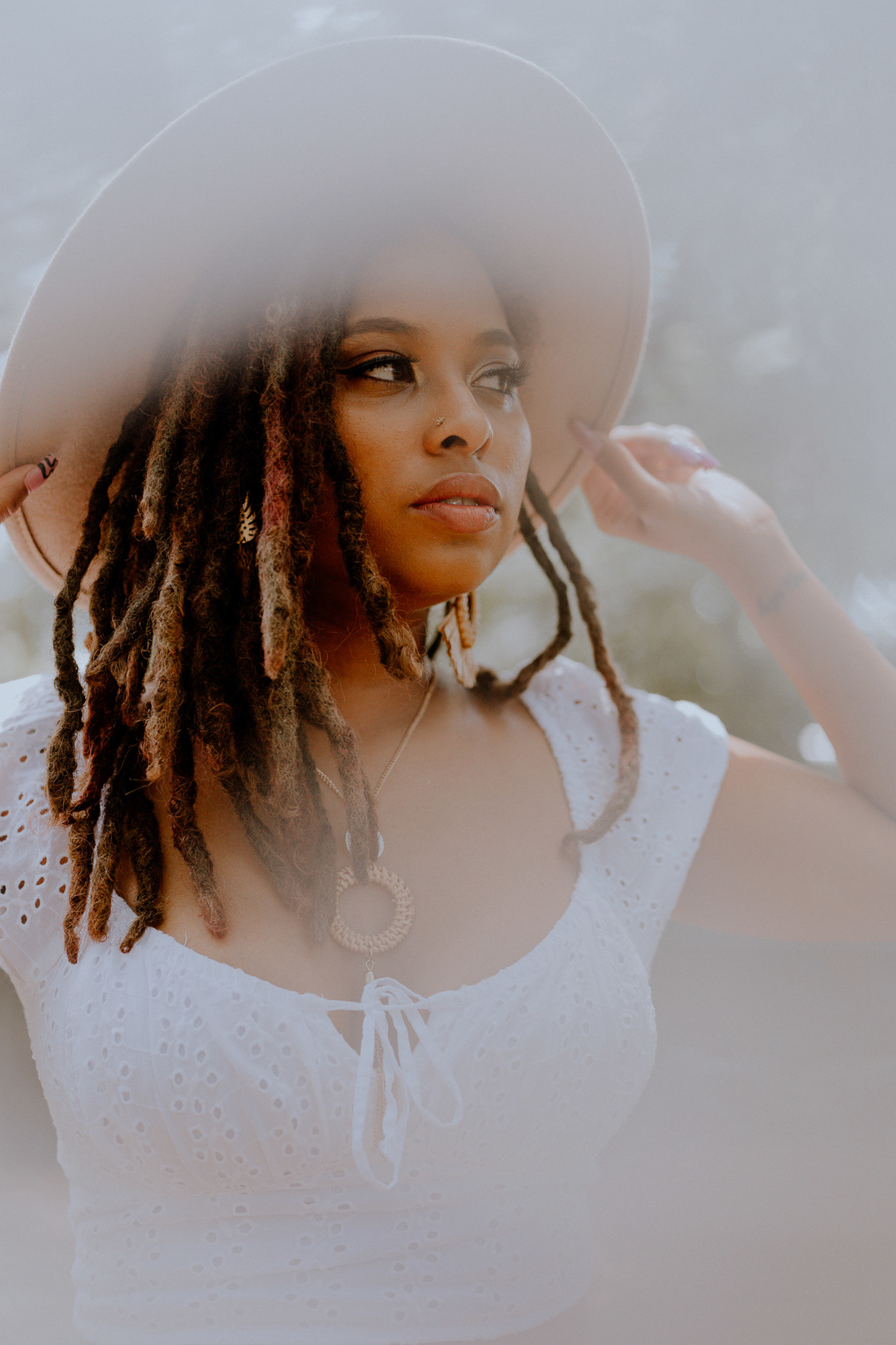 Other people who work in birthing spaces, such as Tampa-based photographer Chinelle Rojas, are also trying to change the stigma and fear that surrounds pregnancy for Black people. "I find it so important to visually document our births through photography and films, especially those outside of the hospital setting, because it shows us that we do this too," Rojas told BuzzFeed News.
As a birth photographer, Rojas is in the room throughout the entire labor and delivery process, whether that's in a hospital, at home, or in another setting.
"In using my skills, Black families are about to document their journey and tell their story the way they choose," she said. "It's also helped them own their narrative and inspire other people to know you don't have to give birth in the traditional hospital."
Rojas worked with one woman, Roxanne, who chose to have her second baby at home due to the emotional trauma of her first childbirth experience at a hospital.
During that pregnancy, Roxanne went into premature labor. Instead of receiving rapid medical treatment, she experienced racial bias. "The people at the hospital confirmed that yes, she was in premature labor. But then they told her, 'We're going to drug test you,'" Rojas said. It wasn't until Roxanne disclosed that she was a nurse that she began to receive adequate treatment.
While she works in this field, Rojas has had her own negative experience while giving birth. During her third pregnancy, the doctor rushed the third stage of labor, the delivery of the placenta. "After that, I began to have intense stomach pains. It wasn't until later that I learned I was having a postpartum hemorrhage that I was unaware of that whole time," she said.
Even though she worked in the birth space and had witnessed many people who had the assistance of doulas, Rojas had never hired one herself. "Hospital births was all I knew. Even though I was a birth photographer, I had still not experienced a home birth or out-of-hospital birth. I just wasn't aware of the benefits of it." use they don't know where to start. If you're interested in hiring a doula, here are three things you need to consider:
Pricing: The NBDA, the Black Doula Project, and the Alliance of Black Doulas for Black Mamas are just some of the groups that offer resources and grants for those who can't afford the full cost of hiring a doula.
Location: While there are various organizations that only serve one state, those such as the NBDA have national directories that provide doulas from across the US and in Canada as well. "We are literally the one-stop shop. We are the top resource for Black and BIPOC birthing professionals," Collins said. "We have members throughout the country, Mexico, and also Africa."
Choosing a team that supports YOU! "It's vital to pick an effective birth team," Collins said. "Choose birthing professionals that are supportive in hearing your voice and addressing what your needs are. You have the voice, you are in charge."
"There is joy in Black birth," Harvey said. "Unfortunately, we see a lot of the negativity in the media, and while I appreciate the media showing these things because we do need to know what's happening, I also want there to be the focus on the joy as well." ●