Woman Stabbed To Death While Working At Swedish Asylum Center
A 15-year-old boy has been arrested following the killing of a 22-year-old woman at a center for teenage asylum-seekers in Mölndal, near Gothenburg.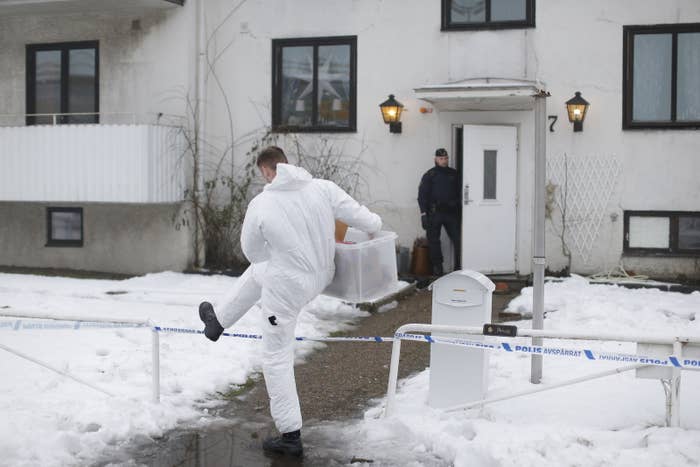 A 22-year-old woman was stabbed to death while working at a center for teenage asylum-seekers in Mölndal, near Gothenburg, western Sweden, late on Monday.
Police have arrested a 15-year-old boy who was staying at the center, the BBC reported.
"It was messy, a crime scene with a lot of blood," police spokesman Thomas Fuxborg said, according to Sveriges Radio. "The perpetrator had been overpowered by other residents; people were down and upset."
The victim died from her wounds in hospital, according to multiple reports. A knife apparently used by the attacker was recovered from the scene.
The country's Prime Minister Stefan Lofven visited the center hours after the killing and described it as "a tragedy."
Authorities have not publicly identified the victim, but local newspaper Göteborgs-Tidningen and the national Expressen have named her as Alexandra Mezher, a 22-year-old whose family are originally from Lebanon, after interviewing some of her cousins.

One cousin is anonymously quoted as saying, "It's a big shock, it's so sad," while another said Mezher's parents thought of her as "an angel" who only wanted to help people, Göteborgs-Tidningen reported.

The killing will increase the pressure on Swedish authorities to do more to counter problems some Swedes have blamed on the increased number of refugees, migrants, and asylum-seekers, who have entered the country at the rate of almost 10,000 a week over the last year.
Sweden, along with Germany, had been one of the EU nations most willing to take in people fleeing conflict and oppression in countries such as Syria and Afghanistan during the migration crisis that faced Europe through 2015. But in November, the government announced it was abandoning its policy of offering permanent residence to refugees and would instead revert to issuing temporary residence permits.
Prime Minister Lofven said Tuesday, "I believe that there are many people in Sweden who feel a lot of concern that there can be more cases of this kind, when Sweden receives so many children and youth, who come alone [when seeking asylum]," Sveriges Radio reported.

There were also fears of backlash against immigrants and refugees from far-right groups last week after it was reported that a Syrian boy was responsible for the fatal stabbing of a 15-year-old fellow school student.
Earlier this month, authorities also launched an investigation into claims police had covered up a number of sexual assaults committed by young migrants and refugees at a music festival in Stockholm, the Washington Post reported.

"Of course we have more to do, among others with these kinds of problems," police spokesman Fuxborg told the TT news agency in comments reported by Sveriges Radio.
"You could say that since this autumn, we have been called out several times per week to different kinds of arguments at different types of accommodation (for asylum-seekers) that we did not have before, so it has given us a lot of work."

The country's national police commissioner, Dan Eliasson, has requested 4,100 additional police officers and support staff to help fight terrorism, assist with deportations, and police asylum facilities, according to TT.