This Baby Survived Under Rubble For 22 Hours After Nepal's Earthquake
Five-month-old Sonies Aawal was pulled from the wreckage of his home in Muldhoka, Bhaktapur, nearly a full day after Saturday's earthquake. His mother said she was "certain he was dead."
Images of 5-month-old Sonies Aawal, who survived for 22 hours under the debris of his demolished home following the devastating earthquake in Nepal Saturday, spread quickly through social media after being published by Kathmandu Today.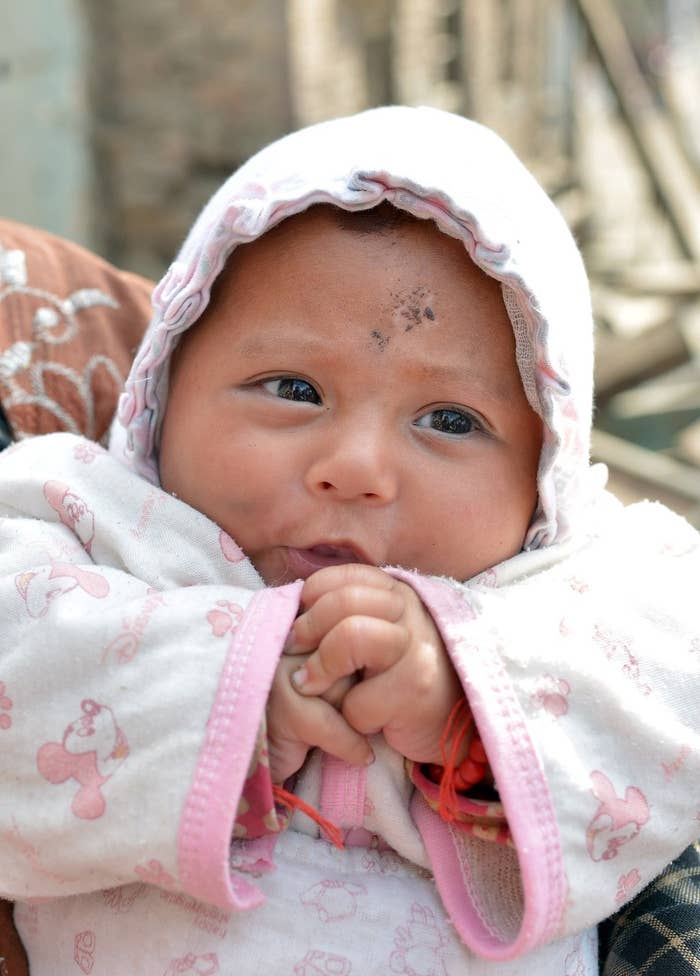 Now, new pictures taken by Daily Mirror photographer Rowan Griffiths in Muldhoka, Bhaktapur, show Sonies is still alive, well, and smiling.
He was pulled out from under the rubble by rescuers at around 10 a.m. local time Sunday. When he wasn't found the previous evening, his family had all but given up hope CNN reported, citing Kathmandu Today.
Despite being trapped under the debris for so long, Sonies was found to be uninjured after doctors examined him at Bhaktapur Hospital on Sunday.
Sonies' mother, Rasmila Aawal, 35 , and her husband, Shyam Aawal, 34, have spoken of their relief, saying they had been sure he hadn't survived the disaster.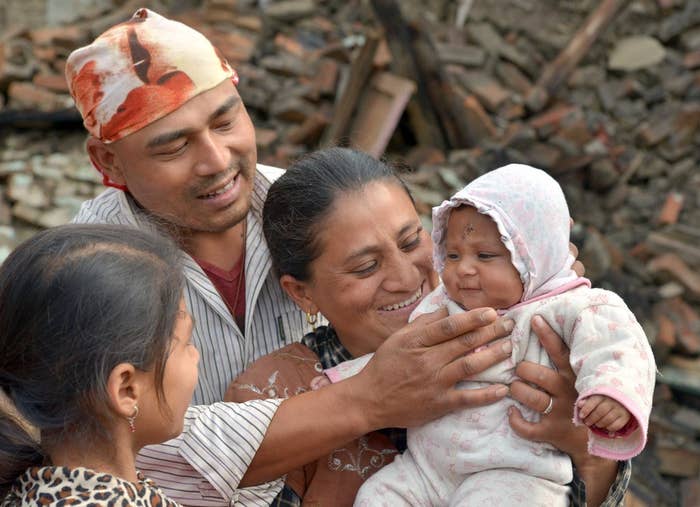 Describing the rescue as "a miracle," Rasmila told the Daily Mirror, "I am just so happy. I cannot believe it.
"I had gone shopping and left my 10 year old daughter Sonia with the baby. When the quake happened I burst into tears and ran home. I thought they were both dead."
Sonia was able to get out, but Sonies was trapped under their flattened home.
Truck driver Shyan, who had clawed at the rubble on Saturday in a desperate attempt to find the baby, said "I am the happiest man in the world. ... I prayed to every god I could and it looks like my prayers were answered."
The couple told the Mirror they were now living on the floor of a neighbor's home.
Sonies' isn't the only unlikely tale of survival from the Nepalese earthquake. On Wednesday, a man in Kathmandu was pulled from the rubble after 82 hours having drunk his own urine to survive, while a teenage boy was rescued on Thursday after being trapped beneath a collapsed building for five days.
The death toll of the earthquake currently stands at more than 5,500.