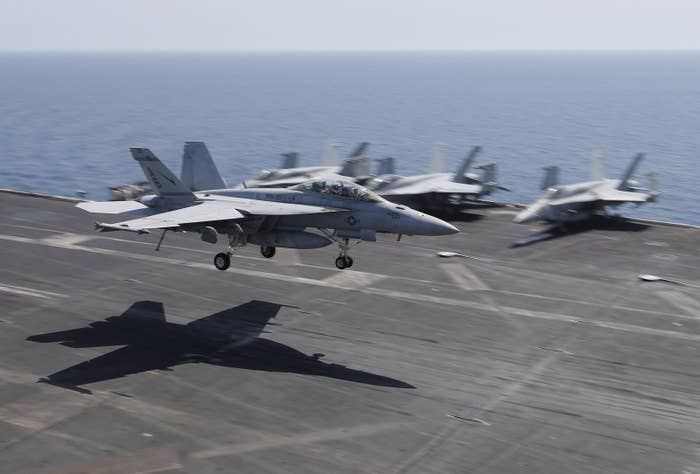 The prime minister of Libya's Tripoli-based government, one of three claiming authority in the country, praised the U.S. airstrikes on an ISIS training camp in the country but said future attacks should be coordinated with authorities on the ground.

Khalifa Mohamed al-Gwheil, prime minister and defense minister of Libya's National Salvation Government, told BuzzFeed News that his administration had no idea that the training camp was located in the western city of Sabratha and didn't have advance notice that it would be attacked by U.S. aircraft.

"We agree that today's air attack was in favor of fighting ISIS but what we require is more cooperation and coordination from the international community when deciding to take such an action," he said Friday in a phone interview from Malta, where he was visiting. "There should be some coordination between those on the ground and those making the strikes."

Ghweil said that according to the information he had, no civilians were killed in the U.S. attack and that killed around 40 suspected ISIS militants who were inside the facility.

After previous attacks, Libyan officials complained that the U.S. had violated the country's sovereignty. But it is a sign of how much Libya's security has deteriorated, Ghweil said he didn't consider the surprise attack a violation of Libya's national rights.
The Pentagon confirmed Friday that the airstrike was targeting an ISIS training camp near Sabratha, to the west of Tripoli, as well as Noureddine Chouchane, a.k.a. "Sabir," a Tunisian national who was an ISIS senior facilitator in Libya associated with the camp.

Chouchane was named as a suspect in the terrorist attack on the Bardo Museum in Tunis in May 2015 and a deadly attack on the seaside resort of Sousse in June 2015. He facilitated the movement of potential ISIS-affiliated foreign fighters from Tunisia to Libya and other countries, the Pentagon said in a statement.
Intelligence officials said they were trying to determine whether or not Chouchane had been killed in the attack — which is believed to have killed mostly Tunisian militants, the Times reported.
"Destruction of the camp and Chouchane's removal will eliminate an experienced facilitator and is expected to have an immediate impact on ISIL's ability to facilitate its activities in Libya, including recruiting new ISIL members, establishing bases in Libya, and potentially planning external attacks on U.S. interests in the region," the Pentagon, which is still assessing the results of the operation, said.

In contrast to its stronghold in Sirte, ISIS has maintained a discrete presence in Sabratha, concentrating on training Tunisians for terrorist operations in both Libya and Tunisia. Harleen Gambhir, a specialist on ISIS and Libya at the Institute for the Study of War, said ISIS has expanded areas where it operates in the country even as it controls only limited spaces, primarily the city of Sirte. She doubted whether such airstrikes would be enough to stifle ISIS's gains in Libya without a concerted military strategy.

"In the short term such strikes are helpful," she said. "You want to target this kind of site. But in the long term, when you're looking at ISIS in Libya you're looking at an organization that is getting bigger and training people and looking more and more like ISIS in Syria and Iraq. The idea you can contain that organization and eliminate its ability to attack neighboring states simply by launching attacks on various leaders is something I think that's unlikely."
American and British reconnaissance missions have been reportedly increasing in recent months, as they seek to identify the locations of ISIS leaders in Libya, where the militant group has been taking advantage of the instability in the country and gaining territory.
In recent weeks, Western powers have been weighing up increased intervention in Libya to deal with the growing ISIS presence there.