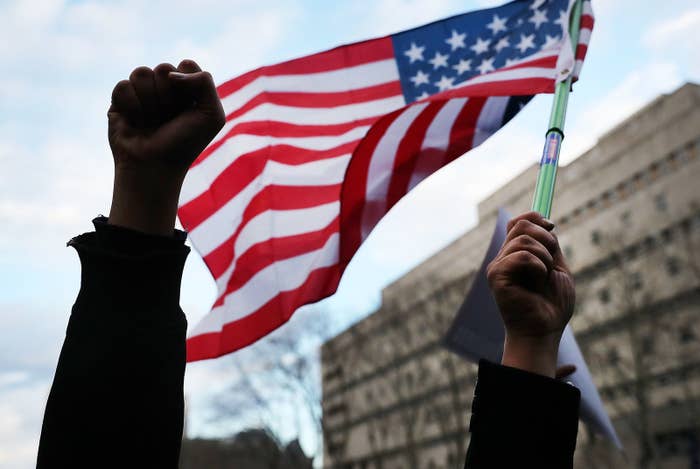 Ten former senior US national security and state officials, including people who served under both Republican and Democratic presidents, filed an an affidavit to a federal appeals court in the early hours of Monday morning saying that President Donald Trump's travel and refugee ban would make America less safe.

Former Secretaries of State Madeleine Albright and John Kerry and former CIA Director Michael Hayden — as well as Avril Haines, John McLaughlin, Lisa Monaco, Michael Morrell, Janet Napolitano, Leon Panetta, and Susan Rice — signed a declaration in support of Washington and Minnesota's case against the president's executive order, which Trump signed Jan. 27.

In the filing, they said they were "unaware of any specific threat that would justify the travel ban" — which bars people from seven predominantly Muslim countries from entering the US. "In our professional opinion," they said, "this Order cannot be justified on national security or foreign policy grounds."

They slammed the executive order as "ill-conceived, poorly implemented and
ill-explained," and said there was little evidence that it had undergone the "thorough interagency legal and policy processes designed to address current terrorist threats." The declaration said the ban would in fact miss its intended target of potential terrorists.

The ban would harm US interests, the former officials argue, by endangering troops and intelligence sources in the field, and would disrupt counterterrorism and security partnerships. It also would "feed the recruitment narrative" of ISIS, and "alienate" Muslim American communities, according to the declaration. "And apart from all of these concerns, the Order offends our nation's laws and values."
The brief is part of Washington's response to the Trump administration's motion for stay in the 9th US Circuit Court of Appeals in San Francisco, which had denied the White House's request on Saturday to set aside a Seattle judge's ruling to put a hold to the ban, but sought briefs from both the federal government and Washington state.