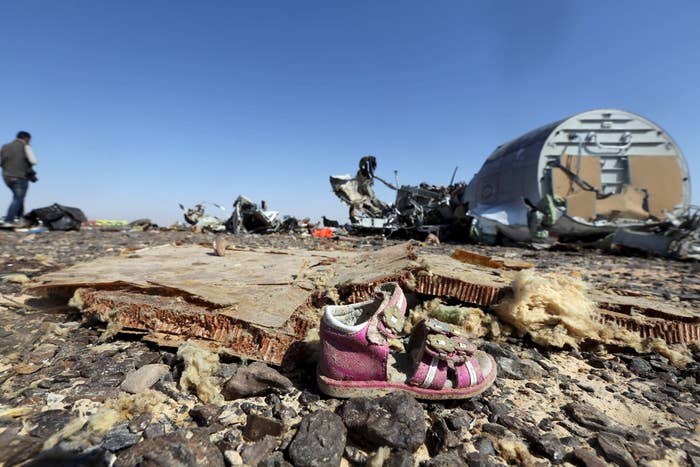 Moscow's security chief said Tuesday that traces of explosives had been found in the Russian Metrojet plane which crashed over Egypt's Sinai peninsula last month, killing all 224 people on board.
Alexander Bortnikov, the head of Russia's Federal Security Service (FSB), said the jet was blown up by homemade explosive device, which was equivalent to one kilogram of TNT, Russia's TASS Agency reported.
Bortnikov said the device "caused the plane to break up in the air, which explains why the fuselage was scattered over such a large territory. I can certainly say that this was a terrorist act," AP reported.
Meanwhile, Egyptian authorities said on Tuesday they arrested two Sharm El-Sheikh airport employees on suspicion of helping to plant the bomb, according to two anonymous security officials cited by Reuters.
"Seventeen people are being held, two of them are suspected of helping whoever planted the bomb on the plane at Sharm El-Sheikh airport," one official said.
Egyptian Interior Minister Magdy Abdel-Ghafar. however, denied Reuters' report. Four employees of Sharm El-Sheikh were under investigation, a source in Egypt's military intelligence, who requested anonymity as he is not cleared to speak with the press, told BuzzFeed News. Two were allowed to return home following hours of questioning, while the other two are still being actively investigated, he continued, adding that these are regular procedures.
Egyptian Prime Minister Sherif Ismail stressed during a cabinet meeting held on Tuesday that there is continuous communication with Moscow to combat terrorism, adding that Egyptian authorities will take into consideration the results of the Russian investigations.
Egyptian Minister of Aviation Houssam Kamel meanwhile said that the investigative committee — which is comprised of representatives from several countries — is still drawing its own conclusions, which it will announce as soon as possible.
The FSB said in a statement Tuesday, that they would be offering a $50 million reward for information about the perpertrators, according to TASS Agency.
President Vladimir Putin has ordered Russian security personnel to focus their efforts on searching for those who brought down the plane.
"We will look for them wherever they may be hiding. We find them anywhere in the world, and punish them," Putin said in a statement published on the Kremlin's website.
"We are not going to wipe the tears from our hearts and souls. It will remain with us forever. But that does not prevent us to find and punish the perpetrators," he said.
Maged Atef contributed to the reporting of this story.