Sweden Sword Attack Was "Racially Motivated," Police Say
A teacher and student were killed after a masked, sword-wielding assailant stormed a school in Trollhättan Thursday.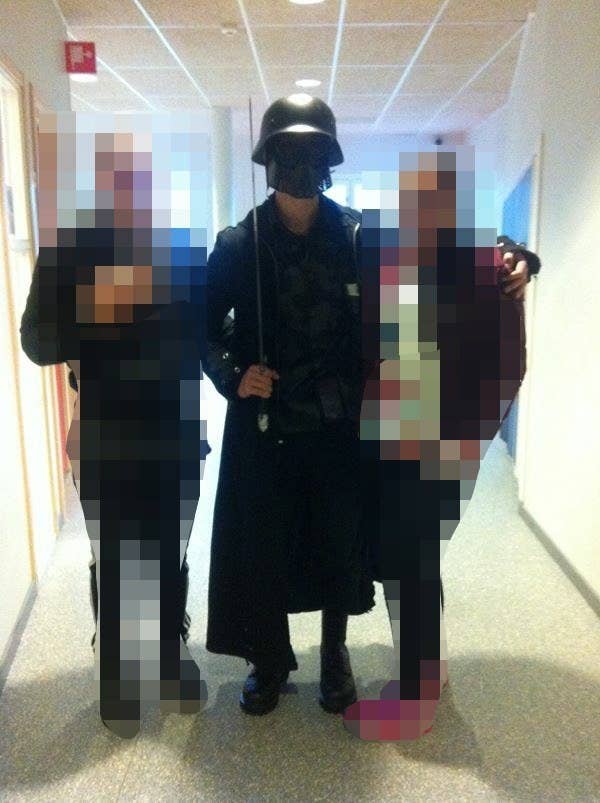 A masked, knife-wielding attacker who killed a teacher and a student at a school in Trollhättan, Sweden before being shot dead by police Thursday had "racist motives," police said Friday.
"We can confirm that this was a racially motivated hate crime partially because the man chose his victims based on the colour of their skin," police chief Niclas Hallgren told Sveriges Radio.
It had previously been reported that the attacker had far-right sympathies, and that his helmet resembled those worn by German soldiers in World War II. However, police said that he was not linked to any extremist organizations.
The attack took place at the Kronan School in the industrial town — which is located 75km to the north of Gothenburg.
Students initially thought the masked intruder was part of a Halloween prank, according to reports.
In a statement, health authorities in Trollhättan said a teacher had died after being wounded by the attacker, AP reported.
Later on Thursday afternoon, police confirmed a second victim, a male student, had died of his wounds, according to TT.
Another teacher and another male student were also among the injured, police spokesman Thomas Fuxborg said in a press conference. The two students were aged 11 and 15. Officials did not say which student is the one who was killed.
Police spokesman Stefan Gustavsson told AP the assailant was armed with at least one large knife, and one of his weapons appears to have been a sword.
A 14-year-old student thought the man was wearing the mask as something to do with Halloween.
"One of my friends walked over to him to challenge him, but when we saw he stabbed him [the teacher], we ran away," student Laith Alazze told Sweden's TV4.
According to the AP, police said that "interesting" things had been found in the 21-year-old attacker's apartment but did not elaborate on what those things were.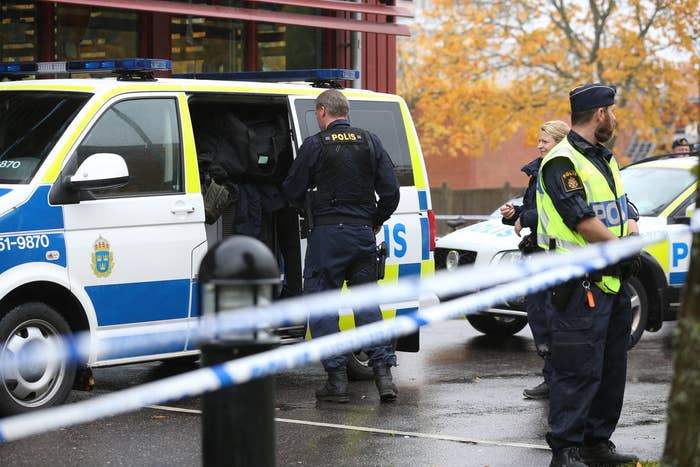 Officers responded to an emergency call Thursday morning saying that a masked man had attacked a person with a sword at a cafe adjacent to the school, a police statement said.
The teacher was already dead when police arrived at the scene and the injured teacher and students were rushed to the hospital, where one of the students succumbed to his injuries.
Police fired two shots at the attacker, hitting him once in the lower chest, according to Sky News. He later died at the hospital.
At a press conference, police spokesman Thord Haraldsson said that the assailant knocked on the doors of two classrooms and stabbed the people who opened those doors.
Another student from the school who spoke to The Local said that he feared he would be "murdered" and said that everyone in the school was feeling "scared":
"I was in a classroom with my class when one of my classmates' sisters called her to warn her that there was a murderer at the school. So we locked the door to the classroom, but our teacher was still outside in the corridor.

We wanted to warn him, so a few of us went outside and then I saw the murderer, he was wearing a mask and had a sword. Our teacher got stabbed.

The murderer started chasing me, I ran into another classroom. If I had not run, I would have been murdered. I'm feeling really scared. Everyone's scared here."
The school has some 400 students, ranging from pre-school to high school, according to AP.
In a statement, Swedish Prime Minister Stephen Löfven said: "This is a black day for Sweden. I think of the victims and their families, students and staff, and the whole of the affected community."
The statement added that Löfven would travel to Trollhättan Thursday afternoon.
Sweden's King Carl XVI Gustaf said in a statement that the royal family experienced "great dismay and sadness" upon hearing the news of the attack.