Prosecutors Seek Three Years In Prison For Korean Air Nut Rant Executive
Heather Cho, the daughter of the chair of Korean Air, turned a plane back after being served nuts in a bag and not on a plate, the BBC reported. Prosecutors said she should spend three years in jail.
Update: Feb. 2, 8:18 a.m. ET
South Korean prosecutors on Monday said Heather Cho should get three years in prison for endangering the flight.
"Cho, the daughter of Korean Air's chairman, has pleaded not guilty to four charges. In the final day of testimony, she defended her actions as the result of devotion to work," the Associated Press reported.
Update: Dec. 24 at 6:34 a.m. ET
Prosecutors said they are seeking an arrest warrant for Heather Cho, the BBC reported.
Cho, the daughter of the chair of Korean Air, made a plane return to its terminal from the runaway when she was served macadamia nuts in a bag instead of on a plate.
Officials told the BBC that making the plane turn back was illegal.
A Korean Air executive who caused a flight to be delayed by ranting about a serving of nuts has resigned from all posts related to the airline and publicly apologized, before facing questioning by transport officials on Friday.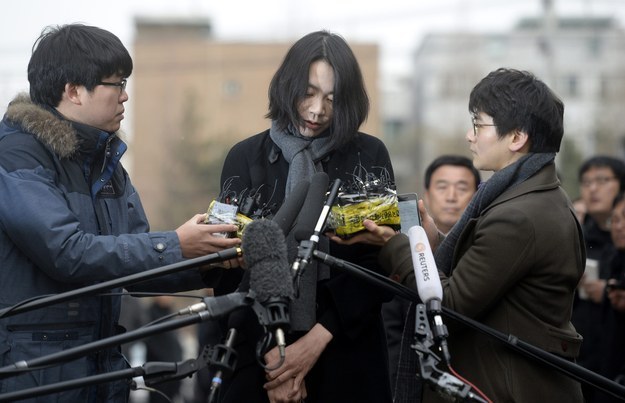 Heather Cho, also known as Cho Hyun-ah, found herself at the centre of a media storm in South Korea. On Dec. 5, she demanded a Korean Air plane heading to New York from Incheon turn back to the gate, and ordered a flight attendant be removed, because she was served nuts in a bag rather than on a plate in first class, CNN reported.
Cho will resign from all her remaining posts with the airline, which her father, Cho Yang-ho, is the chairman of. The incident has dominated headlines in South Korea, and prompted a government probe, the BBC reported.
Mr Cho has also apologized for the incident. Heather Cho was not flying in an official capacity at the time, although was in charge of in-flight service with the airline. On Tuesday, the 40-year-old resigned from her positions in the cabin service and hotel business divisions.
On Friday, her father said she was also going to leave her role as the national carrier's vice president, as well as roles with affiliated companies, as he made a public apology, according to CNN.
Korean Air had initially defended her behavior, saying that she was responsible for service standards in her role overseeing flight service, but later apologized.
Asked by reporters how the incident could have happened, Mr Cho said he blamed himself for raising her badly.
He said: "I beg the people to blame me for the current situation, because everything is my fault... I failed to properly educate my daughter."
Shortly after her father's apology, Heather Cho said sorry herself, bowing deeply ahead of a news conference outside government buildings in Seoul.
Via NBC News
Speaking in a barely audible tone, Heather Cho said: "I sincerely apologize. I'm sorry," adding that she planned to speak to the cabin staff involved personally.
The controversy around the "nut rage" incident has underlined public tensions surrounding the family conglomerates — or chaebol — who run many of the top businesses in South Korea.
Many South Koreans resent the chaebols for their dominance of the economy, saying they act with impunity, and operate with poor corporate governance and a lack of transparency, the BBC reported.