Knife-Wielding Man Killed Outside Paris Police Station Carried ISIS Flag, Prosecutors Say
The French Interior Ministry said the man had approached the station shouting "Allahu akhbar" — "God is great" in Arabic.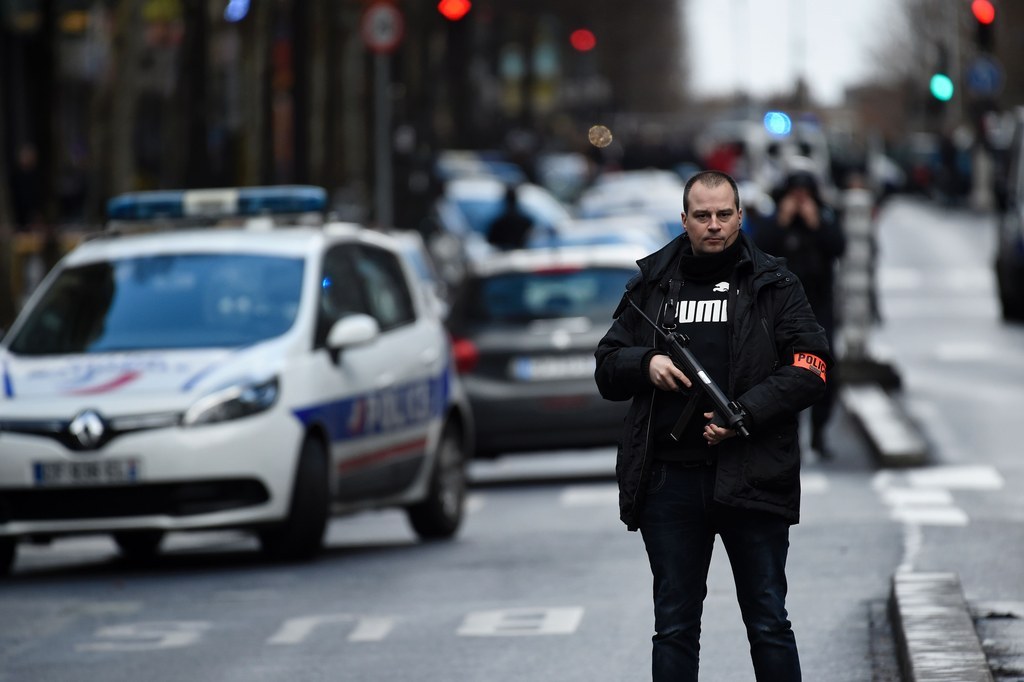 A man armed with a knife has been shot dead outside a police station in northern Paris — one year to the day after the deadly terror attack on Charlie Hebdo magazine's offices, a French Interior Ministry official told AFP.
Ministry spokesperson Pierre-Henry Brandet said the man attempted to enter the reception area of the police station in Goutte d'Or in the city's 18th arrondissement while shouting "Allahu akhbar" — "God is great" in Arabic — before being fired at by officers.
The French Ministry of Justice released a statement saying the man had a piece of paper on him depicting the ISIS flag and "an unequivocal claim of responsibility written in Arabic."
Brandet said the man may have been wearing an explosive vest. Bomb disposal officers were on site. A short while later, the Paris prosecutor said in a statement that the vest worn by the man was fake.
Images of the man lying dead on the sidewalk circulated on Twitter, including one of him being approached by a bomb disposal robot.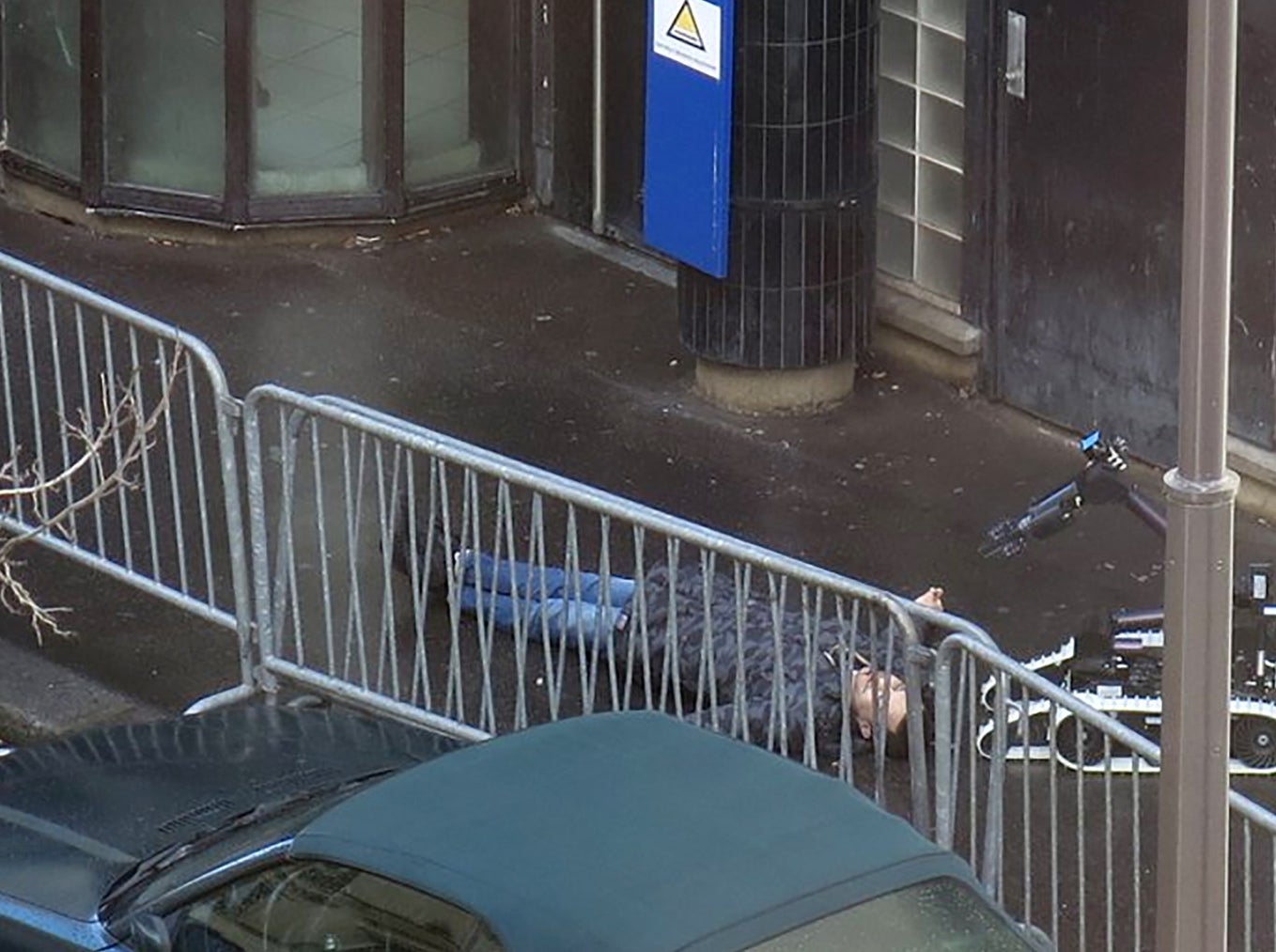 An anti-explosives robot approaches the man shot dead outside a Paris police station, Jan. 7.
After the shooting, police cleared hundreds of people from the Goutte d'Or neighborhood, which is located close to the Gare du Nord international train station, over fears more potential assailants could be at large, AP reported.

The police expanded their security cordon around an hour after the incident, clearing hundreds of people from nearby streets and a local Metro station. Shops in the area were also ordered to close.
Services on two Metro lines, as well as local traffic, were briefly suspended in the wake of the attack, BFMTV said.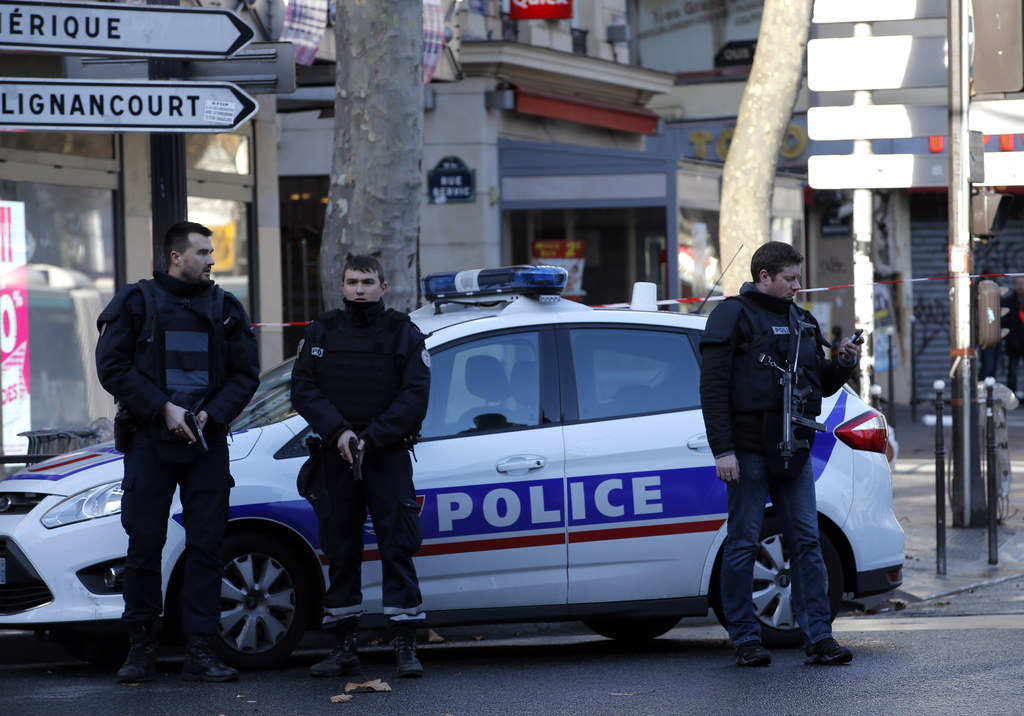 The incident came as Paris marked the anniversary of the terror attack on the offices of Charlie Hebdo, which took place one year ago today and ended with 12 people, including some of France's leading satirists and cartoonists, being killed.

In an address in Paris commemorating the attack Thursday, French President François Hollande remarked that "terrorism still weighs heavily on our country," following further attacks in Paris in November 2015 in which 130 people died.
Hollande also promised 5,000 additional police and gendarmes by 2017, as well as 2,000 extra intelligence service jobs, calling it an "unprecedented" strengthening of national security, the BBC reported.