North Korea's state news agency released new pictures of leader Kim Jong Un claiming to show him after climbing to the top of the country's highest peak — the 2,744-meter-high Mt. Paektu — at dawn on Saturday.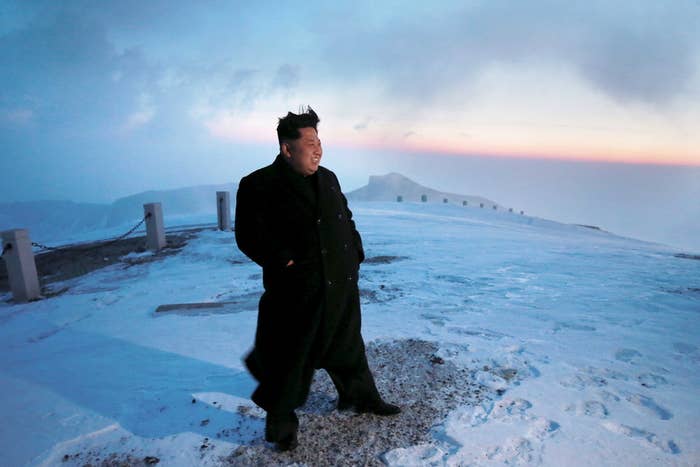 Given past dubious propaganda claims and the fact that Kim is wearing little more than a thin overcoat and leather shoes in the pictures, the authenticity of the claim is doubtful.
Korea Central News Agency described Kim as having a "broad smile on his face" at the summit. Mt. Paektu plays a key role in the cult of personality surrounding his regime, and the party says it was the birthplace of Kim Jong Un's father, Kim Jong Il.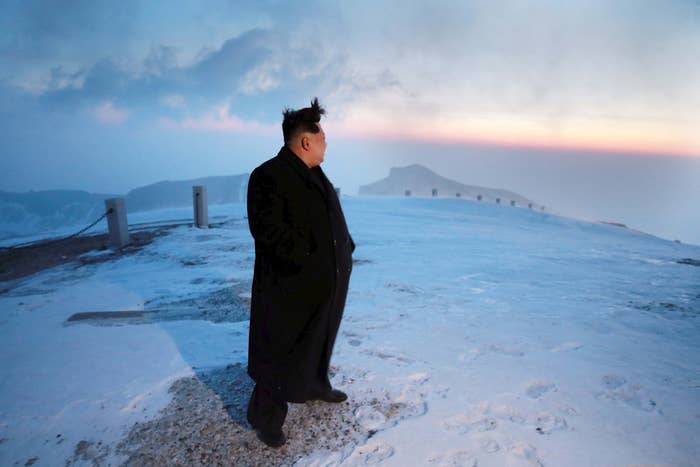 KCNA quoted Kim as saying:
The looks of Mt. Paektu is impressive and the sunrise over Mt. Paektu is a charming and beautiful sight rare to be seen. ...

Mt. Paektu is the ancestral mountain and the sacred mountain of revolution associated with the soul of the Korean nation and suggesting the spirit of Songun Korea, and it is the cradle of the Korean revolution, the symbol of victory and the eternal beacon of the Songun (army-first) revolution.

When one climbs snow-stormy Mt. Paektu and undergoes the blizzards over it, one can experience its real spirit and harden the resolution to accomplish the Korean revolution. Climbing Mt. Paektu provides precious mental pabulum more powerful than any kind of nuclear weapon and it is the way for carrying forward the revolutionary traditions of Paektu and giving steady continuity to the glorious Korean revolution.
The KCNA claimed Kim scaled the peak "together with the members of Korean People's Army fighter pilots' expedition of the revolutionary battle sites in the area of Mt. Paektu."