John Kerry Makes Iraq Trip To Build Anti-ISIS Alliance
The secretary of state travelled to Baghdad to congratulate the country's new government. Meanwhile, President Obama looks set to expand the fight against ISIS by launching airstrikes in Syria.
Update — Sept. 10, 7:59 a.m. ET:
Secretary of State John Kerry arrived in Baghdad early Wednesday morning to meet Iraq's new government, upon which the U.S. is basing much of its strategy to defeat Islamic State of Iraq and Syria (ISIS) militants, the Washington Post reported.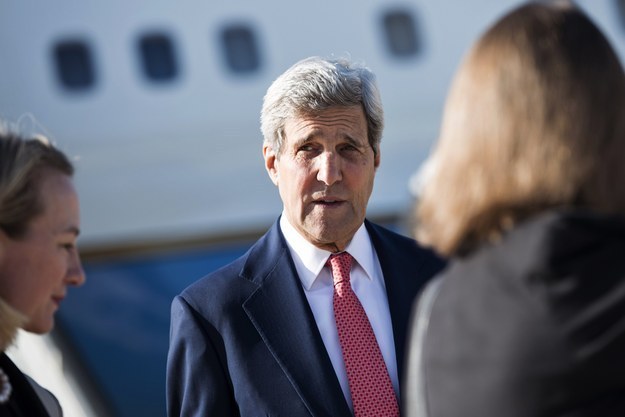 Kerry tweeted that he was "encouraged" by the meeting with Abadi.
The U.S. had been pressing Iraq for several months to form an inclusive government containing representatives from all of the country's religious sects. Sunni Iraqis felt marginalized under Maliki's regime, and the Obama administration is hoping the new government will galvanize disaffected Sunnis in the fight against ISIS, CNN reported.
While Prime Minister Abadi is, like Maliki, a Shiite Iraqi, the country's new president, Fuad Masum, is a Kurd, and the new speaker of parliament, Salim al-Jubouri, is a Sunni.
Despite two crucial and possibly divisive posts — defense and interior ministers — remaining unfilled, Kerry said the formation of the new government marks a "major milestone" and will form the basis of detailed strategic talks on a joint plan to counter ISIS, the New York Times reported.
The secretary will be talking about Iraq's role, obviously, which will have a critical role in this effort to have a global coalition to begin to degrade and ultimately defeat ISIS.
Baghdad is Kerry's first destination on a regional tour in which he is seeking to enlist Arab support in a global coalition against ISIS, CNN reported.
Talking to reporters ahead of his departure on Monday, Kerry said: "Almost every single country on Earth has a role to play in eliminating the ISIL (ISIS) threat and the evil that it represents."
He added that he hoped to create a coalition that would be "built to endure for the months, and perhaps years, to come."
Meanwhile, it has emerged that President Obama could be prepared to launch airstrikes in Syria as the U.S. expands its campaign against ISIS, the Washington Post reported.
President Obama apparently discussed the plans at a White House dinner with bipartisan foreign policy experts this week.
It is thought he does not believe formal congressional approval would be needed for the action, as he seeks to expand the fight against the militant group on both sides of the Iraq–Syria border.