Update — Dec. 24, 3:24 a.m. ET: The U.S. military says the plane was not shot down but crashed: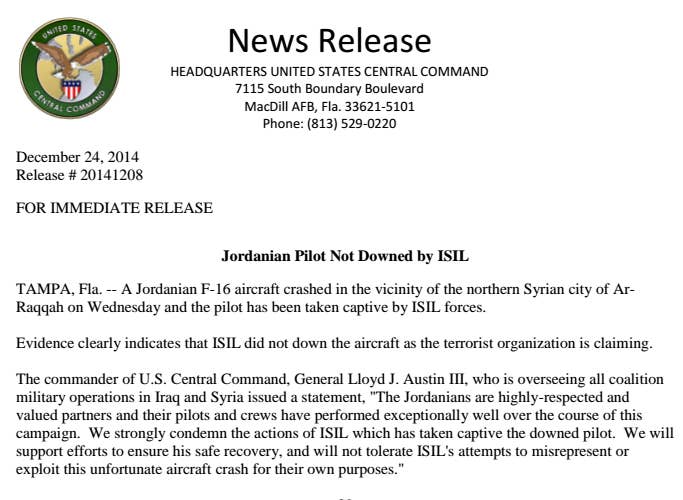 The Jordanian army said that militants for the Islamic State of Iraq and Syria (ISIS) shot down one of its warplanes and captured a pilot near the northern Syrian city of Raqqa.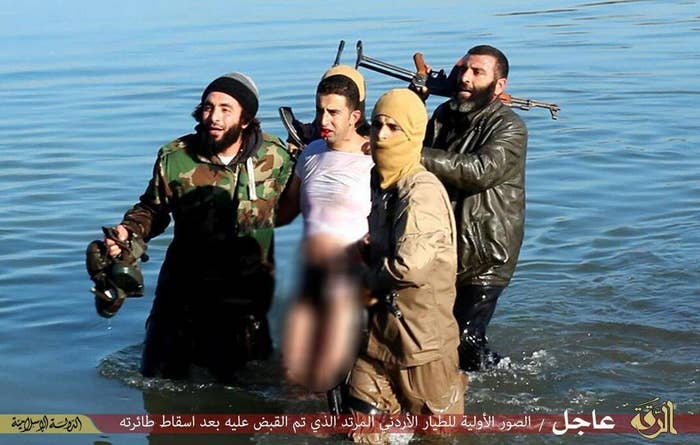 A statement read out on Jordanian state television said: "Jordan holds the group and its supporters responsible for the safety of the pilot and his life."
Earlier, the U.K.-based Syrian Observatory for Human Rights said that the jet was downed near the ISIS stronghold on Wednesday.
The Observatory, which relies on a large network of contacts inside Syria for information, said that ISIS captured the missile from rebels fighting forces loyal to President Bashar al-Assad, ABC News reported.
It is the first plane from the U.S.-led coalition to be downed since the bombing of ISIS positions began in September, the BBC said.
ISIS supporters have been posting pictures of an airman surrounded by ISIS fighters on social media throughout Wednesday morning.
The posts show an airman surrounded by ISIS militants. The airman is reportedly Jordanian: one of four Arab countries in a U.S.-led coalition bombing ISIS targets in the region.
Images of the aftermath of the alleged incident were widely circulated on ISIS-afflilated Twitter accounts but could not be immediately verified by BuzzFeed News.
The pro-ISIS Raqqa Media Center released an image purporting to show the pilot's military ID cards, the BBC reported.
The pilot was identified as Flight Lieutenant Moaz Youssef al-Kasasbeh.
The Observatory said more than 20 people had been killed by Syrian government airstrikes in Raqqa province on Tuesday, Reuters reported.