Hungary Introduces Tough New Immigration Laws In Response To Refugee Crisis
Authorities can now arrest and charge anyone who attempts to breach the razor wire fence built along the country's border with Serbia, which was completed Monday. So far, 60 people have been detained.
The Hungarian government implemented tough new immigration laws Tuesday as it seeks to stem the flow of refugees and other people crossing the country's border with Serbia: the outer frontier of the European Union's borderless Schengen zone.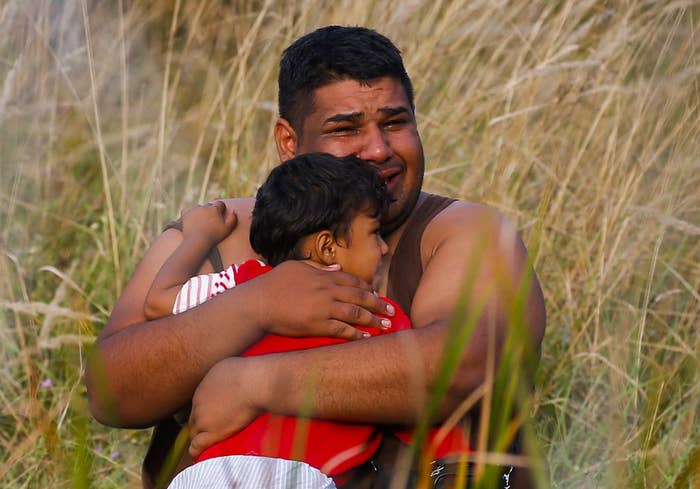 The new laws came into effect at midnight local time (6 p.m. Monday ET), the BBC reported.
The implementation of laws follows the completion of a new razor wire fence along the country's border with Serbia on Monday. As of Tuesday, Hungarian authorities were authorized to arrest and charge anybody who attempts to breach the now-closed frontier.
By Tuesday afternoon, Hungarian officials said 60 people — 45 at the border and 15 deeper in the country — had been detained under the new legislation, and that they planned to charge them, AP reported.
Refugees and other people who have made the long journey from conflict zones such as Syria are now confronted with miles of fence at the EU's outer frontier, and overnight Hungarian police sealed a popular railway crossing that the refugees had been using.
On Tuesday afternoon, Hungary's Foreign Minister Peter Szijjarto told reporters that the country would start work on a new fence "should migration pressure shift in the direction of Romania," Reuters reported.
People wanting to cross the border with Serbia were told by Hungarian authorities that they will have to head to an official transit center and apply for asylum early Tuesday, NBC News reported.
However, those who do apply for asylum face the risk of expulsion back to Serbia — which is not in the EU, and has been deemed a "safe" country under the new Hungarian rules — within eight days.
Despite this, Aleksandar Vulin, the Serbian minister responsible for the country's policy on migrants, told the Tanjug state news agency that Serbia would not accept any refugees or migrants turned back from Hungary. "They are on Hungarian territory and I expect the Hungarian state to behave accordingly towards them," he said, according to Reuters.
Vulin later insisted that the border would have to be reopened because of the build-up on the Serbian side, ITV News reported.
"I don't know what I will do," Riad, a 40-year-old refugee from Aleppo, Syria, told Reuters. "I will wait to see. We have lost everything to reach this point."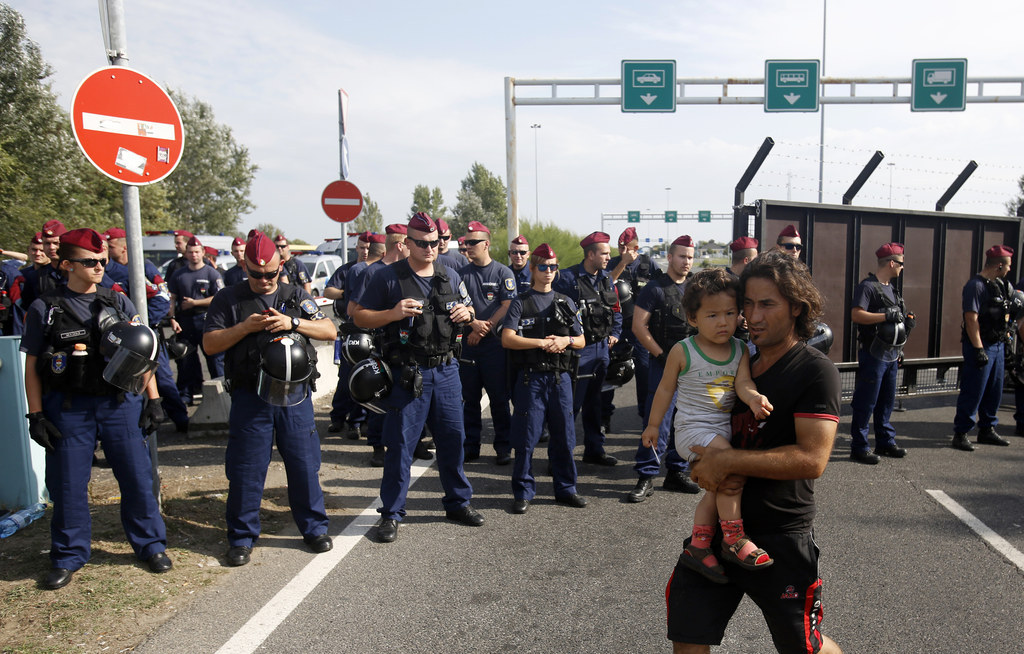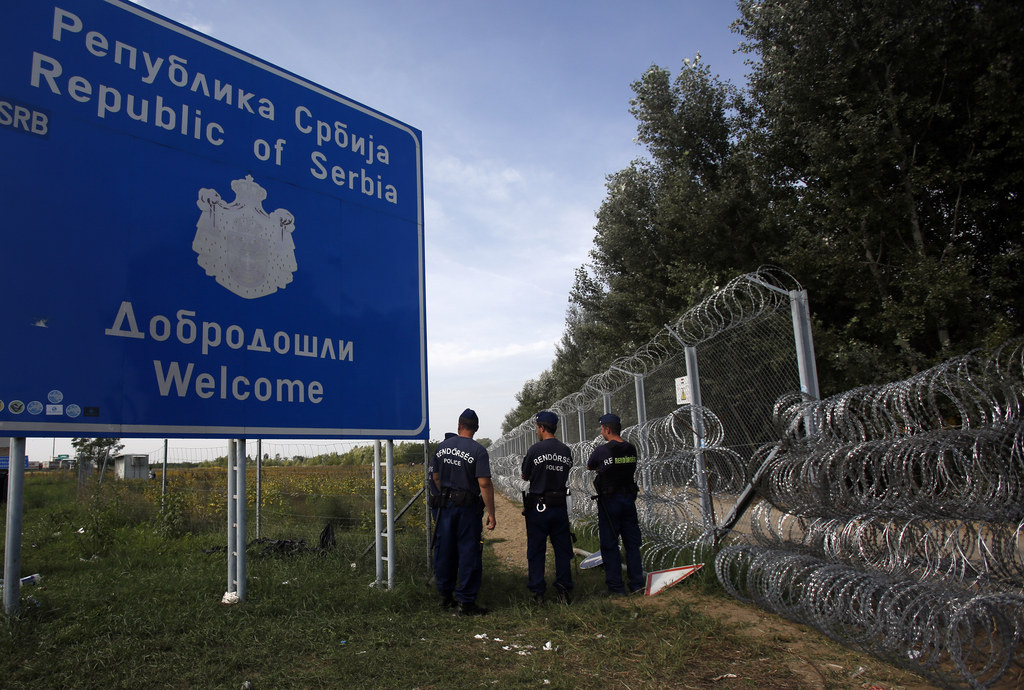 Authorities made the announcement to refugees and migrants gathered at the Horgos II border station — one of the few crossing points that remained open — through an Arabic translator at midnight. Just hours earlier, authorities had been letting people cross a few at a time.
Some at the crossing had already walked a mile from the crossing at the village of Roszke, which had already been shut by police in riot gear, according to NBC News.
Refugees were allowed to line up at the border crossing's customs area, where they were loaded onto buses and driven to trains waiting to take them to Austria, Sky News reported.
Overnight, hundreds of people were left to sleep outside on the Serbian side of the border and were given food, water, and tents by aid workers, Reuters said. Long queues formed at the metal containers where refugees and migrants are expected to register, though reporters only saw a few people entering.
On Tuesday afternoon, a number of refugees gathered at the crossing at Roszke went on hunger strike, demanding Hungary open the border, according to several reporters at the scene.
The Hungarian government has faced widespread criticism throughout the rest of Europe for the measures it is taking to deal with the crisis. However, Budapest insists it has a right to secure its borders.
Speaking to media at the border early Tuesday morning, government spokesman Zoltan Kovacs said:
As of midnight we are going to have a new set of rules here in Hungary, concerning the natural borders of the country. We are going to close the natural borders to stop illegal border crossings.

That also means that the official and legal ways to come to Hungary, and therefore to the European Union, remain open. We have witnessed an all-time peak in terms of refugee crossings. The real number is going to be close to 10,000, in just one day.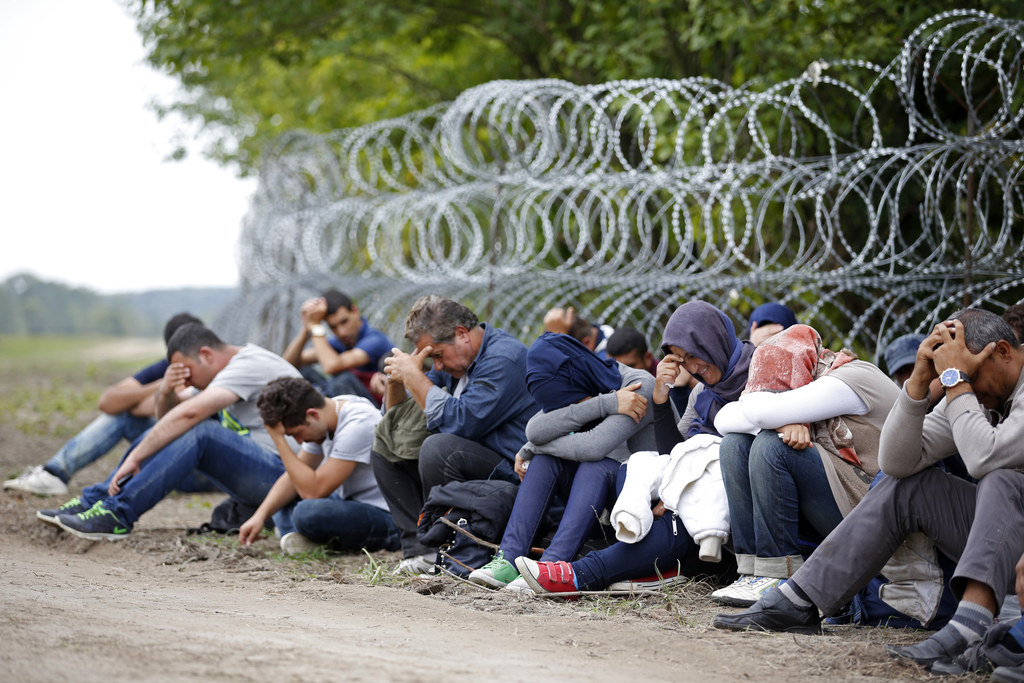 Hungary also declared a state of emergency in two southern counties as a result of the crisis, Kovacs said Tuesday. This would allow Hungary to send the military to support police at the border.
Speaking Monday, the country's nationalist Prime Minister Viktor Orban said his government had taken the measures to defend "our culture, our way of life and our sovereignty."
"Hungary is a country with a 1,000-year-old Christian culture," he added. "We Hungarians don't want the global-sized movement of people to change Hungary."
On Tuesday, the EU border agency Frontex said a record 156,000 people had crossed into EU borders during August, with some 500,000 making the journey in the first 8 months of 2015.