ISIS Has Claimed Responsibility For Its First Major Attack Inside Iran
17 people have been reported killed after gunmen armed with assault rifles and suicide vests attacked Iran's parliament and the mausoleum of Ayatollah Ruhollah Khomeini.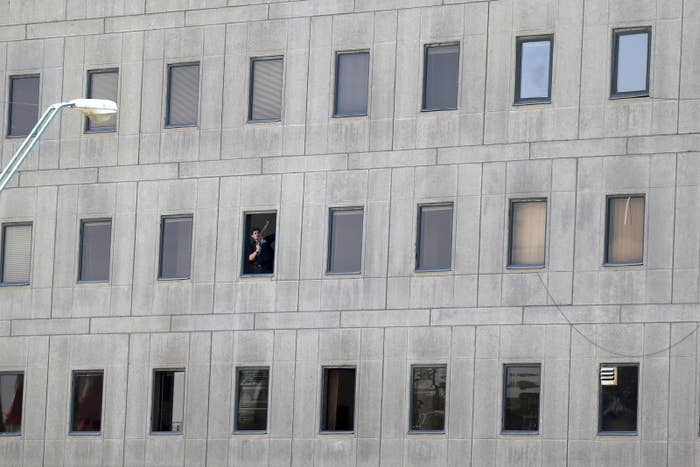 ISIS claimed responsibility for its first major attack on Iranian soil on Wednesday, introducing a new element of violence and uncertainty to a Middle East already reeling from multiple overlapping conflicts.
Gunmen armed with assault rifles and suicide vests attacked Iran's parliament and the ornate mausoleum of the Islamic Republic's founder, Ayatollah Ruhollah Khomeini, in what appeared to be a coordinated twin terror attack on high-profile symbols of Iranian power and history.
At least 17 people were reported killed and 52 more injured in the two attacks, one on a heavily guarded government compound in Tehran's central business district and another some 20 miles away on the city's southern outskirts. Iranian state news agencies said all the assailants — at least seven, including three women — were killed in gunfire with security forces or detonated themselves.
Late Wednesday, Tehran Police Chief Gen. Hossein Sajedinia said five people had been detained as suspects, the Associated Press reported, citing Iranian news agency ISNA.
ISIS claimed responsibility for the attack in a message posted to a channel on the messaging service Telegram. A ranking official of Iran's Revolutionary Guards blamed Saudi Arabia and the US for the twin attacks, providing no evidence.
"This attack took place one week after the joint summit of the US with one of the reactionary governments of the region," Brig. Gen. Hossein Nejat, the deputy head of the guards' intelligence unit, told the Fars News Agency, referring to Saudi Arabia. "There is evidence that both America and that government are responsible for creating ISIS. The fact that this operation was carried out one week after that summit means both the Saudi regime and America ordered their mercenaries to do it."
Even as hardliners from the Revolutionary Guards blamed Saudi Arabia for the attack, Iran's intelligence minister said Tehran doesn't have sufficient conclusion to support that claim.
"There is this belief in the world that Saudi Arabia is the ideological source of these terrorist movements. But it is too soon to say Saudi Arabia was behind the attack because we don't want to make statements without evidence," Mahmoud Alavi told the Iranian Students' News Agency.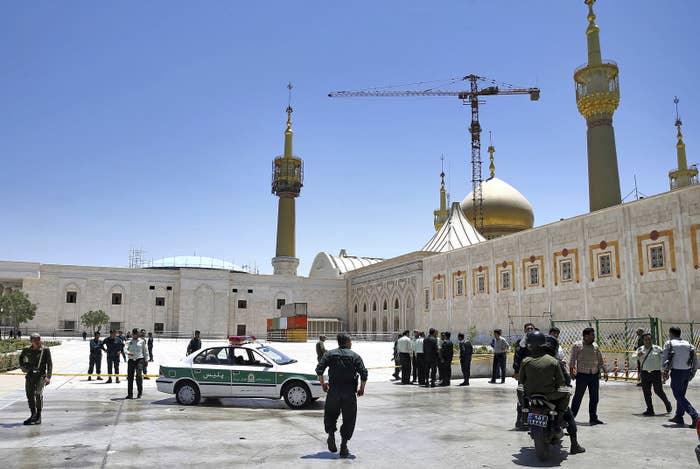 The US State Department on Wednesday released a statement condemning the terrorist attacks, as did the White House, saying that "we grieve and pray for the innocent victims of the terrorist attacks in Iran, and for the Iranian people, who are going through such challenging times."
However, the White House also suggested Iran was to blame for its own misfortune.
"We underscore that states that sponsor terrorism risk falling victim to the evil they promote," the White House statement concluded.
Wednesday's violence sparked scenes of chaos and panic throughout the Iranian capital, which has been relatively safe and free of the violence that has engulfed neighboring capitals over the last 15 years.

Nejat told Fars at least three Arabic-speaking men in their 20 equipped with assault rifles and bags of ammunition initiated the attack on the parliament shortly after 10 a.m. local time. The shooters made their way past security guards to fight their way into the highly-fortified parliament building, making their way into the corridors, opening fire, setting off an explosive belt and wounding three people — two of whom were members of the Iranian revolutionary guard, the ILNA news agency and others reported.
Security camera footage released on Thursday showed moments after the attackers entered the parliament building. The video shows men and women running across the room while some crawl on the floor between chairs. The footage continues with clips of the attackers, who can be seen carrying machine guns — one of them is seen pointing a revolver — and backpacks as they rush across the hall.
Lawmakers were shut in the parliament's chamber — one MP tweeted that the parliamentary session proceeded despite gunfire ringing out through the building.

The attackers were still reported to be in the building hours after the siege began, shooting from the building's windows until Iranian media reported that the four attackers had been killed.
Moments after the parliament attack began, ILNA reported that three or four shooters had entered the Khomeini mausoleum, a symbolic landmark, and opened fire. Another attacker detonated a suicide bomb in a nearby bank, the head of the shrine's press office told state media.
Later Wednesday, an Iranian security official said that the attackers were Iranian nationals, the AP reported.
Despite the claim of responsibility by ISIS, the terror group's statements so far provided few details. The synchronized attacks were likely planned weeks or months in advance, and showed a high level of organization and planning and was likely timed for the holy month of Ramadan.

"Because it's Iran, I give (the attackers) a 10 out of 10," said a former CIA counter-terrorism official who spoke on condition of anonymity. "It took a lot of planning and surveillance to do this. Not an easy task. Iran's Ministry of Intelligence is not a joke. Symbolic targets in the heart of Iran; if it truly was ISIS, this is a win for them."

The attack comes at a particularly perilous time of political and sectarian strife in the Middle East. Iran, an overwhelmingly Shia Muslim country, is backing the Syrian government as it fights mostly Sunni Muslim rebels backed by Turkey and Persian Gulf states including Saudi Arabia. The leaders of the United Arab Emirates and Saudi Arabia this week unleashed withering punishments against fellow Gulf partner Qatar in part because of cordial relations it maintains with Tehran.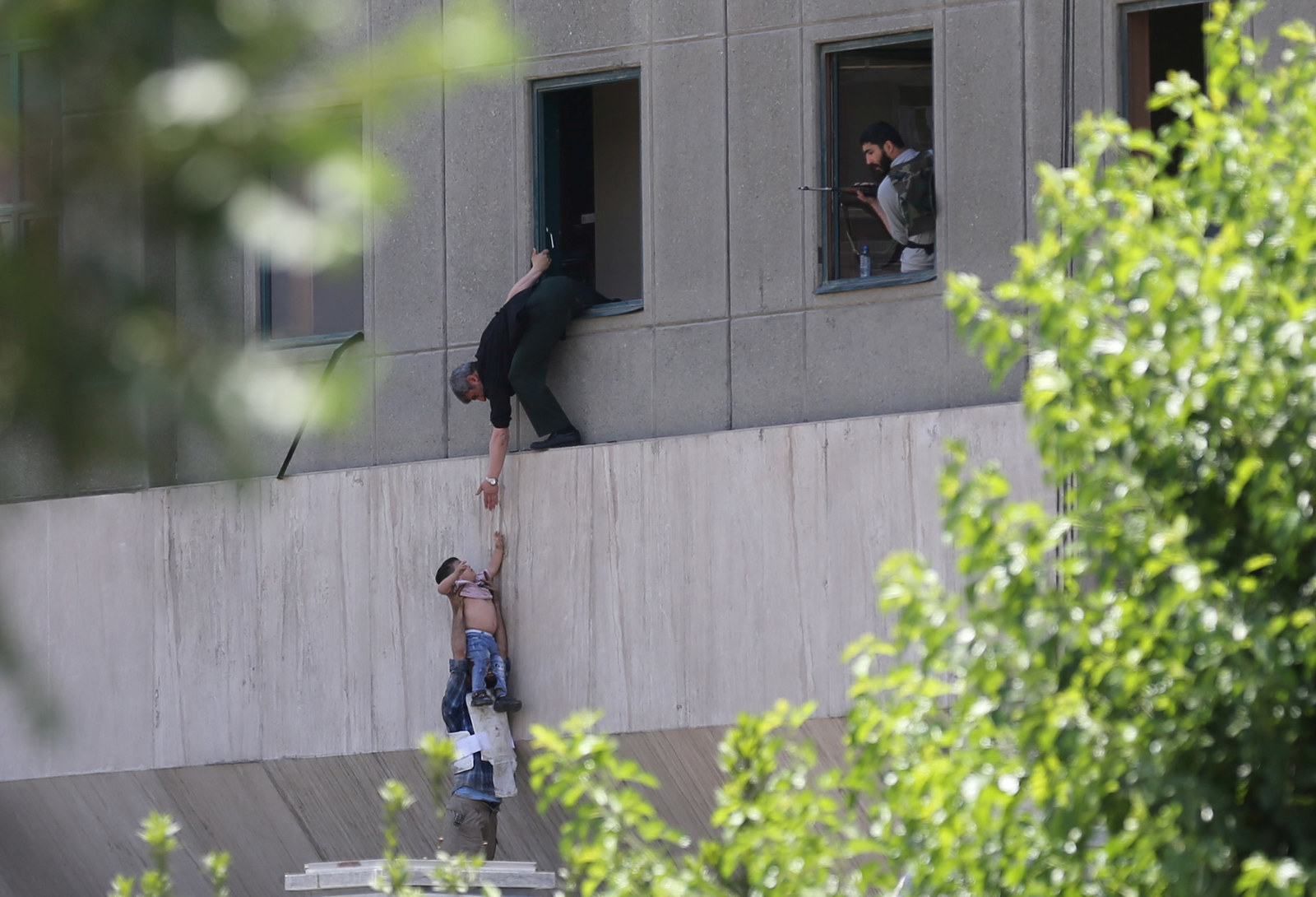 Iran and the Gulf states both oppose ISIS and seek to fight it to varying degrees, but appear more eager to confront each other and their proxies. Iran and Saudi Arabia and its allies find themselves on opposite sides of political and military conflicts in Iraq, Yemen and Bahrain as well as Syria, and constantly accuse each other of mistreating sectarian minorities.

The attacks may also pose a challenge for the recently reelected government of Iranian president Hassan Rouhani, perhaps emboldening hardliners seeking to stop him from tempering Iran's domestic and foreign policies, including its continued, controversial support for the Syrian regime.

Rouhani campaigned in part on providing security for Iranians, and the terror attacks give his many enemies ammunition. For now, Iranians appeared to be unifying in solidarity with victims of the attack, promoting the hashtag "we are all together" on social media.

The attacks may also harden Iran's official stance toward its own restive Sunni minority, causing its security forces to crack down on a population living mostly along the country's volatile borders and already potentially ripe for recruitment by ISIS.
"Without doubt, we will avenge the blood of those martyred in today's terrorism attacks by [going after] the terrorists and those who assist or support them," Revolutionary Guard deputy commander Brig. Gen. Hossein Salami said in a statement read by a newscaster on state television. "The Revolutionary Guard has proven that it will not cease avenging every drop of innocent blood spilt."