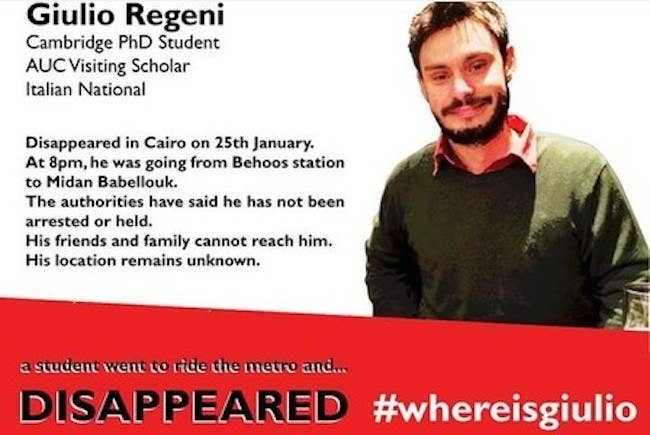 The body of a missing Italian student dumped on a roadside on the outskirts of the Egyptian capital of Cairo on Wednesday was found with "signs of torture," including stab wounds and cigarette burns, the case's investigating prosecutor said.
Prosecutor Ahmed Nagi told the Associated Press that 28-year-old Giulio Regeni had bruises, cuts from stabbings, and cigarette burns on "all of his body, including his face".
He appeared to have died a "slow death," Nagi added.
Regeni, a graduate student at Cambridge University, went missing in Cairo on Jan. 25.
His body was found on the Cairo-to-Alexandra highway, more than 30 km from where he disappeared, in a suburb of western Cairo on Wednesday.
His body was flown back to Italy on Saturday morning, Italy's foreign minister said.
Paolo Gentiloni told reporters in Amsterdam the body of Regeni was being transported to Rome and eventually to the Italian city of Trieste, AP reported.
Italy's ANSA news agency reported Italian prosecutors have ordered an autopsy as part of the investigation into Regeni's death. Egyptian authorities already conducted an autopsy and prosecutors investigating the case said they are waiting for a full report.
Initial reports into Regini's death made no mention of torture and said his death was accidental. The first official statement came from the head of the Giza police department, Gen. Khaled Shalaby, who told the Al-Youm newspaper Regeni had died in a car crash.
This was echoed by the Deputy Head of Criminal Investigations in Giza, Alaa Azmi, who said he was found with "bruises and cuts," and said an initial investigation showed no evidence of burns.
"We have to wait for the full report by forensic experts. But what we know is that it is an accident," he said Wednesday, according to AP.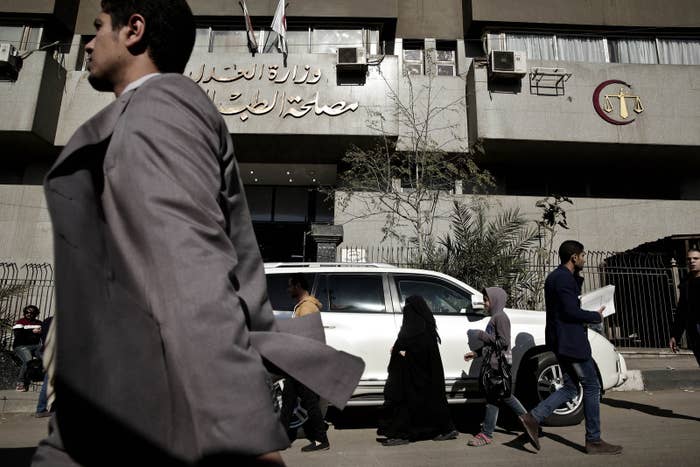 However, following the prosecutor's claims on Thursday of burns and possible torture, the Italian Foreign Ministry announced it had summoned the Egyptian ambassador.

In a statement, the ministry said the Italian government was "dismayed" at Regeni's death and "expects full cooperation from the Egyptian authorities at all levels in view of the exceptional gravity" of the case.
The ministry's secretary general also called for full disclosure regarding the case, and a joint investigation with Egyptian authorities working alongside Italian experts.
Later on Thursday, the office of Egyptian President Abdel Fattah el-Sisi released a statement that said he had spoken to the Italian prime minister and offered his condolences. The statement also said that the Egyptian authorities would perform a thorough investigation into the circumstances surrounding Regeni's death.
Here's the full statement:
Mohamed Sobny, a lawyer for the Nedal Center, a non-governmental agency, posted on Facebook that he had visited the morgue where Regeni's body was being kept. He said there was a strong presence from police and Egyptian security services, who were only letting the ambassador and his lawyer see the body.
The discovery of Regeni's body comes after his fellow students at Cambridge launched a social media campaign to find him.
On news of his death, the university tweeted its condolences to his family and friends. He was listed as a student at the Department of Politics and International Studies.