Two teenagers have died after a shooting incident in the parking lot of a nightclub in Fort Myers, Florida, in the early hours of Monday morning, local police said.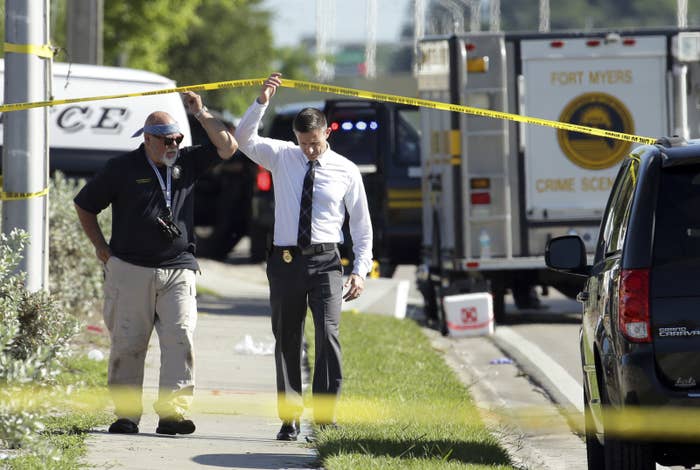 Shots were fired outside the Club Blu bar around 12.30 a.m., local media reported. The bar, which hosted an event for 12- to 17-year-olds that evening, usually closes at 11 p.m.
The Fort Myers Police Department released a statement confirming the deaths of two people and said the scene was "still very active" as officers worked to determine what had happened.
At a press conference on Monday afternoon, Chief Dennis Eads of the Fort Myers Police Department said that three individuals "of interest" were in custody in connection with the shooting at a press conference. He said police were still looking for others.
Florida Attorney General Pam Bondi, who also spoke at the news conference, said that her office would help pay the funeral expenses for the deceased and help pay for medical bills for those injured.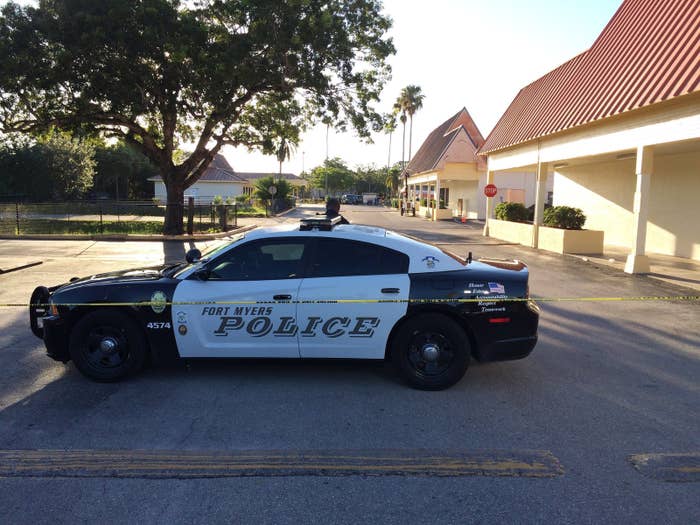 The two victims were named by the police department as Stef'an Strawder, 18, and Sean Archilles, 14. Police officials also confirmed that the incident was not an "act of terror."
"Other injuries range from the minor to the life threatening," the earlier statement said, adding that there were between 14 to 16 people hurt. Earlier, Lee County Sheriff's Office's Lt. Jim Mulligan told CBS affiliate WINK News that as many as 17 people had been injured in the incident off the city's Evans Avenue.
A spokesperson for Lee Memorial hospital told BuzzFeed News that 18 people had been admitted following the shooting. The youngest treated was 12, while the oldest was 27 years old.
Hospital spokesperson Cheryl Garn confirmed one patient had died while being treated. Another individual remains in intensive care, one is in critical condition, and another one in serious condition, she said. Garn was unable to give more details about the extent of the injuries.
In the hours after the incident, the club posted on its official Facebook page and said it had been hosting a middle and high school event, and that teenagers were waiting to be picked up from the parking lot outside when shots were fired. The post has now been deleted.
"You'll be so quick to wanna report negativity instead of finding out the truth," they said.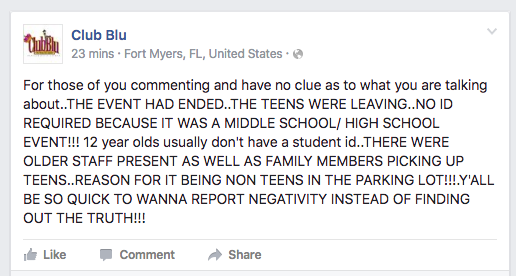 In a later comment, a spokesperson for the club said they were "deeply sorry for all involved" in "this despicable act."
"There was armed security as well as full security, inside and out. As the club was closing and parents were picking their children up...that's when all this took place," they said.
Tatianna Nouhaioi, who attended the event, said everything was under control inside the club with security guards present prior to the incident.
"It was a young teen event," Nouhaioi told ABC News. "There were kids. The kid I was holding in my lap, he was 14 years old that got shot."
Syreeta Gary, whose daughter attended the event, said she was grateful her child was alive. "It's ridiculous that these kids have to go through this – they can't enjoy themselves because you have other people there who have criminalistic minds," she told Fox News 4. "I'm just glad she's OK."
Fort Myers police said they were working to identify those killed and notify their families.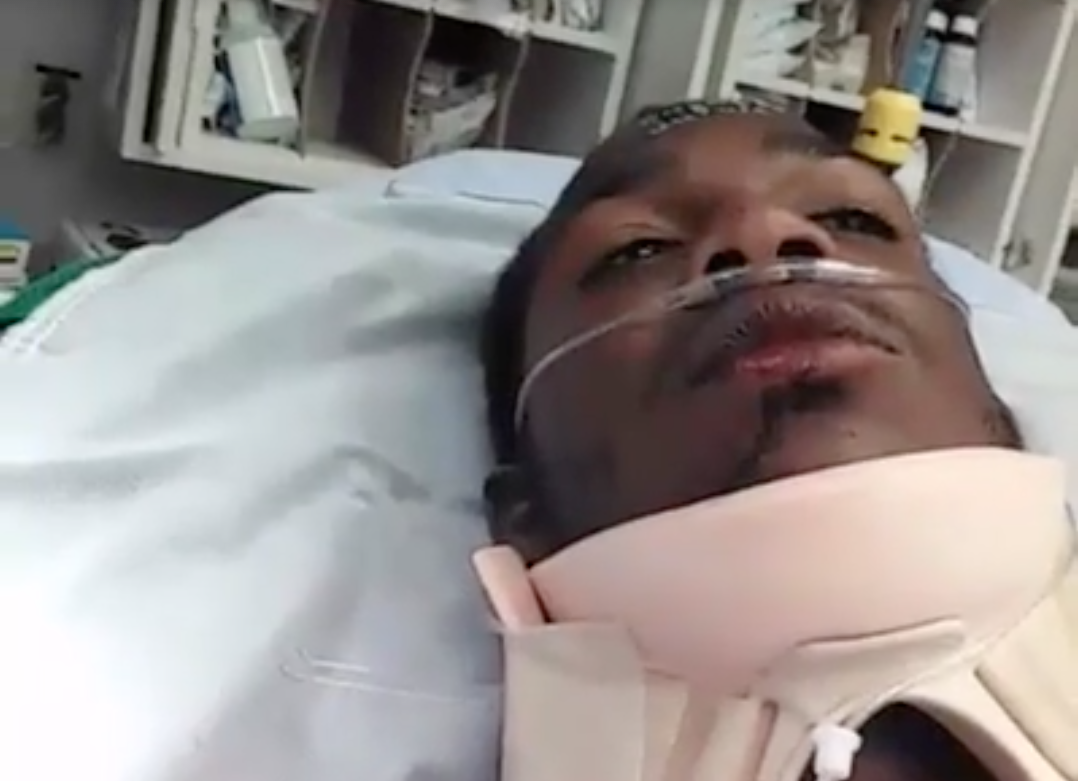 Timothy Settles attended the Club Blu event club that evening. He later posted a three-second Facebook Live video of himself apparently inside Lee Memorial hospital, wearing a neck-brace and connected to oxygen.
Earlier, he wrote on his Facebook wall: "I don't want to die."
Florida's Governor Rick Scott has offered the town's Mayor Randy Henderson, Lee County Sheriff Mike Scott, and interim police Chief Dennis Eads "any assistance" they need from the state. He said he had cancelled all his scheduled events for the day and would be meeting with state and law officials.
"While we are still learning the details about what happened this morning, we know that some of the victims of this terrible incident were children," Scott said in a statement. "We will continue to pray for the victims and their families."
Scattered reports by local media said three people were in custody in connection with the shooting outside Club Blu. Officers were investigating three locations: 2550 Parkway Street, where CBS Miami reported shots were fired and an individual injured; and Ortiz Avenue, where one individual was detained.
Officers with Fort Myers police are working to determine a motive, according to their statement.
BuzzFeed News has also contacted the Fort Myers Police Department and the Lee County Sheriff's Office for confirmation and is awaiting response.
The shooting comes just a month after the Orlando attack in Florida — the deadliest gun attack in modern US history.
This is a developing story. Check back for updates and follow BuzzFeed News on Twitter.
Update: This victim's name, Sean Archilles, has been updated reflecting new information provided by Fort Myers Police.