American Reportedly Among 9 Killed By Gunmen In Libya Hotel
A security official said four foreigners were among those shot dead during an attack on a luxury Tripoli hotel that also involved a car bomb.
At least nine people, including one American, were shot and killed by gunmen during an attack on a luxury hotel in the Libyan capital, Tripoli, on Tuesday, the Associated Press reported.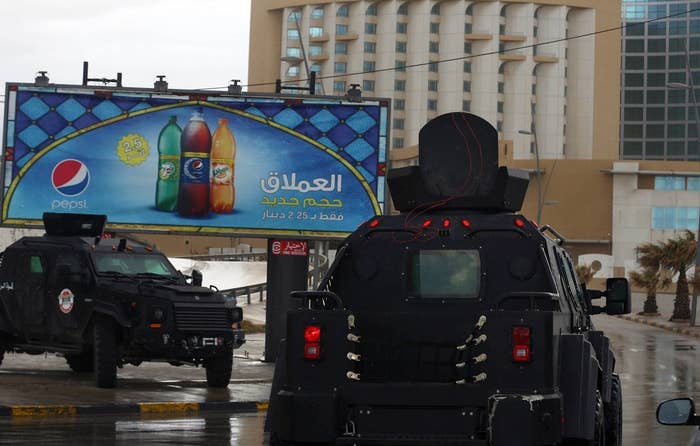 Four foreigners and five guards were killed in the attack and a senior State Department official confirmed that one of the dead was a U.S. citizen, according to the AP. Reuters reported at least eight people were killed, and CNN reported the death toll at 10.
A Libyan group claiming allegiance to ISIS claimed responsibility on social media for the attack as it began, the New York Times reported.
The American man was identified as David Berry, a security contractor working for a Northern Virginia company, NBC News reported. He previously served as a U.S. Marine.
A car bomb was also detonated outside, Al Arabiya reported.
Security officials told Reuters that the gunmen blew themselves up inside the hotel.
The seaside Cornithia Hotel is regularly used by foreign diplomats and Libyan officials, AFP said.
After the shootout erupted, a number of guests were evacuated from the five-star hotel, including the Prime Minister of Tripoli and an American delegation, Reuters reported.
Earlier in the day, a security official said that it was likely the gunmen had taken hostages. However, Tripoli security agency spokesman Essam al-Naas later told the AP the operation was over.
Al-Naas added that the investigation into the incident was ongoing.
The Maltese-owned hotel was home to former Libyan Prime Minister Ali Zeidan when he was kidnapped in 2013. Malta's Prime Minister Joseph Muscat tweeted that all Maltese citizens at the hotel were safe.