European Leaders Reach "Unanimous" Agreement On Bailout For Greece
European Council President Donald Tusk confirmed the deal, which came after marathon 16-hour talks, on Twitter. German Chancellor Angela Merkel said there would be no reduction to Greece's debt load.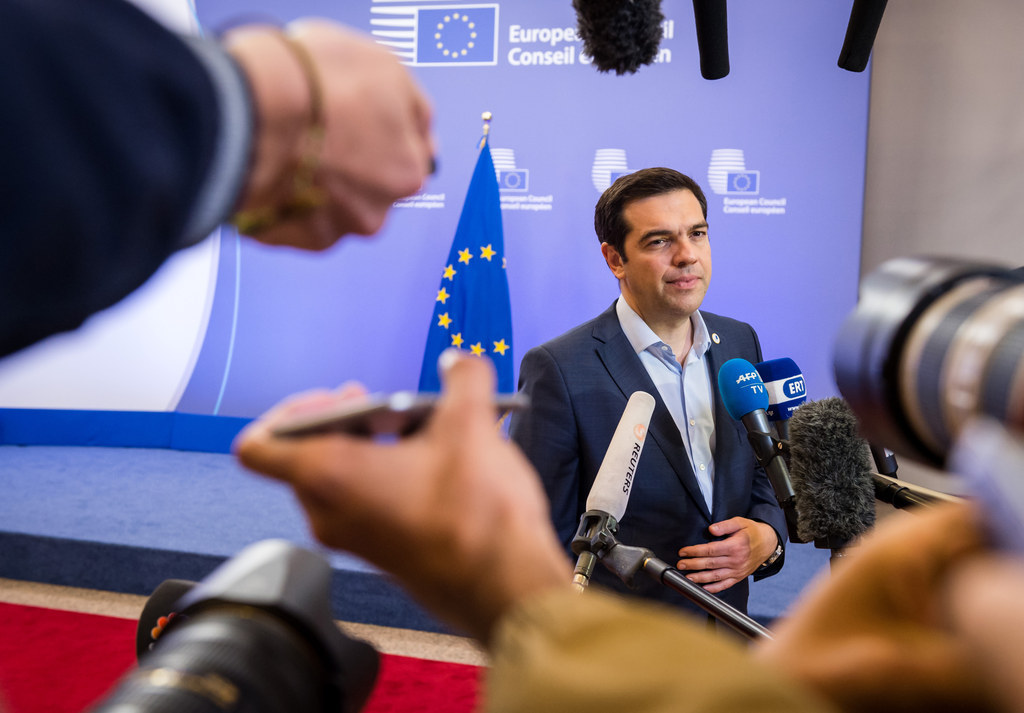 Leaders at a summit of eurozone nations in Brussels, Belgium, "unanimously" reached an agreement for a bailout deal for Greece, European Council President Donald Tusk said Monday.
The deal came after 16 hours of marathon talks over Sunday night and into Monday morning.
Tusk said the deal will bring "financial support" and mean "serious reforms" for Greece.
German Chancellor Angela Merkel said there will be no cut to Greece's debt level and warned the country still had a long road ahead.
The deal includes an asset fund that will bring about the increased privatization of Greek services — a move which is expected to generate 50 billion euros, a statement from the summit said.
The agreement also includes measures for reforming pensions and the retail tax system, requires Greece to keep its office of statistics independent, and requires it to implement the Treaty on Stability, Coordination and Governance in the Economic and Monetary Union, Europe's fiscal compact.
Greece will also have to reform its Sunday trading hours, overhaul and streamline its civil justice system, and review its labour market policies related to collective bargaining.
The deal will still need to get through the Greek Parliament before it can be implemented.
"We prevented the transfer of public property abroad, and we prevented the financial asphyxiation and the collapse of the financial system," Greek Prime Minister Alexis Tsipras said in a statement Monday afternoon, though he conceded the agreement called for "tough measures."
He added that the deal "will enable the country to get back on its feet, and for the Greek people to be able to continue to fight."
Speaking at a press conference on Monday morning, Tusk said, "You could say we have an a-Greekment," The Guardian reported.
He added that the deal was subject to "strict conditions" and welcomed Greece's "constructive position" during Sunday night's talks.
At the same press conference, European Commission President Jean-Claude Juncker confirmed that there would be "no Grexit" — meaning Greece would not be exiting the euro.
Further talks between eurozone finance ministers are due to take place on Monday afternoon as they attempt to agree a bridging loan to see Greece through the next few months as this third bailout is agreed. Greece remains in arrears to the IMF.
Download PDF
We have been fighting hard for six months now, and we fought until the end to achieve the best possible outcome, an agreement that will enable the country to get back on its feet, and for the Greek people to be able to continue to fight.

We faced tough decisions, tough dilemmas. We assumed responsibility for the decision in order to prevent the most extreme objectives from being implemented—those pushed for by the most extreme conservative forces in the European Union.

The agreement calls for tough measures. However, we prevented the transfer of public property abroad, we prevented the financial asphyxiation and the collapse of the financial system—this was planned to the last detail – having recently been designed to perfection, and in the process of being implemented.

Finally, in this tough battle, we managed to gain the restructuring of the debt and a financing process for the medium-term.

We were aware that it would not be an easy task, but we have created a very important legacy. An important legacy, and a much-needed change throughout Europe. Greece will continue to fight, and we will continue to fight, so that we can return to growth, regain our lost national sovereignty. We earned our popular sovereignty. We sent a message of democracy, a message of dignity throughout Europe and the world. This is the most important legacy.

Finally, I would like to thank all of my colleagues–ministers, colleagues and associates who gave, along with me, a very tough fight. A fight, which at the end of the day, will be vindicated.

Today's decision will maintain Greece's financial stability and provide recovery potential. However, as we knew beforehand, the agreement will be difficult to implement. The measures include those that Parliament has voted on. Measures that will inevitably create recessionary trends. However, I am hopeful that the growth package of 35 billion euro that we achieved, debt restructuring, as well as securing funding for the next three years will create market confidence, so that investors realize that fears of a Grexit are a thing of the past—thereby fueling investment, which will offset any recessionary trends.

I believe that a large majority of the Greek people will support the effort to return to growth; they acknowledge that we fought for a just cause, we fought until the end, we have been negotiating through the night, and no matter what the burdens will be, they will be allocated – we guarantee this – with social justice. And it will not be the case that those who have shouldered the burden during the last years will be stuck footing the bill once more. This time, those who avoided paying—many of whom were protected by the previous governments–will pay now, they, too, will shoulder the burden.

Finally, I want to make this commitment: Now, we need to fight just as hard as we fought to achieve the best outcome abroad-in Europe, to rid vested interests in the country. Greece needs radical reforms in favor of social forces, and against the oligarchy that have led to the country's current state. And this commitment to this new effort begins tomorrow.
Good morning. Today, we had only one objective: to reach an agreement. After 17 hours of negotiations, we have finally reached it. One can say that we have 'agreekment'. Leaders have agreed in principle that they are ready to start negotiations on an ESM programme, which in other words means continued support for Greece.

There are strict conditions to be met. The approval of several national parliaments, including the Greek parliament, is now needed for negotiations on an ESM programme to formally begin.

Nevertheless, the decision gives Greece a chance to get back on track with the support of European partners. It also avoids the social, economic and political consequences that a negative outcome would have brought. I welcome the progress and the constructive position of Greece that helps to bring back trust among euro zone partners.

Following national procedures, the Eurogroup will work with the Institutions to swiftly take forward the negotiations. Finance ministers will also as a matter of urgency discuss how to help Greece meet her financial needs in the short term, so-called bridge-financing.

I would like to thank the President of the Commission Jean-Claude Juncker and the Eurogroup President Jeroen Dijsselbloem for their dedication and involvement in this progress. Without your work, today's agreement wouldn't be possible. Thank you.