Inside The eBay Bidding For The New Charlie Hebdo Issue
Claims of inflated prices and profiteering surrounding the "survivors' issue" of French newspaper Charlie Hebdo may not be what they initially seem. Fears that the phrase "Je Suis Charlie" may be copyrighted are also likely unfounded.
Copies of the newest edition of Charlie Hebdo have emerged on eBay just hours after hitting newspaper stands on Wednesday, with bids and listings appearing to reach hundreds, or even thousands, of euros.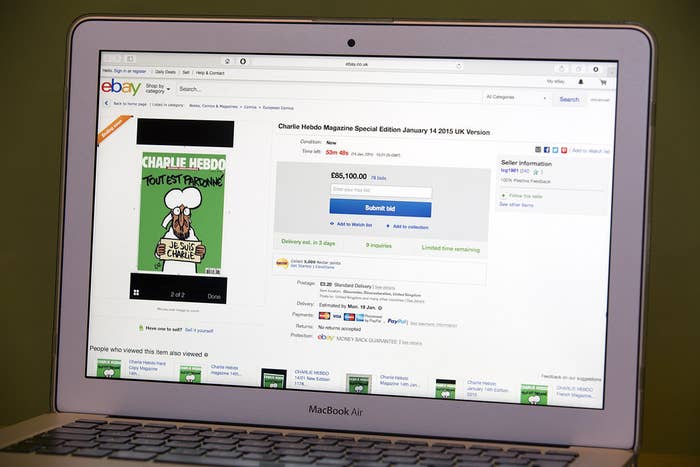 The cover price for the sought-after issue — featuring the Prophet Muhammad on the front and cartoons drawn by journalists slain in last week's Paris terror attacks — was just three euros ($3.53).
However, BuzzFeed News has seen copies listed at prices far exceeding this, from around 50 euros ($59) to around £100,000 ($152,000).
Speaking to France24, Christophe Deloire, director of Paris-based media watchdog Reporters San Frontieres (Reporters Without Borders), said: "What is happening on eBay ... is absolutely indecent.
"People abroad have tried to trademark the phrase 'Je Suis Charlie.' There is a sort of parallel trade being organized that is totally reprehensible, lamentable, indecent."
However, as British political blog Guido Fawkes points out, the apparent profiteering may not be quite as bad as it initially seems.
Many of the highest bids appear to be from buyers with zero feedback, while other prospective buyers have made bids on a multiple copies of the newspaper listed by different sellers.
This could point to an attempt to artificially inflate prices by non-genuine bidders.
Newer accounts with no feedback are less likely to be genuine, as their buying and selling habits will not have been subjected to eBay's buyer-seller rating system. If an account has a high feedback rating, and a user's behavior in transactions has been reviewed by other users, it's generally assumed that the account is real.
Without this, there is no way of verifying an account, and the chances of it being fake are greatly increased.
If the auction ends and the top bidder proves to be fake, the seller will have to re-list the item and start a new auction.
Looking at some of the more inflated prices on French eBay, BuzzFeed News found numerous examples of sudden sharp jumps in bids from new buyers with little to no user feedback.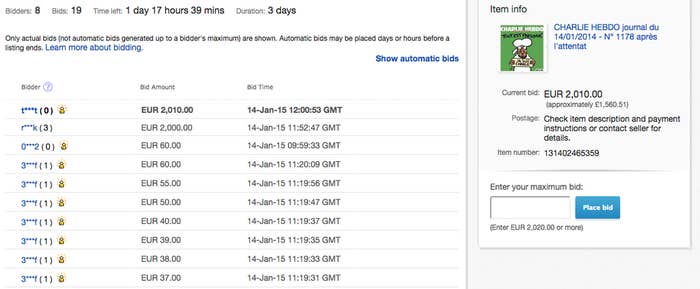 There were, however, other high bids on the site that don't appear to follow that rule and appear to be from regular eBay users.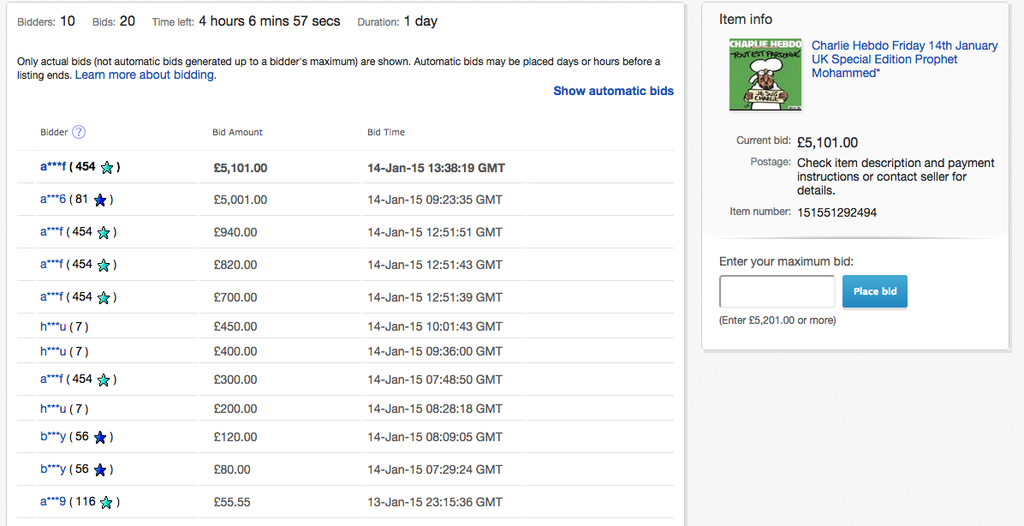 Meanwhile, a Belgian's attempt to trademark the phrase "Je Suis Charlie" across Belgium, Luxembourg, and the Netherlands is likely to prove futile, according to Chris McLeod, the president of the U.K.'s Institute of Trade Mark Attorneys.
In a statement, McLeod said: "When a slogan such as 'Je suis Charlie' is part of a popular movement, and already in the public domain, any attempt to claim unique ownership of the phrase is all but impossible. Any judgment by the Benelux authorities will certainly take this into account."
Yesterday, the Institut National de la Propriété Industrielle (INPI), the organisation responsible for trademarks in France, said it had received numerous requests for companies to use the "Je Suis Charlie" brand or "make reference to the slogan".
The IPNI said the slogan could not be used by a company or "economic actor" due to its use in the mass protest movement.